Nowadays, transfer PDF to Word has been made an easy task thanks to the development of software's that are mandated to perform these functions. Here in this article, we will show you the easiest way to transfer from PDF to Word so as to reuse the contents of the PDF document with ease.
The Easiest Way to Transfer PDF to Word
One of the best PDF to Word software I highly recommend is iSkysoft PDF Editor Pro for Mac. It is a strong and reliable software programmed and developed for Mac. This software gives you the freedom to easily transfer your PDF documents into a Word document just by a click of a button. (For Windows users, you can use iSkysoft PDF Editor for Windows version.)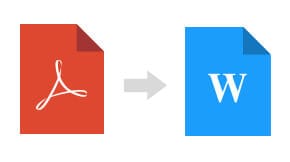 Key Features of iSkysoft PDF Editor Pro
iSkysoft PDF Editor provides you with a variety of editing options which are readily available to choose and use. With this editor, you can choose to crop, edit and change your background as well as split and add different watermarks as you please.
It provides maximum security for you documents thanks to the "Protect" tab available at the interface. This tab allows you to set your own personal password hence locking your documents safely. Apart from that, iSkysoft gives you the opportunity to sign your documents digitally. This digital sign is encrypted to ensure that nobody else can replicate it.
This powerful program comes with a comment section which allows you to insert your sticky note or place a comment. This makes your pages more descriptive in nature hence giving them a classy touch and feel.
If you are the type of person who prefers to highlight their work after completion, this powerful editor gives you this opportunity. You can either choose to highlight a text or an entire area of importance.
This PDF editor comes with a number of sharing options such as Dropbox, Evernote, direct Email and Google Drive. This simply means that, you can share your documents on any platform as you please. All that you have to do to enjoy this sharing option is to add your accounts and have them synchronized by the software.
How to Transfer PDF to Word using iSkysoft PDF Editor
Step 1
Launch iSkysoft PDF Editor Pro for Mac
The first and foremost thing to do is to download the iSkysoft PDF Editor Pro for Mac and install it.
Once you have successfully installed it, launch it and you will be in a position to see 4 different options at the interface. These options are, Edit PDF, Create PDF, Convert PDF and Combine PDF. Since our main aim is to transfer PDF to Word, our choice of selection will be "Convert PDF". Click on this option to start the transfer process.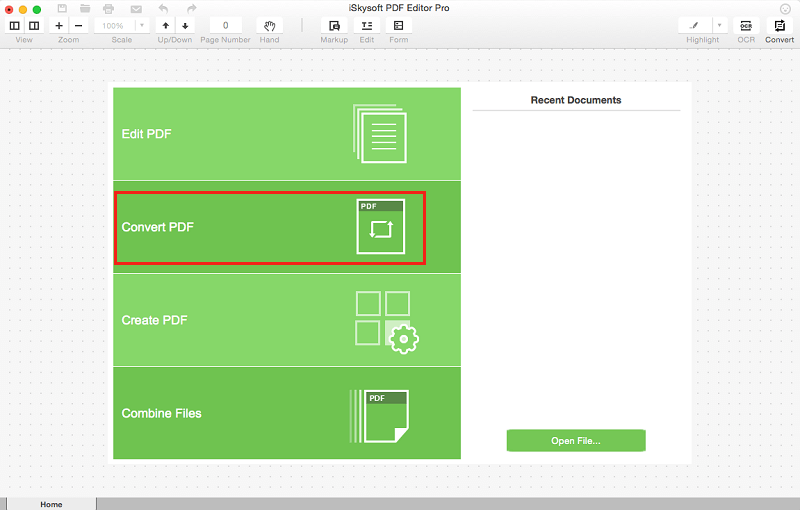 Step 2
Import PDF and select output format
Once the conversion window is opened, click the "Add Files" button located at the bottom most part on the left corner of the program interface to open the document you wish to transfer and click "Open". Another way of adding a document for transfer is by selecting, dragging and releasing it in the application. The default conversion option is PDF to Word. You can however change it depending on the document you wish to transfer.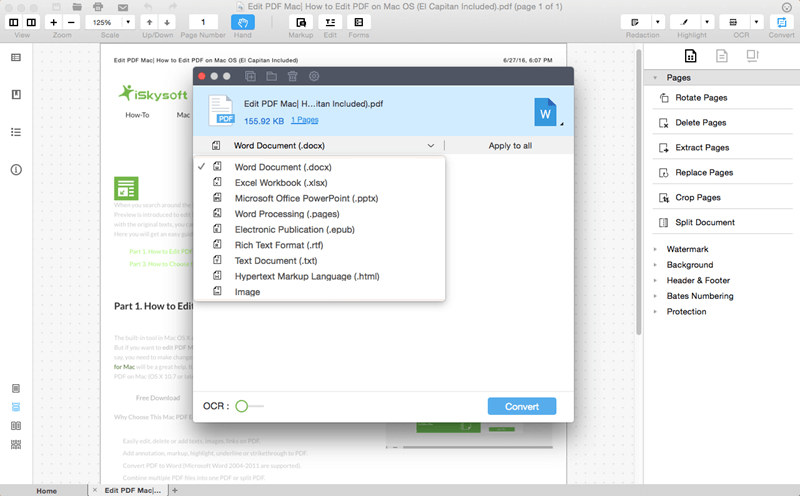 Step 3
Start transferring PDF as Word
Once your document has been loaded, click on the "Convert" option and Viola!! In just a few seconds, your document is ready to read and use on any Word application such as Microsoft Word.
Video Tutorial to Transfer PDF to Word