Macphun Intensify
Pros:

Easily make your images to look amazingly impressive.

Cons:

A little complex interface.

Support OS:

Mac OS X 10.8 or later

The Verdict:

10/10
Do you want your images to look amazingly impressive? Intensify is here to help you. With thousands of professional photographers, Intensify makes your images vivid and eye-catching. With its preciously written algorithms and abundant adjustments, Intensify is the best choice for you to free your images from noise or halo as well as instill life in your photos.
Usability:
Stability:
Price:
Functionality:
Appearance:
Only:$59.99

Buy Now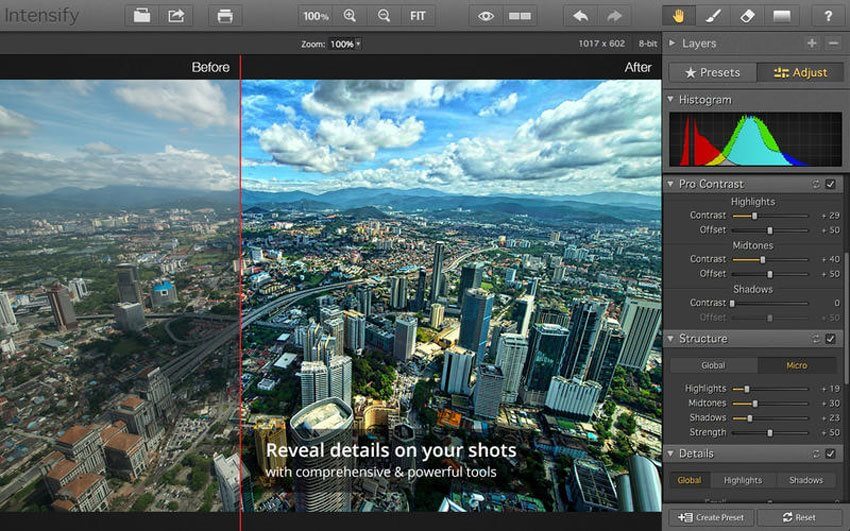 Highlights of details
A plain photo may fail to fully demonstrate the hidden beauty under your camera lens. Highlight those interesting details in your images with Intensify using its Shadows and Highlights to create your photographic artwork. There are always fine details in smooth surfaces. However, even professional photographers can sometimes get soft and plain images when they are shooting. Intensify solves your problems with its detail discovering technology and adjusts the structure and details of your images to make natural contrast.
High contrast of images
Want higher levels of contrast in your images? Want to enhance the sharpness without producing extra noise or halo? Come and experience Pro Contrast and Micro Sharpness. Pro Contrast helps you make your photo look richer and deeper in color. After applying it to your photo, you get your images in a higher contrast by preserving every detail. Our proprietary Offset offers you precise adjustments over highlight and shadows, which helps you discover the hidden beauty of your photos. Micro Sharpness sharpens the details of your images and together with Radius and Dehalo, you are allowed to tune your photo the way you want and produce your ideal effect.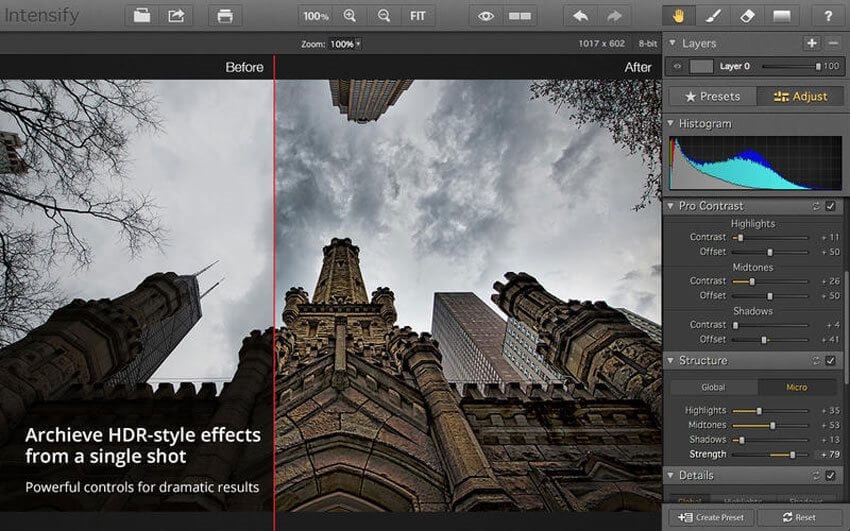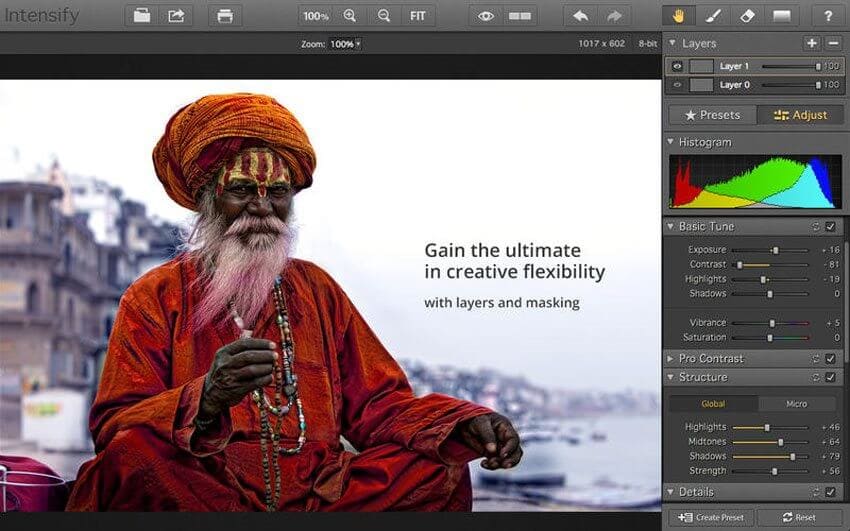 Layers and masking
You are able to make use of as much as 5 distinct layers in Intensify to create the effect you need on your images. In addition, exposure, saturation and other functions are also available within Intensity, which saves much of your trouble of switching to Photoshop or other software for further adjustment. You can fully enjoy the flexibility to control different masks over your photos. Our specially designed Presets frees your imagination and all you need to do is to cycle through various presets and choose one that suits your photo. It's easy and it's fast.
Make full use of the preset
You can create your original images by using our rich set of pre-built presets. There are a variety of categories of presets stored in the program. You can benefit from these presets and use them on your photos. First of all, you can browse through different categories of presets and choose the style you like. When you want to try one of them, you can use it on your photos and see whether the result satisfy you. Feel free to explore all the wonderful presets until you come up with photos of your own taste.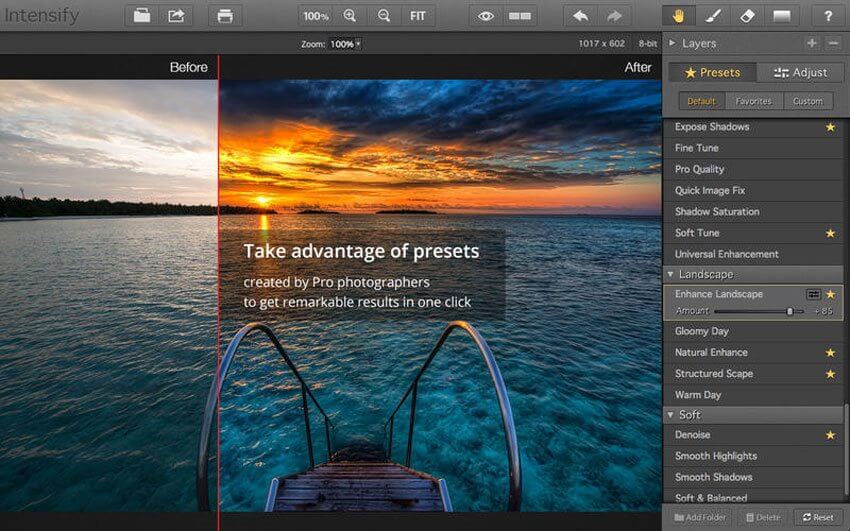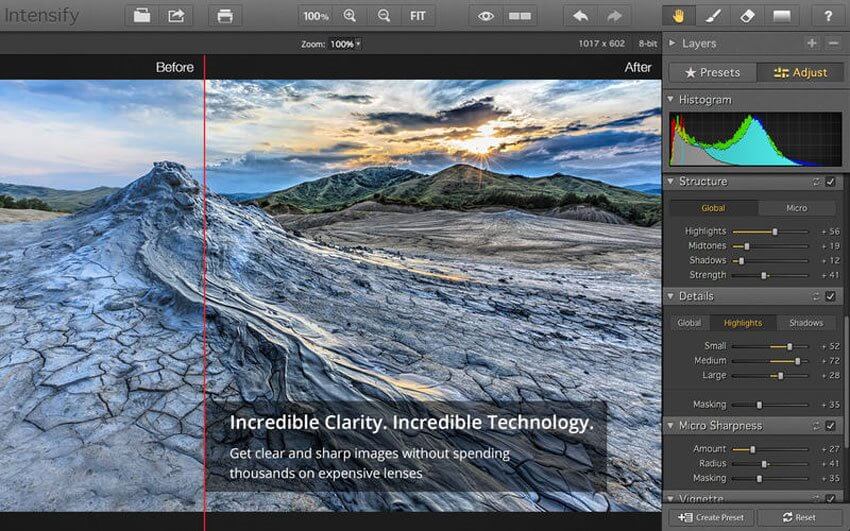 Produce images of high quality
Intensify helps you create images of high quality. You can improve your photos by using Intensify and the process is extremely simple. The Micro sharpness of Intensify, together with other advanced sharpening techniques, helps you produce images of the highest quality without introducing noise.You can also use the in-built parameters, such as Radius and Dehalo, to strengthen this subtle effect. With this incredible technology, you can produce extremely clear and sharp images even when you are not using professional camera lens.
Macphun IntensifyDistinguish Your Details!

Buy Now