Macphun Lost Photos
Pros:

Find your lost emailed photos, and it is available on all popular email accounts.

Cons:

Security needs to be fixed.

Support OS:

Mac OS X 10.7 or later

The Verdict:

10/10
Do you find it time-consuming to look for those photos in your inboxes after a long period? Lost Photos searches for the emailed photos in your email account quickly and securely. You can also store the photos you found in a folder on Mac directly. Download now and rediscover your lost memories!
Usability:
Stability:
Price:
Functionality:
Interface:
Free

Get It Now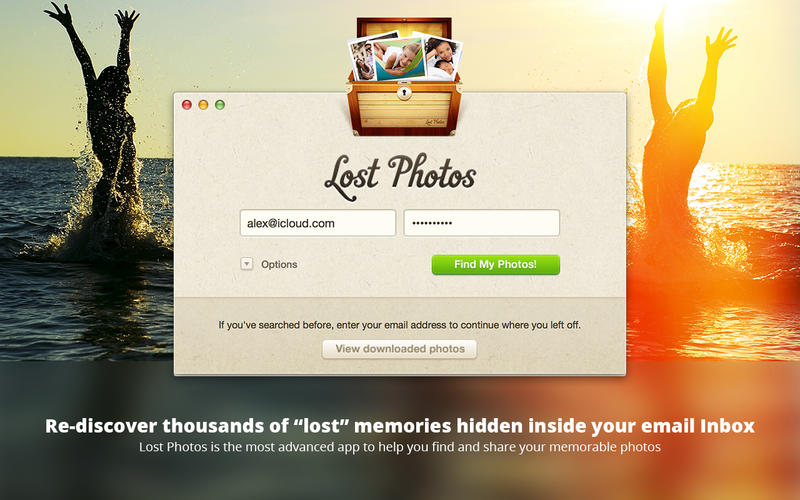 Search for lost emailed photos
We all have sent our photos to others or received photos from others via emails. However, the number of sent photos is so large that we may not have the time or energy to get them out from the inboxes and store them. It is such a pity that some of the most beautifully taken photos or those photos that recorded the most important moment in our life have sunk in our mail boxes. Things might change after you seek help from our Lost Photos. It helps you rediscover your lost emailed photos in your email account quickly. You can see all the photos you've sent or received. When you look at the old photos that might have been slept in your email accounts for years, you may find your most precious memories, too.
It's highly secure
You don't have to worry about security problems while using Lost Photos, for we adopt a high level of security protection that is also adopted by major companies like Gmail and Yahoo. When you download our App and start to use it for emailed photos rediscovery, your personal information, your account and the password won't be registered or collected in the App. Your data will not be transmitted to email servers. You can use our Lost Photos to find the emailed photos in all popular email accounts with no necessary to worry about the leaking of your personal information.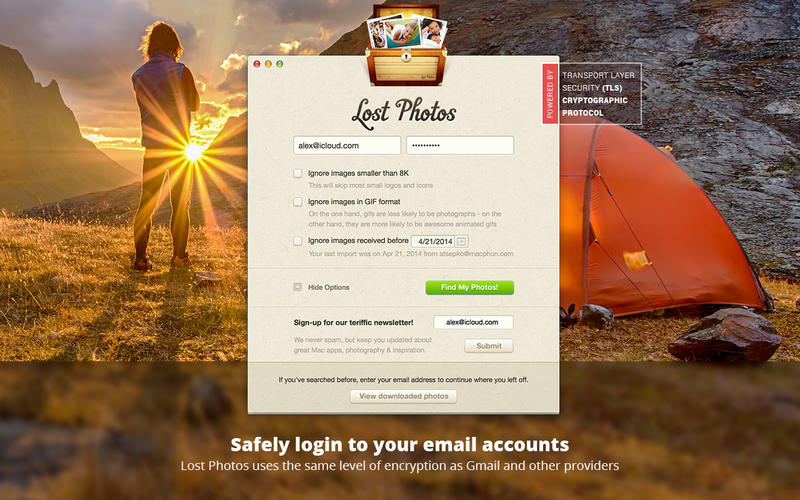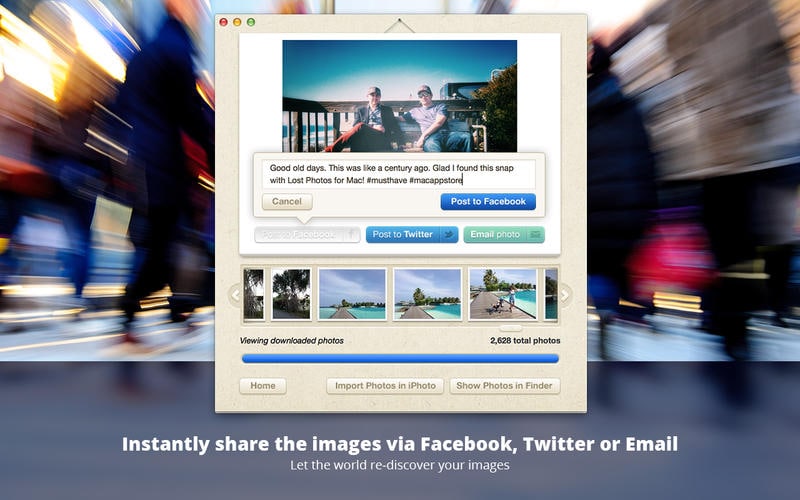 Transfer your photos and share them
After you scan through all the rediscovered photos, you might probably want to keep some of them in your computer. When you have decided the photos you want to store, you can directly save them in your Mac by moving your photos to iPhoto libraries. It is easy and convenient. If you want to send the interesting ones to your friends, you can also do it quickly. Share your photos with your friends in the social networks so that you can have fun talking about your past together.
Macphun Lost PhotosSearcher for Lost Emailed Photos!

Get It Now