Macphun Tonality
Pros:

Inspiring black-and-white photo editor.

Cons:

Too many buttons.

Support OS:

Mac OS X 10.7 or later

The Verdict:

10/10
Do black-and-white photographs ever fascinate you? Do you want to create your own monochrome shots and have a taste of photographic art? You can easily do that with Tonality-a professional photo editing tool that provides you with over 150 presets and various kinds of specially designed tools to record the most wonderful moment in your life.
Usability:
Stability:
Price:
Functionality:
Appearance:
Only:$59.99

Buy Now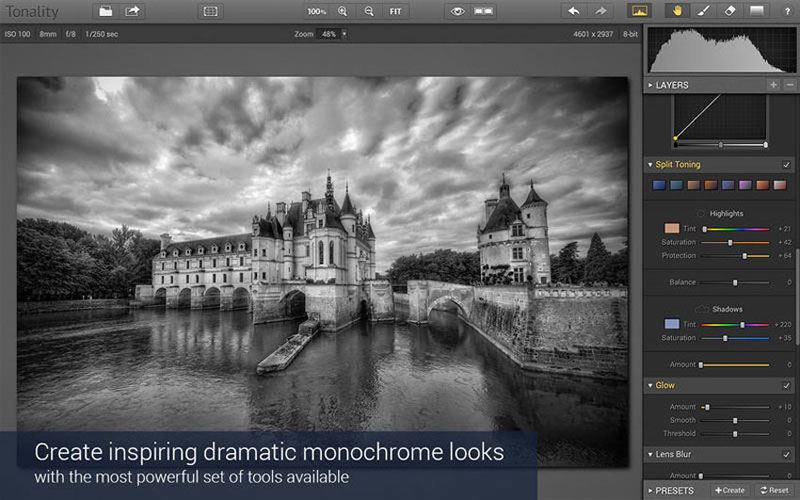 A taste of monochrome analog era
Tonality helps you create monochrome photos with its various patented tools. You can enjoy an easier workflow and its professional effects. If you are fascinated with black and white photos, you can create them by yourself with the help of our Tonality. The advanced color technology allows you to add to your photos a unique vintage look. With the most powerful set of tools provided by Tonality, you are free to create the most beautiful and dramatic monochrome photos.
Fascinating film effects
Are you a film addict? Do you want to apply the fascinating movie effects to your own photographs? Tonality helps you realize your dreams and give your photo a Hollywood style retouch. The authentic film emulation in Tonality creates incredibly wonderful effects on photos and after editing, they seem to be directly taken out from an old film. All you need is one click. Besides, you are welcome to find out more about the realistic grain simulation, textures and frames on your own. It will definitely give you a big surprise.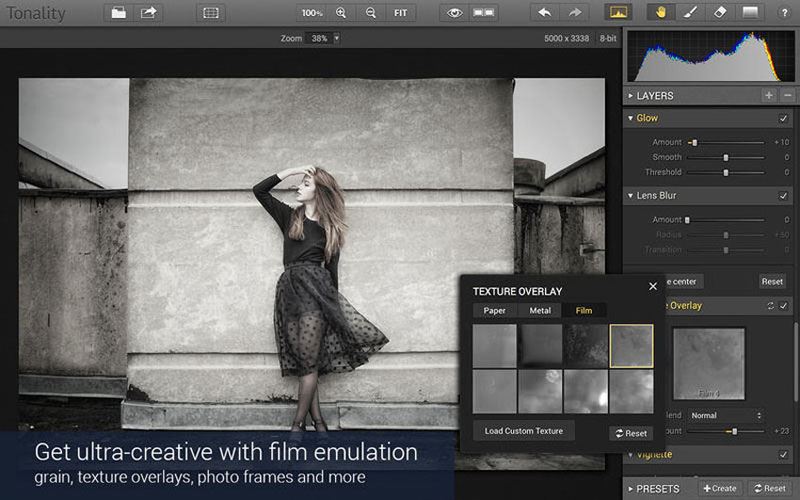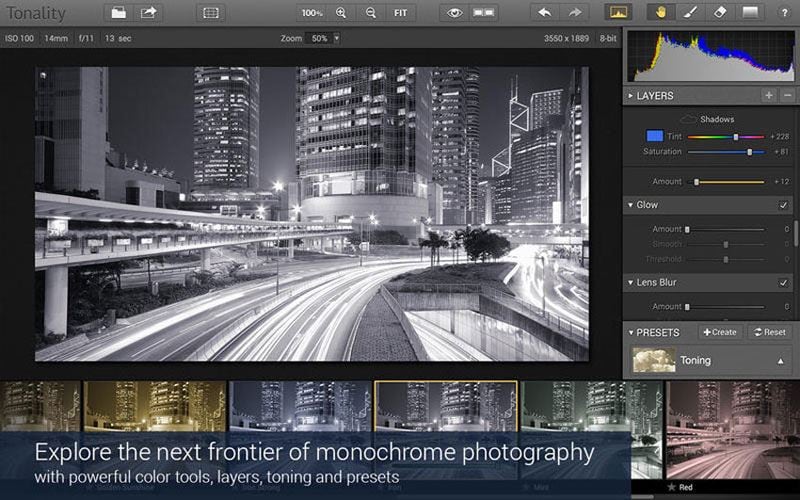 Multiple layers and masking
Tonality allows you to edit your photos flexibly and easily with its various adjustments. You can use multiple layers or masking to turn your imagination into reality. More importantly, you don't have to get out of your way and switch to your Photoshop for you can go on with all your operations within Tonality. Moreover, blending modes is supported and you'll definitely enjoy using our pressure-sensitive brushed with your photos. The separate opacity controls is another function that you'll fall in love with for sure.
Impressive toning controls
If you have a sense of art, you may probably have a strong desire for a masterpiece of your own. With advanced toning controls in Tonality, it is no longer a dream. The Color Filters which is available on Luminance and Saturation brings you to a world full of creative styles and selective colors. You can experience the emulation of a film with Split Toning or you can also apply the vintage look to your photos by using realistic grain. Need to adjust your photo a bit? Tone Curve is the best choice that helps you create your own masterpiece.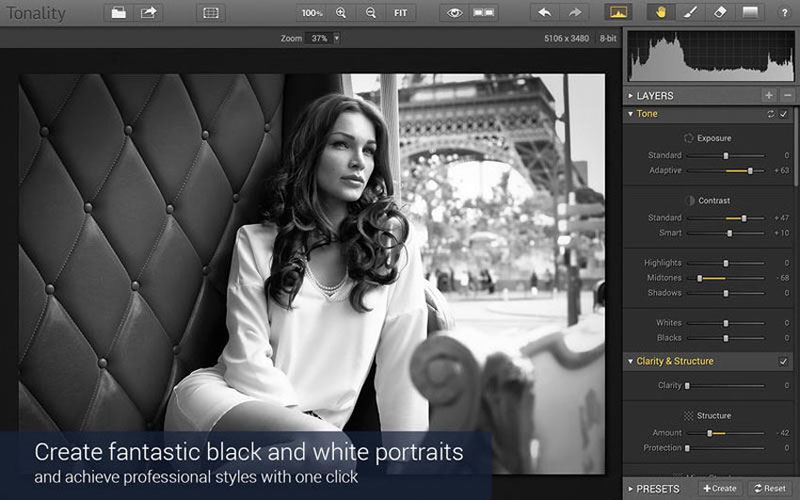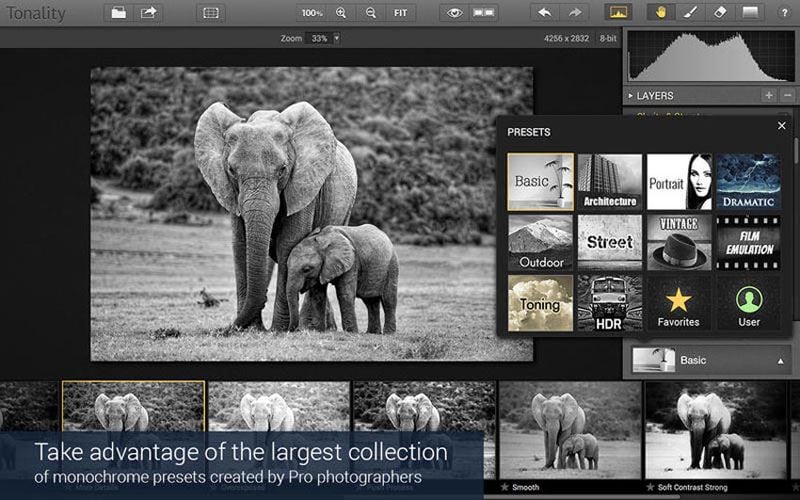 The most amazing presets
Tonality has 160 specially designed presets to give you the most amazing effects. You can simply cycle through all the presets and try them on your photos one by one. When you find the most suitable preset for your photos, click on it and you can see the results. It is easy to use and no special skill is needed. With Tonality, you can discover the power of your imagination and explore into infinite possibilities to create the photograph of your dream. Experience the amazing collection of presets in Tonality right now!
Macphun TonalityPowerful Monochrome Photo Editor!

Buy Now