Neatberry Sketcher
Pros:

Turn digital photo into pencil sketches with simple steps.

Cons:

Single feature.

Support OS:

Mac OS X 10.6 or later, Windows XP/Vista/7/8/10

The Verdict:

10/10
Do you want to live the life of a professional sketcher? If you are fascinated by those beautiful drawings appeared in a movie or in real life but are unable to draw as well as those painters, now you've got a chance. Sketcher helps you turn your digital photos into pencil sketch, watercolor, pastel, and so on. With its rich presets and various styles, you can realize your dream of creating your own hand-made drawings.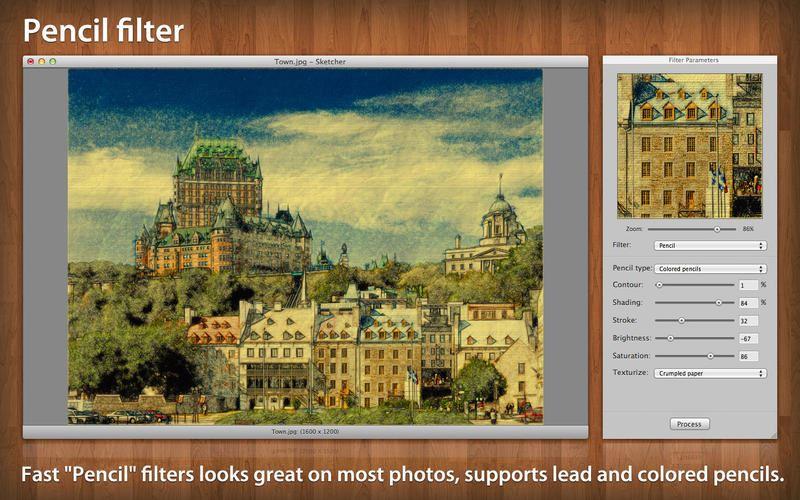 Try different filters
Our Sketcher provides you with four main filters to use on your digital photos. The first one is Pencil effect. You can use it on your images and turn them into vivid pencil hand drawings. By changing the setting and making a few adjustments to the edges, you can get different results. Every drawing created by you will be original and unique. The next effect is Watercolor. It simply takes you one click and the most beautifully painted watercolor will come out under your finger. You are also allowed to change the parameters to get different effect. Another filter is Pastel. If you are fond of soft and light colors, you will definitely love it. The last one is Oil Painting. This is an art form that interests most people. Try it on your digital photos and you can become the master of oil painting.
Get your own drawing styles
Our Sketcher is a funny little app for those who are into hand-made drawings. You don't have to feel stressed when you use it and you don't need to make a lot of adjustments in order to get the best effect. Sketcher offers you a variety of pre-built presets. You can choose from these presets to see which type of drawings you like most. Or you can try them on your digital images one by one. Come and take a look at our Sketcher, you will be amazed by our rich presets for sure!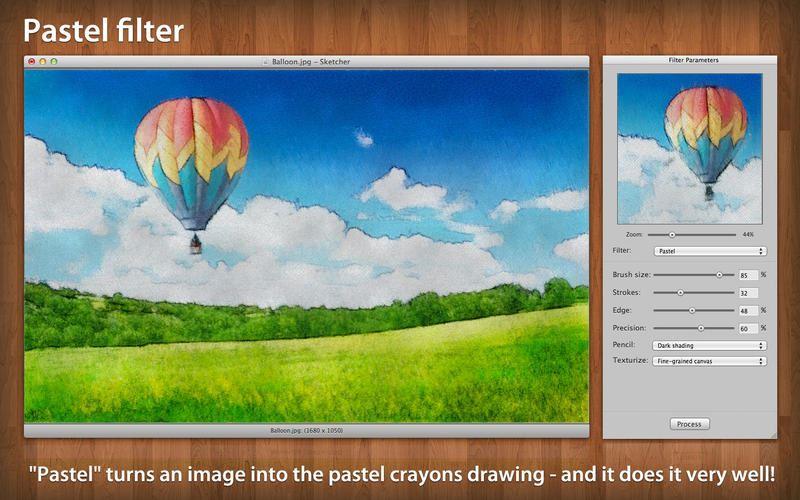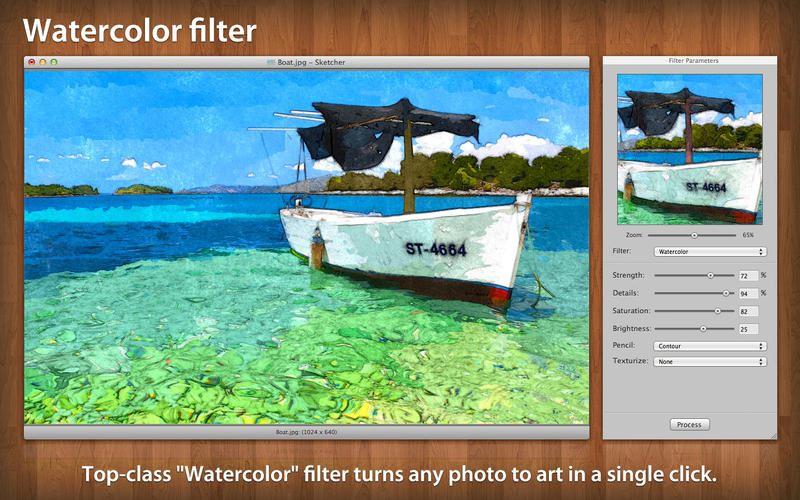 Parameters Panel
When you are using our Sketcher to retouch your photos, you can see two main windows. This allows you to try as many photos as you like at a time. Open one parameters panel and you can try it on more than one photo. In the parameters panel, you can select the filter you want as well as adjust the sliders to vary its effect. On the upper area, you can see the description of the effect. You can read it and have a better idea of what each effect is like.
Interesting and simple interface
The Sketcher is a small app that you can use in your leisure time. It is easy and everyone can use it without difficulty. All the steps are clear and simple. You will receive detailed guidance in the interface. You don't have to be skilled in computer before you can use this product. You can try the filters or make a few adjustments by a few clicks. Experience our straightforward interface, and you will find it fun and simple.