If you are tired of your iPhone SMS text message, like the iPhone text color, the SMS Text Message bubble etc, and want to change SMS background, change iPhone text color etc, there are some tips for you to make a change:
Ways to Change SMS T Bubbles on iPhone 7/7 Plus/SE/6s/6s Plus/6 Plus/6/5s/5c/5/4s/4
Note: Apple doesn't allow you to change your SMS T bubbles unless you jailbreak your device. So the following methods are only available for jailbroken iPhones.
Method 1:
This method for changing sms bubbles iPhone is tested by many and works perfectly on iPhone 6 Plus and iPhone 6. All you need to do is:
1. Save the color whichever you like here to your desktop.
2. Change the file name as Balloon_1@2x.png (for sent messages) or Balloon_2@2x.png (for received messages).
3. SSH into your iPhone (make sure hidden files are visible) and go to /System/Library/PrivateFrameworks/ChatKit.framework, now you can drag and drop the balloon file inside.
4. Restart your iPhone.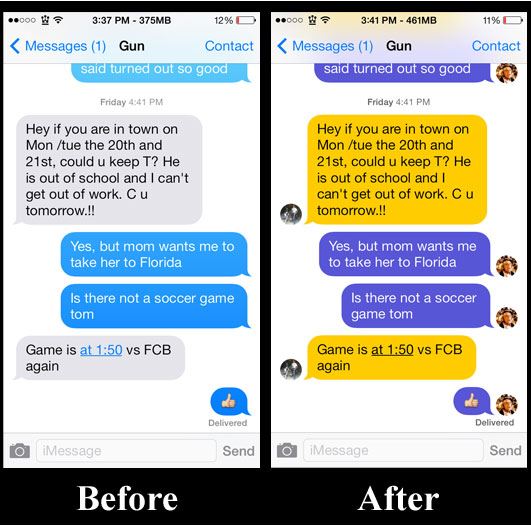 Method 2:
Or you can modify your iPhone first to change the SMS theme to change sms background on your iPhone. (To learn how to get a modified iPhone, go to How to Change Text Colors on an iPhone) After that, you then can follow these steps to change SMS bubbles iPhone:
Step 1. Press the Home button of your iPhone then slide to unlock the device.
Step 2. Open Installer.
Step 3. Go to Source and tap "Edit" then choose "Add".
Step 4. Now you can get a window where you need to input "http://apptapp.saurik.com" in the open column.
Step 5. After the file downloaded, you then need to restart the iPhone by holding the Sleep/Wake up button on the top side of your iPhone.
Step 6. Launch Cydia on the iPhone.
Step 7. Repeat the third step above.
Step 8. In the window appeared, you need enter "SMS".
Step 9. Then you will get a list of SMS packages, select one.
Step 10. After the package downloaded, restart iPhone again.
Step 11. Open the iFile application on your iPhone.
Step 12. Go to the folder: var/ Themes/ MSN SMS/ Bundles/ com.apple.mobilesms
Step 13. Tap on "Edit" and rename "com.apple.mobilesms" with "com.apple.chatkit." then click "Done".
Step 14. Return to the iPhone Home screen and open your SMS app, now you can get a different SMS Text message bubble.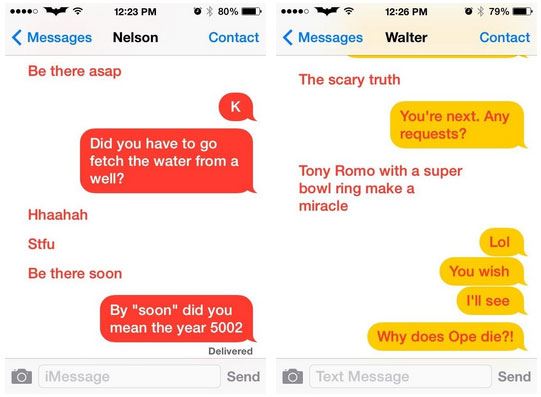 Note: If you have jailbroken your iPhone, you can do more to change sms background on your iPhone actually. Here you can get some more info: http://forums.bitesms.com/forums/1/topics/2290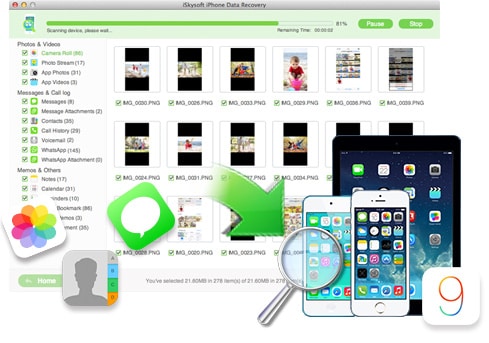 Anyone can handle it to recover deleted files from iPhone 7/7 Plus/SE/6s Plus/6s/6 Plus/6/5s/5c/5/4s/4/3GS, all iPads (iPad Pro) and iPod touch 5/4.
3 Recovery Modes: Allows to recover data directly from iPhone and extract iCloud and iTunes backup files.
Up to 18 File Types: Recover lost text messages, iMessages, contacts, photos, videos, notes, etc.
Various Data Loss Situations: Retrieve data lost for deletion, factory settings restore, jailbreak failure, iPhone lost or broken, etc.
Preview Result: Lets you read and preview found data before recovery.
Flexible Recovery: Selectively recover any item you want from iPhone and iCloud/iTunes backup files.