You might wonder: "Are there apps like KineMaster on PC or, better?","Is there an existing way to download and use KineMaster on PC?"
YES! Filmora X is definitely such a matched app. Of course, you can also choose to download KineMaster for laptop/PC (Mac or devices running Windows 10/8/7). If you're looking for a mighty software like KineMaster or learning how to download and access KineMaster on your laptop/PC, then this tutorial will guide you.
Part 1: How to Download KineMaster for PC
KineMaster is a full-fledged video creation tool only
for iOS and
Android
- supported devices. There is no official version of KineMaster on PC yet, if you want to use it on PC, you can use it with an Android emulator.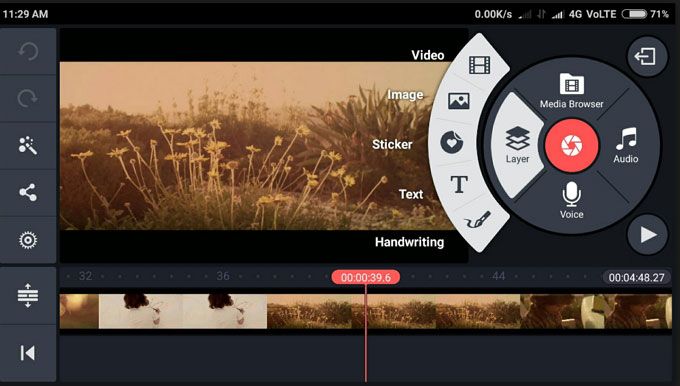 ---
2. How to download KineMaster for PC
Before we proceed, do ensure that your PC/laptop meets the following system requirements:
Minimum of 2GB of ram
At least 2GB free storage space
Mac or Windows device (Windows 7,8,8.1 or 10)
If your device meets the system requirements above, then you can proceed with the installation steps below:
- Step 1. Install Nox Player from the official website.
- Step 2. Click the large "Download" button to start downloading Nox Player for Windows. Below the button, you'll find the Mac version, too.
- Step 3. Proceed with the installation as soon as the file is downloaded completely.
- Step 4. Open the emulator for the first time for a complete setup.
- Step 5. If you have the KineMaster APK file, move it into your computer, drag-and-drop it onto Nox. You'll be prompted to install the app. Alternatively, you could open Google Play Store from Nox and install KineMaster directly on PC using Nox.
- Step 6. KineMaster on your PC now works just like the counterpart on mobile. Feel free to use it for your video editing and creation.
---
3. FAQs about KineMaster
- Is KineMaster free?
Yes, basically. You can use most features of KineMaster for free; however, if you crave the comfort of having your works free from watermarks, among other luxuries, you might have to consider getting the premium version. Whenever you're ready to opt into KineMaster Pro, there are suitable monthly and annual plans for you.
- Can KineMaster be used on PC?
Yes. Officially, KineMaster targets the mobile software world. However, since mobile phone emulators now exist on PC, there's no reason why KineMaster (a mobile app) wouldn't work on a mobile emulator running on PC --that's the whole point of an emulator.
- Is it safe to use KineMaster on a PC/emulator?
An emulator is a piece of software that mimics the architecture of an independent system --in this case, a mobile system architecture. It is perfectly safe to run your mobile apps on such a PC/emulator.
- Are there more powerful apps than KineMaster on PC?
Considering the fact that KineMaster is a mobile app that could only work with the aid of an emulator on PC, apps made explicitly made for PC users (such as Filmora X) are usually more potent as developers of such enjoy the luxury of developing for better processors/more powerful devices.
---
Part 2: Filmora X vs KineMaster
Filmora X and KineMaster are both video editing tools capable of making classy videos. While KineMaster targets mobile platforms (Android and iOS), Filmora X is a standalone software for PCs/laptops (Windows & Mac).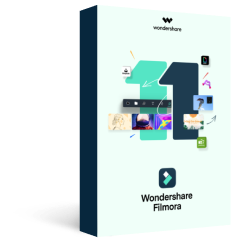 Key Features
Best video editing software for beginner and semi-professional, that comes with powerful editing skills like trimming, splitting, rotating, editing, etc.
Advanced video effects like kens burn effect, glitch effect, green screen, audio mixercan also be found and applied to your video within few clicks.
500+ free special video effects to customize and create an awesome movie by yourself.
1000+ standalone effects downloading resources to make videos in all kinds of styles.
Record voice in real-time: you can have you voices recorded in realtime and instantly add them to the video files.
---
1. Comparison of key features
This is a comparison table giving you general information regarding editing features between Filmora and KineMaster.
| | | |
| --- | --- | --- |
| | Filmora | KineMaster |
| Multiple Layers | ✓ | ✓ |
| Pan & Zoom | ✓ | ✓ |
| Color Ajustement | ✓ | ✓ |
| Speed Control | ✓ | ✓ |
| Green Screen | ✓ | ✓ |
| Audio Editing & Mixer | ✓ | ✓ |
| Volume Control | ✓ | ✓ |
| Text Editing | ✓ | ✓ |
| Overlays, Stickers, Filters | ✓ | ✓ |
| Transition Effects | ✓ | ✓ |
| Effects Store | ✓ | ✓ |
| Webcam & Audio Recorder | ✓ | ✓ |
| Instant Preview | ✓ | ✓ |
| Social sharing | ✓ | ✓ |
| Video Stabilization | ✓ | ✕ |
| Split Screen | ✓ | ✕ |
| Keyframing | ✓ | ✕ |
| Motion Tracking | ✓ | ✕ |
| Screen Recorder | ✓ | ✕ |
| 360° Video Rotation | ✓ | ✕ |
For more details, you can refer to the following:
- Title templates and visual effects
KineMaster has lots of cool title templates and effects. Filmora X also has many built-in titles and templates. Furthermore, Filmora X has a standalone store called Filmstock for video and audio effects.
- Saturation control
Both KineMaster and Filmora support color control; however, Filmora supports full-blown color correction and grading.
- Stickers
Both editors come with lots of heartwarming stickers for your pleasure.
- Multiple video formats
Both tools support a variety of video formats. You shouldn't have issues with whatever platforms you're sharing your video.
- Social sharing
Filmora has a built-in system for optimizing and sharing videos to YouTube and Vimeo directly from the app; KineMaster also offers many possibilities on social media platforms including YouTube, Instagram, etc.
---
2. Price plan comparison
Filmora X and KineMaster can both be used for free. The free trial version of Filmora X allows you to experience all features comprised in the paid version only except the function of removing watermark.
KineMaster Premium goes from about $5/month to $40/year, while Filmora costs $39.99/year. We can say the prices for the premium are quite similar.
If you're interested in Filmora, why not click the video below to learm more about its new feature released with the new version? The amazing new functions, including Auto Reframe, Ar Sticker, are fun and easy to use! Watch the short video and you'll figure out a more creative and simpler way to edit your videos.
---
Conclusion
Mobile platforms aren't left out when it comes to advanced video editing. This tutorial is about using KineMaster on PC/Mac successfully with the aid of an emulator. KineMaster is a full-blown video editing tool on mobile platforms. It allows you to seamlessly carry out both basic and advanced video editing functions on your mobile device, and that's thanks to emulators on PC/Mac, you can now take KineMaster off your palms and to the desk.
However, considering that it only targets mobile platforms, one should naturally expect some deficiencies in its features and overall functions.
Filmora video editor, on the other hand, is a full-blown video editing tool for your desktop/laptop. When it comes to obtaining an incredible experience to create more captivating videos, Filmora is definitely a more rounded application. It doesn't matter if you are a first-timer in Filmmaking on Mac/Windows. All in all, Filmora is highly recommended as it is a perfect representation of a powerful app that's also easy-to-use.