Yeah, Siri is no doubt the most eye-catching application of the iPhone 4S and new iPhone 5. It undersatand what you say and knows what you mean. It helps you do the things you do everyday. iPhone 5 is said to have in-build Siri in its new iOS.
Because Siri is only available on iPhone 5 and iPhone 4s, iPhones with older older version are not likely to use Siri. Someone who want to find the voice recognition app similar to Siri is recommended to try Dragon Go and Vlingo. Here I will demonstrate the apps Dragon Go and Vlingo.
Dragon Go, an app similar to Siri on iPhone 5
No. 1 Dragon Go:
Pros: Slick sliding-tabs ("carousel") interface. Make full use of those applications that you have installed on your iPhone
Cons: The operation might be slow sometimes. It only supports iPhone 5, iPhone 4 and iPhone 3GS, but not any older version of iPhone. Also, you are not allowed to customize the carousel tabs.
Go to iTunes Store and download: Dragon Go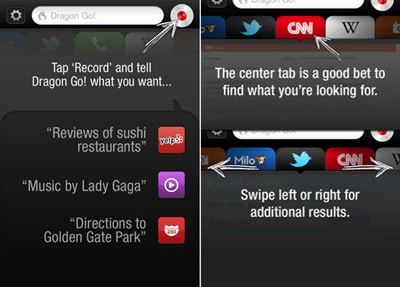 No. 2 Vlingo
It is known as a voice assistant for iPhone, even recognized as the original application in voice service for phone. You can install it for totally free. With this Siri-like voice assistant, you are able to do a lot of things on your iPhone 4(or new iPhone 5) only by speaking. You can:
Post updates to Twitter and Facebook
Run a Web search
Look up destinations on a map
Make a call
Write and send text messages and e-mails
…
See Also: Free YouTube Downloader for Mac
Pros: Both U.K. and American English can be recognized.
Cons: A little bit poor in accuracy. You need to connect some apps. A handful of touch gestures required for a voice-controlled app.
Go to iTunes Store and download: Vlingo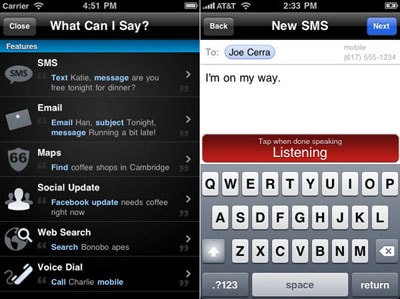 See, quite similar to Siri, isn't it? After testing, the Siri-like application, say Vlingo, works perfectly. Amazingly, it is quite accurate.
But, it has falling grades, too. You have to open this Siri application on iPhone 4 (iPhone 5) manually, and press the activation button or press and hold the button to activate the app.
See More: iPhone Ringtone Maker for Mac
What's the difference between Dragon Go, Vlingo and Siri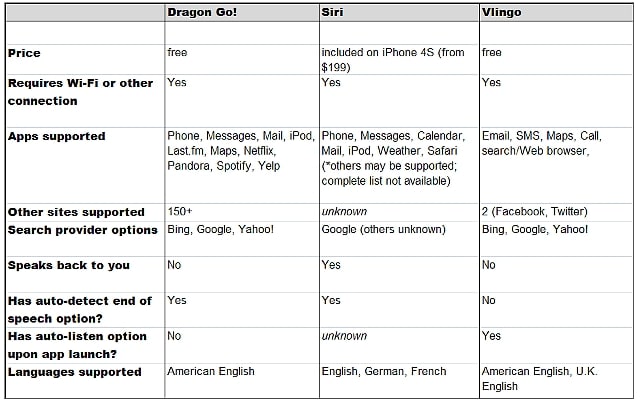 We'll keep a close eye on Siri for iPhone 5 and update it here. So just Rss us and get the latest news about iPhone. If you can't wait, just get iPhone 5 on Amazon, Apple, Sprint, Verzon, AT&T and anywhere you like.
For those iPhone 5 users, watching some hot movie on their iPhone 5 will be a great enjoyment. Video Converter for Mac is just another app recommended for iPhone 5 users.
Get iSkysoft Video Converter now for FREE trial.