Some users may have found out how to convert PDF to fillable form by Adobe Acrobat. It seems that most users find it a bit complicated since there are quite a few options to choose and click. Once users fail to configure the setting properly, things may go wrong and those PDF documents may contains many wrong forms and fields. Some information and field name may incorrectly match. This could end up into a trouble if you have copies of important invoice and contracts in PDF documents which you need to add some fillable fields in. Suppose you have tried the Adobe Acrobat and use "New Form Assistant", you find it a bit complicated and you want to resort to a creative way. Why not convert PDF files to fillable documents in Microsoft Word format? In a Word Doc, you can easily fill in or create lots of fillable fields in it.
iSkysoft PDF Converter is an ideal PDF to fillable form Converter. Also, the Pro version of iSkysoft PDF Converter comes with all the features that you will need to convert scanned and native PDF files to Excel, Word, EPUB, PowerPoint and many other formats. In addition to that, it is designed with the advanced OCR technology that can convert scanned files to editable text as well as supports seventeen OCR recognition languages.
For Mac OS users, please choose iSkysoft PDF Converter for Mac.
For Windows users, please choose iSkysoft PDF Converter for Windows.
Why should you Convert PDF to fillable form
When PDF or Portable document format files or documents are saved in this format, it is difficult to share them easily and open them on several computer platforms. If you use a PDF file rather than a Word document or some other file type, you will get to preserve certain features such as the graphics, fonts and other formatting. But, you might want to change some PDFs such as the forms that you have created to allow users to fill in certain information or data on their personal computers. Some PDF files have forms which are encrypted from pasting, printing and copying, including important tax bill, invoice and contracts. This means that you are not able to edit or print them on paper in order to fill in certain information. Furthermore, some PDF forms are scanned files that will not allow you to add information from any computer.
How to Convert PDF to Fillable Form on Mac OS X
You can follow the easy steps below to convert your PDFs to fillable form by converting the PDF file to Word format.
1
Run the iSkysoft PDF Converter and Import PDF Files to the Program
First import the PDF files. You may drag and drop the several PDF files to the interface of the program. Click the button to set the output format.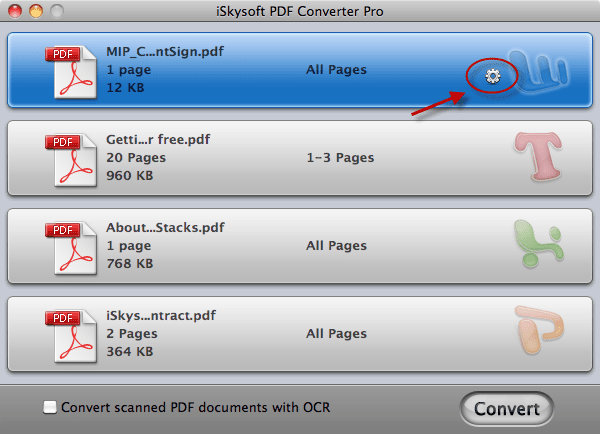 Note: You may choose to convert specific page range from the "Page Range" menu.
2
Choose the Word Doc as the Output Format
Choose Word Doc format as the output format prior to converting the PDF to Word on your iMac or Macbook. Click "OK" to confirm the output format setting.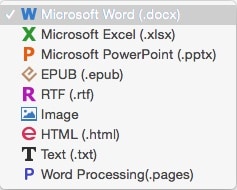 3
Start to Convert Your PDF Files to Word Fillable Form
All you have to do is click the Convert button to start the process. Once this is done, you can open the file to view the finish document.
Also see the video tutorial about converting a pdf to a fillable form: