Contents
2. PDF to Document

5. PDF to Other Formats
Portable Document Format or PDF is a wonderful open standard for documents exchange. However, PDF files cannot be easily edited as text files. But if you are working with a PDF to Text converter, you are able to convert your PDF files to editable text in order to edit the document with ease.
Part 1. How to Convert PDF to Text on Mac OS X (El Capitan Included)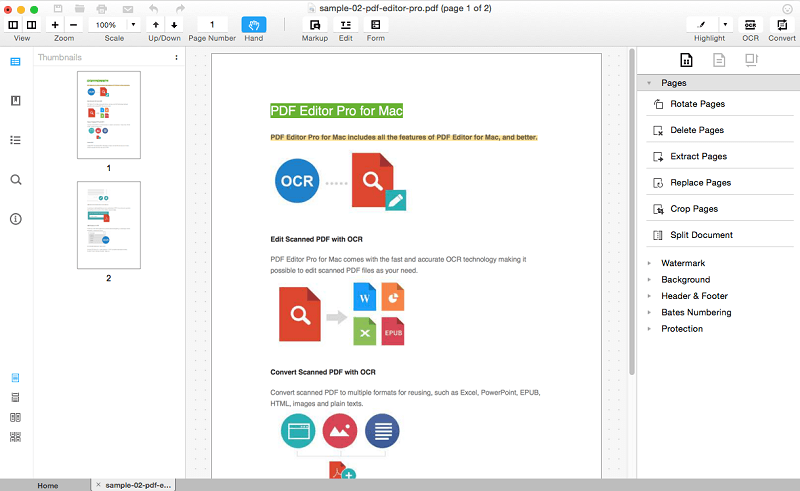 iSkysoft PDF Editor Pro for Mac is able to convert PDF file to any editable format such as plaint text, rich text, Excel, PowerPoint, HTML, EPUB, Word, and various types of images. With the inbuilt OCR technology you will be able to edit and convert the scanned PDF files.
Another outstanding feature of this software is that it has a wide array of editing features such as adding and removing watermarks, securing PDF, adding handwritten signatures, creating new pages, deleting pages, adding annotations and many others. The user interface is friendly and using it does not require an expert to show you to use this software.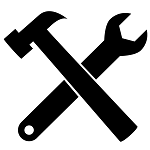 What You Will Need:
A Computer;
iSkysoft PDF Editor Pro for Mac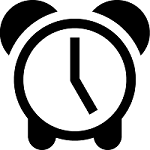 Time Required:
Around 1 min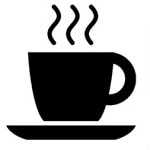 Difficulty:
Easy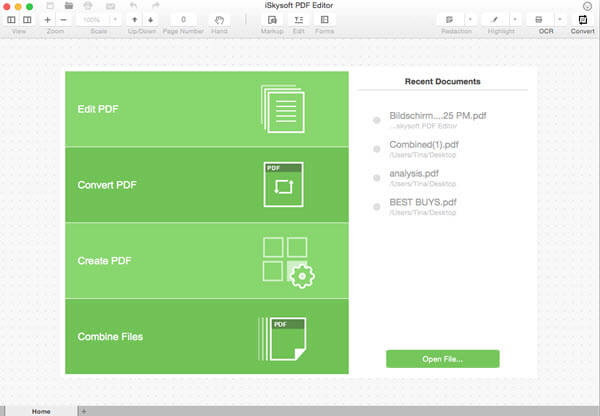 Step 1. Upload the PDF File
First you need to import the PDF file that you need to change to Text file. It is simple, launch the PDF to text converter and click on "Open File" button. It will direct you to folders on your computer. Search for the desired PDF file and click "Open". The file will be automatically opened on the program. Then you can edit the file with a variety of editing features.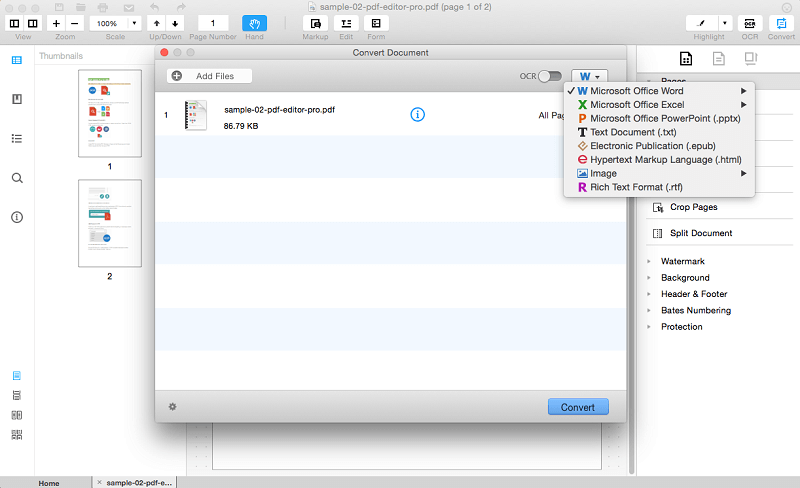 Step 2. Convert PDF into Text
Next, go to the toolbar and hit the "Convert" button. In the pop up window, click the "Output Format" to choose "Text" from the drop down menu list. The other options include Word, PowerPoint, HTML, and EPUB Excel just to name a few.
You will notice that you can select the pages that you want to convert. Finally, click on "Convert" at the bottom right of the program window. Conversion will commence immediately. Save the document on a preferred location on your computer and click "Save" button. To convert scanned PDF to text, please turn on the "OCR" button.
Part 2. How to Convert PDF to Editable Text on Windows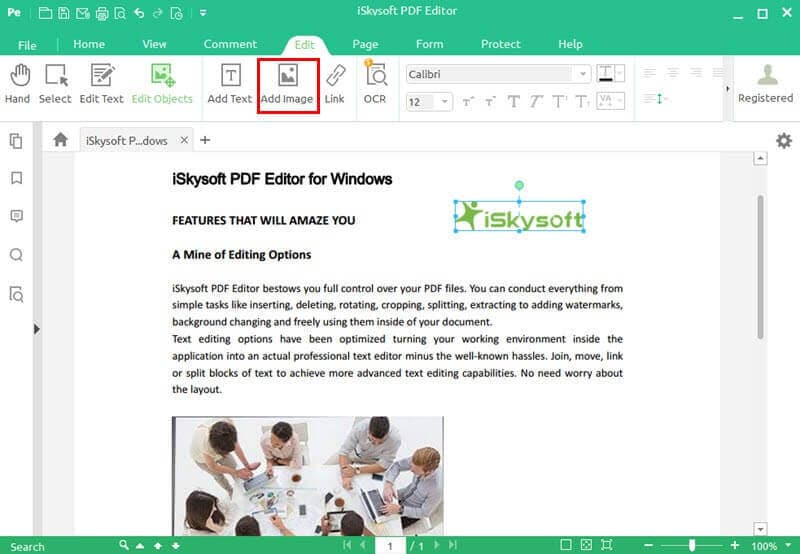 For Windows users, iSkysoft PDF Editor for Windows will do a conversion of your PDF files not only to Text but other different formats such as HTML, EPUB, Excel, Word, PowerPoint, Image and Rich text format. This application boasts of Optical Character Reader (OCR) that allows you edit scanned PDF.
PDF Editor also has a multiple editing formats such as adding texts, adding and removing watermarks, annotations, creating and deleting files as well a merging and splitting files. With all these features, you can easily edit PDF as you wish.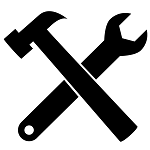 What You Will Need:
A Computer;
iSkysoft PDF Editor for Windows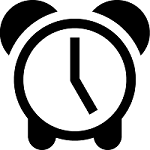 Time Required:
Around 1 min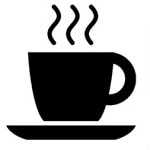 Difficulty:
Easy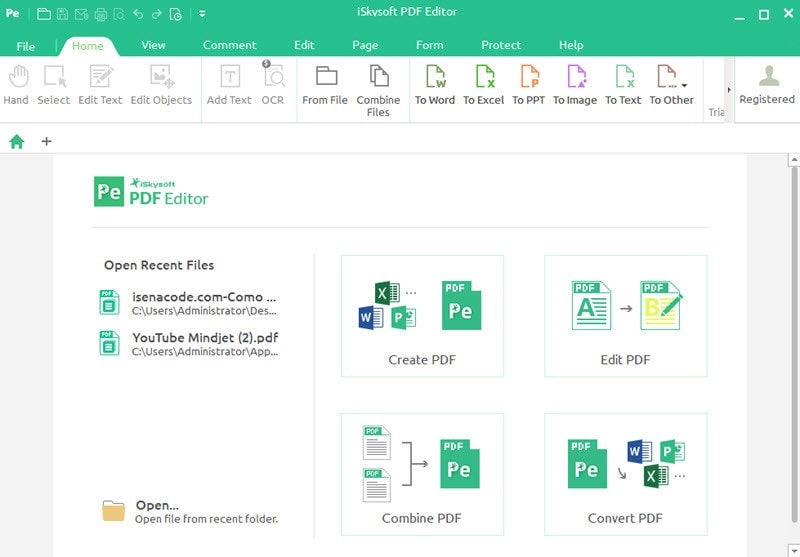 Step 1. Select the PDF File to be Converted
Run the program and then click the "Open" button to add your PDF to the program from the location of the desktop. Then you can go to the "Edit" tab or the "Comment" tab to edit and annotate your PDF.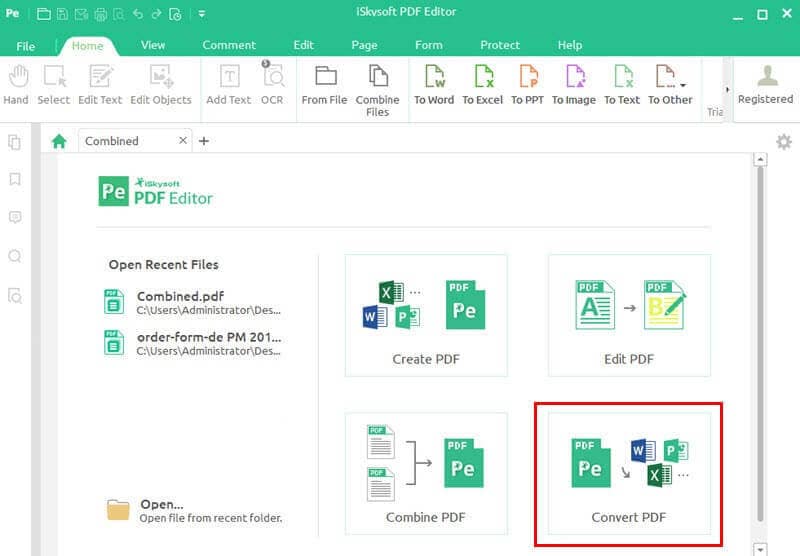 Step 2. Convert a PDF to Text
Under the "Home" tab you will see where the output format listed toward the right. Click on "to Text". In a new window, a list of settings appears before converting the PDF file. It is wise to select the location where you will later access the PDF file. Now, what you are left to do is to click on "Convert". The quick conversion will then begin immediately.
Tips: If you want to convert image PDF to text format, you can tick the "Enable OCR" in the pop up window before conversion.
To sum up is that iSkysoft PDF Editor are swift, precise, and friendly to use. All you need is to download these applications and launch them correctly on your computer. From there you will enjoy a lot of benefits such as converting PDF to editable formats such as Texts have you have seen above. You can also do some editing or create pages and merge file to the document before converting it to Text. Do not be left out in dark get yourself this software and play along with possible output format for your PDF file.