Contents
2. PDF to Document

5. PDF to Other Formats
While PDF is a wonderful document format, it still has its drawbacks. For example, to view a PDF document, you need a dedicated PDF viewer like Adobe Acrobat Reader to open it. By contrast, JPG file can be opened without installing additional software as image viewer comes as standard on almost any operating systems. So convert PDF to JPG becomes necessary for most of the time.
Aside from viewing it in an image viewer, you can also view JPG images in any web browser which has the built-in capability to display images. Though PDF can also be opened in a browser, you need to install a PDF reader plug-in first, which can slow down your browser. Also the rendering of PDF document will not happen until it is fully loaded in browsers, and JPG image can be viewed in real time while being downloaded. Another convenience of using JPG feature is that you can easily embed JPG image in your PowerPoint presentation. Here are all convenient solutions for converting PDF to JPG.
Part 1. How to Convert PDF from JPG on Mac (El Capitan Compatible)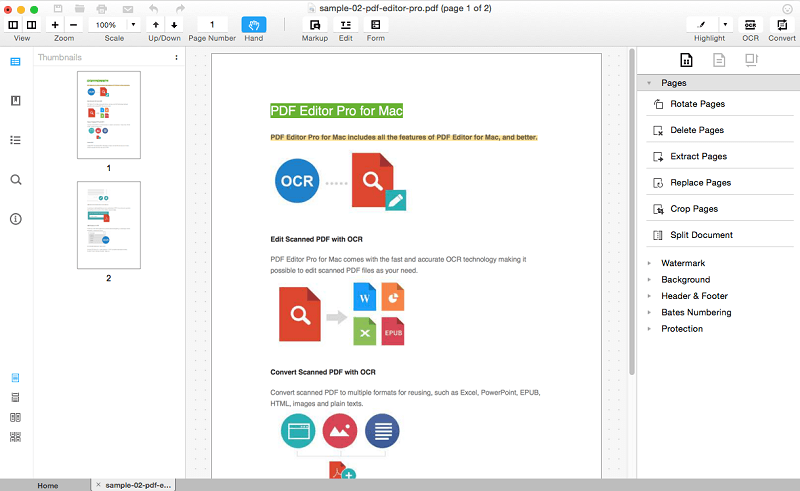 With this bounty of worthwhile reasons let's see how to convert PDF files to JPG on Mac. To save your time from sifting from one ideal method to another, just use the wonderful software known as iSkysoft PDF Editor Pro for Mac. This software is advanced and comes with OCR technology to enable you convert PDF files to editable formats such as Word, Excel, PowerPoint, JPG, HTML, EPUB and many others.
PDF Editor Pro for Mac makes it easy for you to edit PDF file by adding watermarks and removing them, adding annotations, deleting and inserting your own pages. If you want to add hand written signatures to a PDF file then you can also rely on it. The smart tool allows you to do anything that you want to do with PDF files such as filling out forms.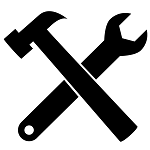 What You Will Need:
A Computer;
iSkysoft PDF Editor Pro for Mac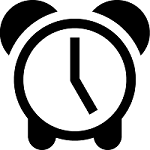 Time Required:
Around 1 min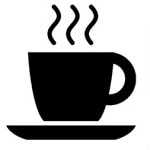 Difficulty:
Easy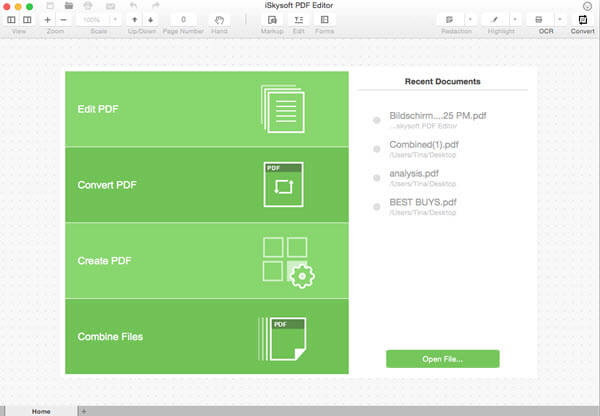 Step 1. Add PDF to the Editor
After successful downloading and installation, you then need to launch the PDF JPG Converter. Click the "Open File" button to load the PDF file you want to convert. After that, you can edit the PDF document according to your needs.
This program lets you easily edit the texts, images and pages, annotate and sign PDF, fill out PDF forms, add password to the files etc.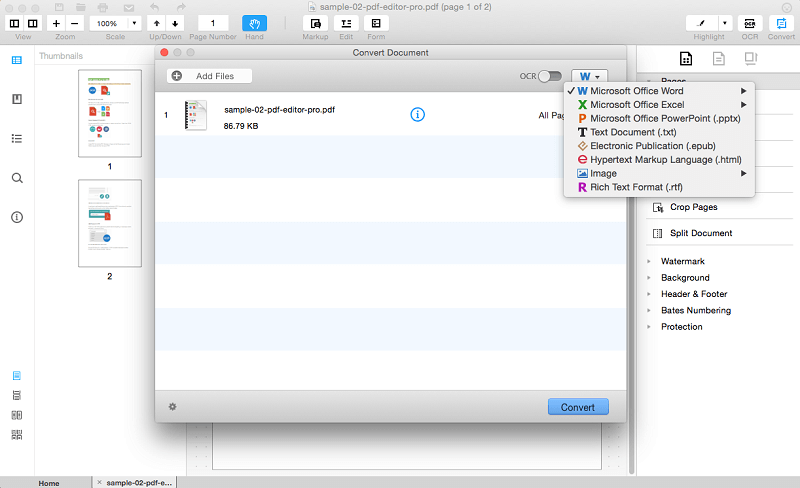 Step 2. Select the Output Format
After necessary editing, you can go to the top toolbar and click the "Convert" button. Then a conversion window will be activated. From here, you can choose "Image > JPG" as the output format, specify the page range and output folder.
Tips: To access more options for PDF to JPG conversion, you can click the "Gear" icon to customize your choice.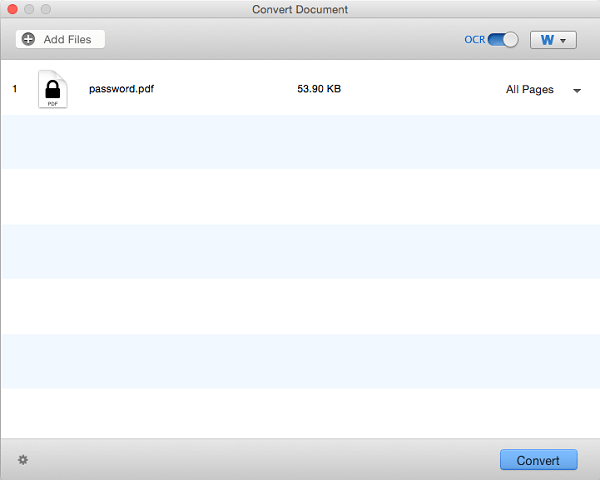 Step 3. Convert PDF File to JPG
This is the last move. Click on "Convert" button at the bottom right of the window. The PDF file will be converted immediately. After a while, you can get the new JPG file in the destination folder.
Part 2. How to Convert PDF into JPG on Windows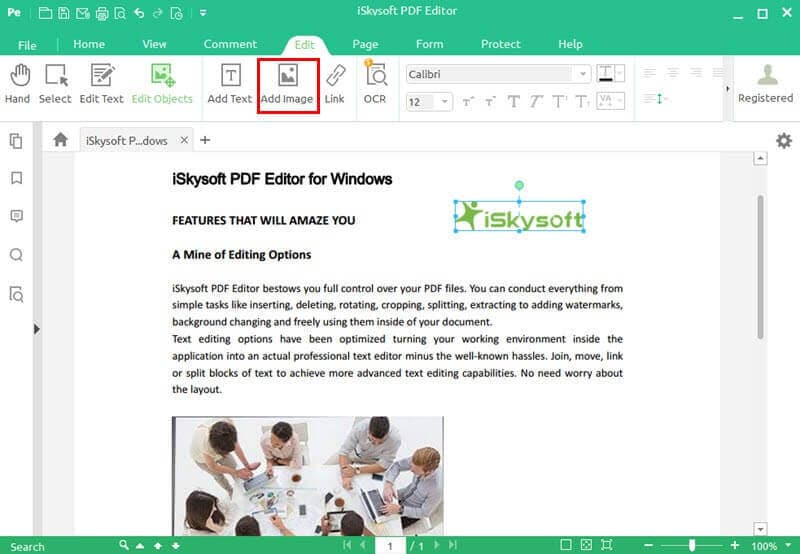 For Windows, you can still batch convert PDF to JPG files using iSkysoft PDF Editor for Windows. This software will enable you convert the PDF file to editable formats such as electronic publication (EPUB), Hyper Text Markup Language (HTML), Word, Excel, PowerPoint, image and Rich Text and more.
It also lets you edit the PDF file as you wish. To edit images and texts is stress-free. You can delete those unwanted pages that are unnecessary or add them. Apart from this, you can also watermark, sign, annotate, compress and OCR PDF as well.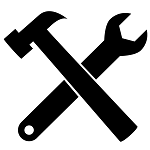 What You Will Need:
A Computer;
iSkysoft PDF Editor for Windows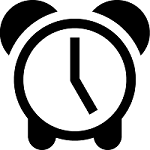 Time Required:
Around 1 min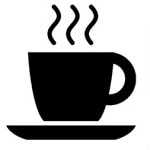 Difficulty:
Easy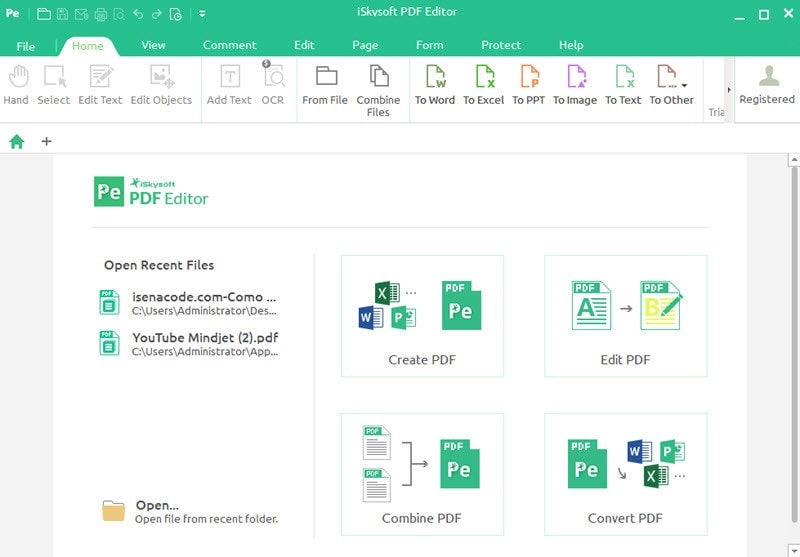 Step 1. Upload the PDF File to the Program
After launching the program, you then need to add the desired PDF file by clicking the "Open" button. If you'd like to edit your PDF before conversion, you can go to the "Edit" tab and then choose the options for adding texts and images. To annotate and sign your PDF, you can navigate to the "Comment" tab.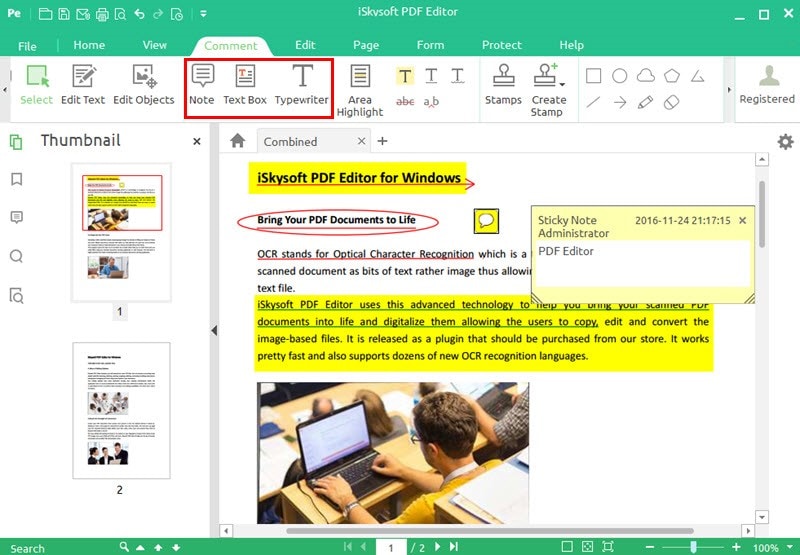 Step 2. Choose JPG as an Output Format
The PDF file at hand needs to be converted to JPG as an output format. Click on "Home" then click on "Convert" type, which is "to Image". In the pop up window, you can specify "JPG" as the output format. By clicking the "Advanced Settings" button, you can tweak the settings for conversion.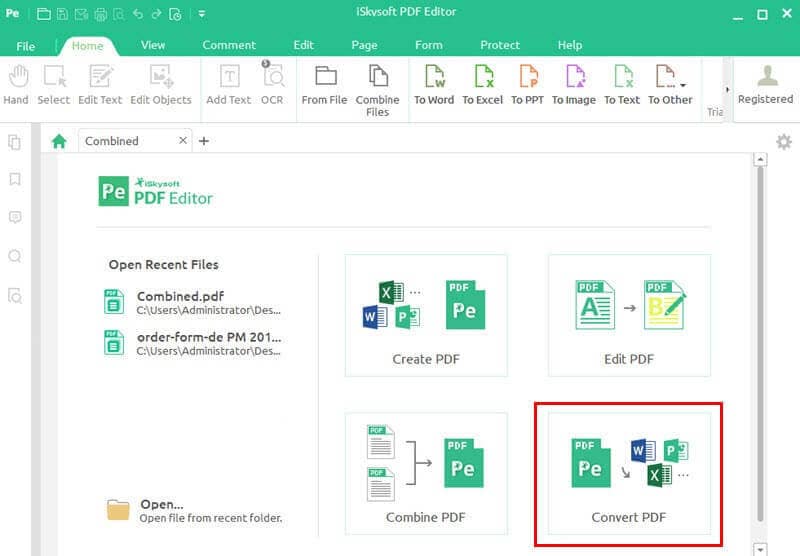 Step 3. PDF Convert to JPG
Click on "Convert" and a window will appear that lets you select the final location of the new format. This location is where you will find the document after you quit the program. After that, the conversion process will start immediately.
Part 3. Know More about JPG
JPG is a popular file format for digital photo, it is also called JPEG. When JPG file is saved, they use "loss" compression, meaning image quality is lost as file size decreases. JPEG stands for Joint Photographic Experts Group, the committee that created the file type. JPG file extension includes .jpg and .jpeg. They are both the most popular file type of image taken with cameras, and it is also widely used for photos.
Unlike other image file format (.gif, .bmp, .tiff, .rtf, .png), JPGs can compress your file size without losing any quality. If you want to convert PDF to another image format, just go to learn about how to convert PDF to BMP, how to convert PDF to GIF and how to convert PDF to RTF on Mac OS, and so on.