While PDF is a wonderful document format, it still has its drawbacks. For example, to view a PDF document, you need a dedicated PDF viewer like Adobe Acrobat Reader to open it. By contrast, JPG file can be opened without installing additional software as image viewer comes as standard on almost any operating systems. Aside from viewing it in an image viewer, you can also view JPG images in any web browser which has the built-in capability to display images. Though PDF can also be opened in a browser, you need to install a PDF reader plug-in first, which can slow down your browser. Also the rendering of PDF document will not happen until it is fully loaded in browsers, and JPG image can be viewed in real time while being downloaded. Another convenience of using JPG feature is that you can easily embed JPG image in your PowerPoint presentation.
Part 1. How to Convert PDF to JPEG/JPG on Mac
Now you may be wondering: how do you convert PDF document into JPG on a Macbook Pro? In the following guide, we will show you how to convert PDF to JPG on Mac in 3 steps with the help of iSkysoft PDF Converter for Mac. More than a PDF to JPG Mac tool, this PDF to JPG converter for Mac also allows you to convert PDF to an array of other document type including Excel, Word, HTML, RTF, PowerPoint, etc, or the other way around.
Below is the step by step guide on how to change PDF to jpg or jpeg format on a Macintosh system, including on your Mountain Lion.
1
Load PDF Files to the PDF to JPG Converter Mac
You can either choose "Add PDF Files" to import PDF documents, or simply drag-and-drop them to the program. It also allows you to add multiple PDF files to the program to save time.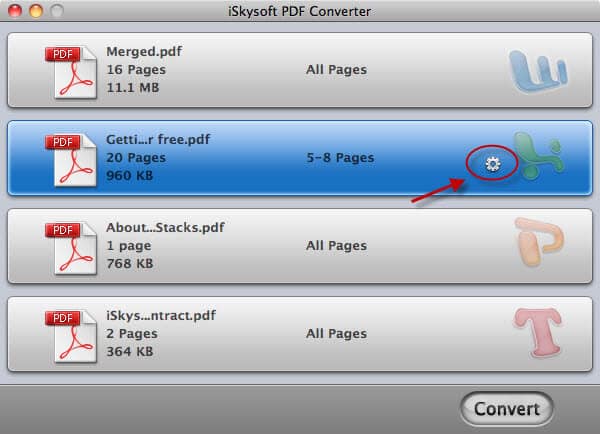 Note: You may choose to convert specific page range from the "Page Range" menu.
2
Set JPG as Output Format
Choose Image from the Format dropdown list, select JPG (.jpg) format as shown below. Click "OK" to confirm the output format setting.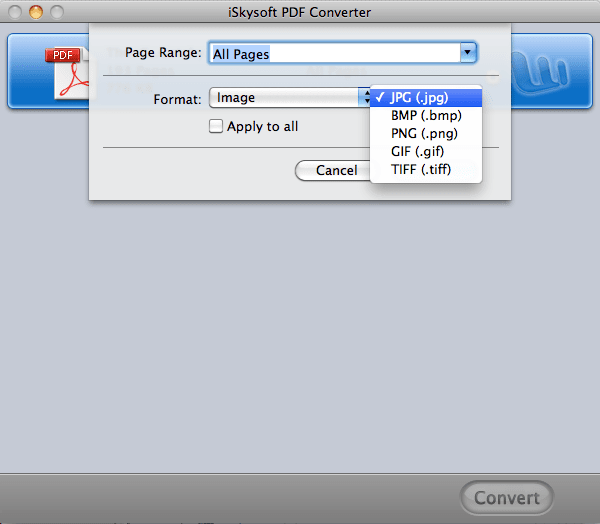 3
Converting PDF to JPG/JPEG Mac
After selecting the output format, simply click the Convert button to initiate the conversion. You can view the converted document right from the program when it is done converting. After all is done, you have completed to export PDF to JPG Mac and save PDF as Image now.
Also see the video tutorial about how to convert PDF to JPG Mac:
Part 2. How to convert PDF to JPG for Windows
Above all is teaching you how to convert a PDF document to JPG image on a Mac OS X, if you want to convert PDF to JPG on Windows, just free download this iSkysoft PDF Converter Windows.
Here is the so easy step to convert PDF to JPG on Windows using iSkysoft PDF Converter.
1
Import your PDF file
After launching the PDF to JPG program, you can import your PDF by click "Add PDF Files".
2
Choose JPG as output format
Here you need to choose Image as output file format, and then click "Advance Setting" to choose .jpg as output image format.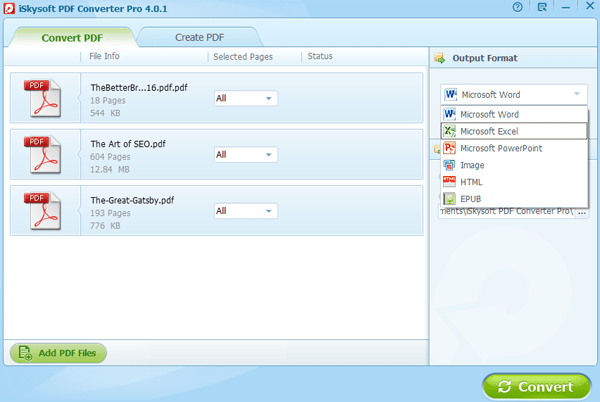 3
Start converting PDF to JPG
After all is done, click to start to convert PDF file to JPG file on your PC computer now.
Tips: Know more about JPG
JPG is a popular file format for digital photo, it is also called JPEG. When JPG file is saved, they use "loss" compression, meaning image quality is lost as file size decreases. JPEG stands for Joint Photographic Experts Group, the committee that created the file type. JPG file extension includes .jpg and .jpeg. They are both the most popular file type of image taken with cameras, and it is also widely used for photos.
Unlike other image file format (.gif, .bmp, .tiff, .rtf, .png), JPGs can compress your file size without losing any quality. If you want to convert PDF to another image format, just go to learn about how to convert PDF to BMP, how to convert PDF to GIF and how to convert PDF to RTF on Mac OS, and so on.