There are times when you will come across a PDF document that contains a watermark. You may have added a watermark to a PDF file and now need to remove it for further editing and use. The watermark is there to protect the document from unauthorized printing and copying and to protect copyrights. Many times the watermark is so dark that you cannot read the PDF document.
Part 1. How to Remove Watermark from PDF on Mac (Yosemite)
There is a simple way for removing the watermark from PDF files on Mac. iSkysoft PDF Editor Mac plays the role of a PDF watermark remover tool that allows you directly remove watermark in PDF on a Mac (Yosemite).
Follow the below simple guide about removing watermarks from PDF on your Mac OS X computer including MacBook Air, MacBook Pro, Mac mini, iMac, Mac Pro, etc.
1
Launch the PDF Watermark Remover Mac (Yosemite)
After you download the program to your local computer, just click to install it, and find the program icon from your application folder, then launch it by double click it.
2
Open your watermark protected PDF file
After you install and launch the PDF watermark removal tool, directly load your file which you want to remove the watermark.
3
Start removing watermarks from PDF on Mac
You can use the PDF watermark removal tool within the program without needing to convert the PDF to a text or word file first. It is as easy as opening the watermarked PDF file within the program. Then you select the watermark tool at the top of the toolbar. Next select the remove watermark option and the watermark is removed.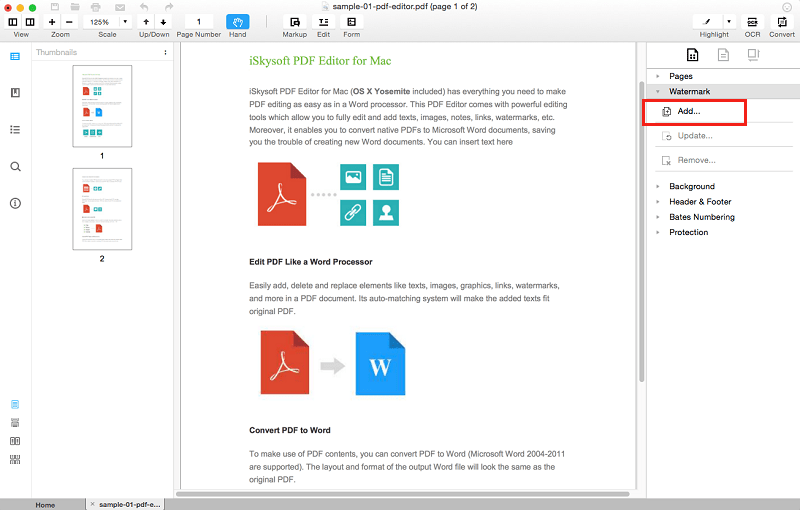 You will be prompted to either save the PDF document or discard changes. To permanently remove the watermark from the PDF on Mac, save the watermark removal and you will have a clean document to work with.
Also see the video tutorial about removing watermark from PDF:
Part 2. How to Remove PDF Watermark on Windows
Learning above all information, you have known that how to remove a PDF watermark on your Mac. However, if you are running on a Windows system, you need a PDF Editor to remove the watermark from your PDF file in Windows. Fortunately, iSkysoft also provides a PDF Editor for Windows acting as a professional PDF watermark removal that allows you to remove a watermark from PDF on your computer, including the newly Microsoft Windows 8 system. Aside from removing watermarks from PDF, this PDF Editing software also allows you to make more settings for your PDF files, such as encrypt PDF file with password, convert PDF to various document format, create PDF from sundry files, annotate PDF, etc.
Tips: Learn more about PDF Watermarks
1. What is Watermark
A digital watermark enables you to protect your personal documents from copying by others. PDF Watermarks are usually added to the PDF files, which can be text, image, page number, date, signature, logo, and so on.
2. How to Remove PDF Watermark for Free
Google Docs (known as Google Drive) is a freeware PDF manager which allows you to convert PDF to Microsoft Word format. Open the output Word document with Google Docs or installed Microsoft Word program, you can see the watermark is displaying. Convert the Word doc to PDF again, Save the Word doc file as a PDF file again (need a Word to PDF Converter to complete this step), there is no watermark on the new PDF file. However, this is a complex process. At last, we suggest you resume to above solution with a few clicks.