In today's world, the use of computers is a safer means of storing any data. However, the risk of data loss is inevitable at times. For example, one can lose data due to a deleted partition. When faced with such a problem, you need not worry because here is your fix. This article will give you a detailed guide on how to recover the deleted partition using the best partition recovery software for Windows.
Part 1. The Best Way to Recover Deleted Partition on Windows
iSkysoft Data Recovery for Windows is the best data recovery software for windows. It has a wealth of excellent features that every user will get enticed. This software guarantees a quick, easy and complete recovery of your lost partitions. With the use of the latest and powerful algorithms for scanning, your recovery will be very fast.
This software is capable of recovering nearly all files including personal documents, photos, video, music, email, and archive files. Irrespective of the cause of loss, this tool will recover your data. The cause could be an accidental deletion, virus attack, formatting, unexpected power failure and improper operations among others. It is capable of recovering from any internal or external hard drive.
Why Choose This Partition Recovery Software for Windows:
This tool allows users to preview files before recovery.
With this tool, you can recover files from many different files systems such as FAT16, FAT32, exFAT, and NTFS among others.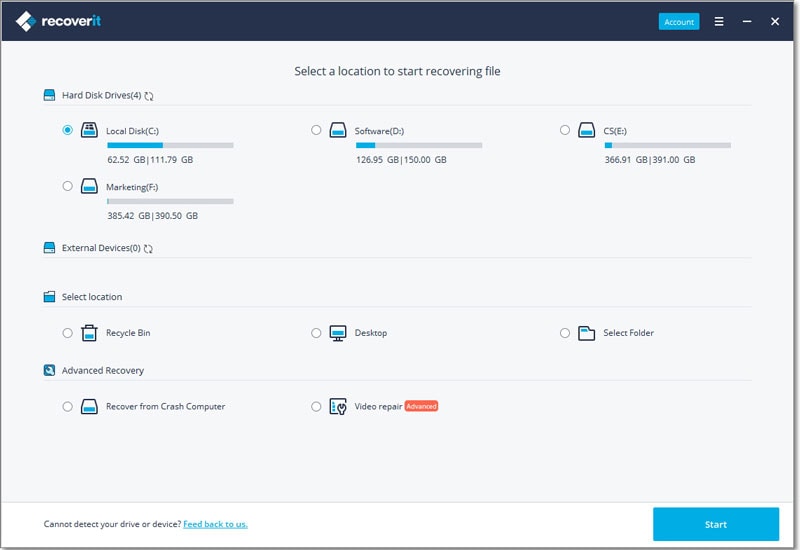 iSkysoft Data Recovery features four modes of data recovery including the Data Recover mode which allows recovery of data lost due to emptied trash or by a Command + Delete.
This tool has a friendly user-interface
Step-by-Step Guide to Recover Deleted Partition on Windows
Step 1. Launch the program on your PC, turn it to the standard mode, and then choose the file types that you want to recover.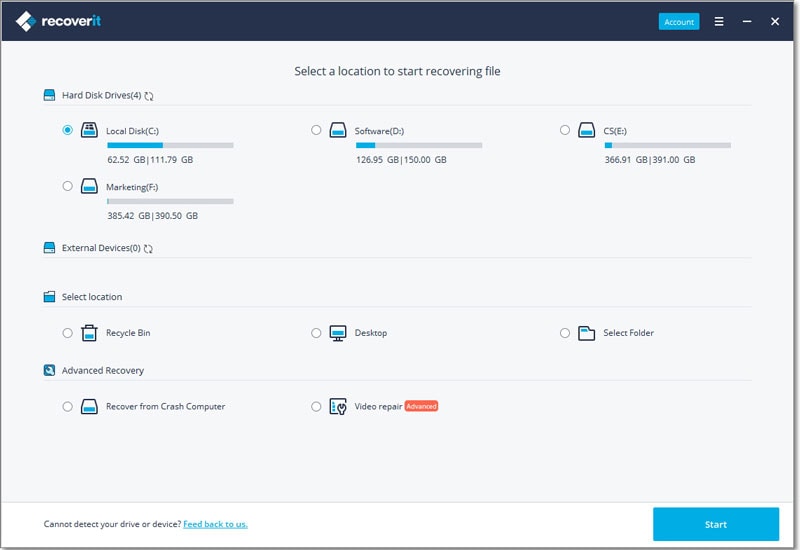 Step 2. From the file browser window that appears, select the particular drive from which you would like to restore your data. Once you are satisfied by the selection, click on the "Start" button at the bottom of this very window. The scanning process will then begin as you will be able to see the process at the top of the window. You can choose to enable deep scan by selecting the "Enable Deep Scan" option so as too perform a complete scan on your drive to recover more files.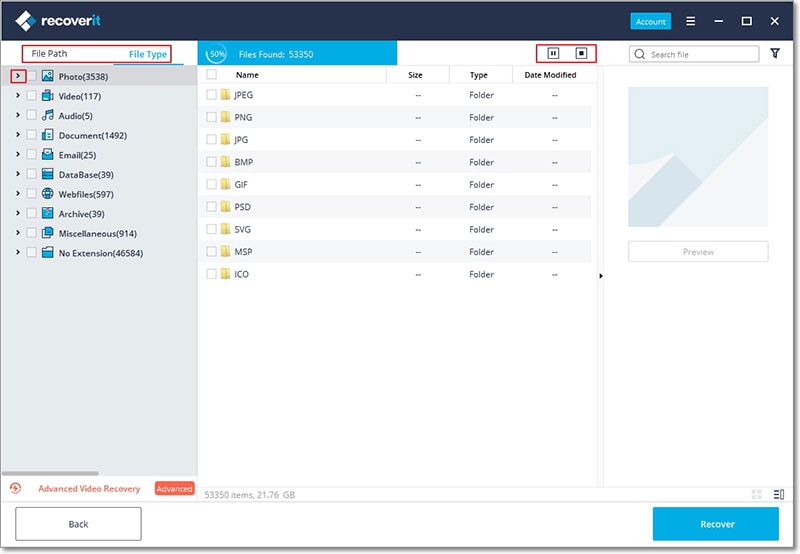 Step 3. Once the scanning process successfully completes, all the contents found within the selected drive will be displayed based on their file types and path. Here, you have an option of performing a preview of these files before you recover them. You check whether the files are those of your interest or not. Select the files you want from the list by ticking on them while leaving those that do not meet your interest. Once the selection is over, click on the button labeled "Recover" at the bottom of this window. This will save your files to the selected path on your computer. It is highly recommended to store these recovered files in an external storage device rather than to the very same drive you lost your data from. You have an option of keeping the scan results by clicking "Save Scan".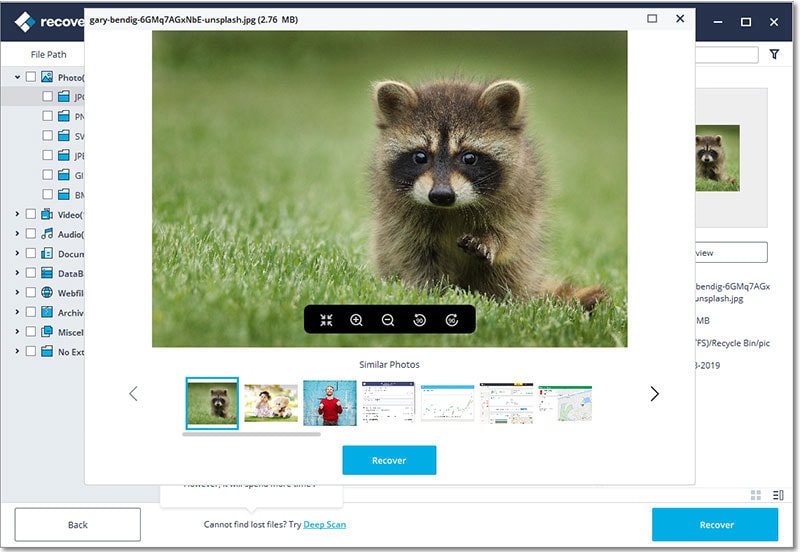 You will be able to tell whether the file is good or bad for recovery by just checking on the file's status.
Part 2. How to Recover Deleted Partition Using TestDisk
Step-by-Step Guide to Recover Deleted Partition
Step 1. Launch the TestDisk program on your computer. Her you will be presented with questions on how to handle log files. Because this is the very first time you are launching it, you are required to create a new one.
Once your drives have been detected by this program, you will be presented with an option of choosing the drive you would like to recover your files from. You have to be careful in selecting the right media because this list also includes external media like USB hard drives. The disk's size detected has to be a correct figure, hence there is a problem and this will result in recovery failure. Once you have selected using the arrow keys, press enter.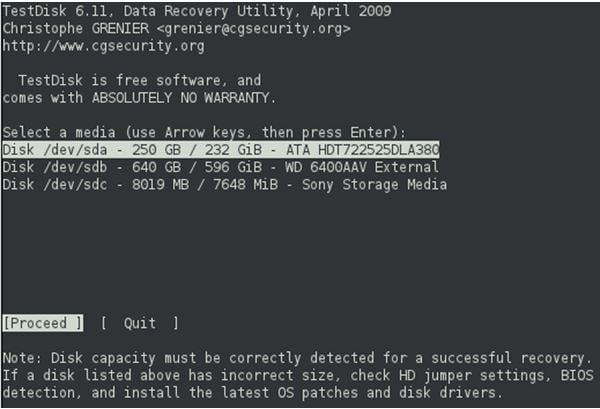 Step 2. Select the partition table type from the list provided by using the arrow keys. Choose Intel and press Enter.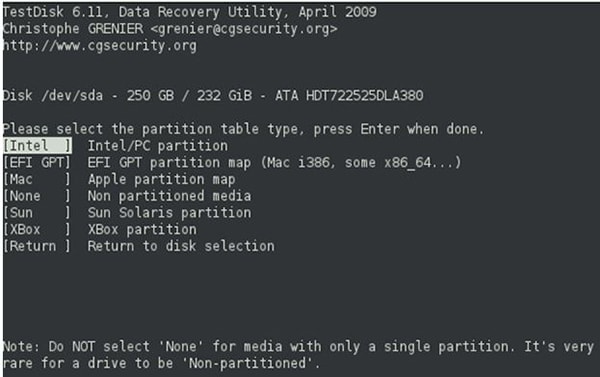 Step 3. Select the particular action you would like to perform from the list provided. In our case, select the option labeled "Analyse". Here, correct disk geometry is crucial. Any incorrect disk geometry will result in an unsuccessful recovery. TestDisk will scan for your lost partitions. When they are found, you will be provided with an option of writing the recovered data to the disk. In case this option fails, you need to perform a deep scan though it will take more time.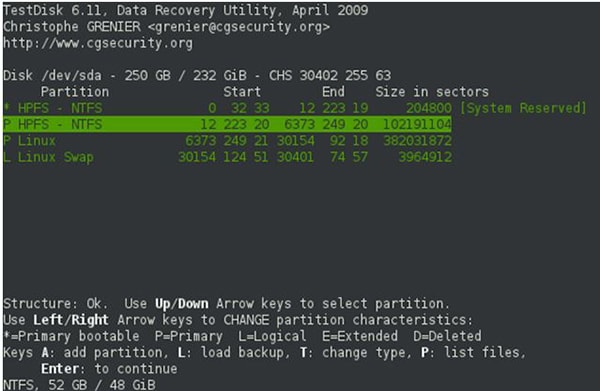 Part 3. How to Recover Deleted Partition Using MiniTool Partition Recovery
Step-by-Step Guide to Recover Deleted Partition on Windows
Step 1. Download the MiniTool Partition Recovery software, install and run it on your computer. Once you have run it, the MiniTool Partition Recovery wizard will open. Click on the "Next" button at the bottom of this wizard.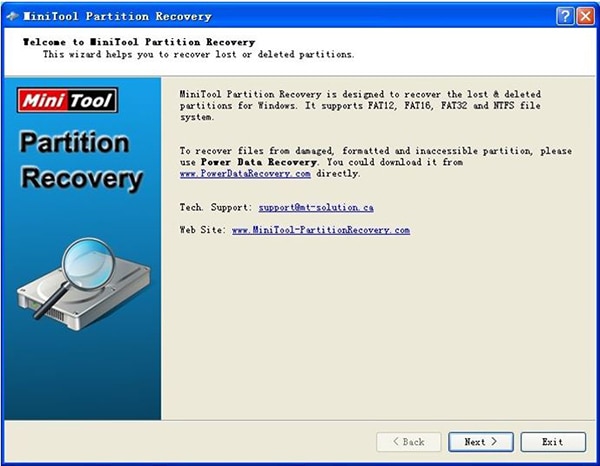 Step 2. Choose the particular disk you would like to recover. You will be provided with the list on the main interface with their respective capacity and modes. Once you have selected the disk of interest, click the "Next" button just at the bottom of this wizard.
Step 3. Perform the scanning range settings. These scanning range settings include, full disk- scans the entire disk, unallocated space- scans free space only and specified range- scans specified sectors only. When you are done, click on the "Next" button.