Revolution is taking place at an alarming rate and it is now possible to recover formatted or even corrupted files from pen drives. This can be life-saving update, especially if the files were not backed up in any other source. Have you at any point tried to trace certain files from your pen drive and a command prompt appears that the file is in incorrect format? It was extremely depressing. In simpler terms, this means that the pen drive has been attacked by a virus and lost all stored files.
But that's not the only reason that can result to corrupted files. Corruption of files can also occur when a computer does not successfully finish a requested process as a result of software issues or a hardware problem with a memory chip of the pen drive. In extreme cases corrupt files might end up not opening at all or could even generate unusable data, garbled data. In this article, we'll guide you to get corrupted files back from pen drive by yourself.
Recoverit (IS) - A Robust USB Data Recovery Software
With the help of Recoverit (IS), you can quickly and easily recover lost, deleted, formatted or even corrupted data from pen drive, flash drive or other USB drive as you like. It provides a solution for different data loss scenarios that you might think of starting from accidentally formatted data, virus attack, system failure& corrupted files with a high data recovery success rate.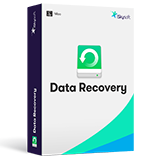 Recover accidentally deleted or lost files, media files including music, audio photos& emails from the pen drive easily, safely and effectively.
Support a wide range of data recovery from recycle bin/trash, memory card, hard drive, USB drive, pen drive, camcorders and digital camera.
Support data recovery for accidental formatting, deletion, lost partition, system failure under different circumstances as well as virus attack.
Easy to use 100% risk free.
...
---
How to Recover Corrupted or Formatted Data from Pen Drive?
To get started, you need to download and install the right version of Recoverit (IS) software on Mac or Windows computer. After that, connect pen drive to Mac or PC, and make it be recognized by the computer. Then, follow the below steps to recover pen drive data easily.
Step 1: Set your PC on a data recovery mode
Begin by launching iSkysoft Data recovery with all the 8 data solutions you may need. In order to retrieve files from your USB stick, pick the option of "External Devices Recovery" so as to get started retrieving lost files from your pen drive.
Step 2: Make a Selection of your USB flash drive
Ensure that your pen drive is properly connected to your PC so that it can get detected. This should be followed by clicking "Next" key and then making a selection of your pen drive in the provided dropdown-list.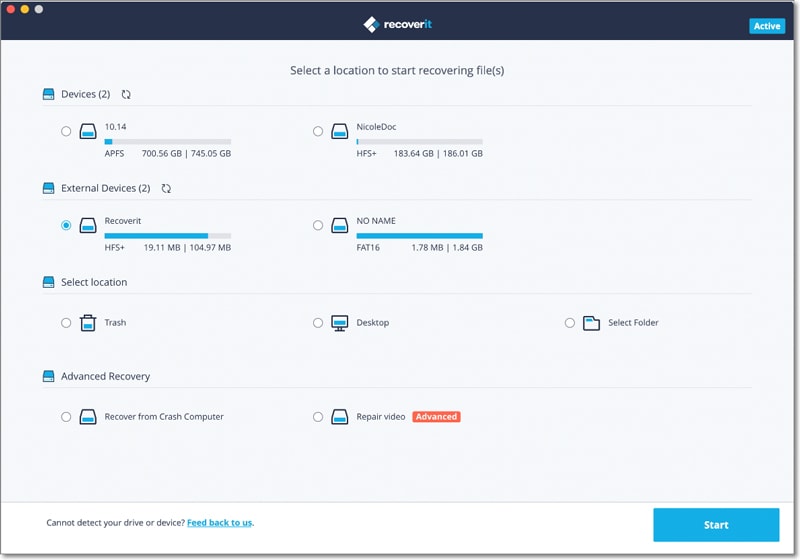 Next, select the "Start" button so as to begin scanning the deleted files.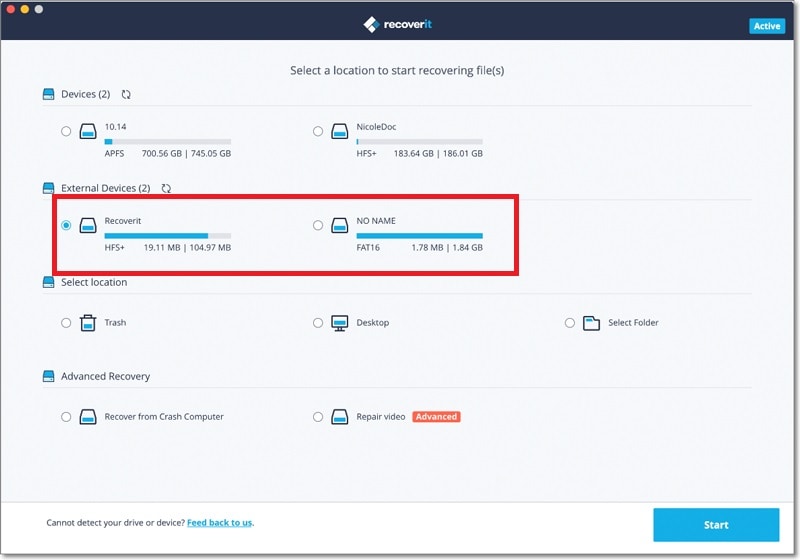 Step 3. Scan the Formatted or Corrpted Files
Now, this Pen Drive Data Recovery will begin to quickly scan in search for the deleted data or files. As soon as the scan is complete, you can now make a preview of the files that are recoverable.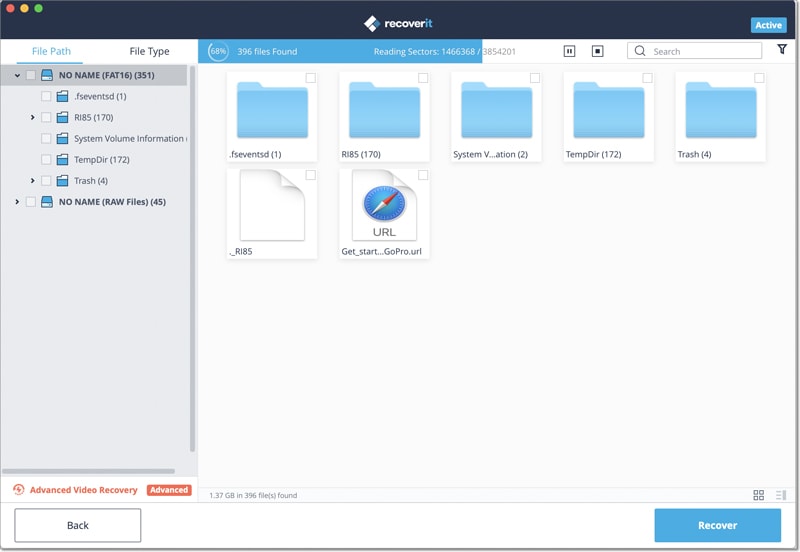 If you cannot locate your corrupted files in this mode, you can scan the pen drive again with the "All-Around Recovery". This will provide you with more recoverable files on pen drive.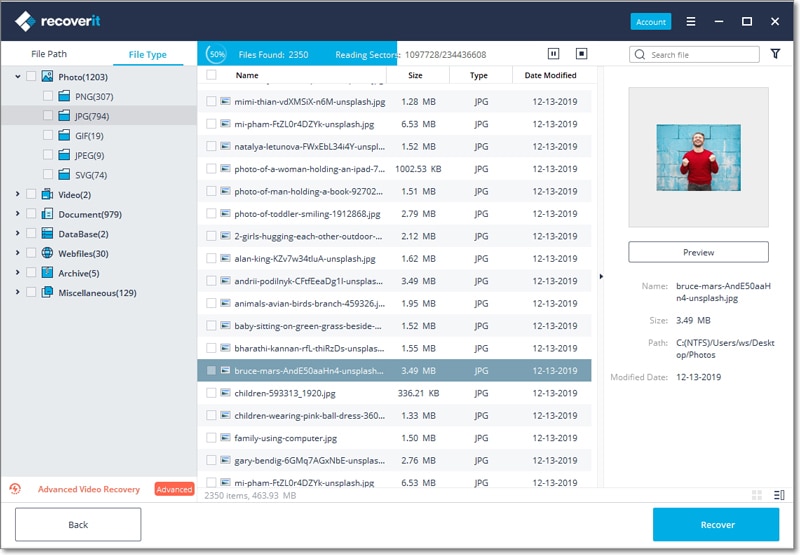 Step 4. Recover Pen Drive Data
Do a preview to find the specific file formats such as PNG, JPG, JPEG, GIF and so on. Now you need to make a selection of the files you wish to recover among the recovered files and select "Recover" button to retrieve all your data back.
Note: Ensure that you do not make a mistake of saving your retrieved data/files on the pen drive that you previously lost your data in. And there are several tips for you to protect pen drive data from mistakenly deleting, or losing.
1. Be patient to always safely eject or remove your flash drive from the PC.
2. Always ensure you have a reliable data back up that has store recovery archives or checksums.
3. Always update your antivirus program on your PC to safeguard your pen drive from data loss due to virus attack.
---
The Most Rampant Pen Drive Storage Device Problems You Should Know
1. Pen drive cannot be detected by the system
Whenever you connect your pen drive to PC and a message prompt pops up "USB Device Not Recognized ", this may be due to any of the following reasons: A problem with bios setting, compatibility issues, drive corruption or perhaps your Flash drive is too damaged such that the computer system fails to recognize it thus sending a message prompt that it does not recognize it.
2. Inaccessibility of the Pen Drive
If you're attempting to enter your pen drive and a prompt message pops up "Location not available" you cannot get access to your pen drive neither can you access your data.
In such cases, most probably your pen drive has been corrupted due to a virus attack. You should stop whatever you're doing and simply get a USB drive recovery software. Do not stress trying to look for alternative solutions because almost anything you might try out will most probably fail unless you're ready to format your flash drive. This will obviously mean losing all your data which is too risky.
3. Difficulties safely ejection your USB Drive
If you ever happen to get an error message "Problem ejecting mass storage device" while attempting to remove the flash drive from the PC, this simply means that the USB cannot be safely removed and it is only safe to avoid giving such a command again, lest you end up losing all your data. Ensure that the pen drive is still on the last requested action like say copying files or deleting files.
Although it is possible for you to recover your files back from a corrupt USB drive or at the event of accidental deletion, it is better to undertake the preventive measures to avoid the hassle of having to go through the recovering process.
Here are some of the preventive measures to be on the safer end.
1. Setting write permissions
Should you want to prevent unauthorized access to your files that may mess up with the files on your flash, it is important for you to set write permissions. Simply right click on your flash drive and look for the security tab and select "Edit" Now you can set to the suitable consents to set your pen drive to write permissions.
2. Controlling the system virus
Preventing measures are better than counter measures. Ensure that you only connect your pen drive to a safe computer. This means that the computer should have updated virus software that almost guarantees 100% protection. Similarly, your PC should also have an updated virus.
3. Be extra careful with public cafes
It is never safe to plug in your flash drive into any random computer you come across no matter how urgent the need is. Public cafes are too risky for your files safety considering that they could be carrying multiple viruses from the countless pen drives that are inserted by the public.
4. Adopt a routine of scanning all your devices
Good pen drive maintenance is everything your data/files need to stay safe. Keep formatting your flash drive every now and then once you're done with the files that are stored. This should always be followed by scanning to correct all errors. Having up-to-date virus software also helps to ensure that any virus is detected and cleaned instantly before it causes harm to your flash drive.
5. Always go offline whenever you are doing data transfer
There are higher chances of your flash drive getting infected when you're online than any other time. Ensure you always disconnect from the internet if you need to transfer any files.
6. Always encrypt your pen drive
You should develop a habit of encrypting your USB stick whenever you're plugged in it requests for password. This is the safest way to ensure your data is out of reach by unauthorized users who may want to use your pen drive without your consent. Google USB encryption software offers a more advanced way of securing your flash drive.