Everyone owns precious files like videos, photos, music, personal documents, emails and more. These files are typically stored on your computer's hard drive or external hard drives and can get lost if the drive is formatted. We format our drives while upgrading to a new Windows Operating System or by mistake when previewing specific files. At times, Windows doesn't recognize your drive, and a pop-up appears notifying you to format the hard drive before you can use it. No matter the reason why you formatted your drive, with the right data recovery software, you can easily recover formatted hard drive on Windows.
The latest hard drives use "file systems" to logically control and organize the reading and writing of data. So file systems act as the directory for your files/folder names and tell your computer the exact locations of the contents of the files saved on your hard drive. When you format the drive, the file system is rewritten, and the file names are no longer linked to the original content of the files on the hard drive. In simple terms, all areas on your hard drive are considered to be "free space". Your files aren't actually lost and an excellent data recovery program can scan the entire drive, search for the file patterns and reconstruct the files as long as they haven't been overwritten.
Part 2.How to Recover Formatted Hard Drive on Windows
Just get on the internet and search for "iSkysoft Data Recovery for Windows." This is the very best data recovery software available on the web. It comes with 4 data recovery modes that let you recover data lost due to formatting, accidental deletion, software crash, corruption, computer crash, improper partition/partition error, virus infection, improper handling of your data storage devices and any other data loss cause you can think of. All types of storage media with FAT32, FAT16, NTFS and exFAT file systems are supported. These include computer & laptops, memory cards, digital cameras, hard drives, USB flash drives, removable devices, etc.
Whether you lost important documents, videos, photos, music or emails, you can get them back in no time. The safe and reliable data recovery program proficiently retrieves all file types. In fact, it features advanced file scanning & recovery algorithm that ensures that your data are restored within just a few minutes.
Why Choose This Windows Formatted Hard Drive Recovery Software:
The software performs a risk-free scan of your drive and doesn't alter the original data during the recovery process.
Recovers your data in original quality while preserving its full properties.
You can activate the "Deep Scan" and let Recoverit (IS) perform a thorough search of your drive.
Pause/stop the scanning process and even save the recent scanning result to resume recovery later.
Find files immediately after scanning by searching for them with names.
Preview documents, emails, videos, photos and archive files after scanning.
Determine file quality (valid or invalid) before you can hit the "Recover" button.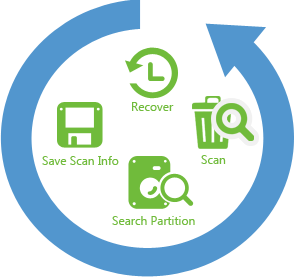 Step-By-Step Guide on How to Recover Formatted Hard Drive on Windows
Step 1

Install the Software

If you decide to search, download and install a data recovery program on the original drive from where you lost your data, your files are likely to be overwritten. Just get another Windows PC and use it to download Recoverit (IS). Install the software on a USB flash drive and then recover data from the formatted hard drive with the program installed on the USB drive. To recover data from an external hard drive, you will have to connect it the computer.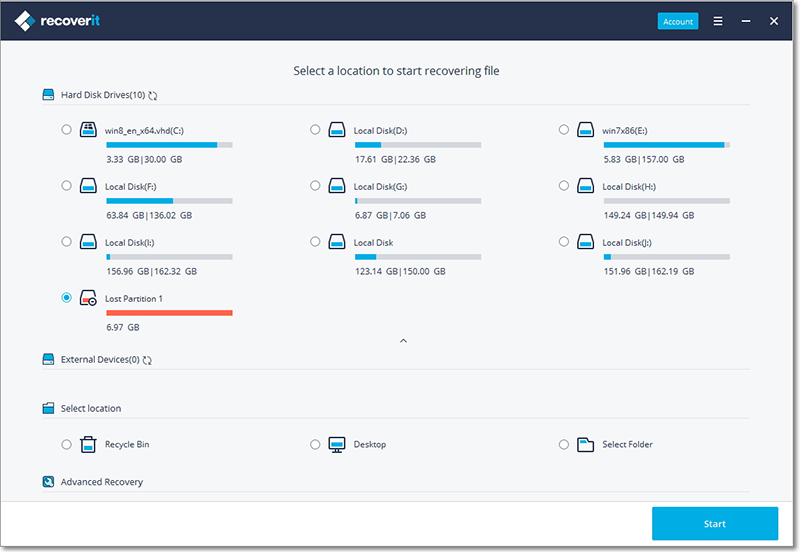 Step 2

Select the Best Data Recovery Mode for Your Situation and Start Scanning

"Raw File Recovery" is the best data recovery mode for restoring data from formatted hard drives. It scans the logical structure rather than the folder structure of your drive increasing data recovery success. However, this mode doesn't display the names and paths of your files since it recovers them by file signature.

Once you click on the "Raw File Recovery" mode from the main interface, the drives or partitions in your computer will be displayed. Select the one you would like to recover data from and hit the "Start" button to begin the scanning process.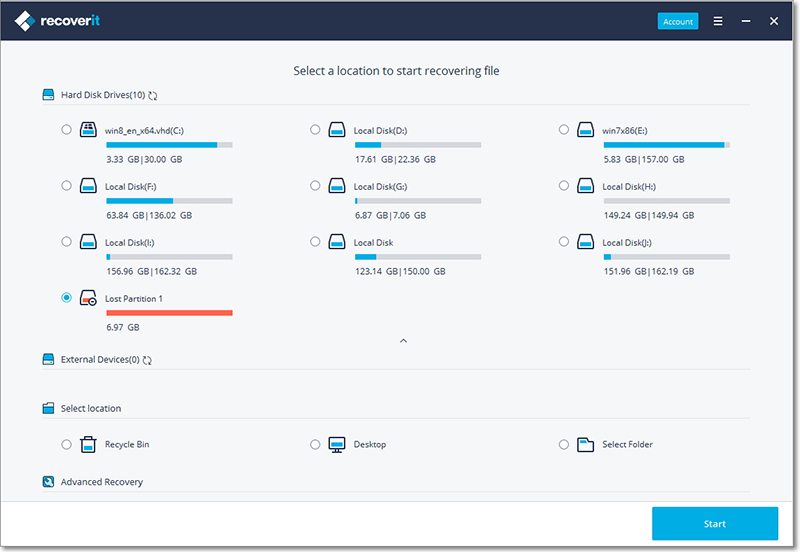 Note: At the bottom of your screen, there are 2-scan options to choose from, ("For All Files" and "For Deleted Files")
Part 2. What Should Be Done Before You Recover Formatted Hard Drive on Windows
Continued operation on a formatted drive can result in permanent loss of your files due to data overwriting. Therefore, before you can recover data from an internal (formatted) drive, you'll have to get another Windows computer and use it to search, download and install the best data recovery program. You can then install the software on a USB flash drive and recover your files while the data recovery program is installed on a USB flash drive. If you formatted an external hard drive and you want to restore your files, you must ensure that you have the tools required to connect the hard drive to your computer.