There are many reasons that may corrupt system files among them being virus attack, system crash or even a mistaken PC operation. Such instances can be extremely frustrating as a corrupt file cannot be used or operated. Whenever you face such an issue, you can start by attempting to repair Windows system files or run a program to detect the virus and fix it. However, if all attempts fail more than 2 times, there are third party software that exclusively help in data recovery of such files.
What Does Corrupt System Mean?

A corrupted file system means that the file format has been modified from the original form and it may be inaccessible and cannot be operated. A corrupt file system may result from a system crash, virus attack or from an error in PC operation. So, if you want your Windows runs well, you need to fix or repair these corrupted system files.
In this post, you can learn 3 different ways to fix corrupted Windows system files step by step. You can go through them and follow them to fix your corrupted or crashed system files easily.
How to Run the SFC Command to Fix Corrupted Windows System Files?
The System File Checker (SFC) is specially designed and put in windows to enable scanning the corrupted Window's system files. However, it is not limited to that and it can also check out for other errors. For example, where it comes across a file that has been modified, it automatically replaces that file with a correct file format (version) as a way of assisting the PC user.
This process is usually carried out from the Prompt Window of the Administrator Command. For example:
- When you're using Windows 10 version, you simply need to right click at the "Start" key and choose the "Command Prompt (Admin).
- However, in case you're using a Windows version that's different, you can simply access it by searching through the start menu for command prompt, select it by right-clicking on it and then, choose the option to "Run as Administrator'.

When the SFC command is running, then you can follow below steps to fix corrupted Windows system files.
- Type the following command in the provided command prompt section of the Windows and hit the "enter button". Doing this will assist you in performing a complete system scan: SFC/scannow.
- At this point, you can leave the window of the command prompt open until the command has fully completed its execution. The process may take a while on the basis of the condition of your computer system.
- When the process is completed, and there is no errors, a message will prompt and show you a message like this "Windows Resource Protection did not find any integrity violations".

- On the contrary, you can get a message "Windows Resource Protection found corrupt files but was unable to fix some of them". Then, you need to reboot your PC and enter into the Safe Mode before doing anything else.
Note: For PC users that are using Windows 10 version, retrieving the safe mode may prove to be quite difficult since booting process takes just a few minutes, However, it can be achieved by pressing and holding the restart button so as to hop them to gain access to the advanced boot options menu. Note that for early Windows versions, you may have to press and hold the F8 key as the booting process takes place. After this, you need to run the command discussed above in the safe mode.
How to Run the DISM Command to Fix SFC Not Working Issues?
Note that the System File Checker may not work in some specific cases and this is mainly depending on the file system. In such instances, the DISM command can be a lifesaver especially for Windows 8 or Windows 10 as it helps through repair of the underlying Widows system that has been destroyed. However, for exceptional cases(variants) such as the Windows 7 or earlier versions, Microsoft usually provides the option of a downloadable "System Update Readiness Tool" as an alternative.

In order to execute this command, you need to open the command prompt as an administrator. Next, key in the following command and then hit the "enter" button. DISM will automatically check out for the corrupted windows component store and immediately and instantly fix any problems that have been detected.
DISM clean up/Health Restoration process
- You now need to allow the command to complete running prior to closing the command prompt window. This may take a while, up to 10 minutes (including in rare cases) However, do not be frightened should your progress bar fail to break the threshold (20% limit for long) as this is normal.
- If the DISM command has made any modifications, you may need to restart your PC after that. This enabled you to execute the SFC command time and again hence replacing the corrupted files using the correct versions.
- Kindly note that when it comes to Windows 7 variants as well as other earlier versions, DISM command is unavailable. The users, in this case, may have to install and run the he "˜System Update Readiness Tool' right from the Microsoft official website and scan through their systems for corrupted files in order to fix(repair) them.
If you're worried that a corrupted file may end up causing harm to other critical files on your PC, you simply need to carry out the system restore.
When Should the Commands Be Run to Fix the Corrupted Files?
The next common and vital question that often arises is "when should command be used?". The most critical area to execute this command is when troubleshooting a Windows system that is faulty. In case you're getting the error of a blue screen, having issues due to applications crashing, you're unable to access or use the features Windows provides, the SFC command can be a lifesaver.
In most cases, executing DISM command may not be necessary. However, if you're unable to achieve desirable results using the SFC command or maybe you're unable to replace the file that's corrupted with a correct one, only a DISM command that would help. Similarly, the System Update Readiness Tool can help in repairing the underlying issue using your windows system as well as ensuring the System File Checker is running properly.
Conclusion
When you have performmed the SFC or DISM command on the computer, your corrupted system files might have been fixed. However, if you found some important data have been lost due to the file corruption, you can directly use Recoverit (IS) or Recoverit (IS) for Mac to recover lost, or corrupted data after system crash.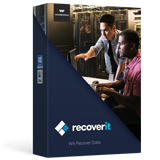 8 different recovery modes help you conduct a deeply scanning on your computer or external hard drives, and recover more than 550 different types of files without data losing.
Up to 98% success rate to help you get what you want at the shortest time.
Deal with various data loss situations, such as mistakenly deletion, disk formatting, partition lost, system crashing, and so on.
Quick and deep scan mode allows you to improve working efficiency in different situations.
Preview files to locate your target files without any deletion.