Contents
3 Extract iPhone Backup
Part 1: How to backup iPhone contacts to iTunes
iTunes is built into your iPhone with the ability to automatically backup your contacts. However, you can alternatively choose to disable this option. It is a good thing to remember that backing up your contacts will be a very good way of making sure that your contacts are safe in the event that anything happens to your phone. Here are steps to walk you through the backup process.
Step 1. On your computer, open iTunes then connect your iPhone using a USB cable. Allow iTunes time to recognize your iPhone.
Step 2. Right click on the name of the iPhone in the list of devices then select Back Up. This will finally conduct the manual backup of your contacts and save the contacts to the local computer.
Pros
• The backup process is much faster.
• It does not require an internet connection.
Cons
• It requires computer running.
• It utilizes HDD space.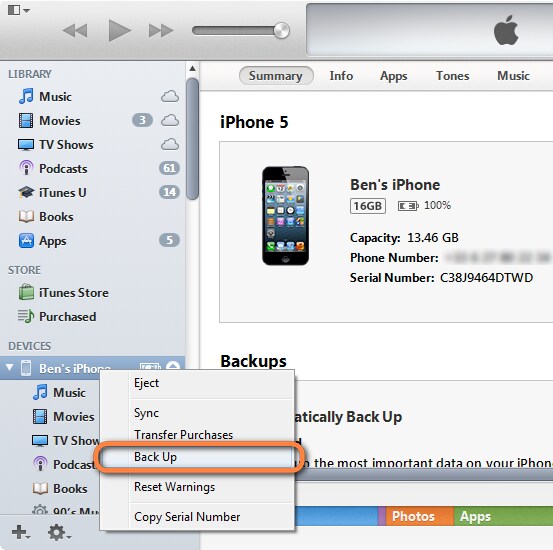 Part 2: How to backup iPhone contacts to iCloud
It is now possible for you to create a backup of your contacts on the iCloud. In order to do this, follow the simple steps below:
Step 1. Go to the iPhone settings and select iCloud from the options.
Step 2. On this option, select contacts then slide from OFF to ON.
Alternatively you can basically backup the whole iOS to the cloud, which is a sensible move though it could take more time depending on the size of the data you are saving. This makes sense because it saves everything from your contacts to your messages.
To create a backup of your contacts only, simply slide the contacts from Off to On. If you had performed a backup earlier on through iTunes, you will get a prompt to Merge them with the ones on the cloud.
Pros
• Your contacts will still be safe even if your iPhone or computer gets a hitch.
• Your contacts are backed up automatically.
Cons
• It eats on your home internet bandwidth.
• It requires plugging for it to be automatic.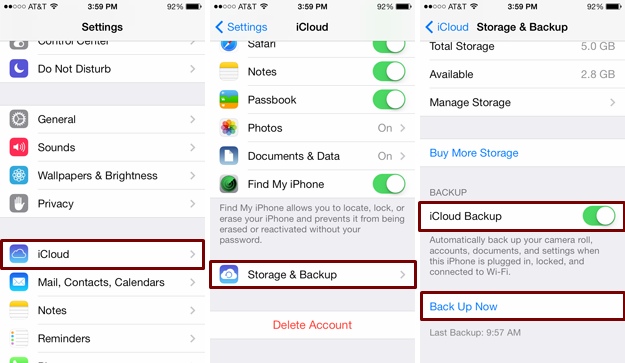 Part 3: How to backup iPhone contacts to Gmail
To backup your contacts on iPhone to Gmail, there are two ways. You can do it via iTunes, and do it directly on your iPhone wirelessly. Choose the way below available for you and follow it to backup your iPhone contacts to Gmail.
Step 1. Launch iTunes on your computer then connect the iPhone to the computer via the USB cable – when iTunes has registered your iPhone, open Info.
Step 2. Select the check box marked "Sync Contacts With" and then select "Google Contacts On" from the menu available followed by Configure.
Step 3. Read though the Google Terms then click "Agree".
Step 4. Enter the details for your Google account and select OK to confirm the action followed by selection of "Apply" on the bottom right corner of your iTunes window and relax while your contacts are being exported to your Gmail account.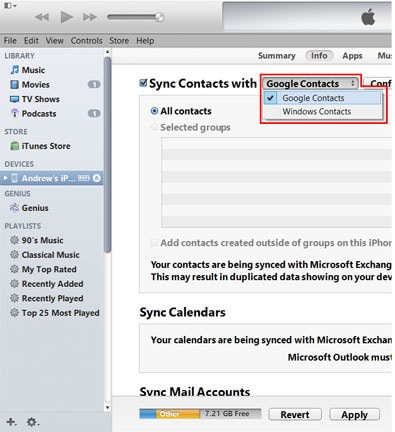 If you are connected to a wireless network you do not need to use the USB cable, but you can do the backup through a wireless network. The following steps show you how to do it through wireless.
Step 1. On your iPhone go to Settings-Mail, Contacts, Calendars then tap on the Add Account button and go to Microsoft Exchange.
Step 2. Enter your Gmail account details in the spaces provided (email, username and password) and tap Next.
Step 3. Select Cancel in the dialog box displayed with the error "Unable to Verify Certificate". Remember that this it is not an error; it is part of the process. You will return to the Microsoft Exchange page then enter into the server box m.google.com and select Next. The iPhone will have automatically verified the connection established with your account.
Step 4. To complete this, slide your contacts switch to indicate ON then tap on the Done button. Your phone can also deliver a dialog box in which you should select Keep on My iPhone so that your preexisting contacts do not get overwritten.
Pros
• It is cross-platform, which enables one to 'pull out' the contacts to any Smartphone connected to the internet.
• It is fast, easy and straightforward.
Cons
• It requires that one signs with Google+ or by use of some third party so as to save with it.