There are several ways that you can record the screen of your Mac. One of the best is to use an online screen recorder which does not rely on the operating system that you are using. As long as you have a compatible browser, you can record your screen, then download or distribute the recording as you see fit. You may also download Apowersoft, which is a powerful desktop recorder which also works on the Mac OS X 10.11 El Capitan. The tool has powerful features, allowing you to create professional videos from your screen recording.
Screen Recording on Mac with Apowersoft Screen Recorder for Mac
Apowersoft is an advanced professional screen recorder that comes with a smart task scheduler and powerful editor allowing you to have a one-stop recording studio on your Mac. You can record your full screen, a region of the screen and even add an overlay of your webcam. It comes with advanced sound tools which guarantee an excellent video production. You can also edit your videos in real-time; a feature that positions it as the leading screen recording software.
Step 1) Start Apowersoft. Download and install Apowersoft Mac Recorder software. It works with OS X 10.11 El Capitan and earlier.
Step 2) Define your recording area. At the top right hand of the screen, you will see a red button which you should click to record. You will get a drop-down menu with the options to record a certain region, the full screen, or your webcam.
Step 3) Define your audio settings. When you click on the "Audio Input" tab at the top of the screen, you will get a drop-down menu which asks you to select none, if you do not want any sound; System sound, if you only want the system audio to be recorded; Microphone, if you need to add your voice to the video, and the last option is System sound and Microphone, for when you need to use both. Make your selection according to your needs.
Step 4) Start your recording and stop it when done. Simply click on the record button at the top and begin recording your video. When you are done recording, stop the session by clicking on the "stop" tab at the top of the screen.
Step 5) Edit your video. Apowersoft comes with a built-in editor which you can use to edit your videos to other formats. Traditionally, most videos recorded using screen recording software are very large and not suitable for sending over the Internet. In order to host videos and stream them effectively, you need to encode them into formats that are smaller in size, but do not compromise the quality of your video. With Apowersoft, you can do this easily. The editor can also be used to spruce up your videos, adding text and other effects.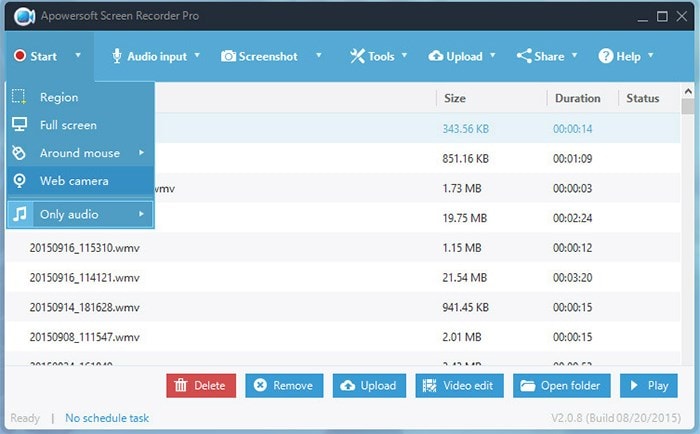 Tip: How to Record Screen on Windows with Aiseesoft Screen Recorder
If you are using a Windows computer, use Aiseesoft Screen Recorder to record your screen. This is a powerful Windows Screen Recorder that records video in high resolution. When creating videos for the purposes of teaching, you need all details to be clear and this is why you should use Aiseesoft. Here are some of the key features of this fantastic tool.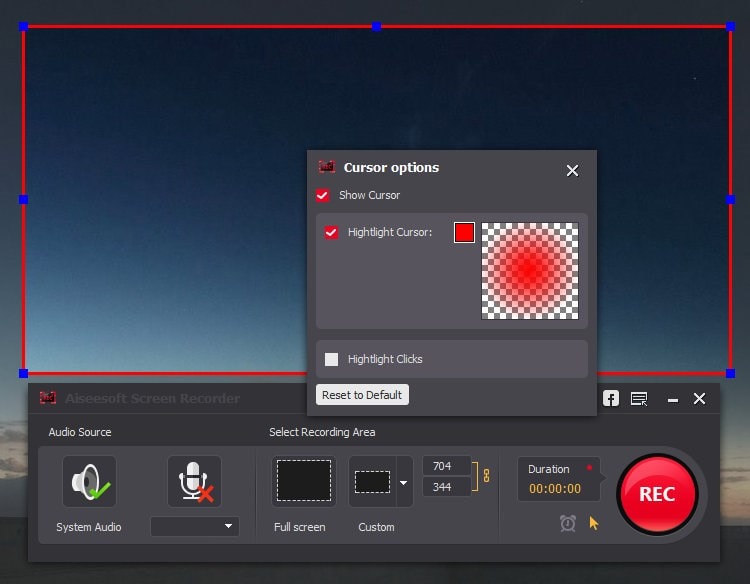 Key Features of Aiseesoft Screen Recorder
Ability to set your recording region – Aiseesoft allows you to decide which part of your screen will be recorded. You can select full screen or use your mouse to select and record a certain region.
High resolution video – This is a feature that sets this screen recorder apart from its competitors. The videos that you create using this tool will be clear, and enjoyable to watch.
Recording from several sources – Whether you are recording streaming video or your webcam, you can easily set this tool for each. Streaming sites do not allow you to download their videos, so you can record the player and get the video for future watching. When you are chatting with someone using your webcam, you can easily record them. Lastly, you can record all functions happening on your screen; ideal for tutorials and video game demos.
Record streaming audio - If you are a fan of online radio stations, you can now record your favorite programs using Aiseesoft. This tool allows you to record the streaming audio and save it to your computer.