Have got many DVD collections and want to enjoy them on your Apple TV, iPhone or iPad? If so, you may feel frustrated that Apple devices will not support DVDs. But here in this article, you will find an efficient and convenient way to convert DVD's to MPEG-4 video that Apple devices support by using free software named Handbrake.
Requirements
500 MHz processor or better with video RAM at least in 16MB
iTunes 6.0.1 or later
QuickTime 7.0.3 or later
VLC player (Handbrake 0.9.3 and higher)
Steps
1
Download Handbrake
Click to download Handbrake and follow up instructions to install it. If you have got Handbrake, make sure that it has been updated to the latest version. The latest version comes with some improvements, especially for the iPhone and iPod.

2
Insert DVD
Insert your video DVD into your Mac. And the Handbrake is only available to convert standard DVD videos which are normally playable in DVD players. So if you want to convert a DVD-ROM with individual video files (in MOV, WMV, MPG, AVI, etc.), Handbrake is not able to do the conversion for you.
Open the Handbrake. Select the inserted DVD and Open it on the pop up window like the image below.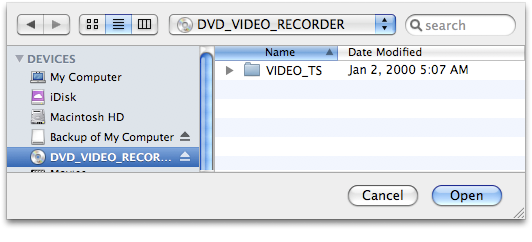 3
Download VLC player
The Handbrake 0.9.3 won't natively convert DVDs so you have to install VLC on Mac first. If there is no VLC installed, you will get this notice:

Then click "Get VLC" or go to the site to get it: http://www.videolan.org/vlc/. The media player enables you to play video in various formats, DVDs and VCDs. And now Handbrake can read DVDs by using some components of the VLC media player.
When you have downloaded VLC player, you have to install the VLC on Mac.
4
Source Settings
Now Handbrake will start scanning your DVD. It will take minutes to finish scanning, which depends on the optical driver speed or your DVD contents.

Title: If you do not select the title, Handbrake will automatically select the longest title to set it as title:
Movies: If you are processing movies conversion, the longest title usually could be the main feature.
TV Shows: If you are converting a DVD coming with TV shows, you will see a title list with the titles almost coming with the same length. The video backgrounds always come with shorter titles that used in DVD extras like movie trailers and the DVD menu screens. If you work as a graphic artist, you might not need these tracks.

5
Destination Settings
There are 3 settings in the Destination part you can modify: file destination, codec and file format.

6
Select A Preset
Handbrake provides some presets for Apple TV, iPhone, iPod, Sony PSP, Xbox and the like. So you only need to set a preset if you happens to plan to convert DVD to an device included for playback.

Wanna play DVD on your iPad, iPod, iPhone or Apple TV, you can set iPod High-Rez and decline the average bit rate to 900 kbps. By doing this, you will get a nice and high quality file also won't take up much space of your hard drive .

7
Picture Settings
Click the Picture Settings button, you will go to picture setting window. One thing you need to do here is to compensate for grainy or interlaced, compressed looking video. The Handbrake would have adjusted everything for you according to the presets you have set.
In some cases, video files will come with horizontal lines, say, interlacing. To avoid interlacing, select the Deinterlace option then choose "Fast."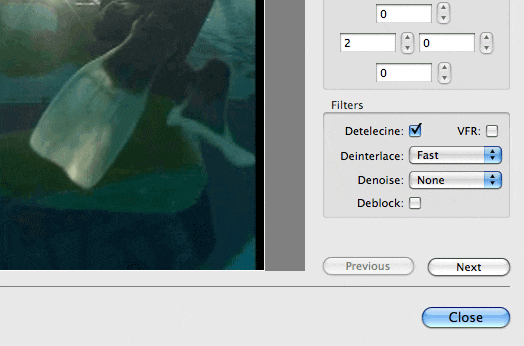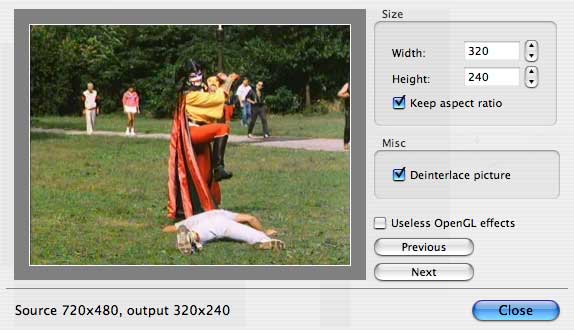 8
Convert
Now, press the Convert button and stay back. The encoding time depends on some variables like: the speed of your computer, the duration of your video file, how many running programs on your Mac, the codec you chosen (MP4 or H264) and whether you make up your mind to do a 2-pass encoding or not.

Handbrake will provide an ETA for you when encoding. If you Pause the encoding or start a 3D render in Maya or do some other things to hog the processor, the encoding time will be longer. We suggest you process your DVD converting overnight or at the time when you don't have to use your Mac.
After finishing the encoding, quit Handbrake.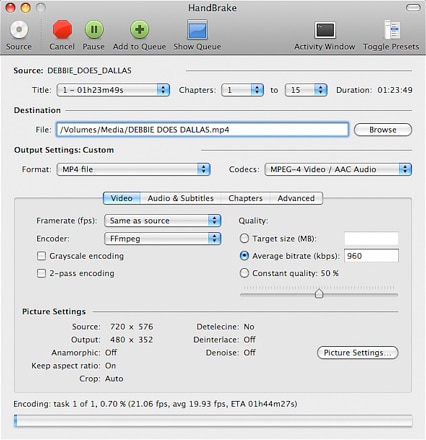 9
Transfer into iTunes
Connect your iPad, iPhone or iPod to your Mac and open iTunes.
Go to File>Add to Library... to import the video, or directly drag and drop the converted video to the iTunes library
Confirm that the video file you just imported to iTunes is in a Playlist so that it will be synced to your iPod, iPhone or iPad.
Click the "Sync" button.
It will take minutes to complete syncing. After that, the video file should be on your iPhone or iPod now.