Contents
2. Convert from WMV

3. Convert to WMV

4. Play WMV

5. Edit WMV

6. About WMV
Let's face it, Windows and Mac will never fully get along. Playing WMV (Windows Media Video) in QuickTime on Mac is no execption. So if you're looking to play WMV on a Mac with QuickTime, this article will show you the most trusted solutions to play WMV video on Mac (Snow Leopard, Lion, Mountain Lion, Mavericks and Yosemite included), and also help you to edit WMV in iMovie, add WMV to iTunes and more.
Best Solution: Convert WMV to QuickTime Compatible Format for Playback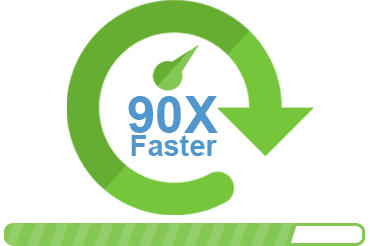 What You Will Need:
iSkysoft iMedia Converter Deluxe for Mac
Enables You to Play WMV on Mac Smoothly!
Convert any video to play on Mac, PC, iPhone, Android and other devices.
Support OS: Mac OS X 10.11, 10.10, 10.9, 10.8, 10.7 and 10.6

Free Trial
version: 4.4
Downloads: 399,935,084
Steps for Convert WMV to Quicktime supported format
1. Download the Program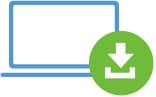 At first, you need to download and install iSkysoft iMedia Converter Deluxe on your computer, then find it from the Application folder and click to launch the program.
2. Add WMV Files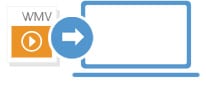 After launching the program, your can directly drag and drop the WMV file into the program, or just click the "+" icon at the bottom left corner of the program main interface to choose the WMV file and add to the program.
3. Set the Output format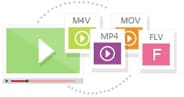 In the bottom format tray, there are some output video format options and optimized presets provided for QuickTime, iPhone, iPad, iPod, iMovie and more. To play WMV files on Mac, you can just choose "MOV" as output format.
4. Start the Conversion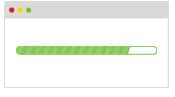 When you have selected the output format, you can click the "Convert" button to start the conversion.
Note: Under the help of
iSkysoft iMedia Converter Deluxe for Mac
, you can play WMV in QuickTime successfully in 1 minute. For Windows users, please download the Windows version and do steps in the same way. If you want to try other ways, please read on, but this solution is highly recommended.
However, if you need a free solution: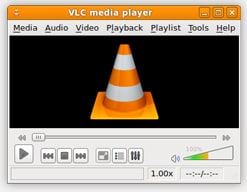 10% Users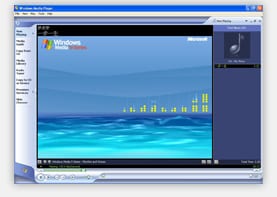 5% Users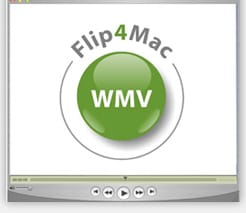 10% Users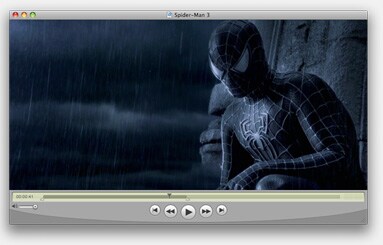 80% Users
Comparision of free WMV player for Mac
Information
Pro
Cons

VLC Media Player

The VLC media player is the most popular and feature-rich open source media player available today. If you've determined to drop QuickTime, this free media player is the first recommendation for you. It has lots of pros over the cons.
• Free
• Support of a large number of audio, video and streaming formats
• Simple user interface
• Not memory-intensive
• Platform-independent
• Can output videos to iPhone or iPod
• Can stream videos over a network
• Can play broken or incomplete downloads

• Doesn't support Mavericks and Yosemite
• Lacks multiple selection feature
• Can't use escape key to exit full-screen view
• No comprehensive help documentationw
• Usually the video is smooth but no audio
• It be averse to allow you to edit WMV in QuickTime supported apps like iMovie and Final Cut.

Windows Media Player

The Windows Media Player is the most widely used media player on the planet, mainly because it comes free with Windows. It also has Mac version, but it's a pretty old version, which is not updated for years. It's no secret that the Mac platform has never been Microsoft's priority.
• Free
• Support of lots of common video and audio formats

• Pretty old version, with no support any more
• Can't handle the latest audio and video codecs and streaming videos resulted in substantial buffer times
• Doesn't offer Intel support, only for Power PC
• Doesn't compatible with Marvericks and Yosemite
• Brings some troubles when use it in newer Mac OS
• Still encounters problem when it comes to Windows Media digital rights management.

Flip4Mac

If you insist of choosing Windows Media Player, please turn to this one: The Flip4Mac. It's the later version of Windows Media Player, with a few updated features. As one of the QuickTime components, it lets you playback videos in more formats on your Mac, including high definition ones. But if you want to import WMV and WMA files for conversion to QuickTime and QuickTime compatible formats, you need to upgrade to the pro version with $29.
• Free for the standard version
• Plays WMV files in standalone Flip Player or QuickTime
• Supports WMV in Safari, Firefox, Chrome and Mail
• Doesn't obscure playback with controls
• Clean interface for easy use
• The free version is limited functionality
• Does not support Snow Leopard
• Does not support screencasting
• Can't play Windows Media Digital Rights Management
• Can't fully handle Safari's default 64-bit mode in Snow Leopard
• Leaves a watermark in QuickTime
• Advanced features only in Pro version
• Doesn't not support the newest Mac OS X system, and has many limited functionalities in the free version.
Share Your Opinions on the Video Players
Tips: FAQs About Watching WMV on Mac
Q: Why can't VLC play WMV on Mac?
A: Although VLC includes all common codecs for video files, sometime it will also fail to play some WMV videos. In such cases, first make sure you're using the latest VLC. Secondly, make sure the WMV files are not corrupted. To do so, either try other media player software or try importing WMV to iSkysoft iMedia Converter Deluxe for Mac .
Q: Can all computers play .wmv files?
A: Of course NOT. WMV is encoded with Windows Media Video format so you need a media player with WMV decoder included, or your system provides such a decoder. If you're using Windows, you can usually play WMV files without any problem, but if you want to watch WMV video on Mac, you have to install a WMV player or convert WMV to MOV or other Mac-compatible formats first.
Q: How do you play WMV files on MacBook Pro?
A: The solution for playing on MacBook Pro is the same as that on Mac because MacBook Pro is running Mac OS X. That is to say, you can download a WMV player like VLC or convert WMV to MOV so you can play WMV on Mac, MacBook Pro, iPhone, iPad, iPod, Apple TV, etc.
Why Quicktime won't play WMV on Mac?
When you open WMV on Mac, it displays the error: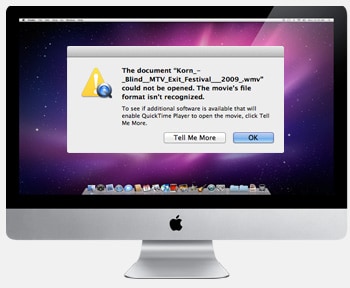 QuickTime doesn't support.wmv format. If you want to play WMV on Mac, you need to convert WMV to Quicktime compatible formats.

QuickTime Player
Apple bulit-in media player
Media formats supported by QuickTime Player
| Media type | File formats |
| --- | --- |
| Video | QuickTime Movie (.mov), MPEG-4 (.mp4, .m4v), MPEG-2 (OS X Lion or later), MPEG-1, 3GPP, 3GPP2, AVCHD (OS X Mountain Lion or later), AVI (Motion JPEG only), DV |
| Audio | iTunes Audio (.m4a, .m4b, .m4p), MP3, Core Audio (.caf), AIFF, AU, SD2, WAV, SND, AMR |
iSkysoft iMedia Converter Deluxe for Mac
Convert WMV to QuickTime format and Play WMV on Mac Now!
Supported: Mac OS X 10.11, 10.10, 10.9, 10.8, 10.7 and 10.6

Free Trial
version: 4.6
Downloads: 399,935,084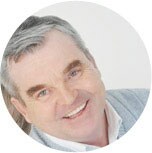 "I have used iskysoft iMedia Converter Deluxe for three years now. I like its stability and its ease of use. Now its been upgraded to Ultimate for more functions. What more can I say. A reliable company, great product!! Thanks iSkysoft."