Valentine's Day cards have been a consistent trend throughout the years. One change that has occurred however, is the transition from paper cards to virtual ecards. In today's modern era of the internet and the social media, everything is done online. Why should greeting cards be left out of this trend then? There are numerous websites available online that consist of beautifully crafted cards which are easily customizable with a single click. We've picked out some of the best websites for Valentine's Day ecards here for you:
American Greetings is one of the most popular greeting card producers of the world. At the same time, it offers one of the most liked e-card services for different occasions and holidays. American Greetings comes up with the most creative ideas to convey a particular message, and offers them completely free of cost. An example of such innovative ideas is the e-card in which a hamster sings a love song in a low baritone voice. It is one of the favorite e-cards as one cannot watch it without having a light laugh. Similarly, in another e-card, you can type a message for the recipient and baby Cupid will read out your programmed message in a tone of your choice. Hence, the website offers a variety of e-cards that convey the same message of love in an out-of-the-box way.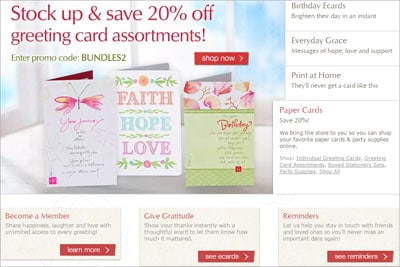 2. FUNPUNCH
If your dear one is one of the people with great humor, FunPunch will be the best choice for you. The website gives you many options of free animated electronic Valentine's Day cards. Many people find these cards to be simply hilarious and perfect for their loved ones on this occasion. The e-cards on this website have animals singing a romantic message and many other features that make a perfect combination of love and laughter.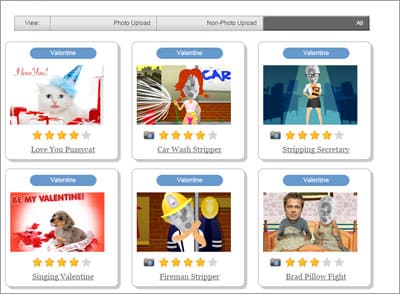 Blue Mountain requires you to sign up for a 7-day trial before you can utilize its vast collection of e-cards. The greeting cards are divided into categories funny, romantic and talking, and contains e-cards for all kinds of people and events.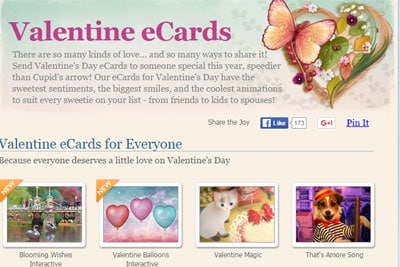 Unlike many other websites, JibJab adds a touch of innovation to the ecards by adding dancing characters to them. The website has already become popular for the dancing Christmas elves that it incorporated in the Christmas cards last year. Now, it's Valentine's Day time. JibJab has officially announced and added an entire variety of fun dancing characters for the Valentine's Day themed ecards.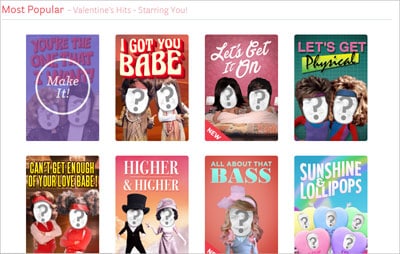 The Valentine's Day section in 123Greetings is another great platform for you to find a lovely card for your dear one on this occasion. This website contains a large variety of e-cards, and includes a large collection especially for those who put sentiment over humor. Most of the cards include the sweet talk often seen in the real cards, but the words scroll down the screen with background music going with the flow.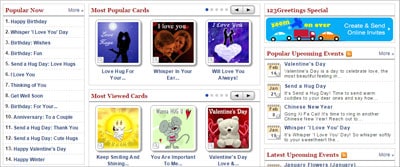 A great ecard resource for kids. Every card available on Yahoo! Kids is kid-friendly and can be customized in any way the kids want them. The website also contains a brilliant collection of personalization options and ecards for Valentine's Day as well. So, if your kids are looking for a fun and easy way to send out Valentine's Day cards to their friends, recommend them the virtual ecard feature available in Yahoo! Kids.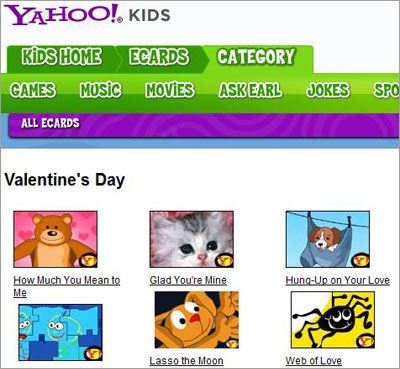 Hallmark is a big name when it comes to the best greeting card sellers. Fortunately, the company also makes e-cards for our ease. Unlike the other websites, Hallmark does not offer the cards for free. However, they are still a lot cheaper than a real greet card that costs around $5. Hallmarks allows you to pay $12 per year and send as many premium Hallmark e-cards as you wish at any special occasion or event. These e-cards ensure quality and a lovely impact on your darling.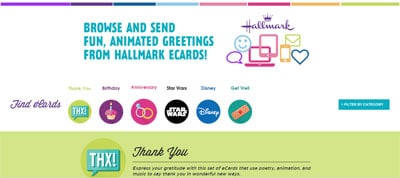 Dgreetings is a website with a wide collection of cards in the Valentine's Day section. These romantic e-cards may not be the best when it comes to design, but they surely do not lack in quality and convey the message in a commendable way. There are many flash-based e-cards on the websites that contain animations and background music that starts automatically and goes with the flow of the message being given.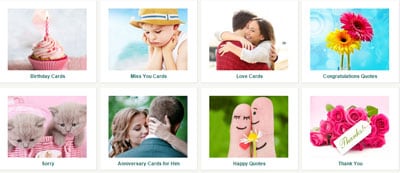 A virtual card from Somecards will definitely enlighten your sweetheart's day. Somecards is among the most famous websites for generating e-cards for many different events and occasions. The cards and graphics of the cards on this website have been kept simple, hence you may not find them very extraordinary. However, this particular attribute makes these cards special and unique on the internet. Somecards would also be the most suitable option if you want to send an ecard to someone who likes blunt and slightly vulgar humor.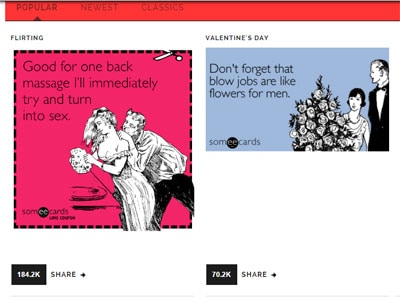 10. FUNNY-ECARDS
Funny-ecards is yet another spot where you can find Valentine's cards for your loved one. Some of the cards on the website may not live up to your sense of humor, but they can always bring a smile on his/her face. Many of the cards in the collection are pretty good, and all free. This means you really have nothing to lose, but a slight laughter and lovely message to give. Some of the Valentine's e-cards on this website also have soundtracks in the background that have been professionally recorded. They add a unique effect to the card and leaves a better impression on your loved one.