Currently, YouTube is one of the biggest online platforms, with millions of users and engagement. For that, people looking to increase their brand value and those who want to share their life can use the medium for posting varying video content.
However, after shooting hours-long videos, it is vital to trim the videos and add transitions, audio, and effects to make them stand-out-worthy. With the best video editing software for YouTube with all-in-one features, that is possible in quick and easy steps. Here are the top options available.
Part 1. Best 7 Video Editing Software for YouTube
There is multiple free editing software for Youtube that come with varying features like overlay filters, background deletion, text addition, macro running, watermark addition, etc. We looked through multiple such options and rounded out the 7 best versions based on their features and usability. Learn about them here.
Filmora is the best video editing software for YouTube users and business professionals to create stunning and dynamic videos in less time. It comes with state-of-the-art features unavailable on most other competitor apps, like speed ramping and an audio visualizer.
We tested this software for its intuitive functionality and found many of its features highly valuable, like motion tracking. You can easily add backgrounds or effects to your video projects using the green screen or split it into multiple screens for a high-quality viewing experience.
The software supports various export and import formats for the files. You can include SRT-based subtitles as well and upload the project templates, videos, and documents to the WonderShare Drive.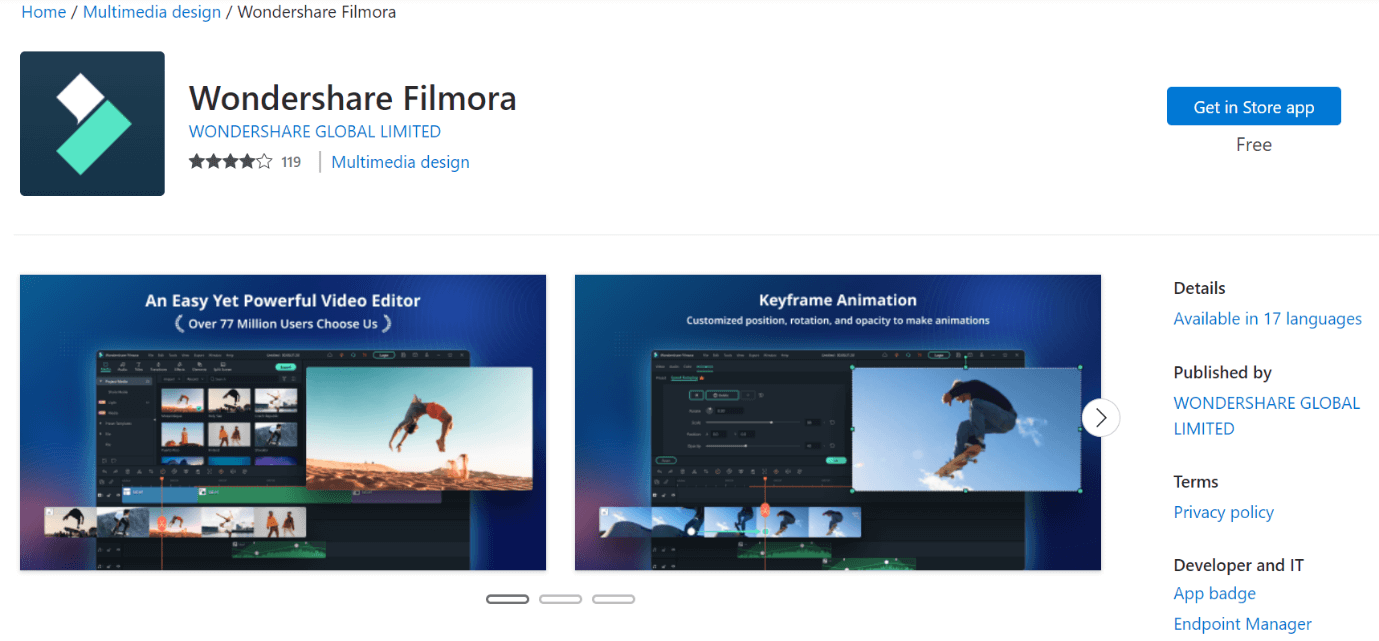 Platform Compatibility: Windows, Mac
Price: Annual Plan- USD 39.99, Perpetual Plan- USD 69.99
Main Selling Points:
Convert audio tracks into text or vice versa on this software using a single click.
Adjust the transition speed between keyframes easily, either slow or extremely fast.
Automated video and audio beat syncing is possible on this software, assuring suitable transitions.
Green screen support is available on this software for adding modern special effects and background changes.
Pros:
The software supports different masking modes for video editing.
Text-to-speech function on this application smoothly translates written sections into voiceovers.
It comes with HDR and SRT file support for video editing during import and export.
Cons:
Some features like Filmstock access are not available offline.
To use Filmora well, users might have to upgrade their available graphics drivers first.
Best For Users: Both professional-level and beginners in video editing and production can use this comprehensive platform for its advanced functions.
---
VSDC Video Editor is both a free editing software for YouTube and a paid platform in the Pro form. A wide range of superior-level functions is available in both free and Pro versions. Users can easily add images, masking modes, and captions while editing their videos with moving elements.
Additionally, we tried it and could easily remove any unnecessary colors from the video projects with precise and even style. It is simple for users to add sound beats and create strong musical notes for background audio here. The hardware acceleration function supports fast rendering and effect processing on this best video editing software for YouTube as well.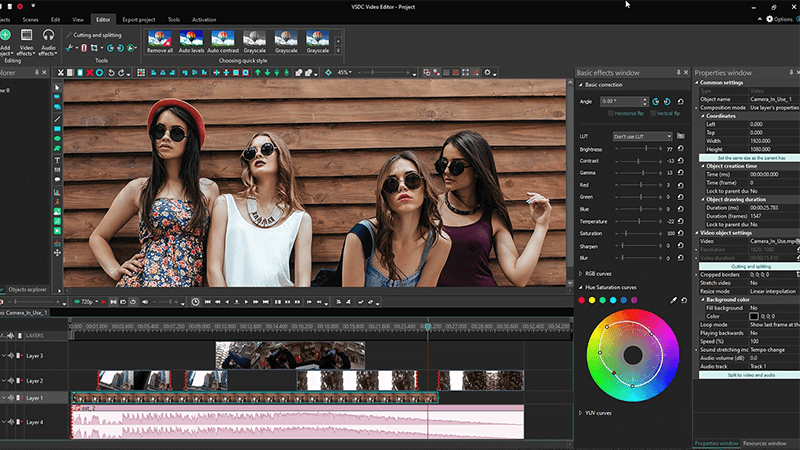 How to Download: Website, Microsoft Store
Platform Compatibility: Windows, Mac, Linux
Price: Free, Pro version- USD 23.64
Main Selling Points:
Flatten the 360° footage you have and use standard editing functions like music/text insert, color correction, etc.
Use the pre-set interpolation modes to adjust slow motion speed.
The Flow Transformation function allows for creating very seamless transitions between clips.
Alpha channel and blending modes are supported to layer multiple video clips cohesively.
Pros:
The supported export quality extends to 4K UHD.
You would not get watermarks on the videos you edit.
Add subtitles and captions within the video.
Cons:
Options like video stabilization and audio waveform are only under the Pro version.
You would get standard-level technical support, chroma-key, masking tools, and voiceover in the free version.
Best For Users: Individual users and educational institutions can use the free software for basic editing functions, while professional company-centric editors can use the Pro version.
---
iMovie is one of the best video editing software for YouTube and other portals currently available for macOS and iOS users. You can use advanced editing functions like green-screen effects to add characters into videos using one or two taps. Fine-tune the video you create with proper strength adjustment and masking control settings.
You can access the available styles and iMovie Storyboards for high-quality video edits or customize your own template. Use split-screen functions or picture-in-picture mode for optimizing video presentation styling.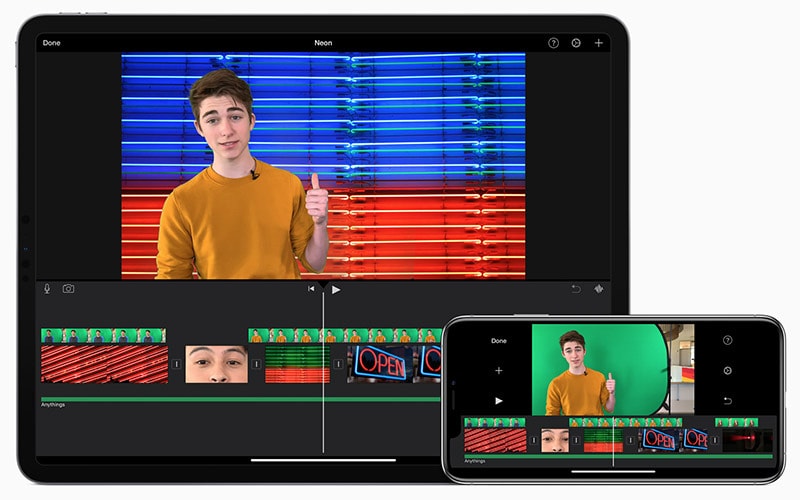 How to Download: Mac App Store
Platform Compatibility: Mac
Price: Free
Main Selling Points:
Add personalized credits, title cards, and styles to the videos.
Pinch the titles for scaling and add them over videos or photos.
Adjust video quality with editing options like background pattern, gradient, and color selection options.
Use green-screen effects to cut objects or people and add them to new videos with a single click.
Pros:
An iOS version for phone or iPad-based video editing work is still highly efficient with robust features.
Access to 20 varying video editing styles and Storyboard templates.
Directly share on YouTube or other social media platforms, save in the Photos library, or send via Mail/Messages.
Cons:
It works on macOS devices with the 11.5.1 version or higher.
You need to have at least 3.5 GB disk space and 4GB RAM on your device for the software to work smoothly.
Best For Users: Professionals and beginners in video editing who want movie-like quality in their videos.
---
Among the different types of best editing software for YouTube that are available, Lightworks is a premier-level option for video editors. Using this software, you can create different videos in diverse formats and save them in the library or directly share them via social media syncing. Users can import any frame rate file into the software for editing and keep its native shape and resolution intact in the final output.
The software supports optimized editors' proxy workflow, allowing HD to 8K resolution media usage. You can easily continue with your editing work while the effects render in the background.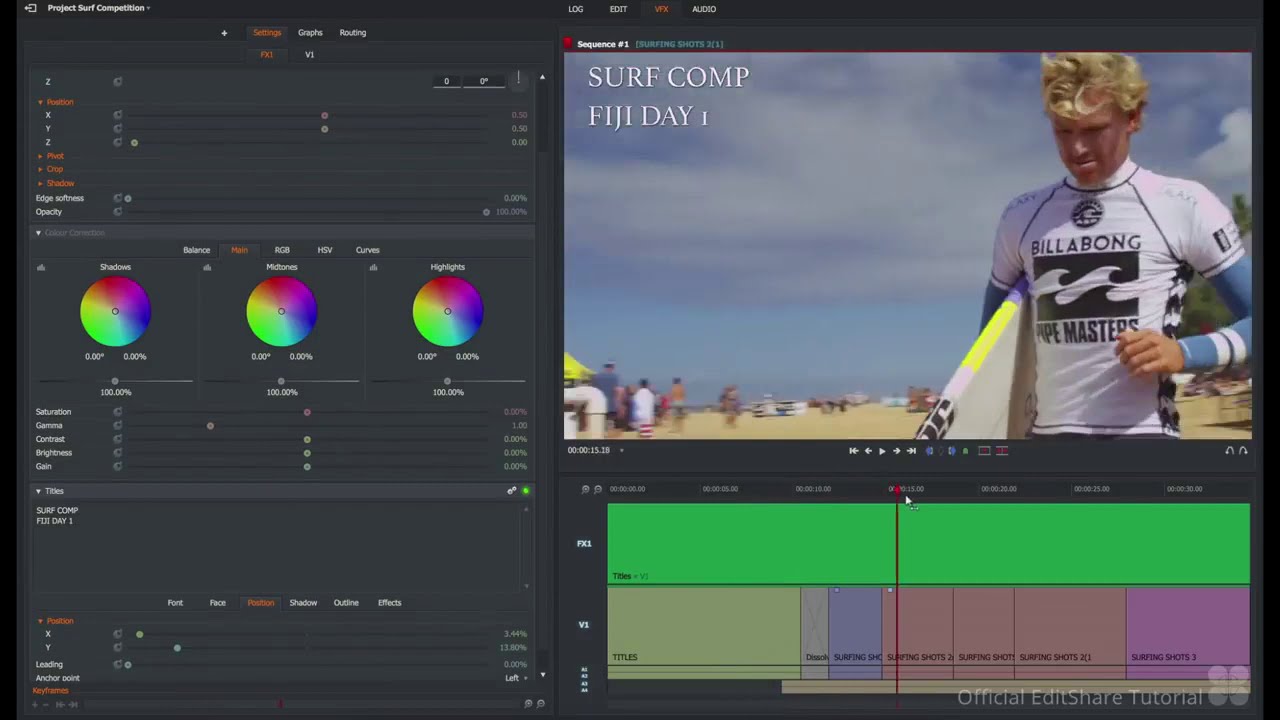 How to Download: Website
Platform Compatibility: Windows, Mac, Linux
Price: Free, Lightwork Create- USD 9.99/month, Lightwork Pro- USD 23.99/month
Main Selling Points:
Drag and drop new elements in any section of the sequence timeline for quick video editing.
Many advanced editing functions like backfill, track syncing warnings, FX/Audio tracks, fit-to-fill functions, etc.
There are more than 100 pre-built graphics that you can customize for your project.
Create custom metadata for projects and manage them easily.
Pros:
The software provides universal timeline functionality with mixed frame rates and mixed-size support for automated editing.
The files are auto-saved, so you would not lose your work progress suddenly.
Use diverse editing functions like a slip, ripple, multi-point, and roll trimming features.
Cons:
You cannot upload files to Cloud in the free version.
A lot of the advanced functions like custom output and Bluray/DVD support are only available in Lightworks Pro.
Best For Users: Professional bloggers and business professionals who want higher creative control over their editing work and cloud integration support can use Lightworks well.
---
Like iMovie, Final Cut Pro is another best editing software for YouTube with top-notch functionality. This Mac and iPhone-centric software are useful for adding further optimizations to a pre-editing iMovie iOS project. You can import, add edits, and then share the 360° video you develop using equirectangular images from diverse camera angles into one comprehensive file.
You can use the 360° viewer for better angle navigation and editing work and get GPU-accelerated support as well. During voiceover recording or import, it was easy for us to prepare custom roles easily using Final Cut Pro. There are customizable keyboard and template support here as well.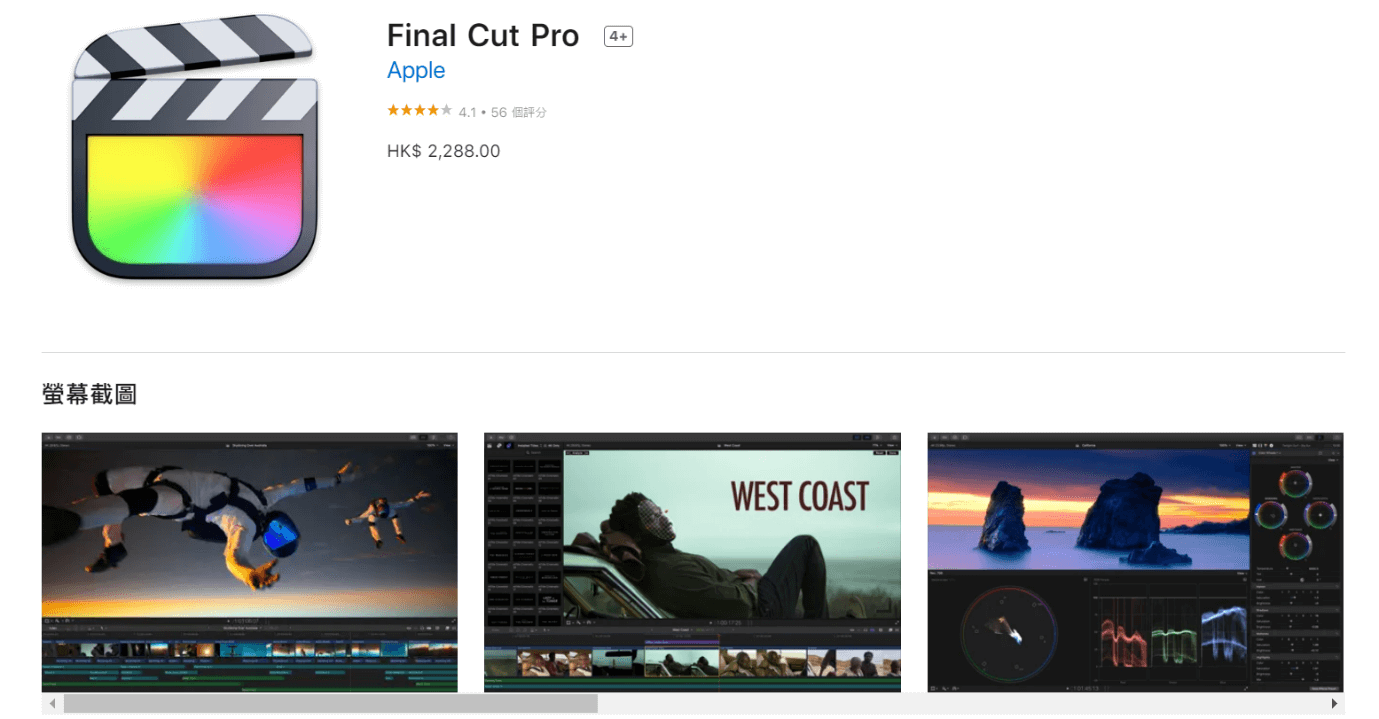 How to Download: Website, Mac App Store
Platform Compatibility: Mac
Price: USD 291.62
Main Selling Points:
You can make audio enhancements in 50-60Hz options in terms of background sound removal, volume normalization, and hum removal.
Strong motion tracking function with graphics and effects and automatic object/face detection.
You can create proxy media via or ProRes Proxy support in customized frame sizes ranging from 12.5% to 100%.
Add and remove focus points in Cinematic mode-based video edits and adjust depth-of-field effects.
Pros:
The trial period is available for 90 days with free use of all software functions.
The software analyzes audio during importing, flags any medium-level problems, and removes serious background sound disturbances.
See which video areas are not in the color gamut using Range Check.
Cons:
You have to have an active Internet connection to use some features and pay additional fees.
Users have to download 1300 royalty-free lists of sound effects separately.
Best For Users: High-profile professional video editors can use this software for advanced video editing, finishing, and audio work.
---
Use Shotcut as the best video editing software for YouTube if you want to get high-level performance and video output. This software allows users to handle proper video compositing functions across different video tracks. It supports auto-rotate functions, a 3-way color wheel, and video-based wipe transition options like matrix, diagonal, and box options.
While editing the background sound, you can control the volume easily and use audio scope features like waveform, peak meter, and spectrum analyzer. Standard-level and 360°-compatible video filters on this free editing software for YouTube, like the Equirectangular Mask filter.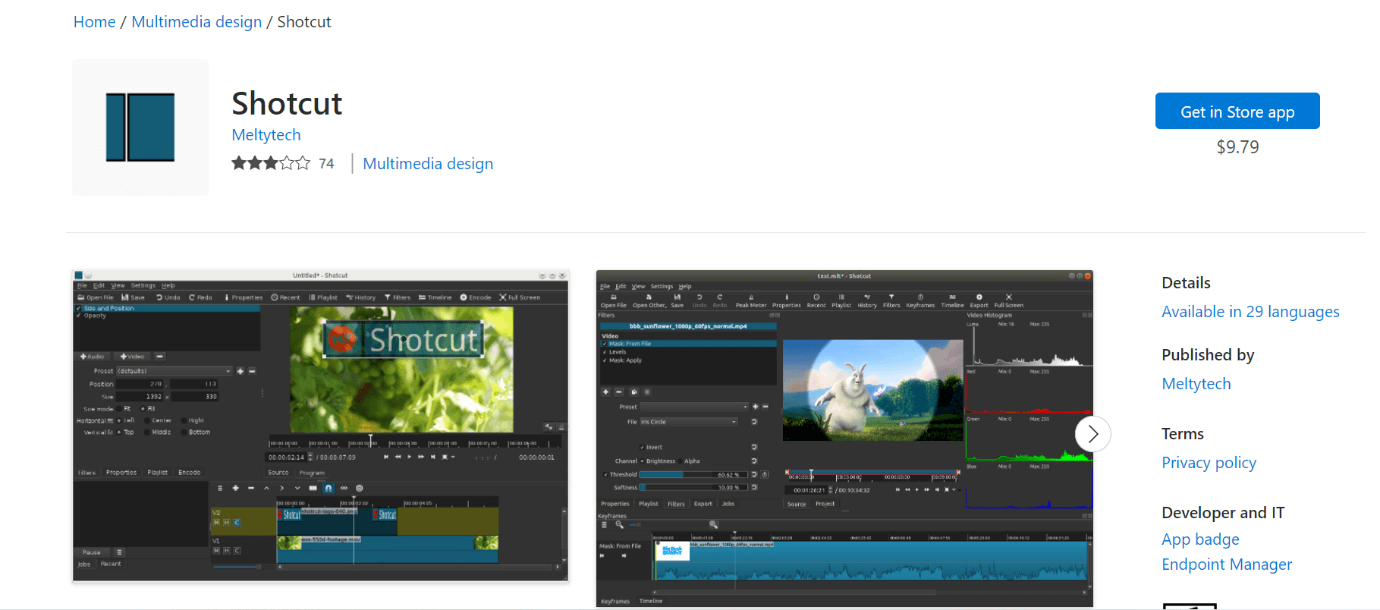 How to Download: Website, Microsoft Store
Platform Compatibility: Windows, Mac, Linux
Price: Free with in-app purchases.
Main Selling Points:
Use the eye dropper tool in this software while doing the white balancing steps, working with a neutral color.
Record audio voiceover directly while working on the timeline.
Easy fader controls for audio and video clips on the timeline.
A wide range of audio and video filters are available.
Pros:
Without accessing any network or signing up for a subscription plan, you can use it.
The software does not store, take, or share a user's information.
It has a GPLv3 license, and therefore, it is free to use commercially.
Cons:
A few of the compression methods and formats take longer to seek.
There is no support for video trimming with transcoding or encoding.
Best For Users: Professional video editing experts who want open-source and cross-platform support.
---
Blender is another of the best video editing software for YouTube users that comes with high-range functions for video editing. You can adjust the video during editing using features like histogram displays and luma waveform. The software users can operate the chroma vectorscope to make audio and video adjustments.
The software allows waveform visualization, smooth audio scrubbing/syncing, and audio mixing capabilities. You can adjust transitions, speed, and layers easily during editing and add new filters as well. Blender supports around 32 slots for users to add audio, video, images, and effects.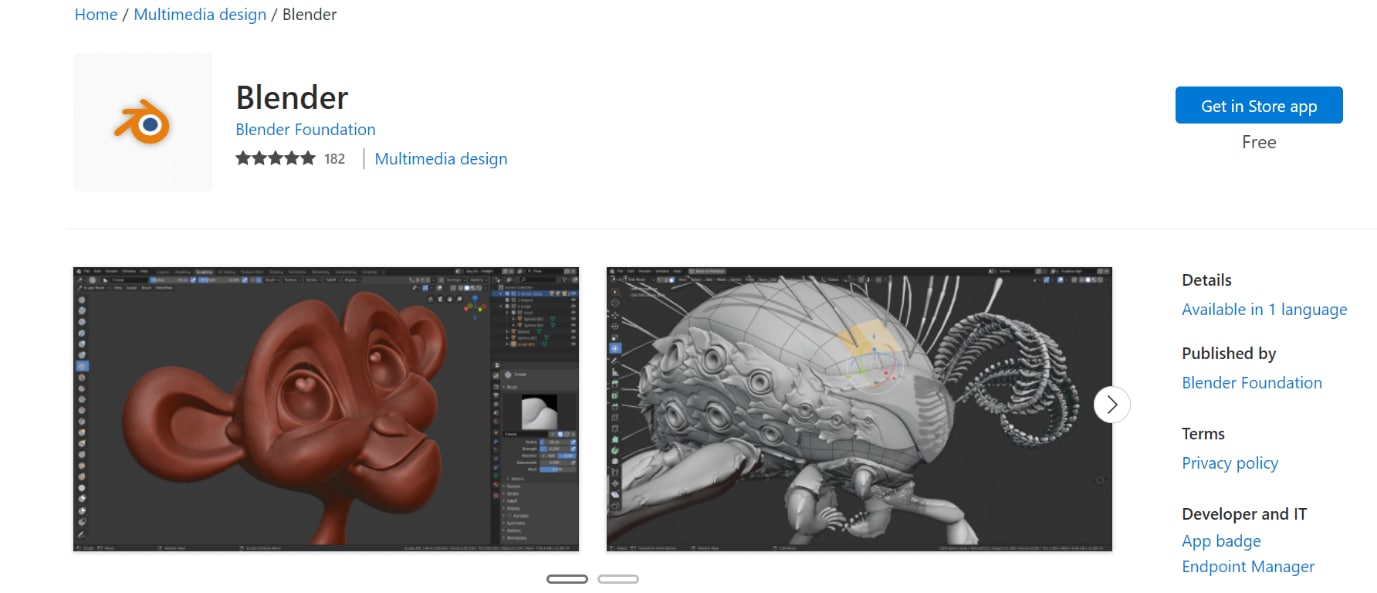 How to Download: Website, Microsoft Store
Platform Compatibility: Windows, Mac, Linux
Price: Free
Main Selling Points:
Sync and add waveform visualization of the video-based audio during mixing.
See a live preview of the videos while making edits.
Diverse previewing options like luma waveform and histogram displays are available.
Advanced features like color grading and video masking are in Blender.
Pros:
Multiple users in an organization can use Blender without source code distribution due to GNU GPL support.
Get access to the Blender community through discussion boards for user support.
Users hold total autonomy over their source code and decide if they want to license or sell it.
Cons:
Using this software, you have to get an additional AMD or NVidia graphics card (compatible with OpenGL).
Not specifically centered around video editing.
Best For Users: Videographers and organizations that want total control over their editing activities and multiple top-notch editing functions.
---
Part 2. Filmora Video Editor - the Best Free YouTube Video Editor
We list Filmora as one of the top video editing software for beginners and semi-pros. Filmora is much powerful than Windows Movie Maker on Windows and iMovie on Mac system, while it also allows you to make a professional-looking YouTube video with hundreds of presets such as filters, overlays, elements, transitions, and mixing multiple layers of effects and audio to empower your YouTube story. Hence, it is recommended in the first place as the best YouTube video creator on PC and Mac.
Filmora Video Editor is very affordable and can edit both videos and audios. With this software, you can edit the YouTube video, which helps apply effects or customize your video.
---
5 Easy Steps to Make a YouTube Video with this Top Video Editor
Step 1. Import the Video for YouTube
At first, you need to download the Filmora Video Editor from the official website. After the installation, you can click on the "Import Media Files Here" button to import all video clips to Filmora Video Editor.

Step 2. Drag Your Video Clips to the Timeline
Drag the video clips to the timeline directly, now you can adjust the video clips' order by clicking on the video clips and drag, and you can also trim unwanted video clips.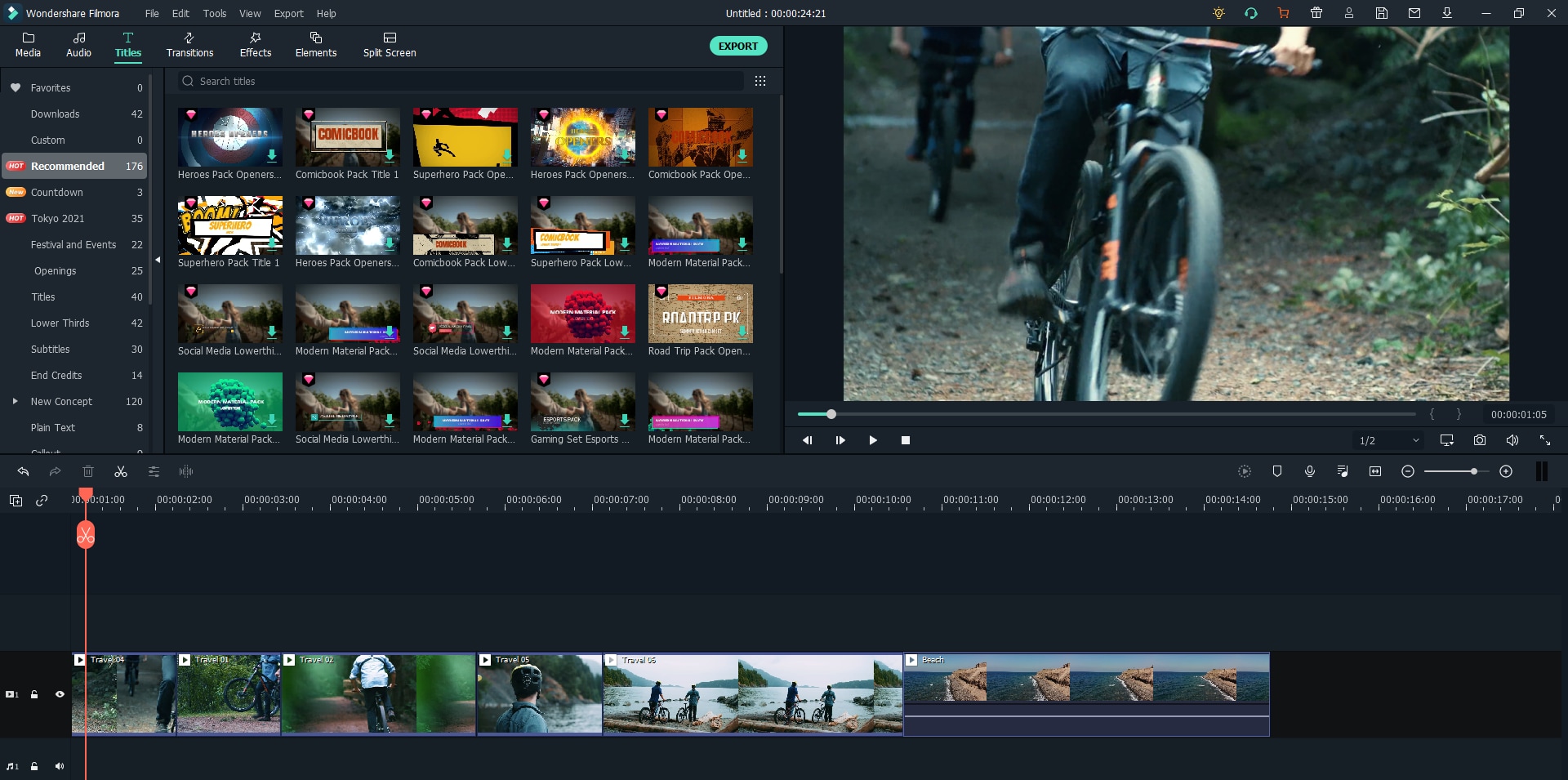 Step 3. Add Title/Lowerthird to Your Videos
As you may know already, titles and lowerthirds in videos can give your audience information that they aren't getting from anywhere else, in a visual way, usually through a combination of text and graphics. There are various titles and lowerthirds in Filmora under "Title" menu, displayed in different type. You can always find the right one for your clip easily, from sports style to holiday genre. By adding appropriate titles and lowerthirds, you will give more context to whatever is being shown on the screen.
What's more, YouTube's worldwide viewership has made it possible that anything but difficult to overlook individuals everywhere in the world will watch your recordings. Now you can add subtitles on YouTube video on fingertips with Filmora as well.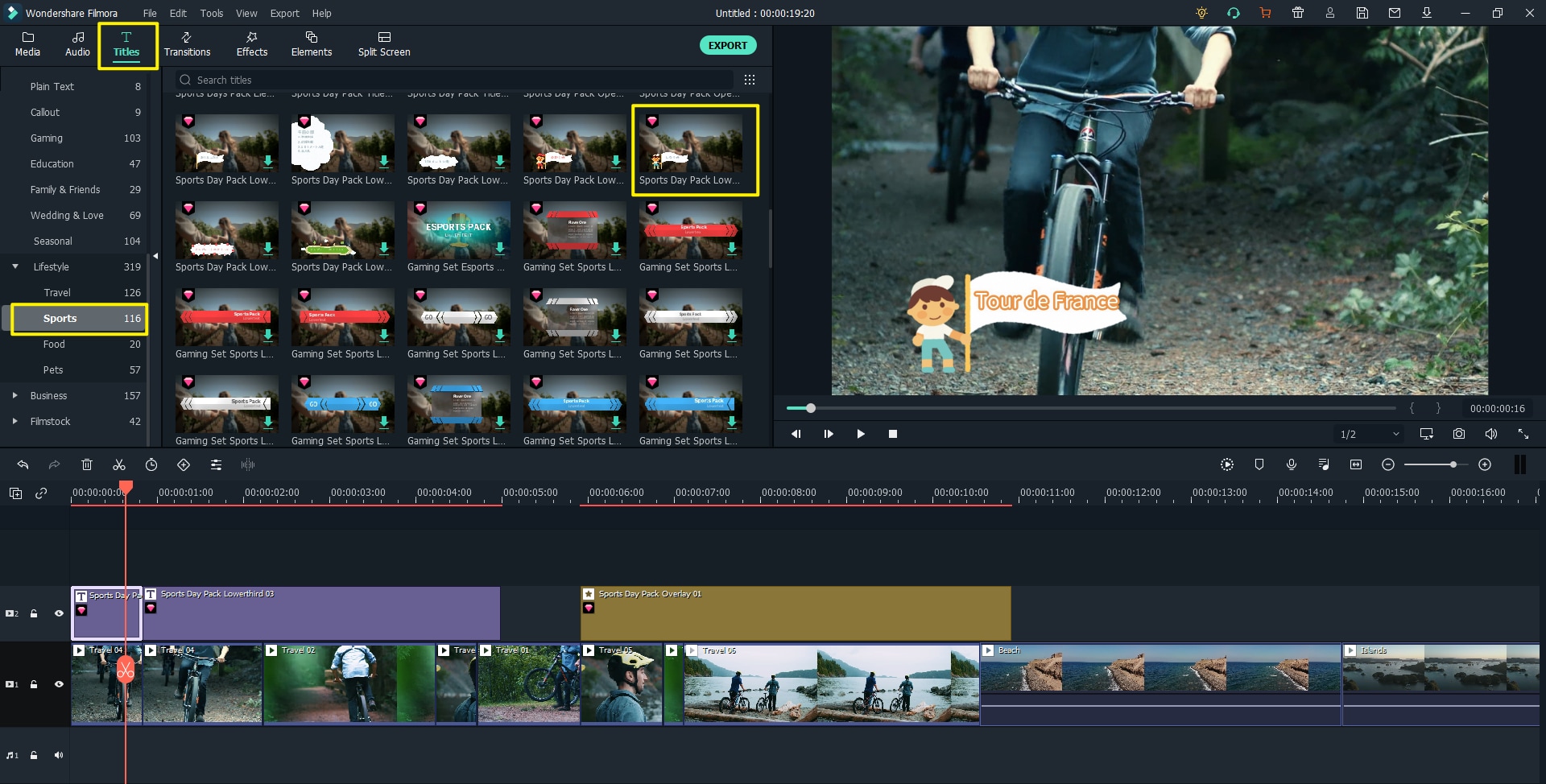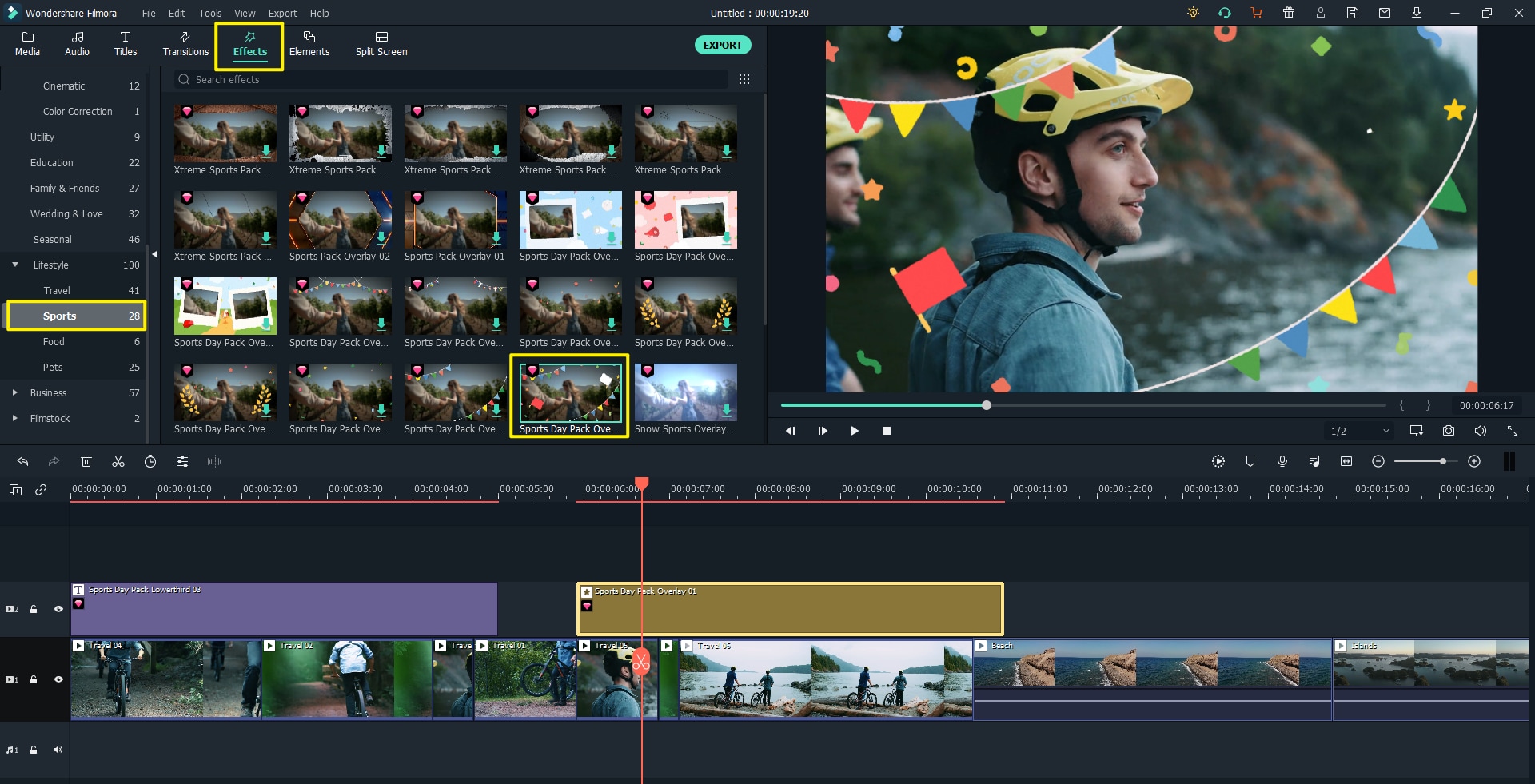 After you cut and splice the video clips to a complete video you want to post to YouTube, you can choose to add some effects on the video to make it unique.
Step 5. Add Elements to Spice Up your Video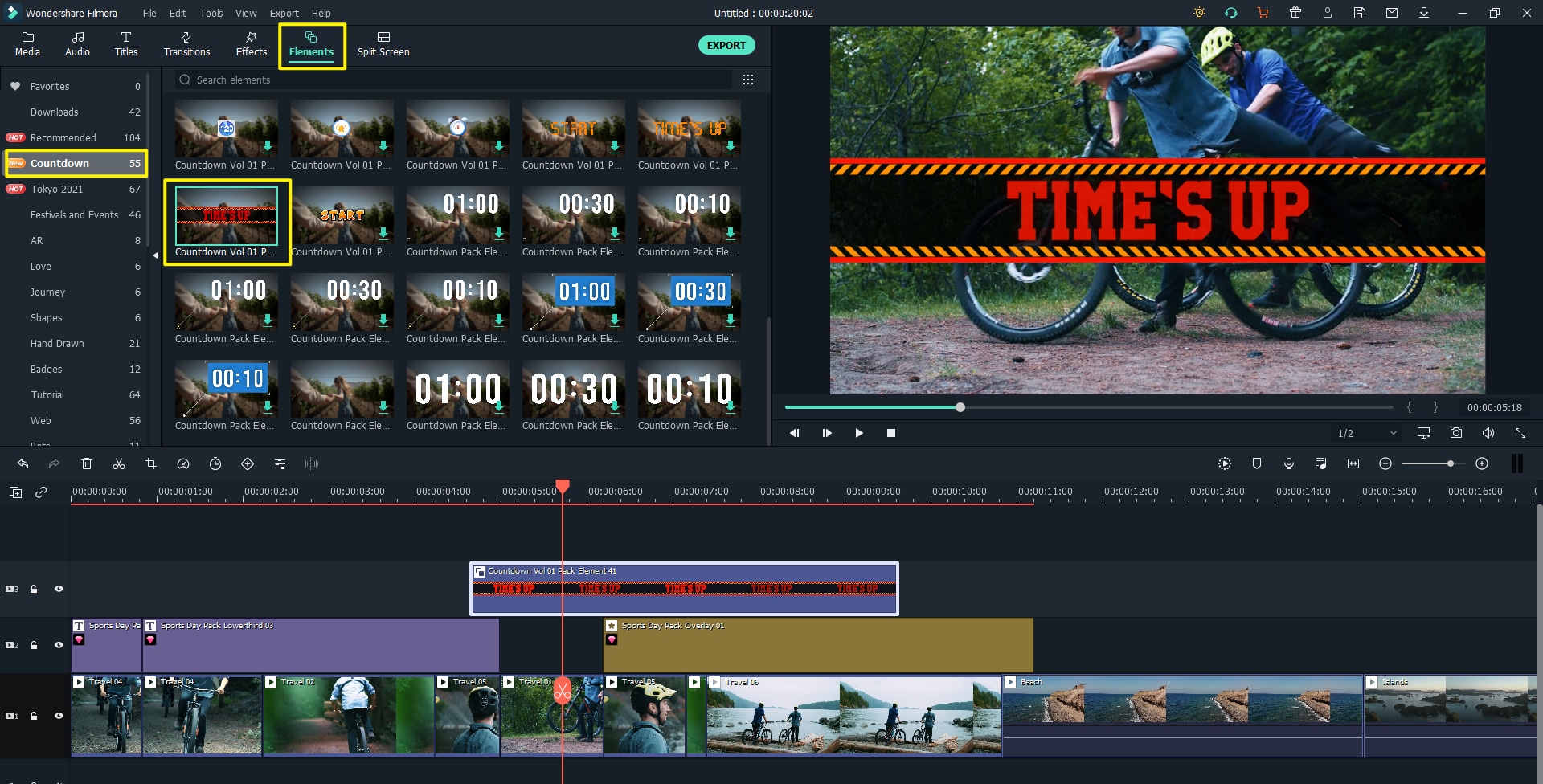 In addition to an impressive collection of visual effects, Filmora also boasts a rich library of elements. This enables you to add arrows to a video that draw the viewer's attention to an important detail in the shot or emojis that make your videos more cheerful.
Step 6. Export the Videos to YouTube Directly
After you are satisfied with your video editing, you can preview the excellent video in Filmora Video Editor first and then export it to YouTube directly.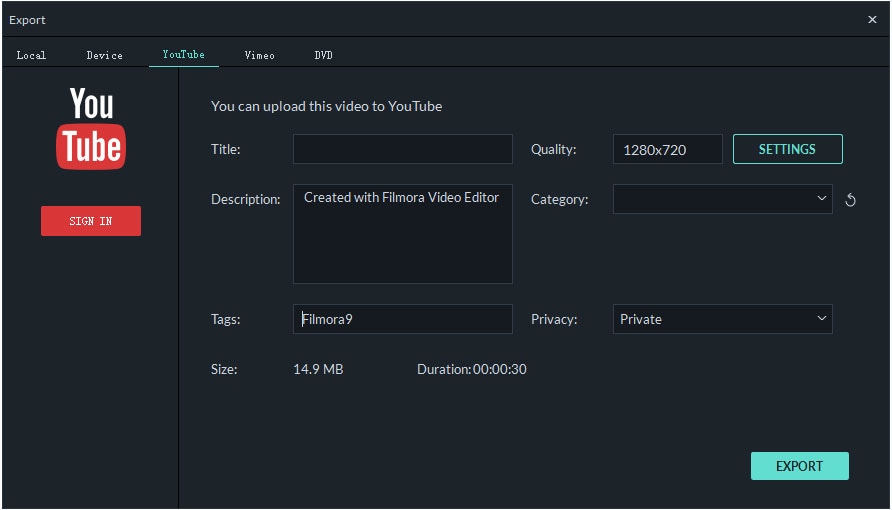 Part 3. Conclusion
All things considered, every free editing software for YouTube listed here is a heavy-weight software option with various benefits. However, if you want comprehensive features, opt for Filmora or Lightworks. In case of the budget is a concern for you, iMovie and Shotcut are suitable for high-octane features at free cost. Similarly, Blender is best for advanced editing with strong audio mixing capabilities.
Make your final choice based on what you require from the editing software and use it consistently. Try out one or more of these, if necessary.