How do you face swap a video?
You might want to replace the face in a video due to many reasons, and it might seem impossible when you're a novice in the video editing area. But the facts have proved that changing moving faces in the video is a simple task, especially when you have a professional Face Changer software as an assistant. So at present, your problem is what the best and most efficient Face Changer is?
In this post, I'd like to recommend a special Face Changer software for your reference - Filmora Video Editor. With it, you can replace faces or blur out faces in video within few simple clicks.
The advanced part?
I also collected some online tools and video face changer apps to help you face swap in addition to the face replacement software.
6 different solutions for you to replace faces in a video; all you need to do is compare them, take a free trial, and pick up one as your daily video editing assistant tool.
Sounds great? Let's get started!
Part 1: Filmora Video Editor - How to Change Face in Video within Few Clicks?
The face-off feature of Filmora Video Editor for Windows (or Filmora Video Editor for Mac) allows you to add funny pictures as well as a mosaic to replace someone's face. Besides, it is a powerful video editing tool that helps you change the video itself. And you can apply as many as video and audio effects to the video. Just take a trial and enjoy more benefits of this video editor.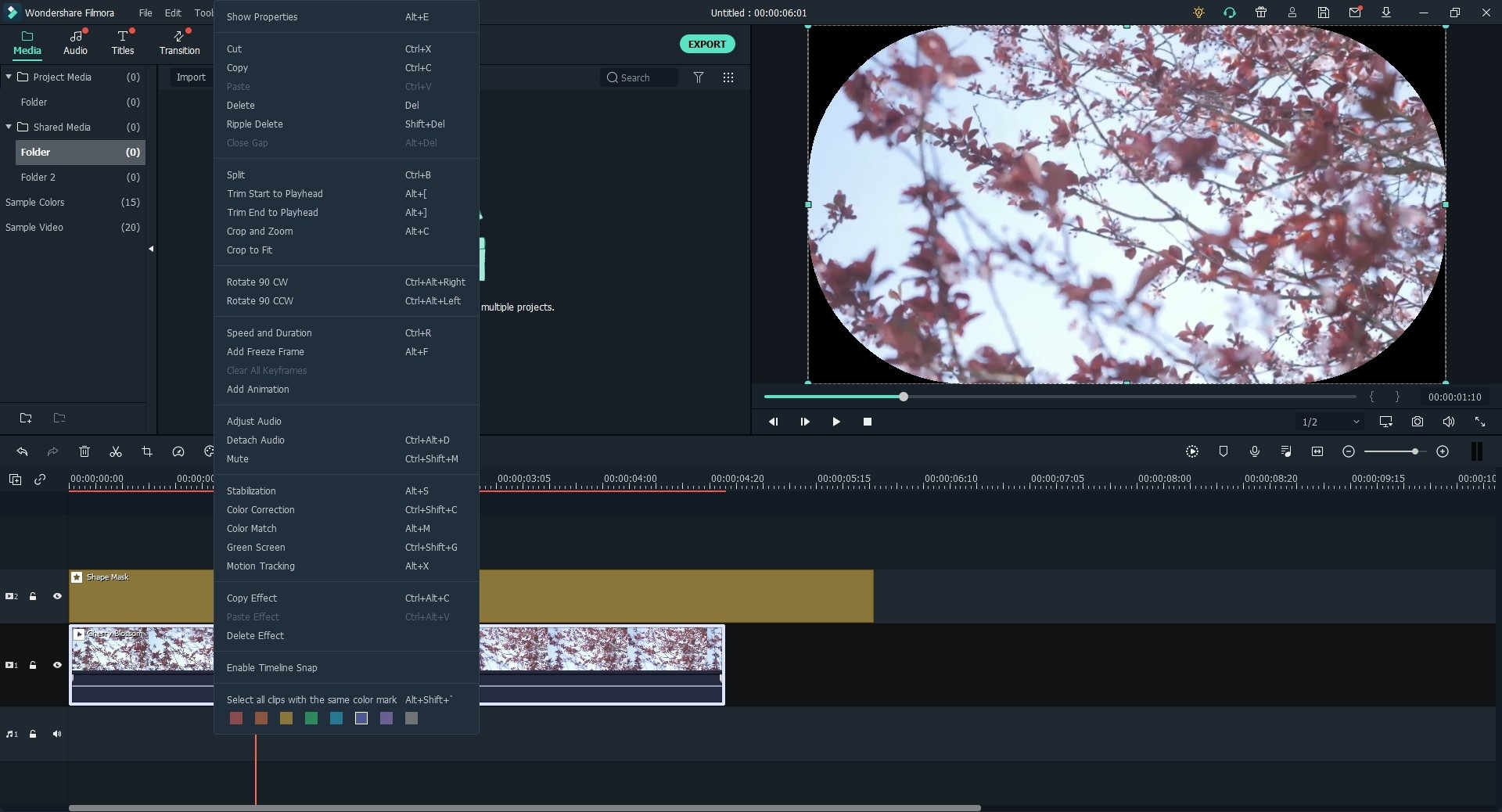 Key Features:
Works as a prominent Face Changer or Face Swap application to use funny face changer photo effects to replace the original one;
Provides Mosaic effects to help you blur out faces in a video;
Track the moving faces in the tape so that you can easily change looks in a video;
It offers tons of editing skills to help you create a personal cinematic movie, including splitting, green screen, rotating, joining, etc.
Export and share videos to specific formats, devices, social networks, or burn to DVD according to your own needs.
---
How to Change Face in Video Clip with Face Changer Software?
Changing face in a video will be as easy as a breeze by using Filmora Video Editor. Just follow the below 3 steps to change the beginning in your video.
Step 1. Import Video to the Video Editor
Make sure Filmora Video Editor has been installed on your computer. It is the initial step when changing the face of a video. Once installed, you can launch it and then come up with a new project window. From there, drag and drop the video to the Media Library or click the "Import Media Files Here" button to add in the video you want to change the face.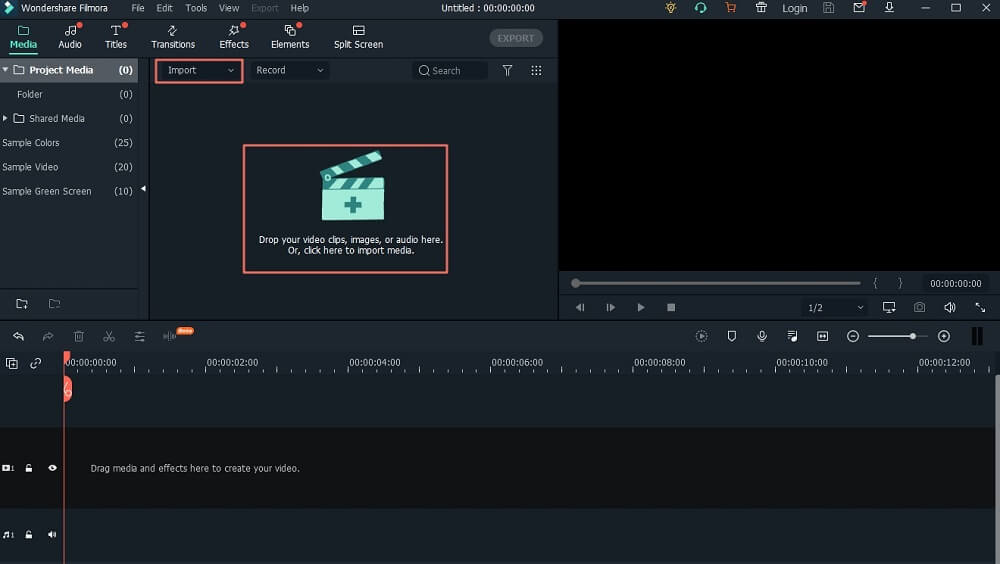 Step 2. Drag the Video to the Timeline
After then, drag and drop the video to the Timeline, where the changing face process will happen. Go to "Effects"> "Utility" and find the effect "Face-off," then drag the effect to the Timeline.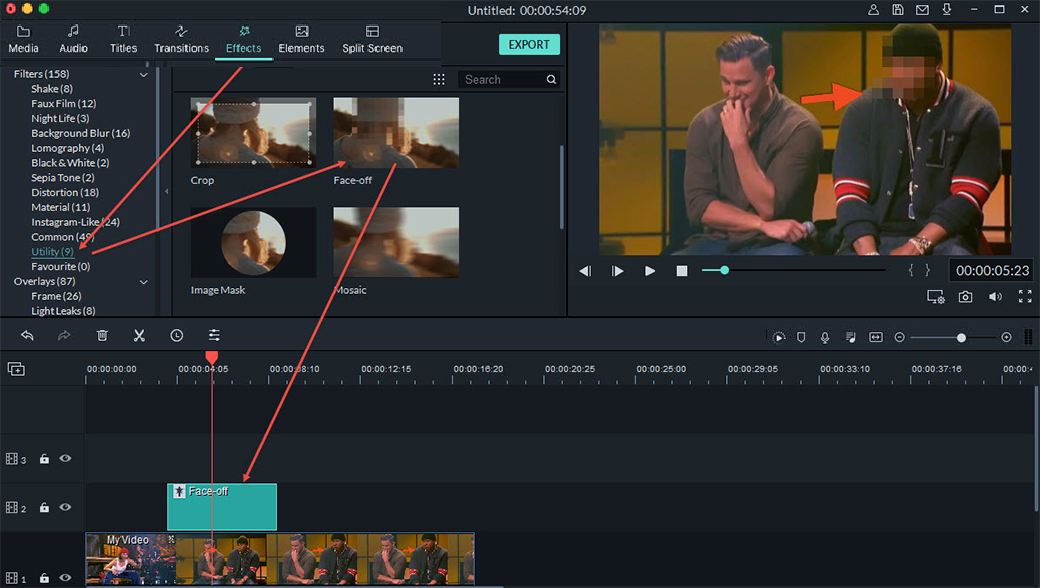 Step 3. Change Face in the Video
The face-off effect will help add new faces to those detected in the video file you are using. Double-click the Face-off effect in the Timeline. Then, you'll see an interface like below. Choose a funny preset face to replace the face in the video clip.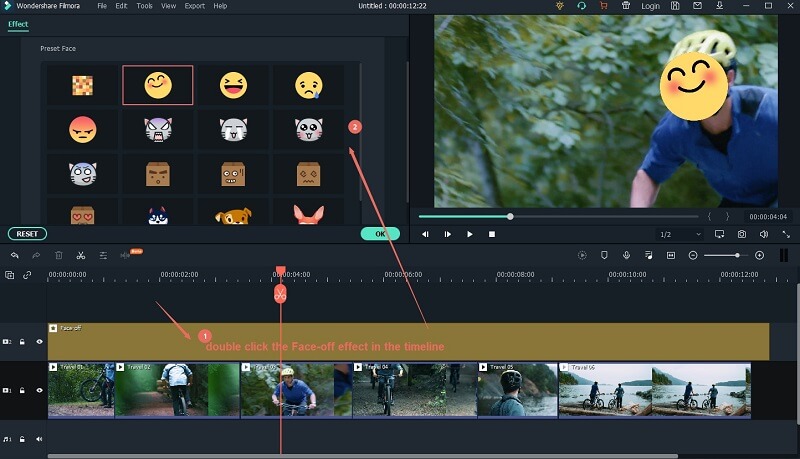 Step 4. Export and Save
When the above settings have been done, and you're satisfied with the changing effect, you can click the "Export" button to export the face changed the video to a computer or video-sharing site.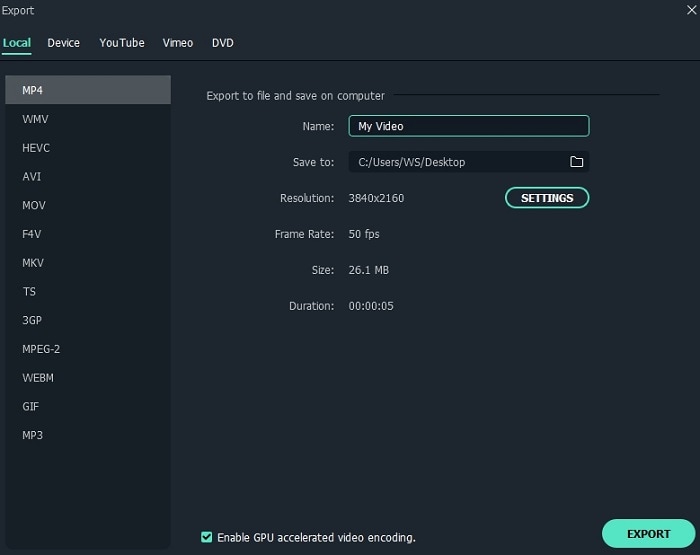 Read Also:
- How to Blur Faces on YouTube Video
- 10 Apps to Blur out Faces in Photos and Videos
---
Part 2: 3 Online Tools to Replace Face in Video
Changing the face in the video is, no doubt, one of the fascinating video editing experiences. Not only can you swap your looks with your friends and family in real-time, but you can also even switch your face with your favorite celebrities. There are many faces changing software available, ranging from online to desktop applications. However, you must obtain the most appropriate look changing tool for a better experience.
#1: ChangeFaces.com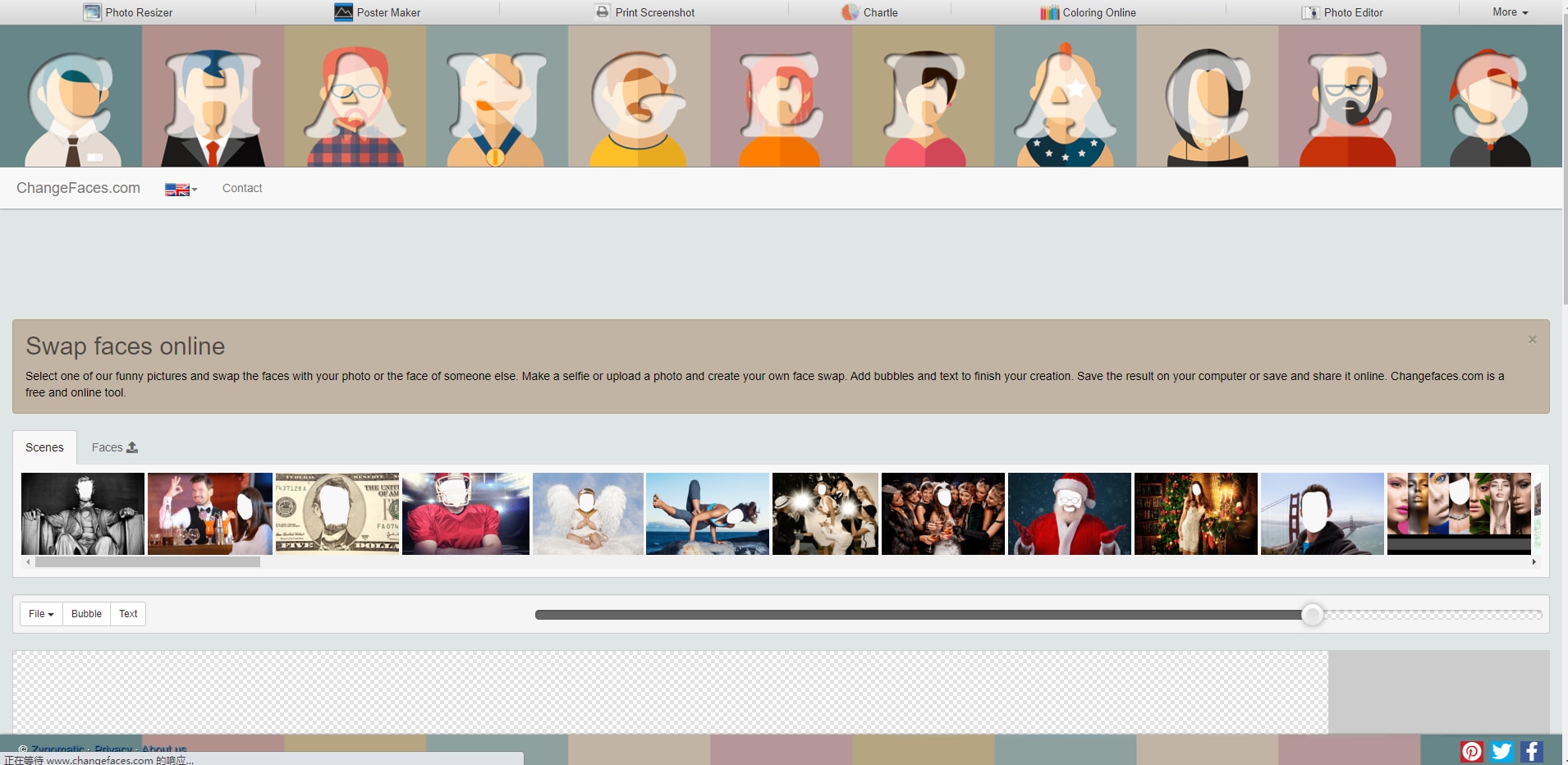 ChangeFaces.com is a unique online photo editing tool. The program lets you face-swap images in a relatively simple and straightforward manner. Users can take selfies or upload a photo and create the desired face swap. You can, after that, save the result or share it on online platforms. The scenes provided also gives a great background to the photos. Just choose the location of interest and start face-swapping.
Step 1. Visit ChangFaces.com using your browser.
Step 2. Go to "Faces" then "Upload" or "Camera," depending on the option you like. There are also other preset celebrity faces which you can use instead.
Step 3. Choose your favorite scene from a list of locations provided under the "Scenes" tab.
Step 4. Double click your face to appear within the editor. Adjust to fit the mug. You can rotate left, right, delete an object, save the image, and move the item as per your choice. There is also an option to add text and bubbles in the background of your video. This makes your editing quite cool.
Step 5. Once you are done changing the face, you can print, save, or share your file. Just navigate to the "File" tab and select the appropriate option on the drop-down list.
---
#2: JibJab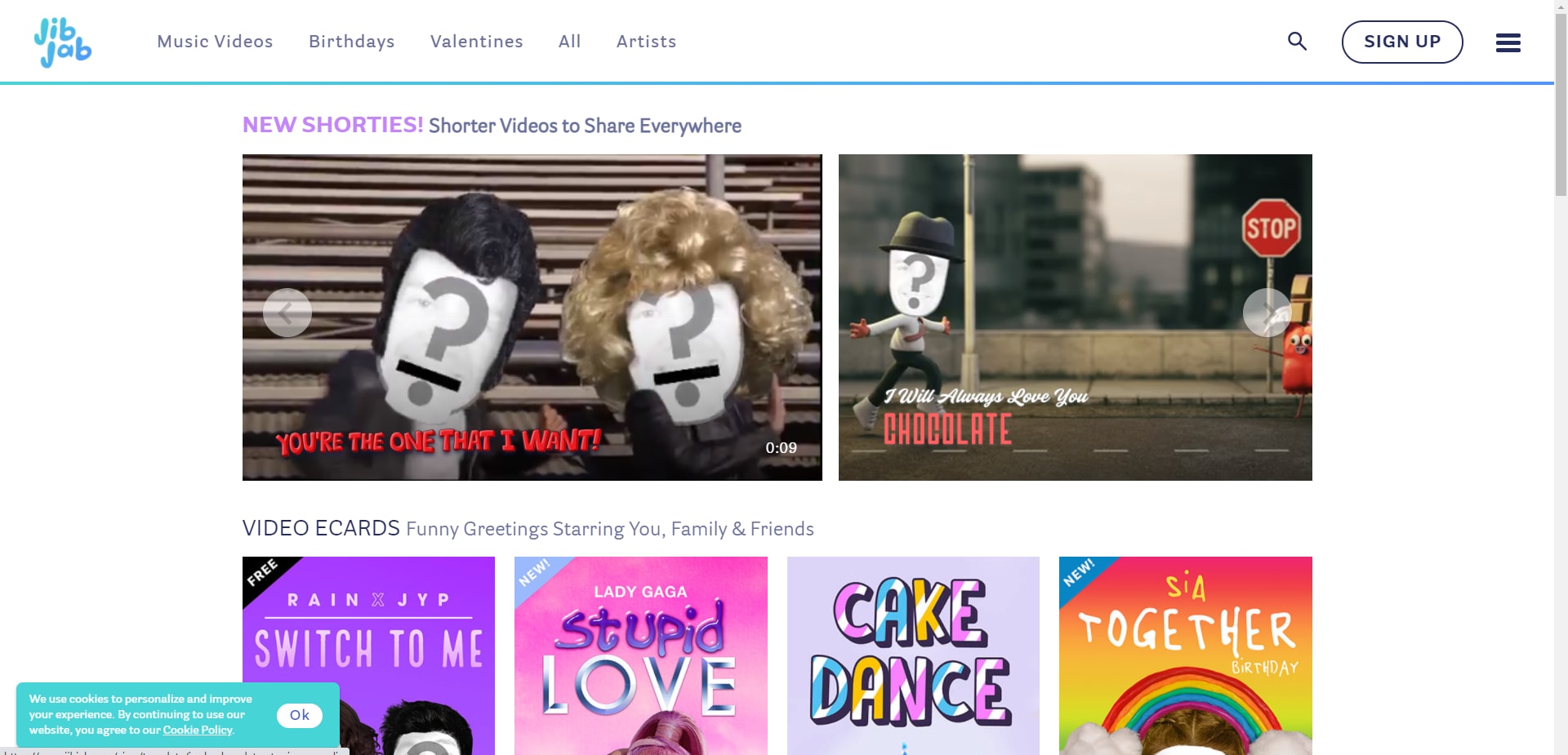 JibJab is another popular online face changer tool for videos. The program offers users absolute freedom to put their faces in videos like music and dance and share with friends and family. The process is quite simple as the steps are clear and straightforward.
Step 1. Visit the online program and choose themed videos. Just select the options in the video to suit your interest.
Step 2. Choose your character and one desired image to use. You can choose it either from your gallery or by merely taking a new photo via Webcam.
Step 3. Cut your face size correctly with the cutout. Ensure you get the eyes set on the line, zoom the image, and shape the cutout using the points around the outline.
Step 4. Align the entire photo lips points using the mouth cut out and then press the "Animate" button to confirm whether the movement is synchronized. If that is not the case, continue readjusting until you finally arrive at how you desire.
Step 5. Repeat the very same steps for the other characters in the video. Watch and share them when finally done.
---
#3: LunaPic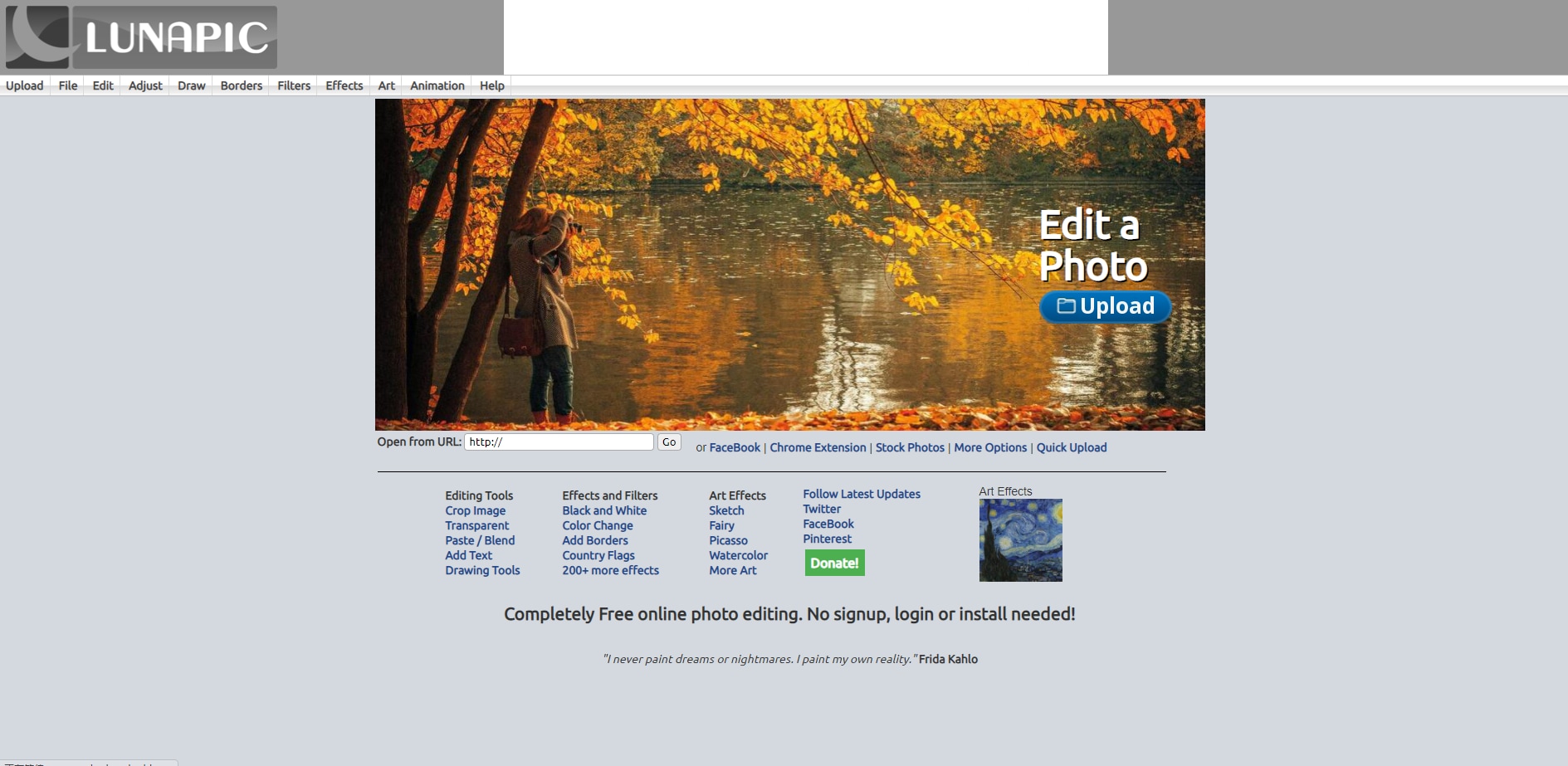 LunaPic is a smashing face swap tool featuring one of the easiest and clean interfaces tailored for a serene user experience. Users can save or share their edited videos and photos on popular social sites like Facebook, Twitter, Tumblr, and Imgur, to mention but a few.
Step 1. Visit the program using your favorite browser and upload the initial image.
Step 2. On the main interface, navigate to the "Edit" tab then "Crop image." From the number of tools displayed, choose the "Circle Tool" to help you draw an oval around the face you would like to use. When done, click the "Copy and Paste" button.
Step 3. Upload a new image for use or use the same painting depending on your need.
Step 4. Go to the "Paste image" option on the clipboard screen and perform some adjustments. Choose the cutout shape as oval edge fade pixels 2 or 5. Drag the face and place it on the new person. When done placing, just hit the "Apply Paste image" button.
Step 5. If you have multiple characters, repeat these steps.
---
Part 3: 2 Apps to Replace Face in Video
#1: Face Swap Live
Face Swap Live is a standout photo and video editor that makes it super-easy and fascinating to swap face in videos. Users can pull celebrity videos online and use them for mapping their looks as per their interest. The unique thing about this fantastic application is the ability to switch your faces live- just right from your camera's video feed. Most apps, however, use static videos. The new version features interactive face-swapping as well as 3D effects.
Step 1. Open the Face Swap Live app.
Step 2. Select the camera option and take a photo with your friends. The program will swap your face in real-time. You can upload images for the face-to-face swap. Please make sure you always select the "Faces" and "Photo" options before swapping faces.
Step 3. You can then share or save your edited file on your PC.
---
#2: Snapchat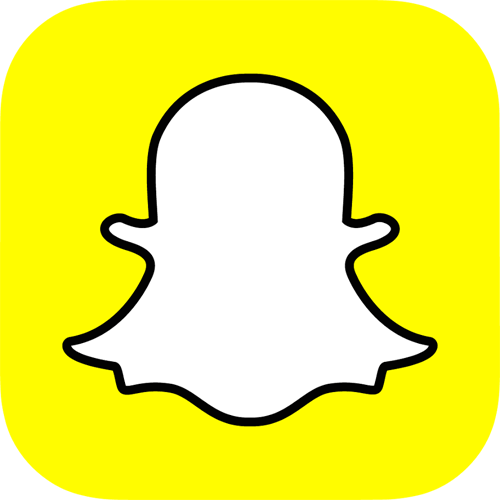 Snapchat is a popular messaging application among many teens that allows them to share user-generated photos, texts, and videos, among other files. There are millions of live users frequently visiting Snapchat every single moment, thus driving massive traffic. In 2016, face-swapping technology was added to Snapchat, making it a popular photo-editing and sharing tool.
Step 1. Navigate to Snapchat and open it on selfie mode.
Step 2. Tap and then hold on your face until you see a white mesh.
Step 3. Just scroll through the provided options to the side of the capture button to locate the Face Swap.
Step 4. Align two faces until the icons on the screen both become yellow. In most cases, removing your glasses would give a more successful alignment.
Step 5. Now tap the circle located at the bottom and bear face swap icon to capture the image. In case you want to save your photo on your device library, tap the icon resembling a downwards arrow in the bottom left corner. You can now share the saved image on various popular social platforms such as Facebook, Twitter, and e-mail, among others.
---
Conclusion
There are all solutions I can find to help you replace the face in the video. Which one are you ready to try?
In my opinion,
If you don't have a high requirement of the video changing quality, then online sites or mobile apps will be an excellent choice.
But if you wish to get high-quality video effects, then Filmora Video Editor could be the ideal option for you. It allows you to change face in the video and add transitions to video and even edit a video like a pro.
Check the below icon and have a free trial of this powerful tool right now.