What Is a Cache Cleaner?
Keeping your cache clean is just one of the very basic things that you need to do. A cache cleaner is an application to add to your Max OS X (including 10.11 El Capitan), and purchased from a provider over the Internet, that will do that and more. The computer cache is a part of your hard drive and your RAM memory, where information is stored. It facilitates the transfer of data from your hard drive to your computer, and in a sense, acts as a buffer to hold information until it is required. Cleaning your cache will free up the memory so that it can function at its peak again. That is the job of a cache cleaner, and we now take a look at what we believe are the top 5 cache cleaners that are available to buy today, providing a great benefit to your computer and you.
5 Top Cache Cleaners for You and Your Mac
#1. CleanMyMac 3
Bar none, we believe that CleanMyMac 3 is the best cache cleaner, for the price on the market today. It started out as Version Number 1, and has progressed to where we now have CleanMyMac 3. This is the one that we use on a daily basis, and just about the only thing I have to clean to keep my iMac operating like new is my screen. My CleanMyMac 3 will clean everything that needs to be cleaned. CleanMyMac 3 is available at a low price of $19.97, a 50% discount off the regular price, which may not last long. The application is very user friendly. It is well laid out, giving you all you need to decide what to clean and when to do the cleaning. Its other features provide great information so that you know how your computer is working, and it will even fix your disk permissions if here is a problem.
Here is a list of what CleanMyMac 3 will do for you:
Let you decide when to clean. You set the schedule.
Shows you what needs to be cleaned. There is no guesswork.
It will scrub your Mac's system, iTunes, Mail, iPhoto, Trash bins, and even old folders you'd forgotten about.
It will effortlessly remove unwanted apps and programs from your computer
It decides what can be removed and what cannot.
It gives you all you need to repair disk permissions, to clean your RAM, and it will tell you how your Mac system is performing.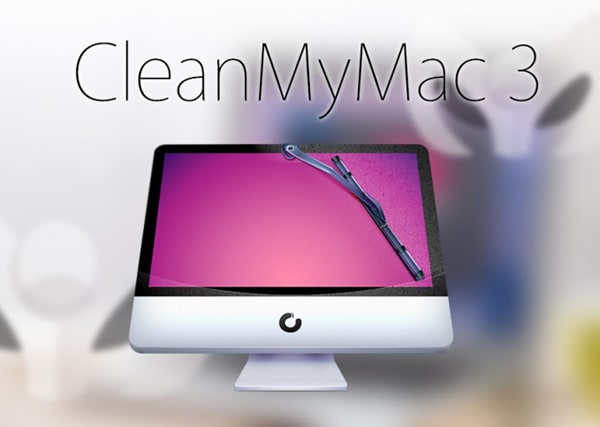 #2. iDoctor
iDoctor may be a good Mac Cleaner, and offers a few more bells and whistles that are not included with CleanMyMac 3, but it also comes with a hefty price tag. It operates on a monthly plan of $9.99 per month, or $119.88 per year. A hefty charges that just keeps on ticking whether you use the program or not. iDoctor adds these features: a data finder - which may be similar to your Spotlight Search; file backup - which most of us have with iCloud or some other method; restore file - if you inadvertently lose a file. But if you keep your files backed up, just go and grab it; duplicate cleaner - which I really question the need for; file encrypter - which may be beneficial to some; theft tracker - if someone steals your computer.
Pros:
iDoctor offers a few more bells and whistles that you may or may not see as necessary.
Cons:
It is a monthly payment plan that just keeps taking from your Credit Card.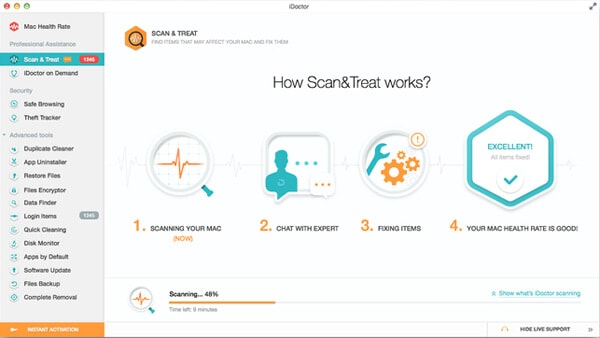 #3. MacClean Software
MacClean is a free offering to clean up your Mac. It cleans the following: User Junk, Internet Junk, System Junk, Development Junk, Trash Junk, and Application Junk. The program also provides the following as separate utilities: finding and removing old and large files; iPhoto cleanup ; application uninstall; duplicate finder; extension manager; file erase; Binary Junk Cleaner.
Pros:
The price is right for a program that does an adequate job.
The basics are included.
Cons:
The price may be right, but the cleaning is not complete.
#4. MacKeeper
MacKeeper is another monthly plan offering at $7.95 per month. It advertises having 16 functions in one, with it being about equal to the iDoctor level of service.
Pros:
It includes everything that one could want and probably more.
It is an easy program to use, from personal experience.
Cons:
Includes some functions that have questionable value.
It comes with a locked in month to month Credit Card Plan of $7.95 per month. That is $95.40 per year.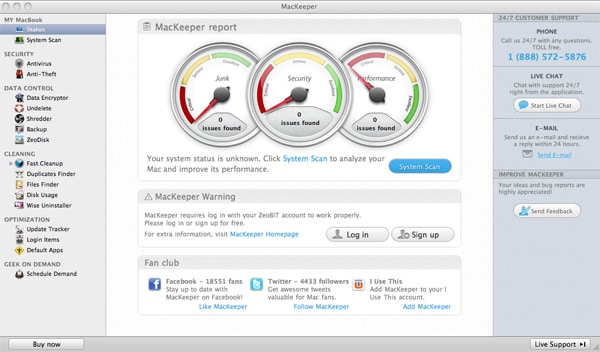 #5. Winzip Mac Optimizer
Winzip Mac Optimizer by , comes in at our Number 5 spot. It zips and unzips your files so as to save your space. You are allowed to manage all your files in the new, modern interface. You can zip and send large files by email. This is your top choice when you need to deal with large-sized files.
Pros:
The program has good graphics and is easy to use.
Cons:
A difficult download to find.