I am working with my Mac OS X for last 5 years. In this long time, I have used several apps, tasted several softwares for my Mac OS. Finally, I ended up with CleanMyMac 3. To be honest, it's an awesome system cleaner for my Mac OS. All the unwanted, junk files will be removed just within a few clicks. CleanMyMac 3 is the best memory clean mac and the overall function of this cleaner is very easy indeed. In my long run with Mac and various softwares, I have found CleanMyMac 3 the most effective and fruitful cleaner. Let's take a look on some points that will tell us that why CleanMyMac 3 is the best memory cleaner for Mac.
Part 1. Best Memory Clean Software for Mac OS X (10.11 El Capitan)
CleanMyMac 3 has a wide range of users throughout the whole world. The performance and the quality of CleanMyMac 3 compel a user to use it. What are reasons actually that people are too much fond of his software? Take a look on the features and advantages of CleanMyMac 3 and how it benefits people as a memory cleaner.
How does CleanMyMac 3 benefit you as a memory cleaner?
Multiple Trashes - CleanMyMac 3 features multiple trashes. Most of the homes have multiple trashes and the same way CleanMyMac 3 do have it too. It just needs a click to send all the junk from the memory into the trash. Aside of that, you can find the iPhone trash, mail trash and specific apps trashes here.
Smart User Interface - All the options such as privacy, iTunes, settings are designed well and graphics well. The overall user interface is very smart.
Faster Speed - You won't believe the speed of CleanMyMac 3 until you are using it. 50/60 gigabytes of junk from your memory will be removed within a few clicks and minutes. The faster speed has added a dimension for CleanMyMac 3.
Remove from the Deep Down - I was truly amazed by the performance of CleanMyMac 3. I was deleting some trash from my iTunes memory and then I found some older backup. I really didn't know that those older backups even exist in my notebook.
Delightful Experience - Your Mac may run very slow due to the unexpected junk files in the memory. The only way to make your Mac fast is to remove them. This might take your one day. But the experience with CleanMyMac 3 is very easy and delightful. Remove all the trashes and junk from the memory within a few minutes.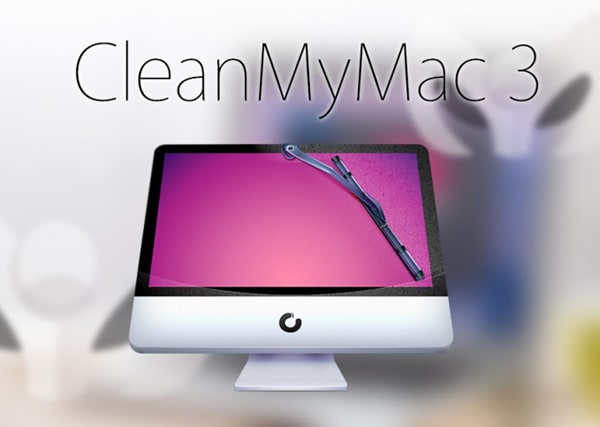 Part 2. How to Clean Memory for Mac with CleanMyMac 3?
#1. Dashboard
Here you will find the options and setting in a well-mannered way. From top to bottom, the options are there. And the maximum place of dashboard will show you that how much memory your junks have totally possessed. Dashboard is a quick view of the whole software. So, you can get a brief idea of the whole software.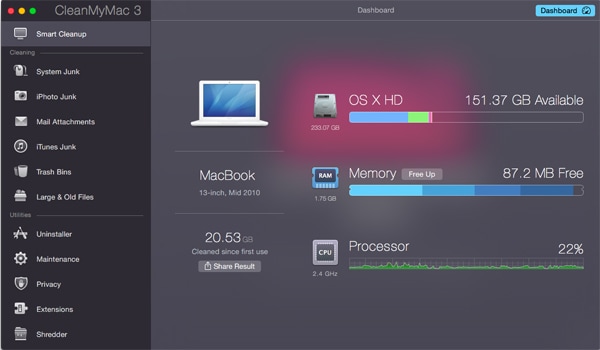 #4. Mail Attachment Cleaning
The best memory cleaning part of this software is the mail attachment part. Many times, we face this problem. We recieve such mail that is containg PDF, zip or any big file. It snatch big space from the memory. But with CleanMyMac 3, you will be able to remove these mail attachments at a glance.