Halloween is here, and many people are wondering where to get the best costume Halloween costume ideas. You are not late; the stores are still full of the women's best Halloween costumes. This is where you will get the best Halloween ideas and costumes for women, couples and even your favorite pet; the dog. Let us get started…
Part 1. Top 10 Halloween Costumes for Women
What kind of Halloween costumes do women like? What Halloween costumes makes women look so attractive? These are probably the kind of questions every woman is asking herself as they flock the stores to get one for themselves. Every woman would love to be in a costume that looks quality. They want the costumes that would make them look sexy, and those that fits their state, For example, the moms-to-be. They would love to have those pirate costumes, the witch and vampire costumes, fairly, flapper and superhero costumes.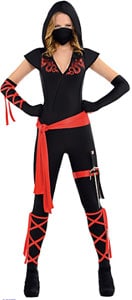 #1: Adult Dragon Fighter Ninja
This costume includes a bodysuit, mask, attached hood, garter, Sai, waist sash, and finger gloves. With this you can show off your curves and killer skills. It comes with red dragon prints placed on the V neckline. There is a perfect match between the red straps around the legs and the black finger gloves.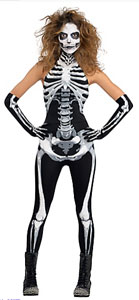 #2: Adult Bone-A-Fied Skeleton Costume
It includes a jumpsuit and some gloves. It is the best and very hip-tibia this season. The gloves and the suit are skeleton printed.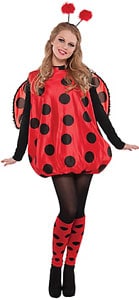 #3: Adult Darling Ladybug Costume
Want to be the lady (bug) of the hour? Well, this is the right costume. Featured in adult Darling Ladybug Costume is a woven polyester tunic romper. This romper has red and black polka dots all over. It can be adjusted to any size and it comes with red and black stripped leg warmers, wings, and a headband.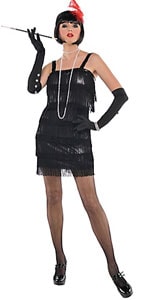 #4: Adult Flashy Flapper Costume
This cute and fashionable flashy costume comes with a shoulderless flapper dress that has layers of cascading tiers. Its elastic headband is black and sequin covered. This head band has a read feather plume that gives a good finish to the retro.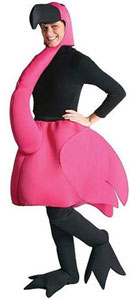 #5: Rasta Imposta Flamingo Costume
If you are that kind of a woman that loves making fun, then you probably like wearing funny costumes. Well, the Rasta Imposta is the perfect one for you. It is a one-size-fits-all costume that is made from polyester. It has a body of a bird, head, neck and leggings.

#6: Rubie's Lady Gruesome costume
This is the best scary Halloween costume that a woman can wear. It is good for those women who are not yet decided on what to be for Halloween. The costume depends on your hair style and make up. It is great for different creepy creatures. You can transform into a vampire, zombie, witch or a ghost using this Rubies' dress. The costume features a black long dress plus a spider web tiara.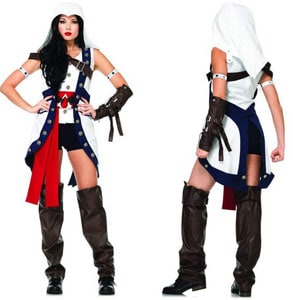 #7: Leg Avenue Women's 'Assassin's Creed' 6 Costume
This is one of the best Halloween costumes that include all the things you may need to be among the hottest video game characters of the day.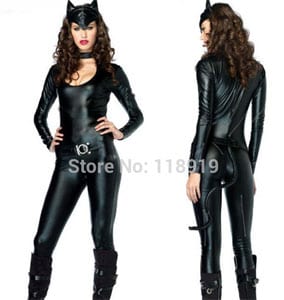 #8: Catwoman Halloween Costume
Remember Halle Berry as the Catwoman? It turns out that one "purrfect" Catwoman Halloween costume dress can be bought cheaply online.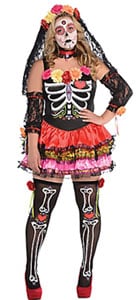 #9: Day of the Dead Senorita Costume
If you are looking for a costume that is full of color and has a skeleton somewhere in the print, go for this one. It comes complete with a skull charm adorned with flowers.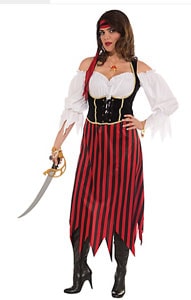 #10: The Pirate Maiden Costume
This consists of a long dress (for the pirate wench) and a peasant top bodice. It also features a black corset, trimmed beautifully with gold seams.
Part 2. Top 10 Couples' Halloween Costumes
For couples who wish to show up to the parade with a dashing theme, here are some cool costumes that they may consider.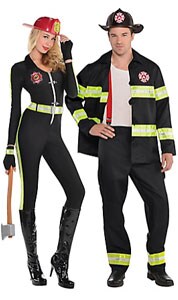 #1: Firefighter Couples Costumes
Want to turn up some heat this Halloween season? Well, the Couples Firefighter costume is the best. The women's Costume is characterized by a black jumpsuit and Finger gloves that match well with the suit. The men's suit comes with suspenders, jacket and helmet.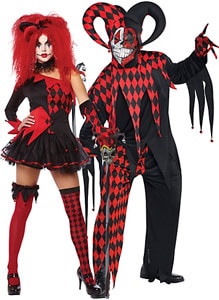 #2: The Red Jester Couple's Costume
The man's version of this costume can scare the daylights out of anyone, while the female one is simply gothic. The woman will also show up in a tutu dress and flaming red hair to boot.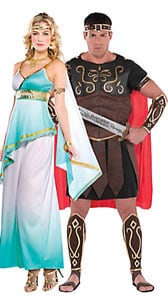 #3: The Greco Roman Couple's Costume
Here, the man wears a centurion's uniform, complete with armor (faux leather) and shin guards. The woman will put Cleopatra to shame with a flowing dress with some light yellow (golden) accents.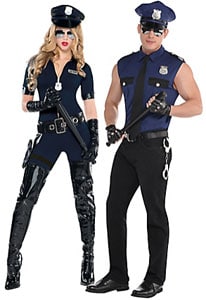 #4: The Partners in Law – Cops' Costume
This is a sexy cop couple's costume which includes the berets, the batons, belts, holsters, leather boots and even handcuffs. Drop your jaws to floor people!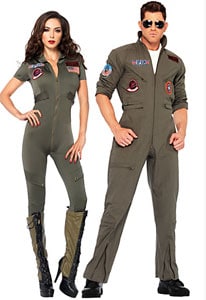 #5: The Top Gun Costume
Follow the footsteps of the legendary movie and don a replica of the pilots from the cast! The flight suits come with insignia and patches that are reminiscent of the military. The costume is the beginning of a salute to sexiness.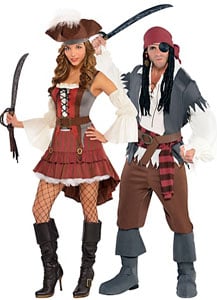 #6: The Castaway Pirate Costume
Are you ready to ransack the seas? Here is a magnificent costume for couples. The men's version comes with an eye patch, a belt, a pirate's vest and a dagger. The women's costume has a big hat, a tutu, and sleeves with frills.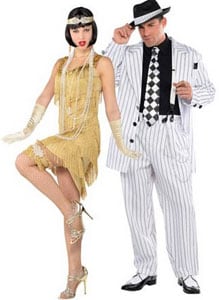 #7: The Roaring 20's Costume
This costume brings back the 1920's style. The woman's dress is a champagne flapper costume while the men's costume is an adult pinstripe daddy white suit.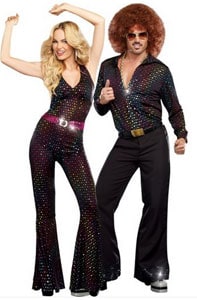 #8: The Disco Couples
Bring back the jiggle with the disco dude and doll costume. Additional disco accessories are available for your selection.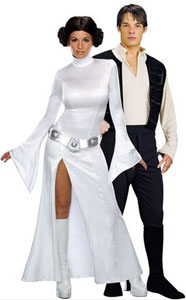 #9: Han Solo and Princess Leia
The Star Wars come to live with the Han Solo and the beautiful Princess Leia's costume.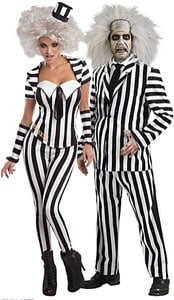 #10: The Matching Beetlejuice Costume
This costume has a zany black suit for men and a Beetlejuice Corset and trousers for women.
Part 3. Top 10 Costumes for Teens
Teens have their own unique costumes that would include themes like Disneyland, horror movies, popular books (think Harry Potter) and so much more. Here are some 10 ideas that could make for a remarkable Halloween.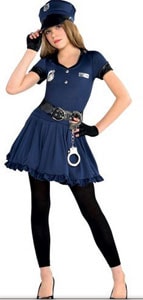 #1: Cop Costume for Girls
A cute costume for girls who admire our law enforcers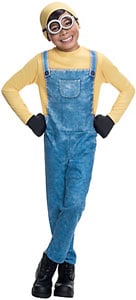 #2: Boys Bob Minion Costumes
This is from Minions the movie.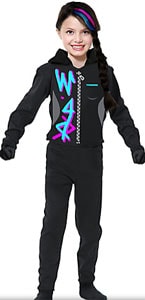 #3: Wild Ninja Costume for Girls
Beautiful American ninja costume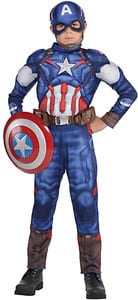 #4: The Captain America Muscle Costume
This is from the Avenger's Movie.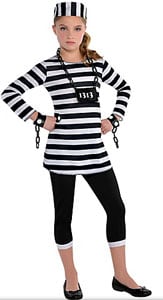 #5: Trouble Maker Prisoner Costume for Girls
This costume comes with attitude.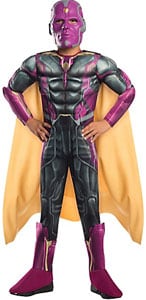 #6: Age of the Ultron for Boys
Also from a movie; Avengers – age of the Ultron

#7: The Sequin British Costume for Girls
This cute costume features a British flag pattern.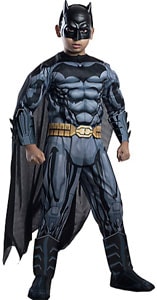 #8: The Boys Batman Muscle
As adapted from the Batman Movie and DC Comics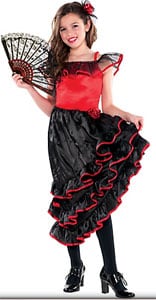 #9: The Spanish Dancer Costume for Girls
This is an Espanola vintage fashion Halloween costume.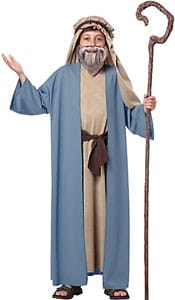 #10: Herdsman Costume for Boys
A costume inspired by the Biblical herdsmen.
Part 4. Top 10 Halloween Costumes for Dogs
Even our canine friends need to look their best this coming Halloween. They can show up in Terrifying monster apparel or any other fancy dresses that will show their allegiance to Star Wars, Family Guy or the Potato Man.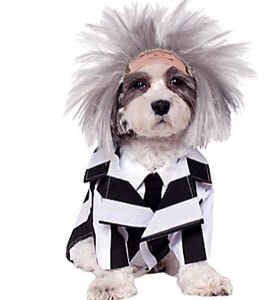 #1: Beetlejuice Dog Costume
This costume is inspired by the Beetlejuice Halloween Costume for men.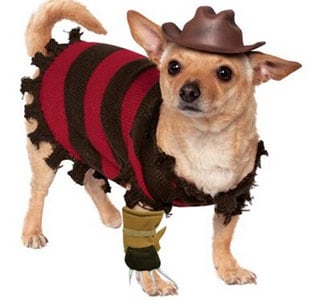 #2: Freddy Krueger Costume
Inspired by the movie "Nightmare on Elm Street"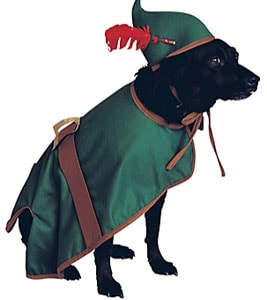 #3: Robin Hood Dog's Costume
Riding Robin Hood costume for dogs.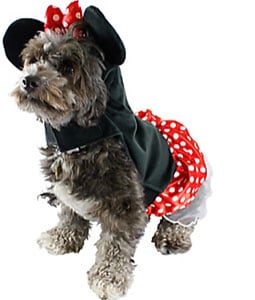 #4: Minnie the Mouse Costume
It also comes with a hoodie.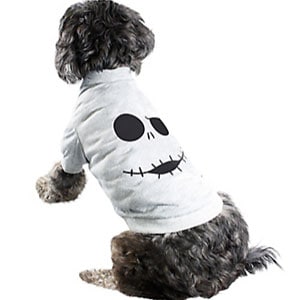 #5: Jack Skellington Costume
This costume is similar to that of Jack Skellington for Adults. It is actually a dog shirt.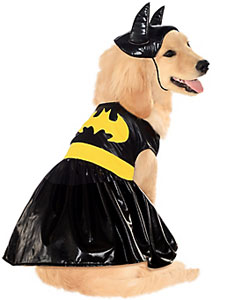 #6: The Batgirl Dog Costume
This is the female version of Batman for dogs.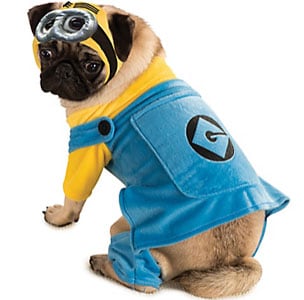 #7: The Minion Dog Costume
This is another costume from the awesome "Despicable Me" movie.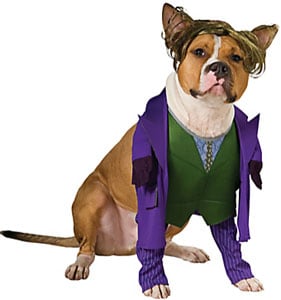 #8: The Joker (Batman) Dog Costume
Yet another DC Comics Dog Costume, dressing the pet up as The Joker.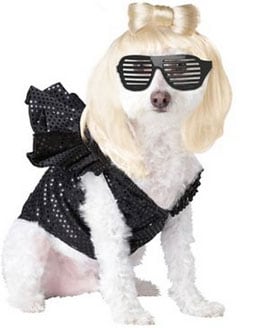 #9: The Pop Sensation Dog Costume (Pup-A-Razzi)
A costume designed to draw attention to the dog!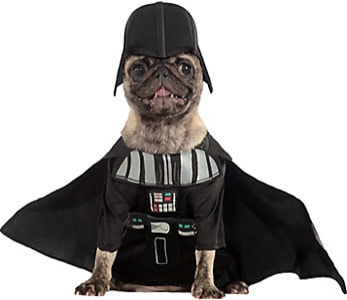 #10: The Dart Vader Dog Costume
From the Star Wars