For many iMac and MacBook users, having the best printer that is Mac-compatible ensures the ability to print on demand. There was a time when very few manufacturers that produce printers that are compatible with Apple computers. This meant that the purchased printer was unable to understand the commands sent to it by your iMac or MacBook, resulting the printer to be returned in frustration and you starting your search again.
Tips on How to Choose the Best Printer for Mac
Printer manufacturers these days are making sure that their products are able to accommodate one of the most popular brands in the market. However, do keep the tips below in mind when you are shopping for the right printer for Mac.
1. Look for visual cues
Thanks to the popularity of Apple computers these days, no printer manufacturers in their right mind would ignore the printing needs of Apple users. So, the chances that your brand new printer will be compatible with your Mac is very high. Nevertheless, if you are planning to purchase a second hand unit or at a warehouse sale, look for some visual cues that state the compatibility of the printing machine.
To make your life easier, printers that are made for Mac are indicated with a Mac logo. However, do take note that Apple does not certify that a model is compatible with its computers. So, if you are still uncertain, it is best to consult the mother ship.
2. Ensure that the printer is compatible with your OS X version
It is common to hand down computers to younger siblings or parents, so it is good to ensure what versions of OS X are supported by the specific printer model. You can usually check this out on the box. If you intend to buy the printer sans the box, a quick search on the internet will land you its operations manual where you can check the versions supported in the 'Requirements' section.
3. When in doubt, consult Apple
For an easier life, you will be happy to know that Apple has an updated list of all printers that are compatible with its computers. If your printer is listed, all you need to do is plug it in and your Mac OS X automatically downloads the software needed and installs the printer. If not, you need to do it manually because it is not bundled with OS X.
4. If still in doubt, consult the manufacturer
Should the printer you are thinking of buying is not listed, check the manufacturer's support website. The printer may be old, but they might have an updated driver for your version of OS X so that you can use it with your new Mac.
5. Read the reviews!
The Internet is a wonderful place to look for information. With the right keywords, you will be able to find reviews from owners on how the printer actually works on an iMac or MacBook.
Top 5 Best Printer for Mac
Now that you know how to choose the right printer for your Mac, here are some models we think are among the best printers for Macs:
#1. HP Officejet Pro 8600
We think that the HP Officejet Pro 8600 is a great all-in-one printer for home and small offices. With its versatile connectivity options and cloud printing tools, you can definitely use this machine for a very long time. It prints/copies fast and its touch screen control panel is intuitive. If your Apple computer is equipped with at least a Mac OS X v10.5, all you need to do is set up the printer as per the manual and your Mac will automatically detect the printer, download the software and prompt you throughout the installation process.
Pros: Retailing for less than $200 on Amazon, this printer really is a workhorse that is equipped with a 250-sheet paper input capacity, auto-duplexing, cloud printing and a variety of connectivity options. It is also one of the cheapest all-in-one printer to buy and maintain.
Cons: Scanning documents is relatively slower since it cannot scan double-sided originals simultaneously.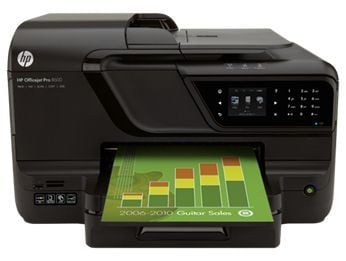 #2. Canon PIXMA PRO-10
For graphic designers and photographers, the Canon PIXMA PRO-10 is THE printer that will capture your beautiful work of art. While realistically many of you would go to professional printers that will give you more printing option, having this little gem in the office can be handy. At At $599 on Amazon, the printer is not cheap to buy or run, but the output is amazing – each printed pixel is so fine that you will not be able to see it no matter how big you decide to blow up that gorgeous picture.
Pros: Like many, it has multiple connectivity options including USB, Wi-Fi and Ethernet network. We also love its ability to print black and white prints outstandingly thanks to the 3 monochrome inks that will enhance your grayscale photographs.
Cons: While installing the software was easy, either through the bundled CD or automatically downloaded by your Mac (minimum requirement of Mac OS X v10.5.8), it was too heavy to setup single handed.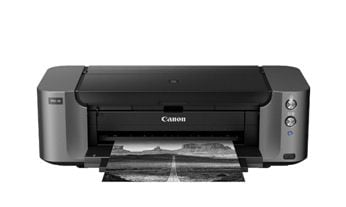 #3. Epson Expression Premium XP-810
We think that the Epson Expression Premium XP-810 is a great printer for college students to have and later on bringing back home as they transition to working life. This Mac OS X supported printer renders one of the best print quality for its price range and has many useful features such as the duplex document feeder and printing capabilities, PictBridge enabled and ability to read memory cards.
Pros: Compact in size – great for small working space and very mobile. Prints fast (for a printer that is meant to be used at home) so you can catch that deadline.
Cons: For $149 at Amazon, we think that the printer should be priced lower seeing that the ink will cost its owner a lot. The paper feeder has low capacity.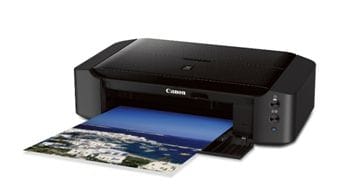 #4. HP Envy 5530
The HP Envy 5530 is your typical home printer: simple to use, not much whistle and bells and low purchase price (($95 on Amazon) balanced out by higher-priced ink cartridges. The quality of its printed output is distinctively better than other models in the same price bracket; texts, even when printed in draft mode, comes out sharp while colour graphics are pretty accurate. Setting up the Envy 5530 on your Mac (minimum Mac OS X v10.6) is easy as the installer will guide you throughout the process.
Pros: It is very easy to use, reliable and produce outstanding output.
Cons: Super slow and the ink are pricey. However, do check out HP's new Instant Ink program to counter ink cost. There is also no Ethernet port.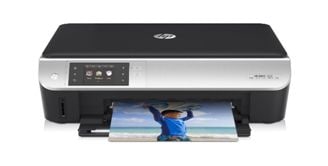 #5. Canon Pixma iP8720
Budding photographers that want instant satisfaction over their art should consider getting the Canon Pixma iP8720. While print quality is awesome, they can be uneven at times.
Pros: Budget-friendly inkjet printer (selling at around $250 on Amazon) that renders amazing coloured prints of up to 13" x 19". Fully wireless printer: AirPrint, Cloud Print, Canon Mobile Printing, Wireless PictBridge supported.
Cons: Low capacity paper tray. Printer does not support PictBridge over USB cable.
[polldaddy poll="8113305″]