There is no better way to safely download the software than to get it from its creator or its authorized download site. The safest way to download Windows 10 Preview is from Microsoft official website. Go on to learn more.
Part 1: How to Download Windows 10 Preview Safely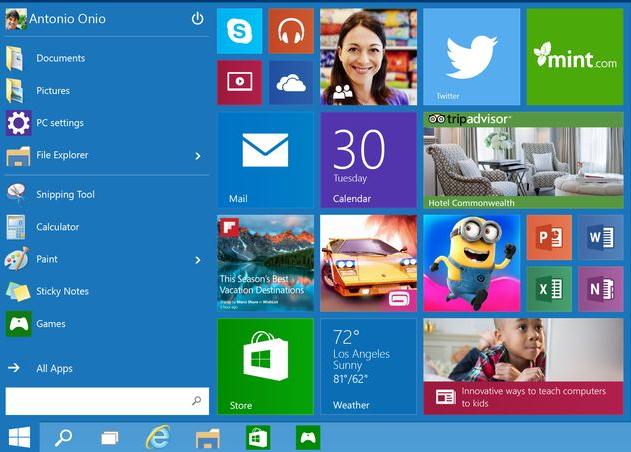 1. Windows 10 Preview Features
Windows 10 is another version of the Windows operating system. But this time, it is not only for 32 and 64-bit PCs. It will also be for tablets and smartphones. Because of the dynamic changes and upgrades, Windows 10 Preview has obtained the following features more advance than before:
Start Menu
In Windows 10, the Start Menu is back to being expanded and located back at the bottom left but together with some of Windows 8.1 Start Screen features such as live tiles which can be resized. Your frequently used apps will also appear alongside the Start Menu. The Start Menu can be customized, you can arrange the tabs and resize it, even expand it in full screen. Start Menu is also empowered of search capabilities.
Search Button
A search button is added to the taskbar. When clicked, it will display your recent files and folders, making it easier to find your recent files without the need to pin them to the taskbar.
Starts up
Windows 10 starts up and resumes faster, has more built-in security and works with old software and hardware.
Project Spartan
Windows 10 now has the brand new Microsoft Edge browser, known as Project Spartan in the Technical Preview, which is made for a better web experience. It is faster in performance and offers a sharing-centric functionality. With the new annotation feature, you can directly draw, highlight or type notes on the web page, and share it via email or social networks. Internet explorer 11 is still integrated in Windows 10 for compatibility with legacy and Enterprise websites. That is where Microsoft Edge can launch Internet Explorer 11, when needed.
Cortana
Cortana, Microsoft's virtual digital assistant on Windows 8.1 is also enabled. She can search your files, find online information, delivers reminders and even chat. You can opt to use Cortana via a microphone. She is also integrated in Microsoft Edge browser. Unfortunately, Cortana is only available in Windows 10 for the United States, United Kingdom, China, France, Germany, Spain and Italy.
Snap Assist
There is also a Snap Assist feature, where you can snap windows into tiles just like in Windows 3.0. This also allows you to see your open tasks in a single view. You can also create virtual desktops, a desktop for applications you need for work, a desktop for your favorite games or another desktop for whatever you want to group together.
Command Prompt
A more powerful command prompt which is capable of copy and paste in the prompt with the ctrl + C and ctrl + V.
Mail and Calendar
Mail and Calendar apps which are speedy and responsive. And they are now more responsive with mouse than before.
Action Center Notifications
Action Center notifications now pop up to remind you of useful information. If connected, it will collect alerts from all of your devices and you can respond to these alerts in the Action Center panel. You can also control the brightness and contrast of your PC in the Action Center.
Control Panel
Microsoft combined the device settings in Control Panel and the PC Settings in the Control Panel to lessen confusion.
Touch, Keyboard, Mouse
On 2-in-1 devices, you can choose how to interact using Windows 10, either by touch or keyboard and mouse. Windows 10 is not only ideal for keyboard and mouse, it is also optimized for touch.
Office Apps
Office apps has a brand new version which is capable of touch-first interface.
Window Store
A new Window Store has been introduced; it is a unified shopping experience.
Continuum
Windows 10 includes a "Continuum", a feature that serves up a device-specific interface that scales from desktops to tablets. It switches the interface for 2-in-1 devices, like automatically change mode if it detects a keyboard was attached. This is best for games.
Universal Apps or Windows Apps
To get Windows 10 work everywhere, Microsoft has declared Universal apps or Windows apps that'll exist both on PC and devices. Apps will look identical to their desktop counterparts.
Xbox App
An Xbox app was also added. You can now record PC gameplay in an instant, see what your friends are doing and send messages, compete against players, check out achievements, and stream games from Xbox One console.
Windows 10 has a lot of features for business and enterprise. The new features of Windows 10 make it an ideal operating system for the modern world where people use PCs and other devices altogether.
2. Windows 10 Preview Tech Spec
The hardware specifications for Windows 10 are as follows :
Processor must be 1 GHz or even faster or SoC
RAM must be 1 GB for 32 bits or 2 GB for 64-bit
16 gigabyte (GB) space for hard disk for 32-bit or 20 GB for 64-bit
Graphic card must be DirectX 9 or later with WDD 1.0 driver
800 x 600 graphics display
If you will access the Windows Store or use Windows Apps, you will need to have 1024 x 768 graphics resolution.
The specifications of a device should also be considered, such as the driver, application compatibility and feature support.
You can check if your PC or device meets the requirements by selecting "Check my PC" in the Get Windows 10 app.
3. OS Requirements for Windows 10
You must be on a licensed Windows 7 SP1 or Windows 8.1 Update before you can upgrade to Windows 10. If you are not in Windows 7 SP1 or Windows 8.1 Update, you can still get a licensed Windows 10 for a fee. Windows 10 Technical Preview is limited to PC and Windows tablets with x86 processors.
4. Steps for Windows 10 Free Download
It is wise to always back up your files first before installing or updating, especially if you will install a beta product. You must have an internet connection; ISP fees might apply.
In downloading Windows 10 Technical Preview, follow these steps:
Step 3
If you will install it on another computer, burn the ISO file into a DVD disc or flash drive (USB).
Step 4
Boot from the flash drive or from the DVD disc and follow the instructions.
In their official website, Microsoft announced that the full version of the new Windows 10 is going to be released on July 29, 2015.
To upgrade to the full version of the whole new Windows 10 for free, either get windows 10 app or go to Microsoft's official website and follow these steps:
Step 3
You need to enter you valid email for a confirmation.
Step 4

Install
A notification will be sent after July 29, 2015 when Windows 10 is ready for download on your device.
Either install it right away or pick a good time to install it.
You must upgrade within the first year of release to avail of the free upgrade; otherwise, you will have to pay for it. Also, Microsoft will upgrade you on like-to-like editions. If you are using Windows 7 Professional, you will be upgraded to Windows 10 Pro. Windows 7 Enterprise, Windows 8 Enterprise, Windows 8.1 Enterprise, Windows RT and Windows RT 8.1 are excluded from the free upgrade. The free download is not applicable to pirated copy.
Part 2. Why You Should Not Download Windows 10 Preview Torrents
When Windows 10 gets out in the market, surely it will be leaked as a torrent and be available on all file sharing sites. Microsoft gives a legitimate source for Windows 10; there is no reason to download elsewhere. Downloading from an illegitimate source might put your security at risks.
Here are some of the disadvantages and risks of downloading Windows 10 Preview torrents:
When Windows 10 gets out in the market, surely it will be leaked as a torrent and be available on all file sharing sites. Microsoft gives a legitimate source for Windows 10; there is no reason to download elsewhere. Downloading from an illegitimate source might put your security at risks.
DISADVANTAGES
Windows 10 Preview torrents will look legitimate but that does not mean it is 100% legitimate.
Windows 10 preview torrent has pirated files which are infected with malware which are repacked to avoid anti-virus programs.
Even if it be the best pirated copy, it will not be a perfect copycat. It will not have all the features of a legitimate Windows 10.
RISKS
The torrent might be a way for cyber-criminals to infect your computers or devices or even invade your privacy and steal information.
When you install from a torrent, viruses, malware, Trojan or Ransomware may also be unknowingly installed. Ransomware is where a program would lock up your computer and will ask for money so it will let you back in.
Denial of Service hosts may also happen.
Your system may also crash down.
It is not worth it to risk your privacy and system. Windows 10 Technical Preview is free from Microsoft.