Our iPads contain a lot of personal data in the form of email passwords, banking info, photos and contacts just to name a few. It therefore goes without saying that to delete iPad before selling your device would be in your best interest. Unfortunately, most iPad owners unknowingly delete personal info from iCloud while still signed in with their Apple ID. And by doing so, wipe off all content from the iCloud servers. In addition to this, some owners manually delete data from their devices which is unsafe because it only gets rid of the pathways to your info. In a nutshell, you should not only know how to delete data from iPad before selling, but to erase all info safely and permanently with absolutely no recovery options whatsoever. Let's have a look at the most effective tool you can use to achieve this.
How to Delete Data from iPad for Sale
dr.fone (Mac) - Data Eraser (IS) (or dr.fone (Mac) - Data Eraser (IS)) your safest bet as far as erasing data is concerned. In short, it is very possible to safely clean up your device completely with just the click of a button. The software packs a plethora of innovative deleting options such as erase private data mode, erase deleted data, and erase all data among others. To get a comprehensive idea of what to expect, let's delve on some key features entailed in the program.
Key Features of dr.fone - Data Eraser (IS):
1. Permanently deletes content from your device for optimal security.
2. Enhances functionality by deleting all junk files and obsolete icons.
3. Compresses your photos to create more space on your device.
4. Multiple distinct data deletion modes for easier erasing.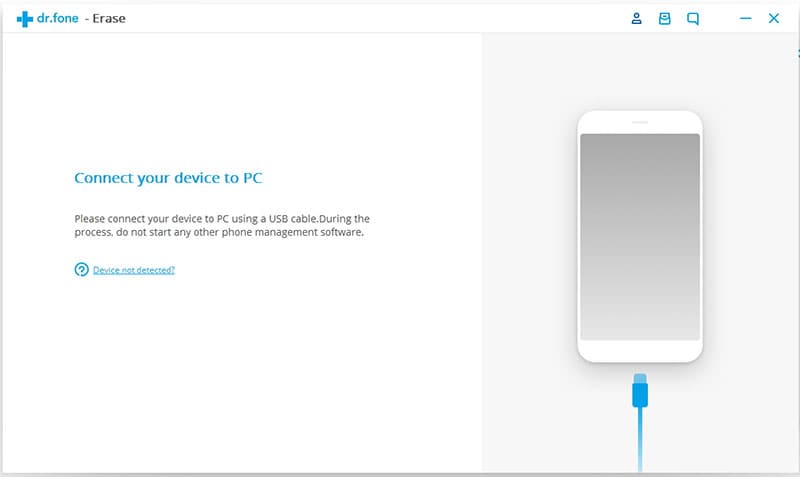 Steps to Delete Every Data from iPad
If you are considering selling your iPad, it would certainly be in your best interest to rid off any information that may be risky when placed in the wrong hands. Below, is a simple step-by-step guide of how to delete on iPad any personal info without chances of recovery thereafter.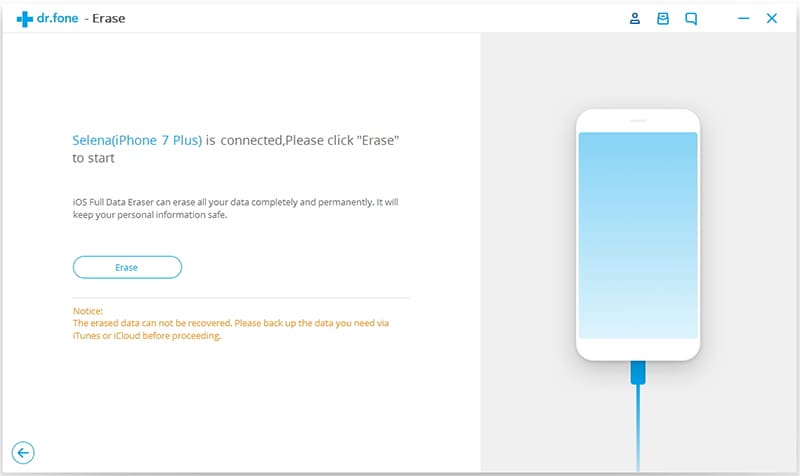 Step 1: Run the Data Eraser Program
Once you have downloaded and installed the software on your Mac or PC, double click its icon to launch. Next, connect your iPad device to the computer using a USB data cable. The program will indicate the device's name on the upper side of the interface to inform the user that it was successfully detected.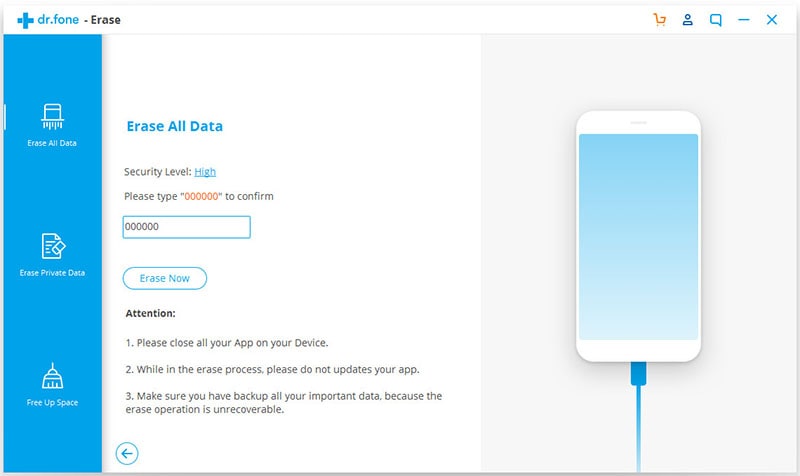 Step 2: Choose the Data Erasing Mode
To erase everything from the device you are about to sell; click on the "Erase All Data" option on your interface.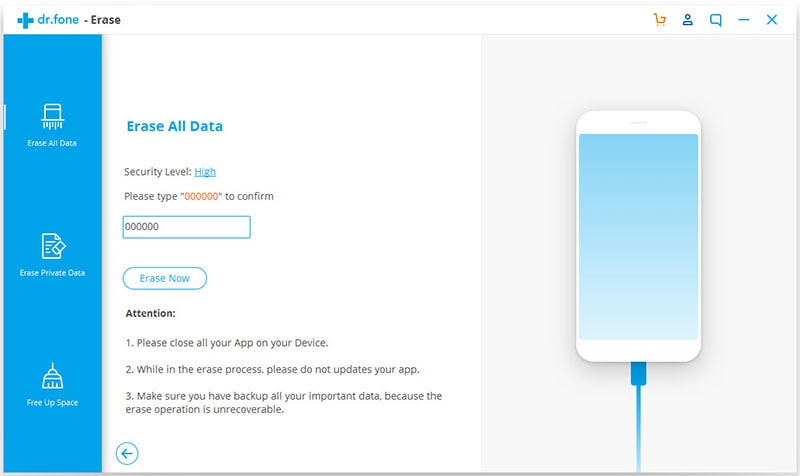 Step 3: Delete iPad Personal Data
On selecting the option above, a new pop-up window will appear displaying an "Erase Now" option. Click on it to access the erasing window that pops-up next. In this window, carefully type the word "delete" to confirm your intentions of completely wiping out everything from your device.
Things You Need to Do Before Selling Your iPad:
For the sole purpose of safety, there are several things you are advised to do before selling your device. Let's have a look at a few.
1. For starters, detach any unpaired devices you may have linked to your iPad such as an Apple Watch, to avoid relaying any info to the new owner.
2. The second thing should be signing out of your iCloud account, followed by deactivating the Find My iPad option.
3. Ensure that all your debit and credit card info is deleted from iCloud if you were using Apple Pay for any transactions.
4. Deregister from any apps you may have downloaded and logged in to. This will stop the new owner from access any information included in these apps.
5. Deactivate all iPad accounts if appliacable.
In a nutshell, you never know who you are selling your device to and hence paramount to stay abreast on how to delete iPad information safely and effectively.