Clearing data on phone used to be simple as it only involved hitting the "Factory Reset" button in the settings menu. But in the recent past, the process has become more complex, especially with the introduction of high-tech phones such as the iOS phones which feature security wallet and cloud-dependent features (iTunes Apple Pay, Activation Lock and more). Clearing all your data from iPhone and Apple servers requires extra work. However, if you can get the right software, to erase phone can be as easy as never before.
Part 1. How to Erase Your Phone Easily
dr.fone - Data Eraser (IS) is the best iOS and Android data eraser for deleting both the existing and deleted data permanently, with 100% unrecoverable. If you would like to sell, recycle or donate your phone, you will never be worried about your account information, emails, browsing history or any other personal data as long as you have installed this amazing software on your computer.
Key Features of dr.fone - Data Eraser (IS):
Cleans unnecessary and junk files with just a click, speeding up your phone.
Simple and easy to use as it features a user-friendly interface.
Compresses files with quality lossless, saving your phone's storage space.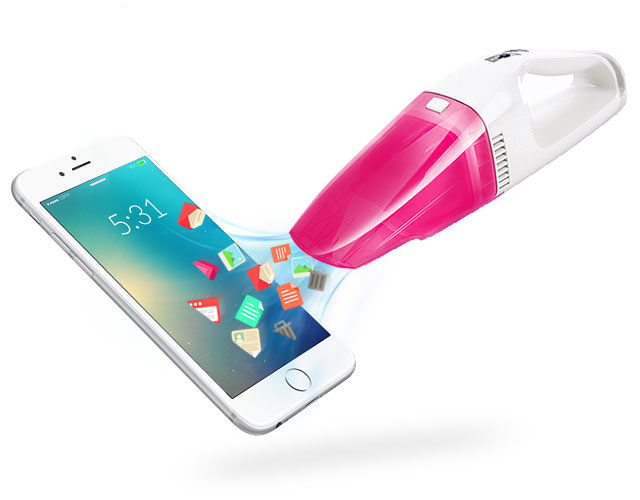 ;
Features five data erasing modes, which promotes its efficiency. (Photo Compressor, Erase Deleted Data, Express Cleanup, Erase All Data and Erase Private Data, Modes).
Step-By-Step Guide to Erase Your iPhone and Android
Step 1

Choose "Erase All Data" Mode

You will have to get online and download dr.fone - Data Eraser (IS). Click and open the downloaded file to install it on your PC and then launch the program. Use your Android or iPhone USB cable to connect it to your Windows PC. Ensure that you have enabled USB debugging before you can connect an Android phone to PC. The program will detect your phone and even display its information in the primary interface. Click on the "Erase All Data" button to access the data erasing window.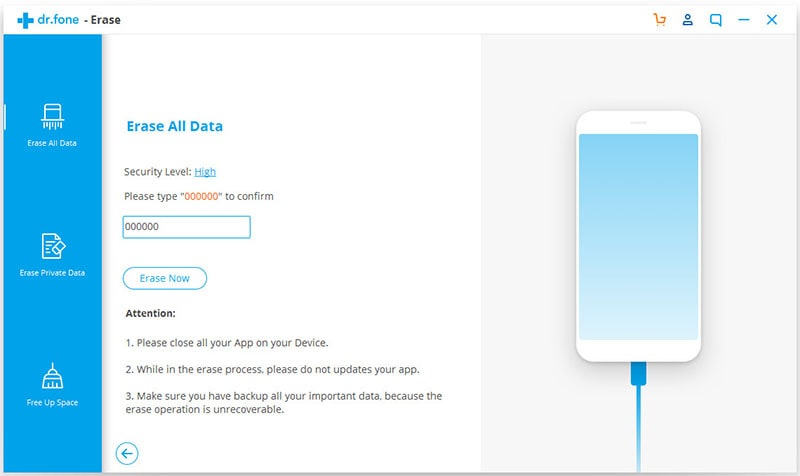 Step 3

Clear System Settings

After clearing data successfully, click the "Erase All Content" or "Factory Reset" on your device so as to wipe the system settings.

The amount of information and data that you are about to delete will influence how much time the entire procedure will consume. iSkysoft is highly effective in erasing all kinds of data like music, contacts, emails, browsing history and other sensitive information.
Part 2. How to Erase Your iPhone Remotely via the iCloud
If your iPhone is lost or stolen the "Find My iPhone" feature for iCloud can help you keep your data private by simply erasing them. However, wiping your iPhone remotely via iCloud should always be a last resort. You can either log into iCloud.com from any browser and use Find My iPhone or use the "Find My iPhone" app. The steps to erase phone remains the same regardless of the option you decide to use.
Step-By-Step Guide to Erase Your Phone Remotely via iCloud
Step 1. Launch "Find My iPhone" app on any iOS device. You can use a friend, relative's or family member's iPad, iPhone or iPod touch. Sign in to "Find My iPhone" app using Apples ID and password for the lost or stolen iPhone.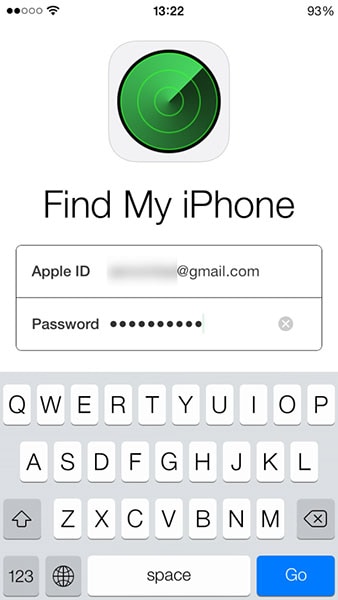 Step 2. Once you are logged into iCloud, you will be able to see a list of iOS devices linked to your Apple ID. Tap the iPhone you want to erase in order to select it. At this stage, you can locate the iPhone and even get the driving directions to it.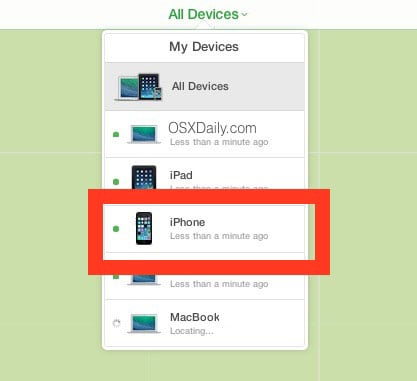 Step 3. Tap on "Actions" located at the bottom part of the screen so as to bring up the "Erase iPhone" option. Tap on the "Erase iPhone" button.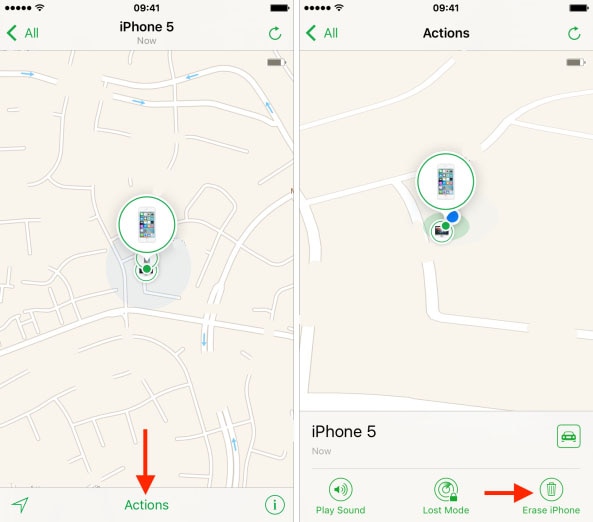 Step 4. In the next screen, you will be asked to confirm that you want to erase the iPhone. Just tap on the "Erase iPhone…" button.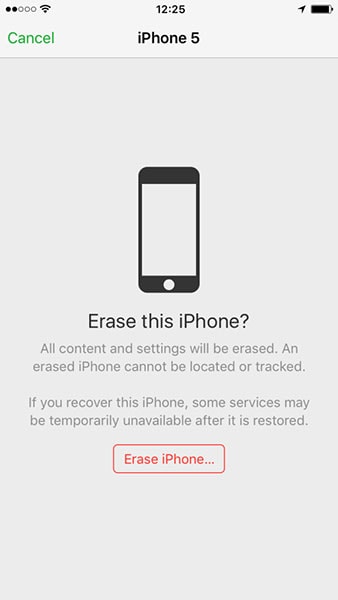 Step 5. Enter your Apple ID password as requested and tap "Next".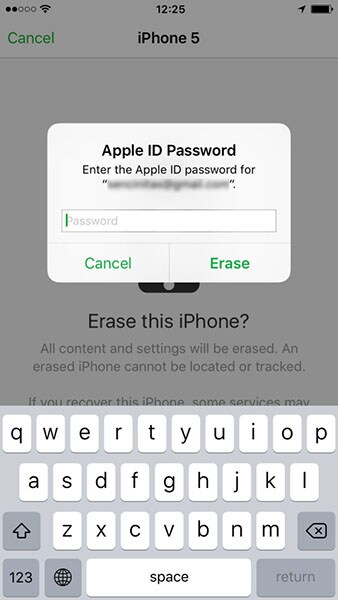 Step 6. Enter a phone number which will appear on your iPhone's screen once it's erased. Anyone who might find your iPhone can contact you using your phone number, and return it to you.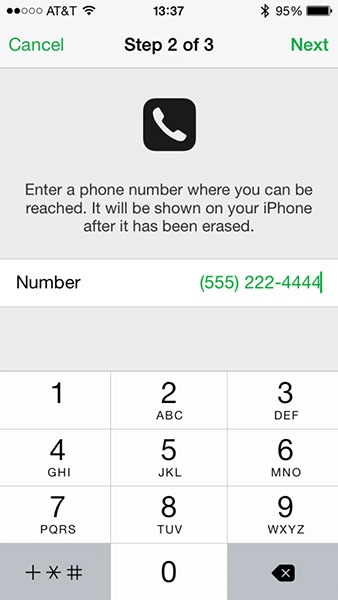 Step 7. Type a message to be displayed along with the phone number and tap "Done" when finished.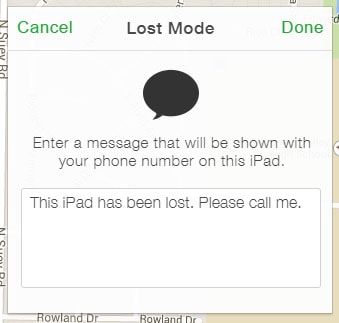 Step 8. You'll see a message showing that your iPhone is being erased. Just tap on the "OK" button to dismiss. All the data in your lost or stolen iPhone will be wiped out immediately if the device is online. If it's offline, you shouldn't be worried as your data will be cleared the next time it gets online.