Mobiles are more exposed to theft and loss than they are vulnerable to some software hacking your personal information. Therefore, being able to remotely lock or wipe phone is as crucial as installing an antivirus software. For achieving to wipe your phone, you can choose from several apps available in the market. When you have successfully wiped your phone, you can rest assure of a secured data.
Part 1. How to Wipe Your Phone Completely in One Click
When you want to wipe your phone easily and effortlessly, there is no other tool as efficient as dr.fone - Data Eraser (IS). It takes just one click and deletes all the sensitive data of your phone permanently. dr.fone - Data Eraser (IS) is one-of-its-kind tool which is the best solution to erase any kind of data. From music to videos and emails to search history, it erases all data securely and also makes sure that the deleted data is completely unrecoverable.
Key Features of dr.fone - Data Eraser (IS):
The tool will delete all information on your device permanently with just one click.
It effectively removes junk files to boost the operating speed of your phone and also frees up some important storage space.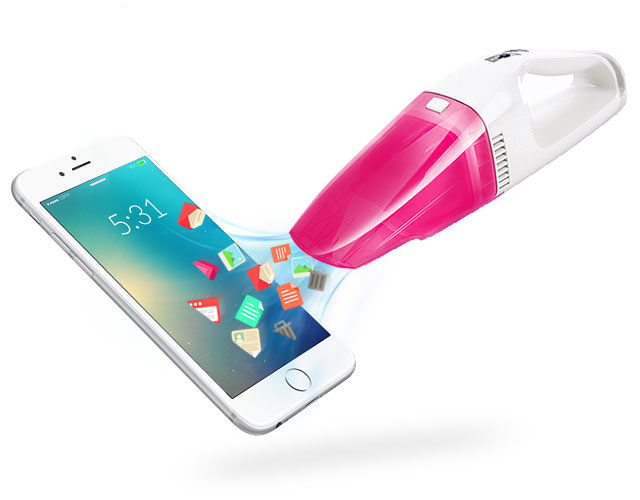 It is highly efficient in compressing files and photos on your device and allows a backup of that data in computer.
All crucial information like browsing history, banking information and other data is permanently deleted and leaves no chance of recovering them again.
Step-by-Step Guide to Wipe All Data on iPhone and Android
Step 3. Now, you will see an option "Erase All Data". Click this option if you are certain that you want to delete all data and enter "delete" in the window that appears next. After this, choose "Erase now" option and your process to wipe your phone will begin.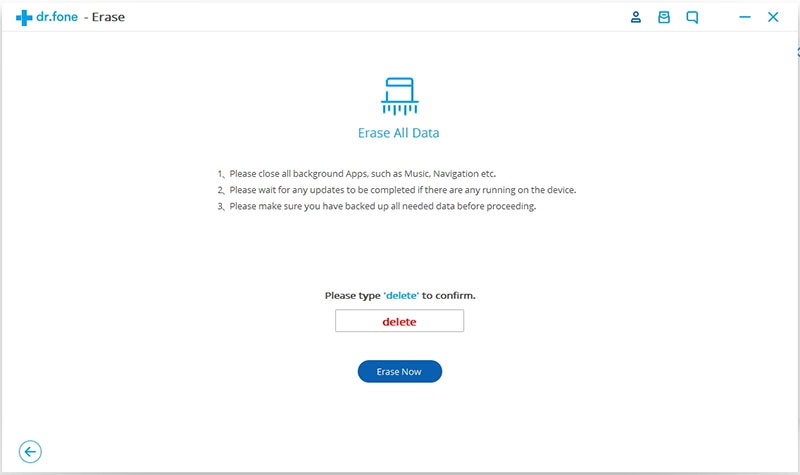 The amount of information and data that you are about to delete will influence how much time the entire procedure will consume. iSkysoft is highly effective in erasing all kinds of data like music, contacts, emails, browsing history and other sensitive information.
Part 2. How to Wipe Your Phone Remotely with the Help of Google
Android Device Manager can be used to lock, ring or wipe your phone when it is signed into your Google Account. Whenever the Android Device Manager is interacted with the device, you will know via notification. However, it's location pointer will not work when your device is turned off or has no Wi-Fi connection.
When you remotely wipe a device, factory reset will be performed that will erase all the data from your phone. But the data which was stored in your Google Account is liable to be restored. So, make sure that all apps and their relevant information will be uninstalled.
Step 1: Navigate to Android.Com/Device Manager and log in with your Google Account. This is the same Google Account which you use on your device.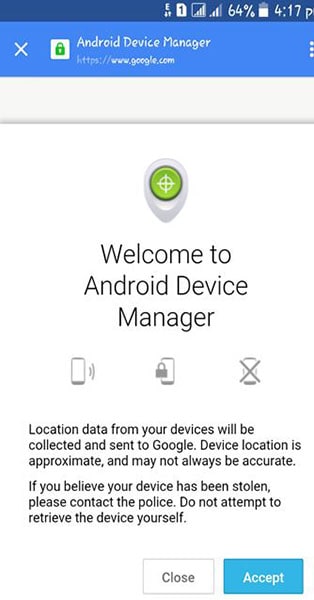 Step 2: An arrow will appear next to the name of your device where you can select the lost device.
Step 3: Enable "Lock and Erase" and then select from the following options. Because you are looking forward to wipe your phone remotely, you will need to select "Erase". It will delete all the data permanently. But keep in mind that Android Device Manager is not able to wipe the content that is stored in your SD card.
Note: Android Device Manager will stop functioning on your device once you have wiped all the data from it. You can then sign out from the manager. Even if you do not sign out, after 5 minutes you will be signed out automatically.