In this article, we will provide you all the solutions of your query regarding managing, editing, Importing and transfer music from iTunes to Samsung S9 or S8. As we know that Samsung releases new amazing cell phones and the S9 models are coming with storage options of 64GB, 128GB and 256GB which can store a large number of songs, videos and photos. You can keep your thousands of favorite songs on your cell phone now. You will not get any internal space running out error now. But you should know that how to manage and arrange the music library of your choice in your cell phone, so read this article to know some tips to manage or transfer songs.
Part 1. The Best Music Manager Software You Should Know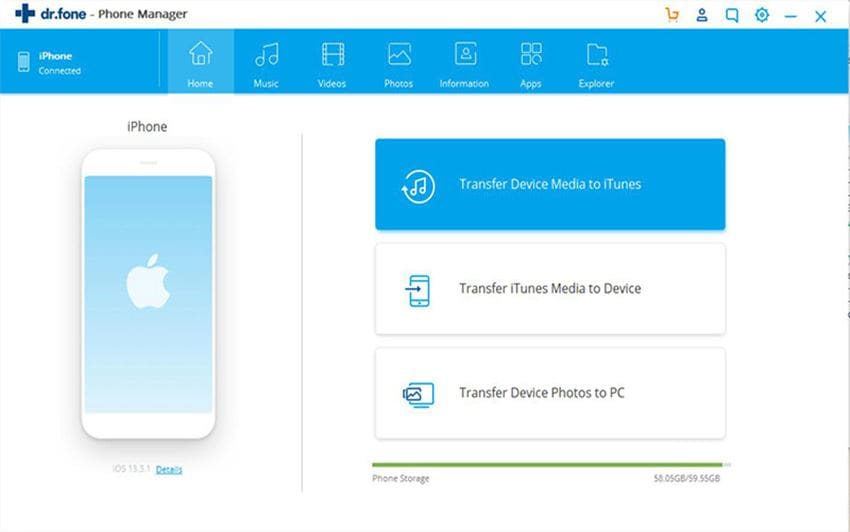 For all the music lovers, the dr.fone is the best option to manage or transfer the music or videos between different devices and their cell phones. With the help ofdr.fone you can manage the playlist of your phone, add songs to new playlist as well as transfer the playlist between your cell phone and computer. The dr.fone takes your experience of enjoying the music to a new level by breaking all the beariers of iTunes of syncing music and let you to back up all your favorite music from any smart phone iPhone, Ipad, iPod or any Android phone to iTunes library. With this you can transfer songs between any two phones, from computer to phone, from iTunes to your phone and it also gives you the feature of making a new playlist very quickly to add your favorite songs. So let's check out in detail that how we can transfer music or any other files between different devices.
---
Part 2. How to Transfer Music from Other Phones to Samsung Galaxy S9/S9 Plus/S8
The dr.fone allows you to transfer music from one phone to other phone in a single click. The all process of transferring your data between two cell phones is safe and risk free. So if you want to transfer music to samsung s9/s9 plus from any other cell phone then you can follow the steps given below.
Step 1: Firstly you need to download and install dr.fone on your computer (both Mac and Windows PC are available). Open it and connect both your Samsung Galaxy S9/S9 plus and the other phone that you want to transfer the music from to the computer. Click "Music" tab from the top menus.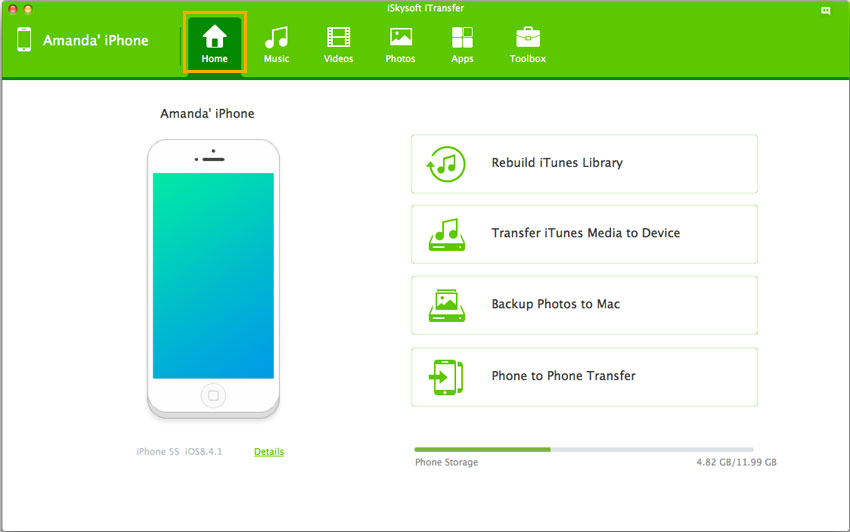 Step 2: Make sure the old phone is displayed at the left top corner as the source phone. Now you can see the music on the source phone is shown. Choose the music you want to transfer to your Samsung S9 and click "Export" > "Export to Samsung S9". That's it! The software will help you transfer music to Samsung Galaxy S9 in seconds!
This is the best way to transfer music from Android or iPhone to Samsung S9. You can try to do it yourself.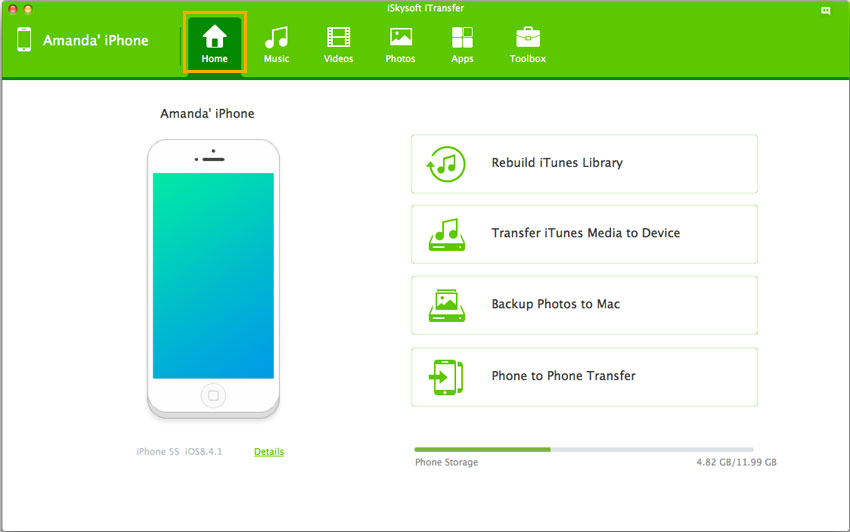 ---
Part 3. How to Import Music from Computer to Samsung S9/S9 Plus/S8
If you want to transfer the data like music, contacts, videos, SMS etc from your computer to Samsung s9/s8 then you can use dr.fone which enables you to add and transfer the files from your PC to your Samsung s9/s8 or any iOS device as well. You can follow the below to steps to transfer music from computer to Samsung s9.
Step 1: You need to launch dr.fone first and connect your Samsung S9 with the computer. Once your device is connected, click on "Music" icon which you can see on the navigation bar. Then it will show you all the music and audio files on the computer.
Step 2: Now, click on the "Add" button and then select the files you want to transfer from your computer to Samsung S9/S9 plus. You can choose single or multiple files and if you want to add any folder then you can select "Add Folder" option. After selecting the files, you can click on "Export" option to import music from computer to Samsung S9 or S8.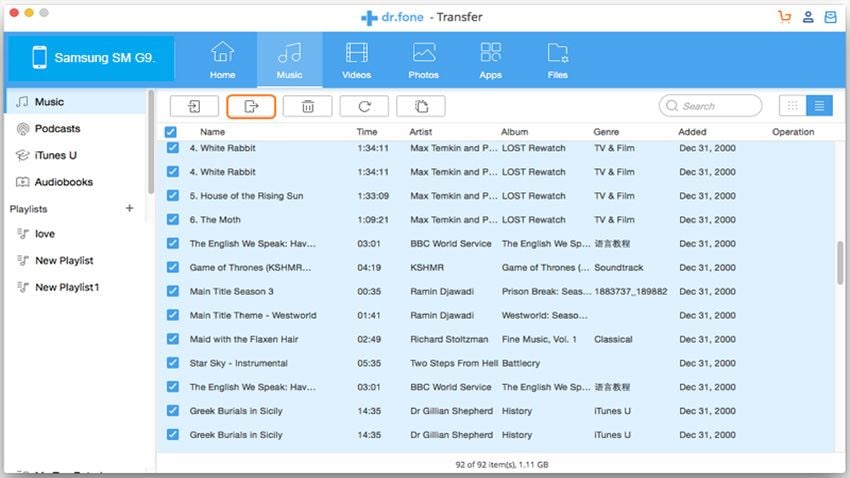 ---
Part 4. How to Transfer Music from iTunes to Samsung Galaxy S9/S9 Plus/S8
With latest technologies in phones, now adding music or any other files from iTunes to any Android/ iPhones/ iPod etc becomes very easy with the help of dr.fone. You can add or move music files in your iTunes to any mobile device now. Check out the below steps to know how to transfer music from iTunes to Samsung S9/S8.
Step 1: Launch dr.fone and connect your Samsung S9 or S8 with your computer. Now click on the "Transfer iTunes Media to Device".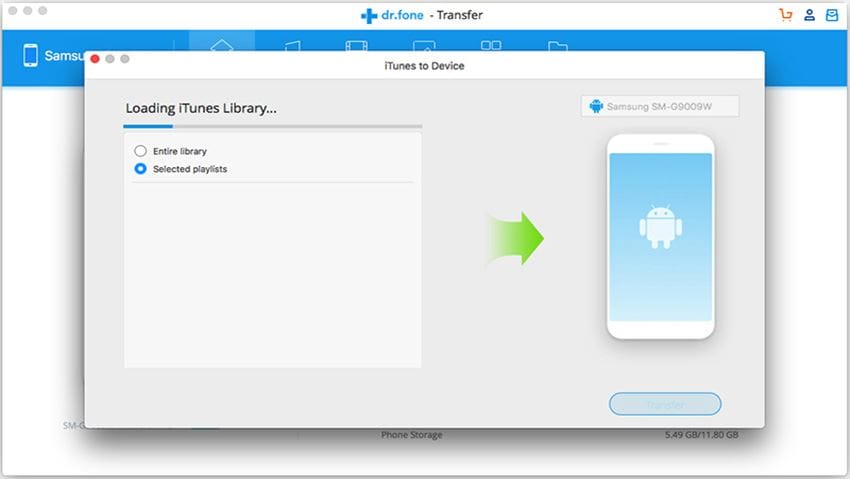 Step 2: All contents in your iTunes will be scanned and will show you all data on the screen. You can uncheck the data that you don't want to transfer to your mobile. After un-checking the files, click on "Transfer" option and within few seconds your iTunes files will be transferred to your Samsung S9 or S8. At the end, click on "Ok" button to complete the process.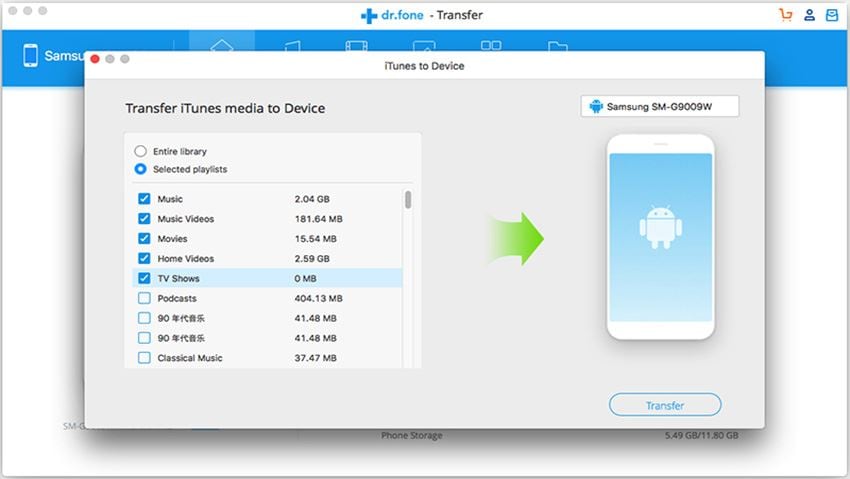 ---
Part 5. How to Create Playlist on Samsung Galaxy S9/S9 Plus
In our computers or cell phones, the role of the playlist is very important as it has all our favorite music and videos. The playlist can be used to manage multiple songs if you have large amount of songs in your music library. Earlier we need to spend more time to create a playlist but now with the help of dr.fone, playlist can be created very quickly. Let's check the below steps to learn how to create playlist on Samsung S9/S8 phones.
Step 1: From the dr.fone software, click on the "Music" icon at the top of window. You will see a left sidebar, right click on it and select "New playlist". You can rename the new playlist folder as well.
Step 2: After creating a new playlist folder you can add music files in it. You just need to select "Add"> Add Files you can add songs from your computer to your new playlist.