Many people are wondering how they can transfer SMS from iPhone to iPhone since the time they have got the new iPhone, of course iPhone 8/8 Plus/X. If you are one of them and worried about this thing, you can simply read this article to get your solution. We always take delight to help our readers to let them find solutions for their problems or confusions. We have reached here with three simple iPhone to iPhone SMS transfer tutorials. No matter you don't know anything about technology. You will certainly be able to learn how to move messages from iPhone to iPhone by the climax of this article.
Method 1: The Best Way to Transfer SMS from iPhone to iPhone
First on the list of how to transfer SMS from iPhone to iPhone, we have a renowned software named as iSkysoft Phone Transfer (Windows). This revolutionary software not only allows you to move messages from iPhone to iPhone but also is packed with a range of other helpful functionalities that allows you to restore backups made with different applications like iTunes, iCloud, Samsung Kies and more to your iPhone safely and securely without making any harm to your previously stored data. Unlike iTunes or iCloud, with this software "Overwriting issues" are now gone and thereby, iSkysoft Phone Transfer is the perfect solution for transferring SMS from iPhone to iPhone easily and effectively. Interesting, right? There are a lot more of significant features about this software, let's discover them.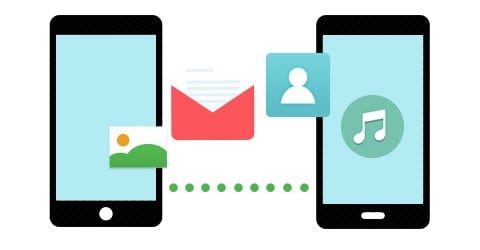 iSkysoft Phone Transfer is equipped with extremely intriguing user interface and is so easy to operate that even beginners can use it with a hitch.
Helps users to transfer almost all types of data like messages, call logs, photos, apps, videos and many more from one device to other within just one click.
Specifically built to support hassle free transfer of data between cross-platform devices like Android, iOS devices, Symbian or Blackberry devices.
Absolutely safe, trustworthy and risk free software to install and work with on your PC.
On top of all, via iSkysoft Phone Transfer tool, users can also restore Samsung Kies backup, iCloud backup, iTunes backup and many other backup files made with different applications.
How to transfer SMS from iPhone to iPhone via iSkysoft Phone Transfer
Step 1. Launch iSkysoft Phone Transfer
Get the program for your PC from the official website, install it and then launch the iSkysoft Phone Transfer program. On the main interface, you are required to tap the "Phone to Phone Transfer" tab.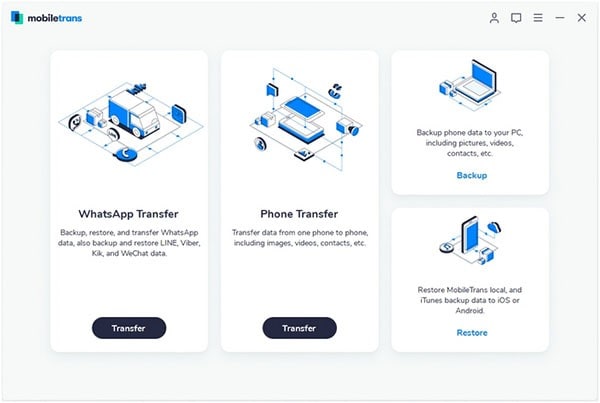 Step 2: Plug both the iPhones into the PC
Next, plug both of your iPhones into the PC using the lightening cord supplied with your iDevice. Now, on the left, set the "Source Device" from which you wish to transfer your SMSs and on the right, set the "Target Device" to which the SMSs have to be moved.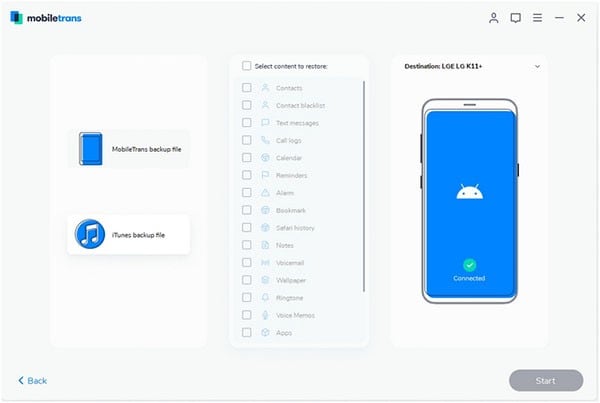 Step 3: Initiate SMS transfer
As soon as you set both "Source device" and "Target device", the program will scan the "Source device" to analyze the data stored on it. Afterwards, check the "Text Messages" checkbox only from the options available to transfer only SMSs. Lastly, hit on "Start Copy" to begin the transferring SMSs to the targeted iPhone.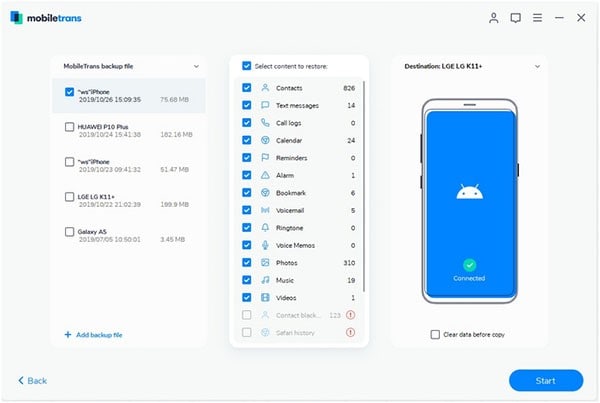 Method 2: How to Transfer SMS from iPhone to iPhone via iTunes
You can also take help of iTunes for the purpose of transferring SMS from iPhone to iPhone. iTunes is used by iOS device users to make backup or restore their data or it can be used for other stuffs as well such as updating device. The steps for the tutorial on how to move messages from iPhone to iPhone using iTunes are given below.
Step 1: Launch iTunes in your computer and plug your source iPhone with the computer via a USB cable. Form the main interface, select the device and continue the process by clicking on "Summary" tab.
Step 2: Go to "Backup Now" option beneath the Backup section. The backup process will begin.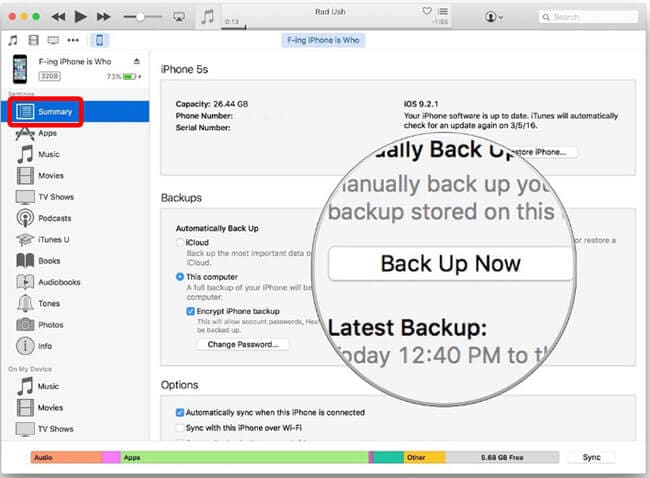 Step 3: Once done, unplug the source device and plug in the new iPhone.
Step 4: Run iTunes again and hit "Summary" tab and finally go to "Restore Backup". Confirm your actions and all your backup data will be on your new iPhone after a little while.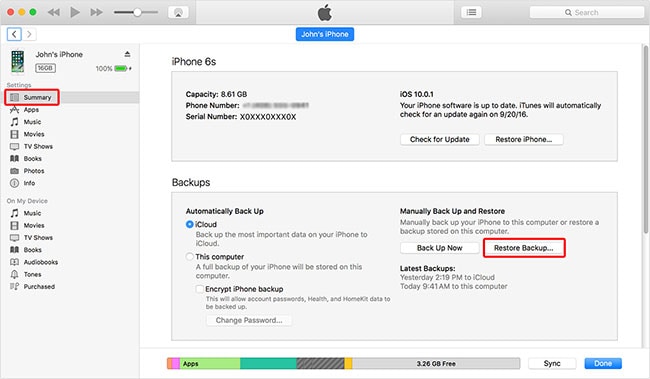 Method 3: How to Transfer SMS from iPhone to iPhone via iCloud
The third way you can try to transfer SMS from iPhone to iPhone is iCloud. This is also an easy way of transfer and this service provides just 5GB to backup your data. So, if you need to backup more than that, you need to purchase more storage. Here is how to transfer SMS from iPhone to iPhone using iCloud.
Step 1: In your old iPhone, go to "Settings" and then tap "iCloud". Hit on "Backup" and tap "iCloud Backup" in order to turn it on if it's not already.
Step 2: Push on "Backup Now" afterwards. Please note that the messages should be turned on in the list of the contents.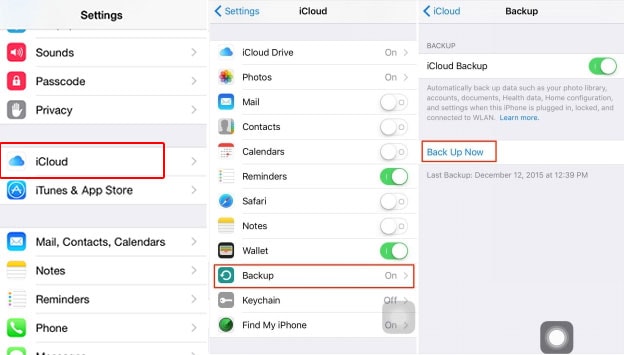 Step 3: Your backup process will initiate. As soon as it gets complete, switch on your new iPhone. Start performing the Setup process. When appeared "Restore from iCloud Backup", click on it and your messages will be transferred to the new iPhone.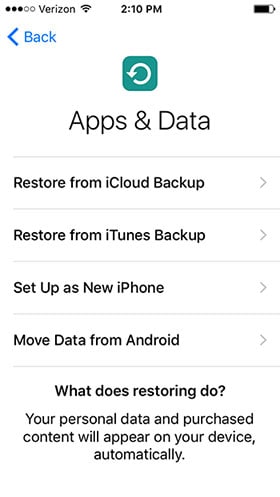 Step 4: When you have already gone through the setup process, there is a need to reset the settings so that you can perform the process again. Just tap on "Settings" > "General" > "Reset" > Erase all Content and Settings" and now start from the scratch.