The video recording feature has been introduced in Android devices of version 5.0 or higher including Android Lollipop and Android KitKat with Android recording video apps. This is to ease video recording on Android which was usually difficult for it needed you to get your Android device connected to a PC for it to work. Now recording videos is easy as just hitting the record button and everything that is on your screen will be recorded as a MPEG-4 video. Recording videos depends on user requirements or preferences with some recording videos for video tutorials, some for reporting app bugs and some for fun. Although this function has been around for a while, it usually requires some changes and adjustment on your device to get it. Some apps require you to root your android device which can be technically complicated for some android users. Anyway, the best video recorder apps for android that will record your devices screen without rooting your device are available and include: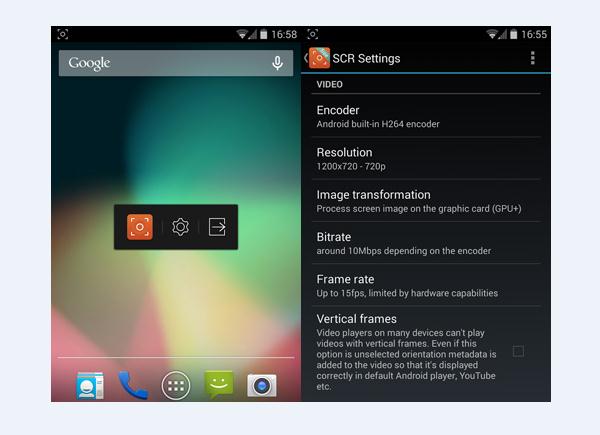 1. SCR Screen Recorder
SCR is an android video recorder application that allows you the user to record videos for up to three minutes. App records audio too and also allows you to place the footage of your front facing camera on the video recording. The application does not have a main or separate interface but instead it has a covering of a small rectangular box which includes three buttons on the home screen. Each button has a function: one is used to record, another to access settings and the last button to exit the application. Once you begin recording, you will identify a covering or overlay at the screen's right side which indicates that recording is in progress. Recording can be stopped by turning off your screen for two seconds or simply re-open or re-start the app again. Some features you can try out from the app settings page include: choosing your video resolution and encoder, transforming image using CPU or GPU, indicating bitrate and choosing a frame rate that relies on hardware capabilities. This application also adds a water mark feature to the video you have recorded. This application is still been actively developed for new features are being tested and installed all the time. The app can be readily downloaded from the Google play store for free.
---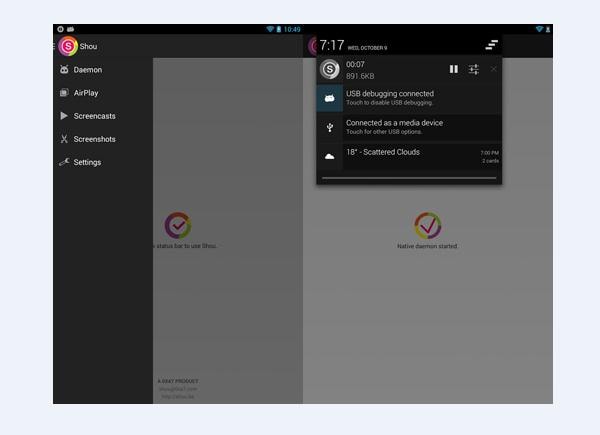 2. Shou
Shou is an android video recorder that can be used to do video recording with stereo sound, simply take a screen shot by shaking your Android device and mirror your device's screen to any device enabled with AirPlay or MiraCast. You won't be limited on time if you record using this app. Although, the app is still in its beta and early phase, it comprises more features than most recording apps can currently offer. These features on recording videos are on the apps video settings page and they include: selecting your source and encoding engine, resolution, orientation, bitrate and showing touches. One amazing feature of this app is that you can take a screen shot by simply shaking your Android device. Most features require a lot of permissions but that is nothing to worry about. The app can be downloaded from Google play store after joining their Google+ community.
---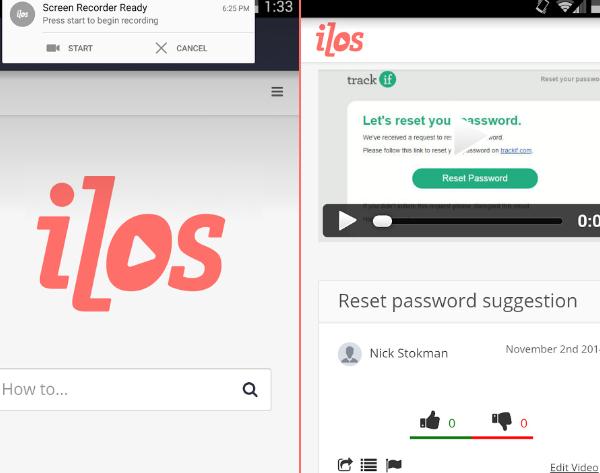 3. iLos
iLos is a totally free video recording app for Android devices of version 5.0 and higher. The app allows you to record the Android screen in 1280×720 and 1920×1080 resolutions at 30 frames per second. When you launch or open the app you will notice a small window on top of apps home screen with two buttons: one to start recording video and the other to cancel video recording. This app is fantastic for you can record videos and audios with no time limit and it is also an advertisement free application. The recorded screencast displays touches but watermarks cannot be added. However, one issue with this app is that it adds its icons in the notification window while the video is still recording. The app can be downloaded for free from plat store.
---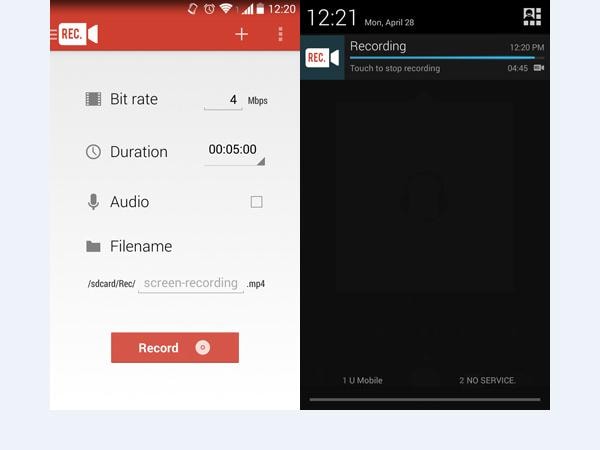 4. Rec.
Rec is a beautiful new android video recording app with an elegant interface is easily understandable and provides un-tethered and enhanced access to the video recording utility. On launching or opening the app, you only need to adjust the duration and bit rate to fit your preference before you begin recording. Audio recording can also be enabled and you can also name the recording. A counter feature is installed in this app, in which the app will begin counting to 10, enabling you to have enough time to prepare just before your device begins recording. While you are recording the video, app shows notifications in the notifications bar which recording can be stopped in the middle if needed. The app is can be downloaded from the play store.
---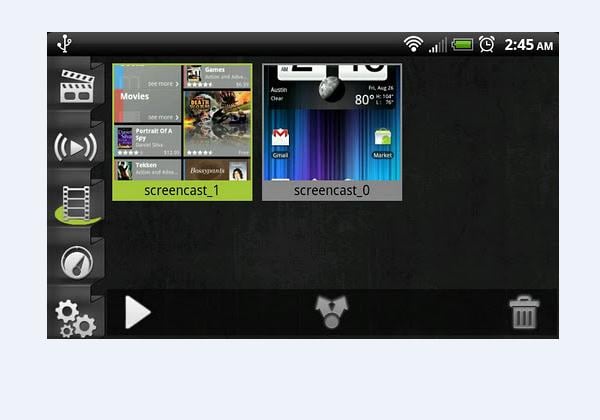 5. Screencast
>Screencast Video Recorder app records video in high quality, capturing device screen in high quality frames for high quality MPEG video and sound effects. This application offers user gallery that you can use to view, delete or play the videos already recorded. The free version of this app does not time limit for it simply allows you to determine the recording duration up to 120 seconds and also name your recordings. Anyway, you can increase the recording time to 10 minutes by using the paid version of this app. The app comes along with features like setting up video resolution, adjusting bitrate, countdown and the video rotation. Video recording can be started by tapping on the Record button on the home screen of the app. While recording, you will be able to see and monitor your recording status through your Android notifications bar. A vibration or sound notification will let you or allows you to know when the app has finished recording the video. You can download for free or buy the application from the play store.
Finally, few of these android video recorder apps can be used to record videos secretly record while others are generally used for recording the screen. There apps are available and can be downloaded for free or purchased from the play store. The video recording apps for android can be used as a utility or for fun. Go through the app description and choose the app that fits your preferences.