Part 1: Understanding QuickTime Broadcaster
With modern technology rising and day-to-day events being shifted more and more to an online premise, the need for virtual awareness and communication is becoming a necessity. QuickTime Broadcaster is a live encoding software that's intended for producing live, high-quality, professional events.
Whether you're hosting a business meeting with clients across the country or simply trying to share your child's first birthday cake with family that couldn't attend, QuickTime Broadcaster allows for an event where virtual attendance is accessible with nothing more than an internet connection.
QuickTime Broadcaster combines the functionality of QuickTime with Apple's easy to use interfaces, creating one of the most powerful media technologies available. It is also one of the industry's first end-to-end MPEG-4-basted Internet broadcasting systems, allowing for an extensive reach of players – both that of QuickTime and that of any ISO-compliant MPEG-4 player.
Both professional businessmen and every day users find this to be an innovative and easy-to-use virtual broadcasting system.
---
Part 2: QuickTime Broadcaster: Mac Information
Downloading QuickTime Broadcaster for a Mac:
Head to the Apple site, and find QuickTIme Broadcaster here. Click on "Download".
Note: If you are having issues downloading, please try these following steps:
- Make sure that your computer meets all the requirements for QuickTime Broadcaster
- Make sure that you have the proper administrative access for downloads.
- Make sure to read the How-To Install Guide Below for More Tips.
Installing QuickTime Broadcaster (in steps)
Step 1. When the Installer comes up, click continue.
Step 2. Read the Software License Agreement and then click continue.
Step 3. Read the System Requirements and then click Install.
Step 4. When the Installation is complete, click close.
Step 5. SEarch for QuickTime Broadcaster and open! Enjoy!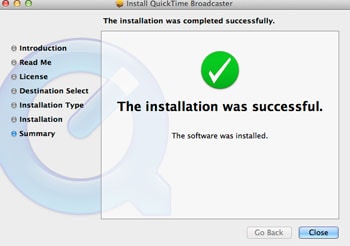 ---
Part 3: QuickTime Broadcaster: Windows Information
If you're still looking for the QuickTime Broadcaster for Windows, you may be disappointed. There is actually no Windows version for it. Apple didn't release it. However, there are several alternatives to QuickTime Broadcasting for Windows. If they're what you still want, please check them below:
1st QuickTime Broadcaster for Windows: Flash Media Encoder with Live Stream
This Live Stream interconnects with Adobe Flash Media Live Encoder which ultimately permits the high quality live broadcast to a particular Livestream channel. In short, individuals may reference this as FLME. This is generally a free live encoding software product from Adobe systems. One can currently find this for Microsoft Windows and Mac OS. It goes without saying that this is of course quite useful within our current society that is based upon the ease of convenient access. Flash Media allows for such access to a variety of videos that online that can be viewed.
Functionality and Usage:
• Encoding support for the MP3 format.
• Command line execution
• An automatic maintenance restart
• Timecode support
• An automatic system launch
• Encoding support offered for H.26/HE-AAC formats
• General improved quality
• Allows individuals to stream live videos from capture cards, Firewire, USB, etc.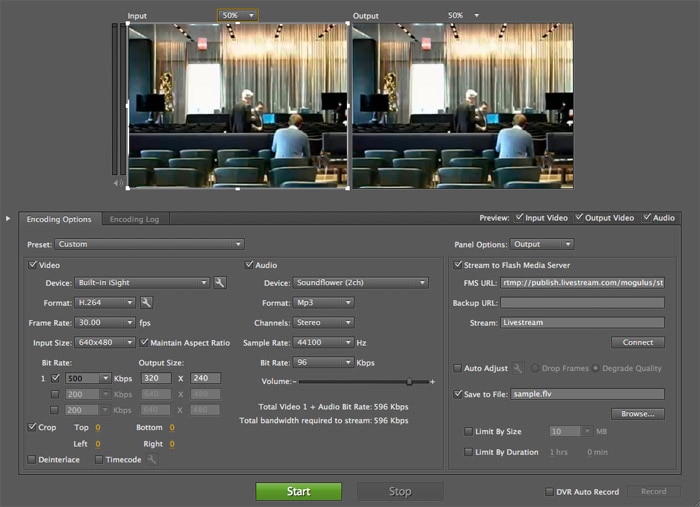 Troubleshooting
If you encounter issues when it comes to streaming there are several courses of action you can take to possibly resolve the issue.
* Check if you have the most recent and up-to-date flash player installed.
* Check information provided regarding common Flash issues
-Windows download installation errors
-Mac download installation errors
-Video and or audio still not playing
-Uninstalling flash from Windows
-Uninstalling flash from Mac
These are just examples of some rather common errors you can possibly run into, and being aware of them will help in resolving them.
* Once the issue has been discovered consult support documents for possible quick solutions.
* Utilize error codes
-this will help narrow down your type of problem based upon description
* Utilize various Flash forums if you can't immediately find the assistance you're searching for.
---
2nd QuickTime Broadcaster for Windows: Wirecast with Livestream
Holistically, this is a relatively new feature of Wirecast. It was announced that the new Telestream Wirecast gives users the option of streaming directly to LiveStream. This is definitely an exciting feature that many would be more than willing to utilize. What's so beneficial is that this new development is available for a free trial download. For individuals who are hoping to capture great scenes in motion, broadcast, or run some form of business from home behind a computer this is definitely a great option. Wirecast users can easily capture events in motion or deliver professional and high quality webcasts in place of more traditional broadcast.
The webcasting production software allows users to easily capture live events and create professional webcasts on computers and laptops for real-time distribution at any location.
Functionality and Usage:
This allows for greater independence and freedom to control. For webcasts in particular, Wirecast is most useful for the following:
• Live press needs
• Reports on sports events
• University lectures
• Marketing
To configure:
* From the menu bar, the user should find and then select the option of "Broadcast".
* This should then be followed by the option. "Broadcast Settings."
* Afterwards, make sure to choose one of the Encoding settings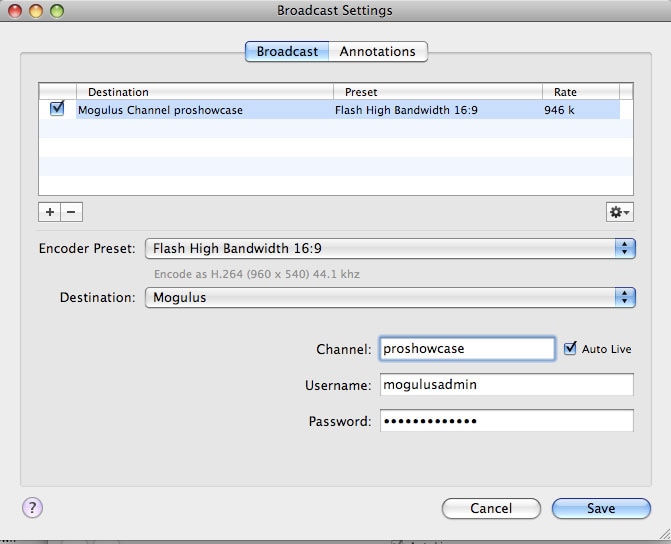 Troubleshooting
Visiting Wirecast Support.com is the quickest and most efficient method of resolving various issues you may encounter. Make sure to also browse the community forum if you find that your question or issue is still not quite resolved.
• Activation Issues
This usually means that activate button simply won't highlight. This is a rather strong indicator that the user's Serial Number has not been successfully validated. This is usually from a simply human error. Make sure to retype all letters and or numbers cautiously.
3rd QuickTime Broadcaster for Windows: Adobe Visual Communicator
Shockingly enough, for the most part, Adobe Visual Communicator has been declared as discontinued by Adobe. This wasn't too long ago, as it was officially declared June 1st, 2013. Visual Communicator is a Windows operated video broadcasting software that, much like the other streaming options available, permits mass communication and sharing of video and audio. This is a good fit for teachers, businessmen, or any other professionals who are seeking more independence in delivery. The software allows for a great deal of creativity and manipulation regarding special effects, clips, and graphics.
You can now use this to stream directly to LiveStream. It allows you to create custom graphics, switch between multiple cameras, and even offers the ability to insert clips of music, transitions, and special effects. It's built into Flash Media Encoder which allows you to use it directly with your Livestream Channel.
Functionality and Usage:
Communicator utilizes an on screen teleprompter that permits users to read either from a desktop or laptop while a webcam records whatever is being done and or said. Along with the general Adobe updates Communicator soon became obsolete, and trials and downloads became unavailable.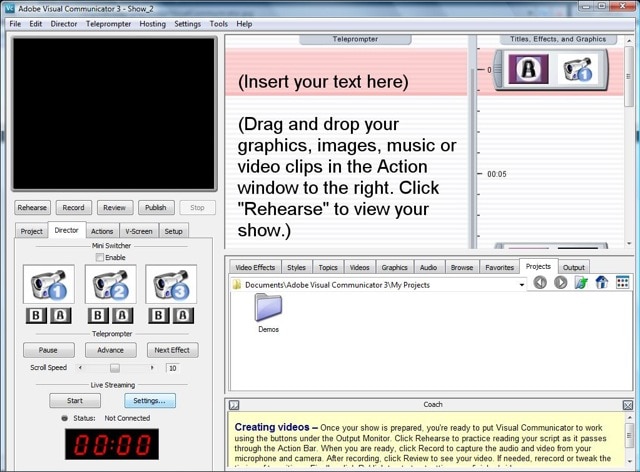 ---
Part 4: About QuickTime Streaming Server
The QuickTime Streaming Server is a server or service daemon built into the Mac OS X server. It delivers both video and audio on request to several uses over a computer network via the Internet. Its primary configuration tool is the QTSS publisher and its web-based admin port is 1220. If you use it with QuickTIme Broadcaster, you can have real time videos and audio sent to multiple users over the internet.
The streaming server comes in two options: Darwin Streaming server is an open source project from an apple. Binaries of the Darwin streaming server are available for several computers. This includes the QuickTime Streaming server, a commercially supported version of the server. Quick Time Streaming server adds:
- QTSS Publisher, which is a content management system.
- Quick Time Broadcaster, a live encoder from video/audio sources.
- Server Admin, a graphical admin tool for managing the server including streaming server, file services, web services, mail services, directory services, etc.
- Quick Time Streaming server is formally supported by apple.
If you're using Mac OS X server, then the streaming server is already installed. The following steps are use the web admin front end for the QuickTime streaming server. You must enable this capability by using the server admin app in panther server. Select QuickTime Streaming Service and move to Access-Settings. Check "enable web-based admin" off, set the password, and save.
If you want to use a Darwin Streaming server, download it. However, windows does not include Perl, which is required for web admin of the Darwin server. You can download active state perl for windows. You must have this installed before the installation.
Once you have the binaries downloaded, unpack the archive, and make sure to read the read me file. Then you can start the server. On Mac OS X, your server will auto start after the install.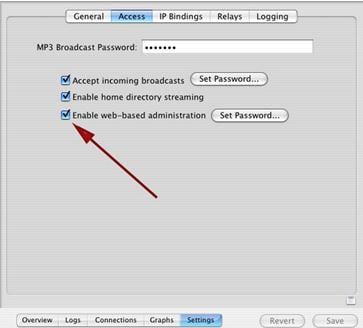 After first installing the server, you can go through the following screens:
- MP3 Broadcaster Password: The streaming server should reflect live icecast/shoutcast broadcasts once you configure the MP3 password.
- SSL certificate: The server can be administrated over SSL if a valid SSL certificate is installed. However, this is not typically enabled in the install.
- Media folder: this is the document root for the streaming server. Where all media files will be placed.
- Port 80 streaming: This server can be configured to stream over port 80. If you're not running your own web server on port 80 on the same system, it's a good idea to enable. Then your clients can connect to your server.
Once you have navigated through your screens, you should see a main window for web admins on your sever. The options configured during your setup can be changed.
Troubleshooting
If you're having issues downloading, make sure to check these steps:
* Make sure that your system meets all the requirements for QuickTime.
* Make sure that you have all the appropriate administrative needs for downloads.
* Make sure to read our tips below on installing.