Welcome, friends of DaVinci Resolve. Whether you're an amateur vlogger or a professional video editor, DaVinci Resolve can often help create high-quality video clips that you'd like to share with relatives or friends around you.
To export your videos from DaVinci Resolve after finishing adding the final touches is quite simple, but maybe not the most obvious thing in the world. Now, let's say you've completed your project and you're satisfied with your work – you want to export it quickly. There are two ways to do this – both as simple as the other.
Part 1: How to Export Video from DaVinci Resolve
Quick Export
- On your edit page, go to the top left and click on "File", and then click on "Quick Export".
- A little window will pop-up at the middle of your screen containing a few options of recommended settings for YouTube, Vimeo, etc. The most commonly used setting is "H. 264" (High quality and minimal bandwidth).
- Besides, DaVinci Resolve provides you with the additional luxury of signing in to your YouTube or Vimeo account and exporting it directly to your channel. Once you've chosen your preferred setting, go ahead and click on "Export", and your job is done.
Custom Export
A great way to have a little more control over the intricacies of your project is through the 'Deliver' page.
- Click on "Deliver" at the very bottom of your interface. This will bring up the timeline of your video.
- On the upper left-hand corner will be your "Render Settings" which will contain all the presets you'd need.
- Along with your video format (MP4, AVI, MOV, etc.), you can adjust your video resolution, audio format, frame size, codec, file name, and destination. You can even change the font, color, and placement of your subtitles if any.
- On this page, you can review your video one last time if you'd like and make any necessary quick changes. If your settings are half-finished, you can add your project to the "Render Queue". You can also stack multiple projects in the render queue to return to at your convenience.
- Once you've added all your renders, you can click "Start Render" and then export it or upload it directly to your channel.
Voila! You can now sit back and watch the magic you've created – you no longer have the headache of trying to figure out how to export your video.
---
Part 2: Another Fast Exporting Tool - Filmora Video Editor
Although DaVinci Resolve is regarded as one of the most powerful video editing tools ever created, it might not be for everyone. Filmora Video Editor is another choice for most starters to take the video editing game to a new level. Compared with DaVinci Resolve, the one that Filmora Video Editor stands out is its ease of export.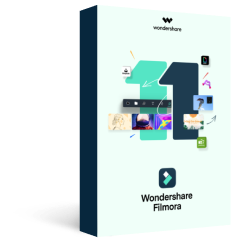 Filmora Video Editor – Fast Exporting Software for Sharing Engaging Video
When using it to edit video, you will be utterly spoilt for choice with its abundance of effects, transitions, presets, and colors (RGBA).
It gives you the provision of exporting your work directly to your YouTube or Vimeo channel.
Various exporting formats such as MP4, MOV, AVI, GIF, etc. are included.
The time taken for exporting your video depends on the video size, but in the grand scheme of things, Filmora exports really fast.
An easy guide for you to quickly export video via Filmora Video Editor
Step 1 - When accomplishing the video editing, click on "Export" on the left top corner.
Step 2 - Select the "Local" tab, name your video, choose the wanted format, and set up related parameters according to your requirements.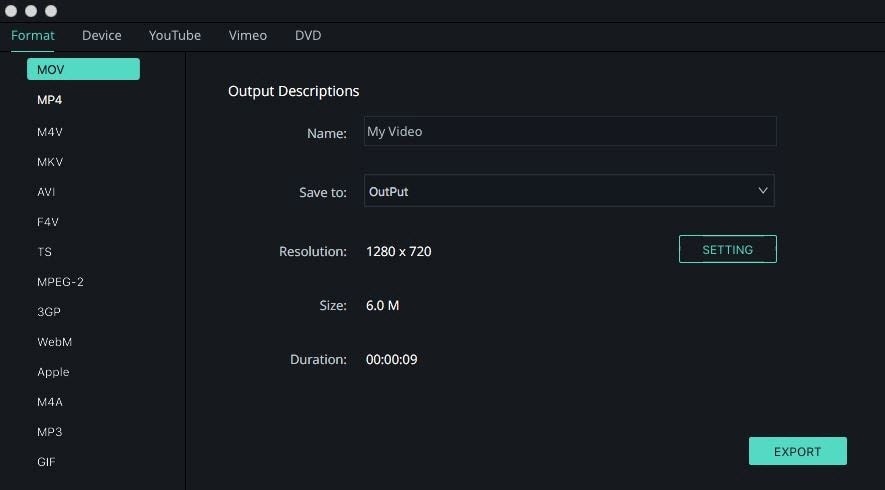 Step 3 - From the toolbar on the "Export" window, you will have various options to export video.
1. Export to your desired formats, like MP4, MOV, AVI, GIF and so on. You can aslo click "Settings" to adjust the parameters.
2. Export to target devices. Select a device type such as iPhone, iPad, Apple TV, iPod, Galaxy, Smartphone, Android Generic, Nexus, Xbox One, PS4, Wii and Sony TV, then click on "Export".
3. Export to "YouTube" or "Vimeo".
Note: If it is the first time you log in, you can click on the "Sign in" button to log into your account.
4. Burn the result video to DVD. You can click "DVD" tab > choose "Burn to DVD".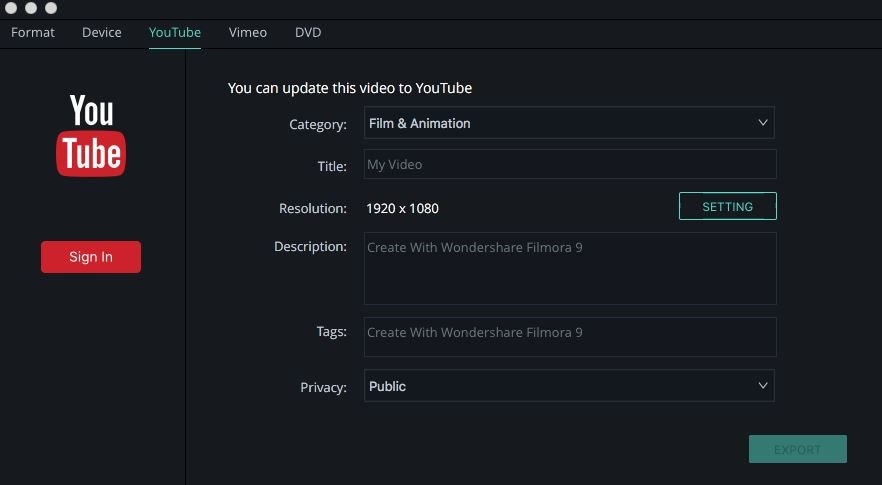 ---
Conclusion
We expect that this article clarified any uncertainties you had about DaVinci Resolve. We also hope that piqued your interest in giving Filmora Video Editor a try. Check back in on this space for more educative articles on video editing and much more.