When you're planning to create a video for YouTube, Viemo, Facebook or simply sharing with your family members, you have to shot or capture videos with your smart phone, camcorder or webcam at first. Then, splitting unwanted video footage and leaving the excellent frames could be the necessary process if you want your video looking awesome and high quality.
But how? How to split video into frames?
Splitting video files is not a tough task for a professional video editor, but if you're a beginner in video editing or you haven't do this editings before, the priority for you is to find a reliable yet professional video editing software as your personal video splitter. Only with this kinds of video splitter, you can easily and quickly split a large video to multiple files or parts without losing quality.
[Attention] If you're looking for the easiest way to split a MTS or M2TS file, you can click here to check the detailed tutorial.
Filmora Video Editor - Why It Is the Best Video Splitter for Mac and PC Users?
Filmora Video Editor or Filmora Video Editor for Mac is a professional and easy to use video tool that enables you to split large files into clips easily or extract selected segments of your file to new files. For either experts in video editing or new beginners using Mac or PC, Filmora video editing will offer the best features for both. It offers the simplest video editing skills to make professional–looking videos with many editing effects and features and helps to split all the popular formats out there including MP4, AVI, DAT, MPG and many more.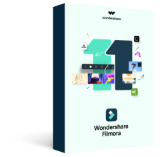 Provide users with 3 different ways to split video files to small ones, frames, half or multiple files manually or automatically.
In addition to works well as the best video splitter, Filmora Video Editor also performs well as the top-rated video editor, video joinner, video trimmer, video cutter, etc.
300+ special effects like transitions, filters, title, overlays, etc. to help you enrich the video without restrictons.
User-friendly UI design requires no professional skills in video editing before, all users can use it to split or edit video as easy as 1-2-3.
...
---
How to Split Video into Frames with Filmora Video Editor?
Just like I mentioned above, Filmora Video Editor allows users to split a video in 3 different ways. Thus, I'd like to show these methods one by one in the following contents. You can compare them and use the tool you like to split a large video file to multiple parts as you like.
To get started, you need to download and install the Filmora Video Editor on your Windows or Mac computer. Then, launch it and you'll see the primary window of the Video Splitter as below: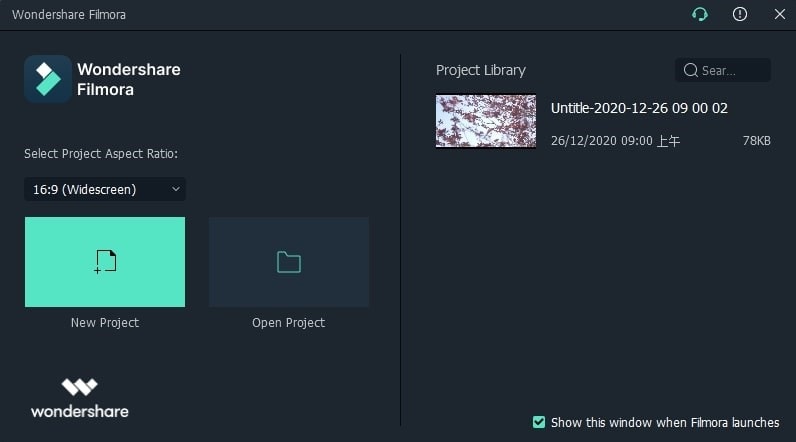 1. Splitting Video Files with Filmora Video Splitter Manually
This method allows you to split video at any point you like, so you can delete all you unwanted frames one by one.
- Enter the mode of "Full Feature Mode" and click "Import" button to load the video file you wish to cut into the media library. Then drag and drop it to the timeline.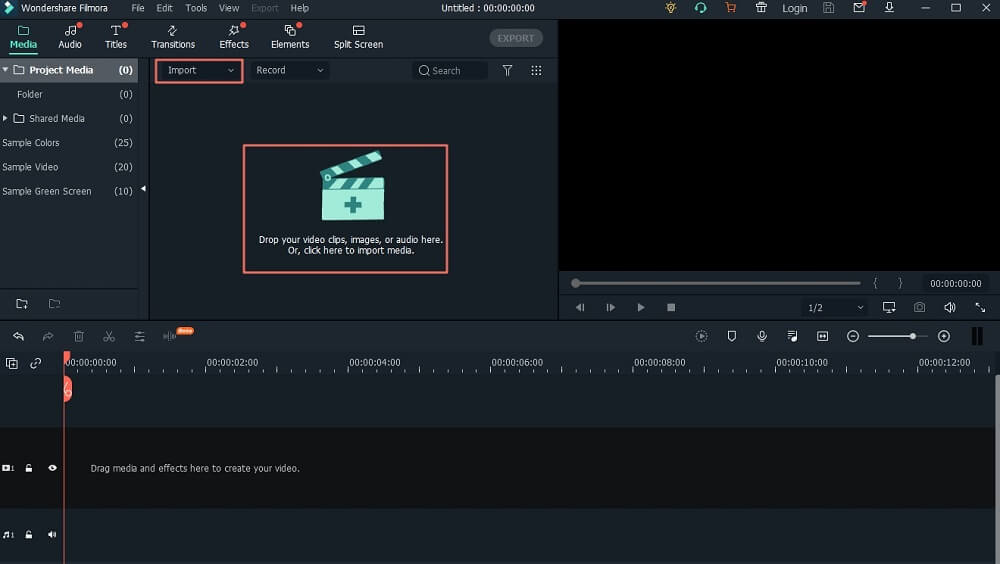 - Select the video clip in the Timeline, now you can start to split video file as you like: drag the slider to the beginning of the video footage that you want to cut, and click the scissor icon on the toolboar, then the video is splitted into two parts. (Repeat this action, your video files can be cutted into several small clips)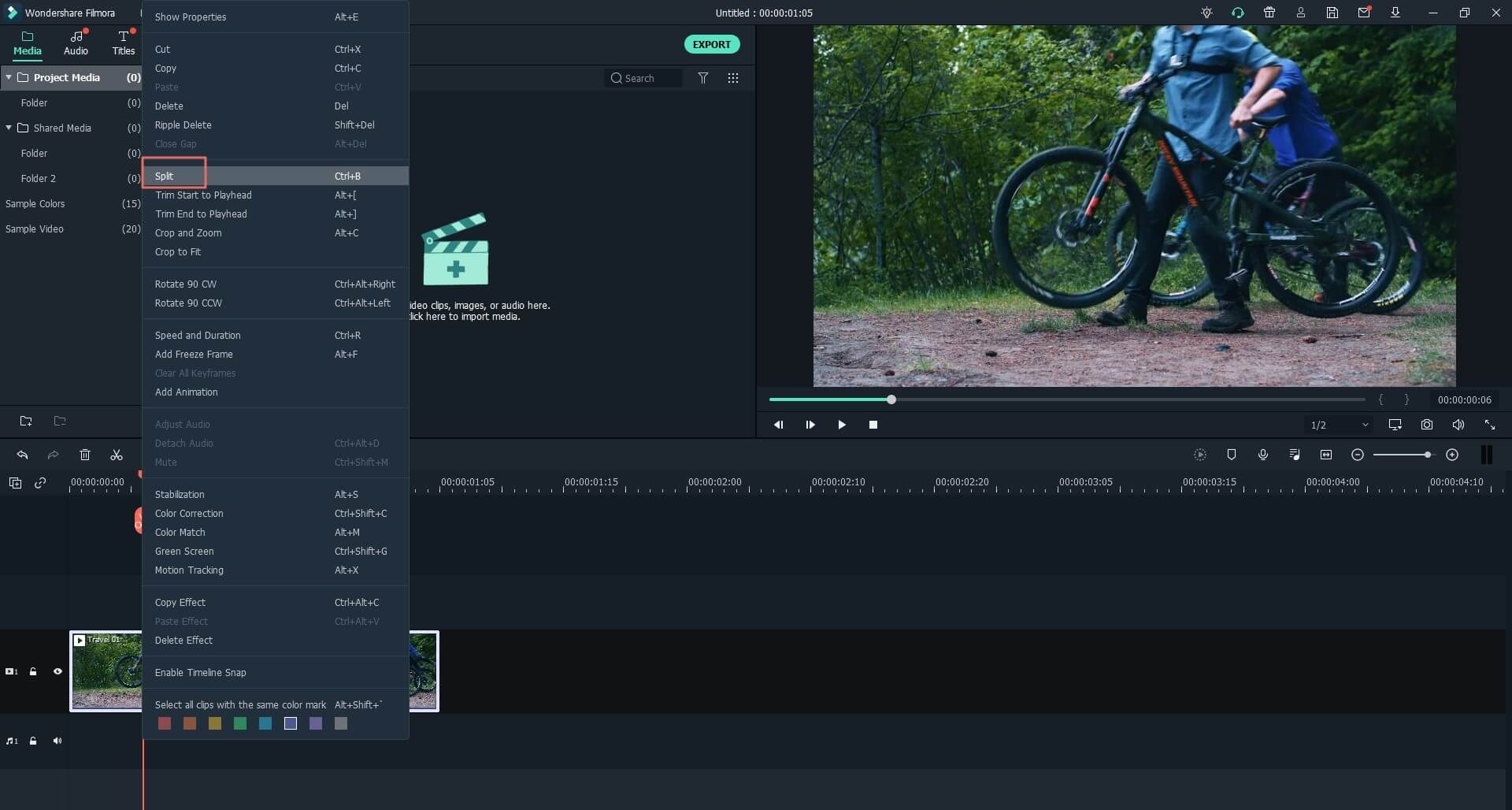 - After that, you can use the program to add effects like transitions, title, etc. to the splitted video clips as you like. Then, click "Export" button to choose a target output format and save the editing permanently.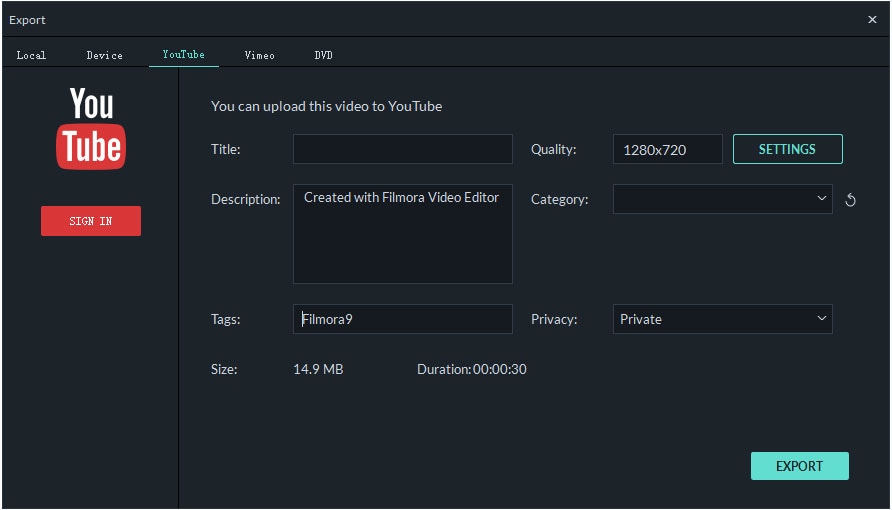 2. Splitting A Large Video Automatically with Scene Detection
If you don't like to split a video manually and think it is time-consuming, this Filmora movie splitter also provide you with a feature called "Scene Dection", that can automatically split video into parts at scene changes. To active this function, you only need to follow the below steps:
- When the video is added to the Filmora's Media Library, just right-click the video you wish to cut, and select "Scene Dectection" option in the drop down list.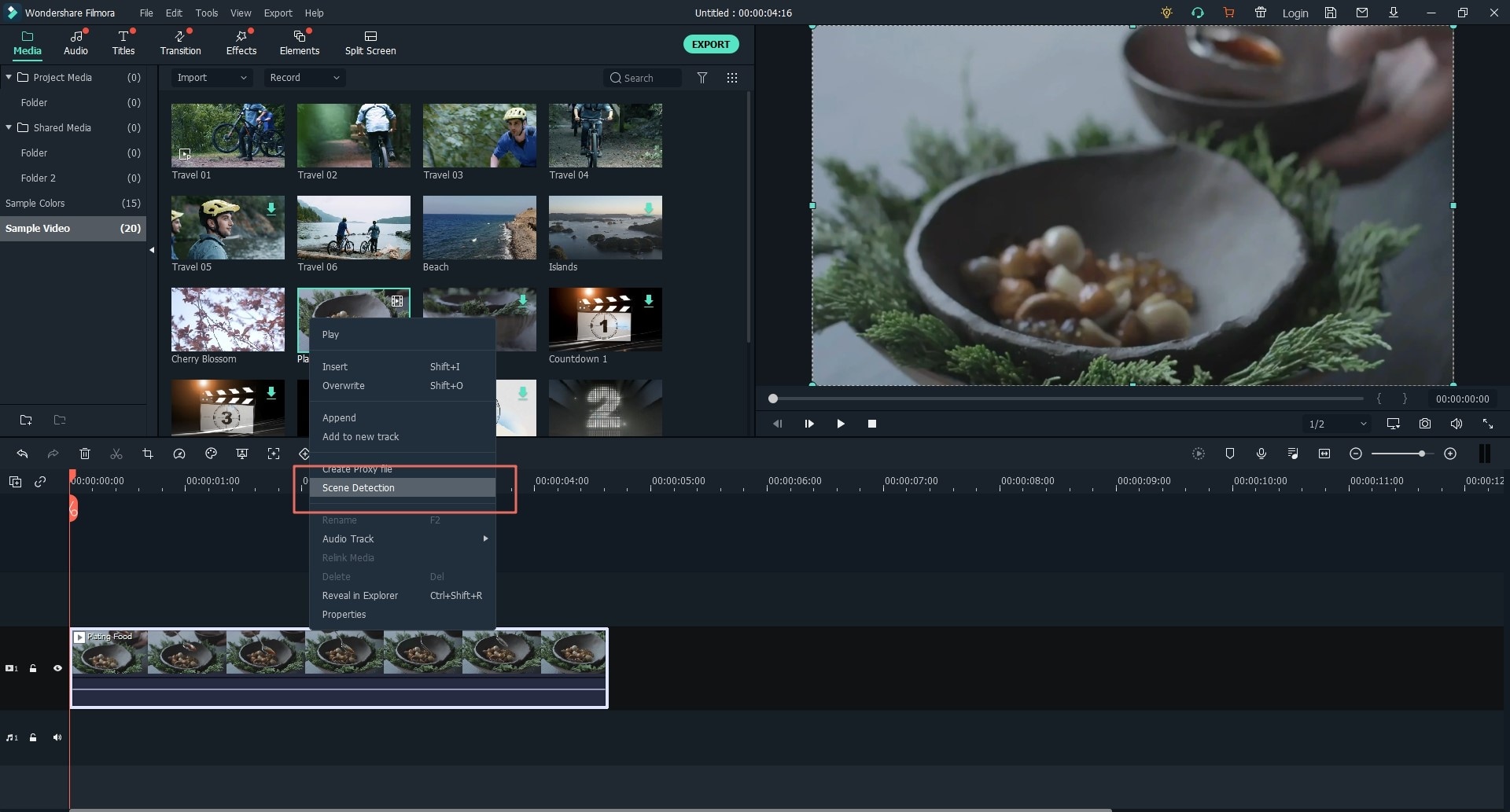 - Now, a pop-up window will appear on your PC or Mac, just press on "Detect" button, then the program will seperate the video into several clips based on the scene changes.
- Click "Apply" to save the split clips to the media library, and you can also select a video clip and click "Delete" button to remove the ticked video clip.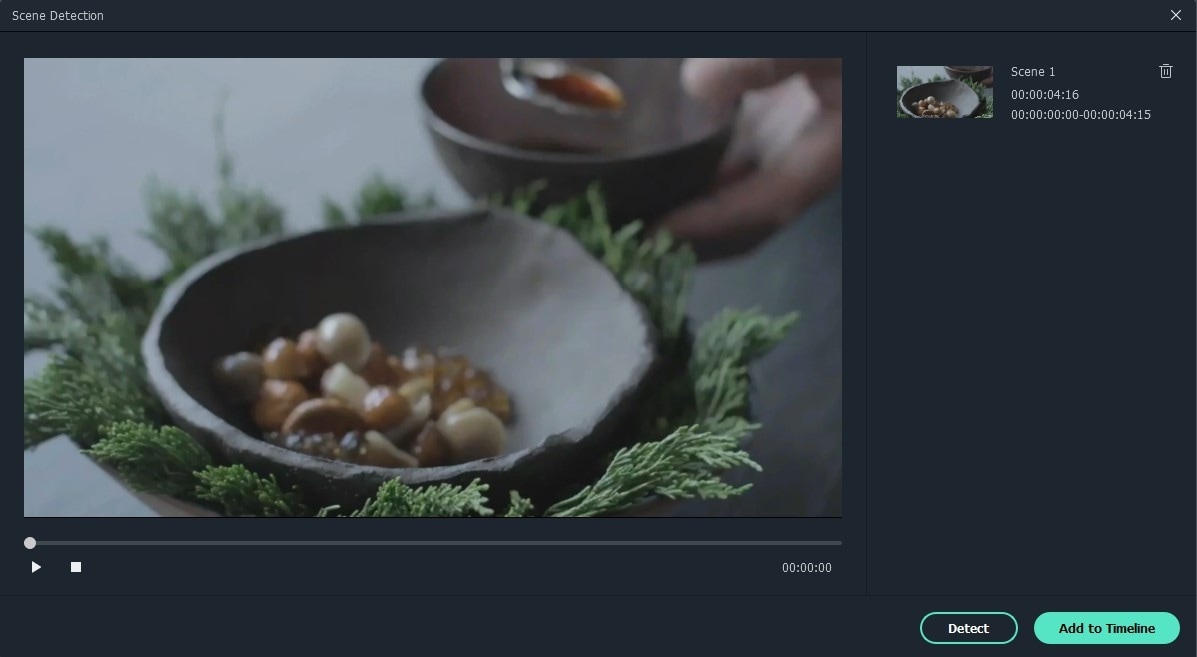 3. Splitting A Video using Instant Cutter Tool
Instant Cutter is an awesome function in Filmora Video Editor, which allows users to split, cut or trim a large 4K video or action camera video easily and quickly. Below is the detailed steps:
- Choose "Instant Cutter" in the primary window, then click "Open File" to import video into the tool.
- Click "Add Segment" to split video as you like.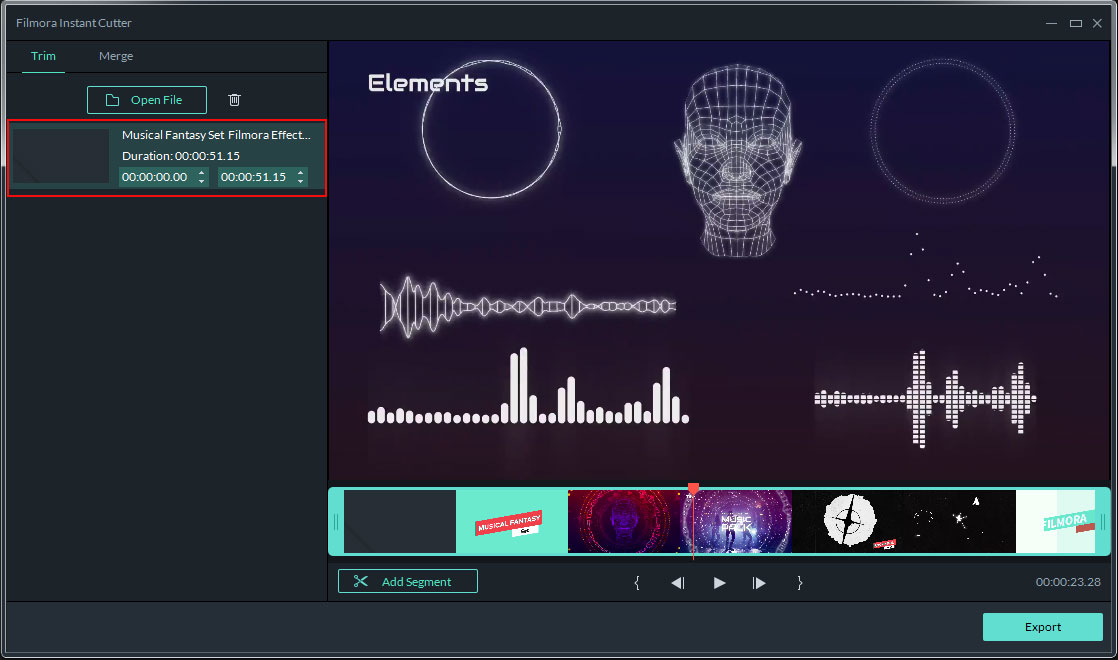 ---
Final Thought
As you can see, Filmora Video Editor works well as a functional video splitter on your Windows or Mac computer. You can use it to split a video into multiple files manually or automatically, which will greatly improve your working efficienty in different situations. What's more, this program also provide you with the functions of trimming, cutting, combining, or editing, so that you can use it to edit videos without any restrictions.
If you want to know more info about the video cutter software, you can get them by clicking the link.