Got some great pics on your iPhone and want to transfer them to your Mac, so you can view them on the big screen or seriously edit them in iPhoto or Photoshop? If so, you're in the right place. Below we provide two separate (yet unequal) ways to transfer photos from iPhone (includes iPhone 3G, iPhone 3GS, iPhone 4, iPhone 5, iPhone 5s, iPhone 5c) to Mac—so you can quickly and easily back up photos, recover photos lost or deleted from your Mac, edit your iPhone photos on Mac and more. Mac OS X Mavericks, Mountain Lion, Lion, and Snow Leopard are supported.
Choose Your Solution:
Solution 1: Transfer iPhone camera roll photos using iPhoto, Preview and image capture: Basically, iPhoto, Image Capture and Preview let you import your camera roll—i.e., all the saved photos you've shot recently with your iPhone (and only your iPhone) to your Mac.


Solution 2: Transfer all camera roll or non camera roll iPhone photos to Mac Mavericks with TunesOver. In addition to image files, TunesOver seamless transfers audio and video to and from your iPhone.
Solution 1: "Camera Roll" photos to Mac with iPhoto... (Photos Taken with iPhone)
Note: With iPhoto, Preview or Image capture, you can only sync photos from your iPhone camera roll—in other words, only photos taken by your iPhone. If you want to sync all your Photo Library images, go to Solution 2.
Via iPhoto
1. Connect your iPhone to your Mac. iPhoto will automatically launch and open to the Import window, listing your iPhone's images and videos under "Camera Roll".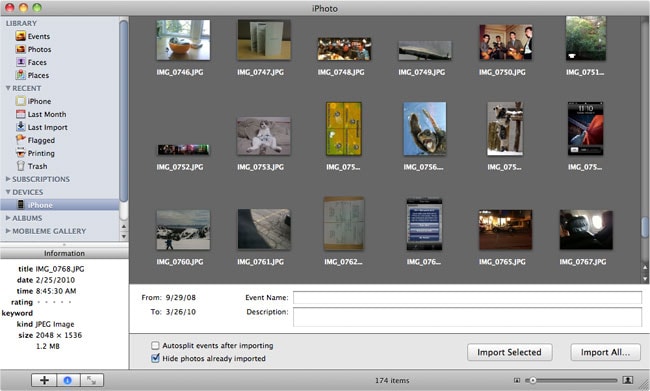 2. Select the images you want to import into iPhoto, then select the "Import Selected" option—or just drag the photos directly from the Camera Roll folder into iPhoto.
Via Preview
You can also use Preview to transfer the photos in your iPhone Camera Roll:
1. Connect your iPhone to your Mac and launch your Preview, go to the File menu and choose "Import from (your iPhone's name)..."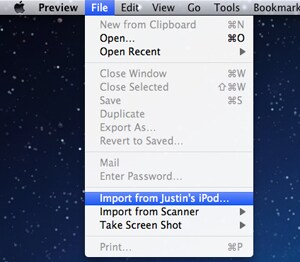 2. Select your photos and click "Import" or click "Import All", choose the destination.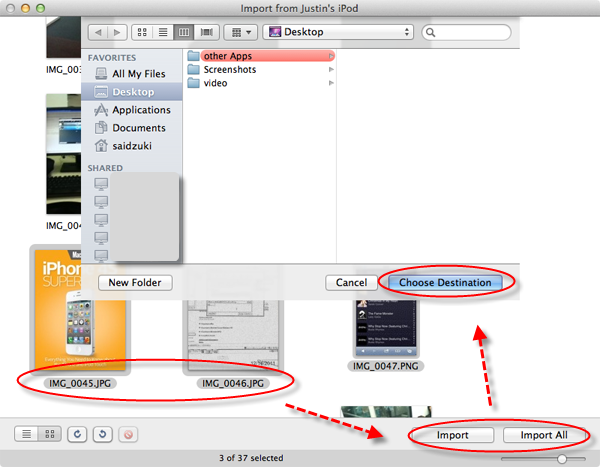 via Image capture
(Thank Cuse76 for the info)
Just as the two methods above, this Mac app is also for importing videos and photos in Camera Roll on your iPhone:
Connect your iPhone to the Mac
Open image capture application and select your phone from the device list

When all photos load and are available, select the photos you want to import/delete If you want to delete them all, simply hold command and "a" and you'll see they will all be highlighted
If you choose to import all of them then have them removed, click import and check the box that says "delete after importing.
Solution 2: Sync Photo Library, Camera Roll or non Camera Roll photos from iPhone to Mac
If you're looking to get all your photos off your iPhone—not just the ones taken with your iPhone and maybe you want to get all your audio and video too, iSkysoft TunesOver for Mac is a smart Mac OS app specially designed for iOS users to effortlessly manage all their media files. Now, here's how to use TunesOver to transfer photos from iPhone to Mac:
1. After download and install, connect your iPhone to your Mac and double click the program icon to launch it.
Note: The current version of TunesOver is compatible with iOS 7, Mac OS X 10.9 (Mavericks), 10.8 and 10.7.
2. On the left hand side of the window, click Photos to instantly bring up everything in your iPhone Photo Library. Now you can select the photos you want and click the Export button directly to save photos to any folder on your Mac.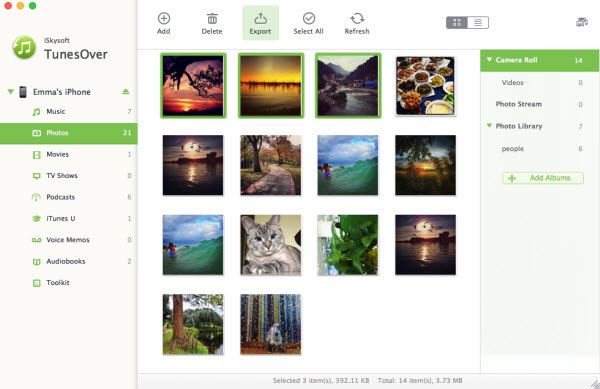 That's it. The iPhone photos should now be on your Mac. Learn more info about the TunesOver, please go to user guide of TunesOver for Mac.