Part 1: How to Transfer Data from iPad to iTunes
Transferring media files, particularly music files, between mobile devices and computers through the use of various applications is no longer a new topic at present. As a matter of fact, mobile device users have a wide range of options when transferring data from their devices. In Apple's case, it has become more frequent for iPhone users to feel the need to transfer music from their phones to the iTunes app on their computers. Now we examine the reasons for needing to do such.
1. Save storage space on your iPad
2. Listen to music from your iPad on your computer
3. Back up your music
4. Sync your music with other devices
5. Consolidate music libraries from your devices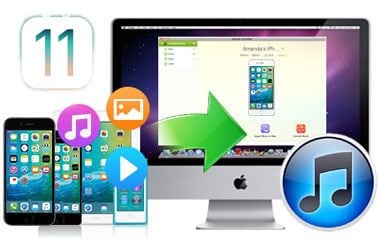 Transfer iPad music to iTunes on Mac in one click
One-click iPad music transfer to iTunes on your Mac OS (Yosemite included).
Copy music from iPhone, iPod, iPad to Mac or iTunes.
Export videos from iPhone, iPad, iPod to iTunes/Mac.
Transfer all photos from photo album to Mac or iTunes.
Copy playlists with rating and play counts to iTunes.
• Connect your iPad to your Mac and open iTransfer. You will see your iPad's information displayed. Make sure you select the "To iTunes" option. Then the program will automatically copy all music on your iPad to iTunes in a few seconds.
• Alternatively, you can selectively trasnfer music from your iPad to iTunes. On the left pane, click the "Music" tab under your iPad's name. Now on the right pane, hit "Music". All the songs in your iPad will then be displayed in a list. You may select all of the songs listed or transfer only a few. Just check the songs you want to have in your iTunes library. Once you're ready for the transfer, click on "Export".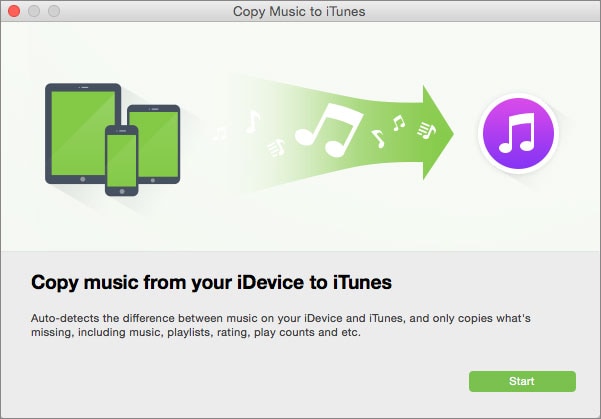 Part 2: Troubleshooting on iPad not Connecting to iTunes
Generally speaking, once plugged into your computer, no matter a PC or a Mac, your iPad then would be automatically detected by the iTunes, if iTunes has been installed on the computer. However, you sometimes may get your new iPad not connecting to iTunes, so you no longer can back up your applications and data, sync songs and movies to iPad for entertainment…If so, you can do trouble-shooting by following these instructioins.
#1. Make sure your iPad is recognized by your computer
Once connected to your computer, your iPad would show a small bolt of lightning in the battery meter up to the top right of the iPad screen. This tells you the iPad is charging. But what if you get a message says "Not Charging"? This means the computer has recognized your new iPad, but due to low power, you temporarily can't connect the iPad to iTunes. In this case, you need to recharge your iPad completely: plug your iPad into a wall outlet via the adapter.
#2. Check your iPad cable
Sometimes your iPad cannot connect to iTunes due to a bad USB port or improper USB port used.
#3. Reboot your computer and iPad
This is the oldest troubleshooting tricks to fix iPad not connecting to iTunes. Restart your computer and then reboot your iPad: hold the suspend button on the top of the iPad, slide the red arrow on the new iPad screen to power off the iPad, then hold the suspend button for a few seconds again to turn on the device. Now, re-plug your iPad into the computer, and now it's likely to connect iPad to iTunes successfully.
#4. Reinstall iTunes
If you have checked and tried the three methods above, but in vain, you then can try to reinstall iTunes. First of all, uninstall the iTunes, this won't delete your media files including music and apps on the computer, after that, reinstall iTunes. (Recommended tip: download iTunes installation pack again to reinstall iTunes.)
#5. iPad still cannot connect to iTunes?
Well, if you still have problems with connecting your iPad to iTunes, it then may due to your system files, drivers, or software conflicts. For example, you can temporarily shut down your anti-virus software, because it's widely known by many that anti-virus software may cause problems with other software.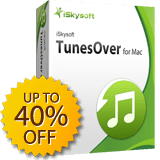 iSkysoft iTransfer for Mac, the Easy-to-use iPhone/iPod/iPad Transfer Tool
Copy music, videos, photos, and more from iPhone/iPad/iPod to Mac or iTunes
Transfer music, videos, photos and other contents to iPhone/iPad/iPod
Convert media files to iPhone/iPad/iPod friendly formats
Manage iPhone/iPad/iPod contents with ease