What is hard drive failure? What causes hard drive failure? What to do when hard drive crashes? How to prevent hard drive failure? You'll get all answers here. Reading the guide, and you'll be evitable to hard drive failure issues.
How to upload Final Cut Pro videos to YouTube
Final cut pro is a much known media editing software. It helps out in editing your favorite and memorable videos in an inspirational way. With sophisticated tools and pre-determined options for sound, graphics, color combination and other templates are of great assistance for the beginners. Customized editing options make it easier to deal with final cut pro. After editing a video many of the editors want to upload the final project on YouTube. For that considerable count of people who find it difficult doing this find, we have a step by step detail of uploading a video on YouTube.
Before we discuss the procedure of exporting the media files from your final cut pro to YouTube, make your head clear about that if you want to upload video fast then it is good to convert it in compressed file (low-res). This will make uploading quicker. However it is not mandatory to convert file and the uploading speed for the genuine file is also fine. File compression is just a way of saving time. Here are well defined settings you can make for small formats as well as for High –Res Formats.
Setting for formats
 Small Format setting:

o Resolution: 842 x 480
o Video Codec: Faster Encode
o Format: Web Hosting
o You can even go for smaller format size.

 High Resolution Format setting:

o Resolution: with whatever resolution the video is shot at, it will be displayed on the very same pattern
o Video Codec: Apple Pro-Res 422
o Format: Video and audio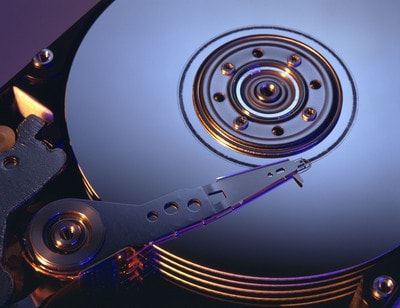 Part 2. Types of Hard Drive Failure
As stated above, there are numerous types of hard drive failure, but the most common ones that can be encountered in the day to day life are the electrical failure, firmware failure, mechanical failure, bad platter area and logical failure.
Electrical Failure
The electrical failure is a common type of hard drive crash, and it mainly relies on the damaging of the PCB. The PCB is responsible for controlling, communicating, coordinating and writing data. This board can get damaged due to intensive powers spikes, and in that case you will immediately lose access to your sensitive data. There are numerous symptoms that show you the signs of an electrical failure, such as disk knocking, clicking sounds that occur when the writing/reading head initializes or, in severe situations, the drive is powered but there aren't any signs that show it functions properly.
Firmware Failure
A more complicated type of malfunction comes in the form of firmware failure. As the firmware is directly created by the developers, there can be signs of malfunction right from the start, the most common one being that the drive is not recognized by the computer. However, most firmware codes are located nowadays on the PCB board. If this particular board is damaged, then the drive will seem unresponsive, even if the other elements such as electrical and mechanical boards are working as they should. Some symptoms include drive freeze during boot or the drive powering up, but recognized with strange characters.
Bad Sector
Bad platter area, also known as bad sector is also a very common problem. In this case numerous data blocks on the hard drive are inaccessible due to wear and tear, something that is really bad, as it tends to destroy the hard drive. From head crash, platter wear, manufacturing defects and numerous errors regarding tracking, these can all be some of the causes that make the hard drive malfunction. You know you have a bad sector when you get multiple CRC errors, you can't access folders or files that are located on your computer or the hard drive hangs during normal use.
Logical Failure
Logical failure basically means that the hard drive is not damaged, instead it relates to an operating system crash. From virus problems that can destroy the operating system, to software bugs, file corruption, accidental formatting and deletion, all of these can be included into this category without too much hassle.
Mechanical Failure
Mechanical failure is actually a common problem, and it's caused mainly by wear and heave impacts. These can lead to the malfunctioning of various internal components. As this is one of the most common problems encountered by computer users, most of us already know how to check the signs. These can be clicking, music tone when the drive is powered up or a motor freeze, which makes the whole drive completely quiet.
These situations can actually combine and create complex hard drive failures that are just a pain to cope with, not to mention repairing them. There can be situation where there is a PCB board malfunction, firmware corruption, logical failure and bad platter area. Most of the time repairing such complex hard drive problems is really hard to do, that's why many people that encounter more than one type of hard drive failure tend to seek professional help.
Part 3. What Causes Hard Drive Failure or Crash?
1
Bad Usage
The daily use of your computer will cause your hard drive to malfunction and fail.When you use the computer, you must be careful on not installing any malicious programs or copy more than one file at a time. Causing the writing/reading head to move from one place to another very fast in order to cope with your actions is surely not a recommended action.
2
Mis-Handling
There can also be other problems as well, such as exposing your hard drive to heat or water. While this might not be the case for a desktop unit, laptops are widely exposed to such things, but also to dust. Dust can immediately enter through any orifices and go to your hard drive, making it to function a lot worse and in the end, stop working.
3
Human Error
Human errors can also lead to this problem as well. From making changes into the registry files, altering system attributes and mainly messing the operating system can severely damage your system. On top of that, these errors are very hard to recover and in the end they might lead to sensitive data loss, as well as damaged hard drives from a logical standpoint.
4
Hot Temperature
Most hard drives need a cooler, especially in those hot summer days when the temperatures really exceed the recommended ones. Yes, the hard drive will function regardless, but the hot temperatures will make a lot of hard drive wear which leads to numerous crashes and failures.
5
Power Surge
Power surges are also a widely known factor. These can be caused by lightning strikes, power line interference and other similar ones. Short interruptions and restarts actually cause a lot of failures, and these can lead to data loss and complete computer crash if they destroy other components.
6
Physical Damage
Physical damage can also lead to this type of problems. From jarring, dropping your computer or bumping will surely destroy some inner components, including the hard drive. Smoke is also bad for the hard drive, as it can lead to malfunction of the reading/writing heads, among others.
Part 4. What Happens When the Hard Drive fails or crashes
A hard drive crash usually comes accompanied by a number of reasons and factors, the most important ones being failure to initialize or boot, frequent crashes or freezes when you use the operating system, as well as numerous other similar ones. One of the most popular problems seems to be the frequent but really irregular crashes that can be encountered while you boot up Windows. In addition, when a hard drive has a failure problem, files and folders tend to be inaccessible or they just disappear.
As stated a little earlier in the article, frequent and irregular crashes can cause this type of problems as well, so it's really important to make sure that your computer runs in tip top shape at all times, just so keep this type of problems as far as possible.
Usually, when there is a sign of hard drive malfunction, you can easily check it because it just makes a beeping sound. If you hear such a sound you should immediately check your drive for any problems, as this is really important.
Some hard drives come with SMART implementation. Also known as Self Monitoring Analysis and Reporting Technology, this is a standard that provides all modern drives with internal monitoring capabilities which are great in helping you prevent or diagnose any type of problem that might occur and render your hard drive unusable. The downside of SMART monitoring is that most of the time its way of implementation is rudimentary to say the least, so you can't rely that much on it.
When a drive crashes or fails a good idea is to make sure that you pinpoint the source of the problem. Be it a logical failure, an electrical system malfunction or a pin on your board is destroyed, it's really important to see what exactly caused the malfunction by opening the hard drive and making a thorough inspection on all of its components. Hard drive malfunctions are one of the main causes making people lose interest in placing their sensitive data on such a drive, instead more and more tend to keep their data on cloud storage solutions.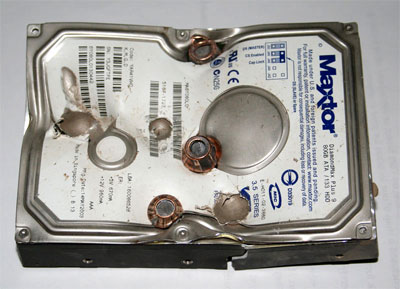 Part 5. What to Do When a Hard Drive Fails/Crashes

Remove the drive
When you encounter such a problem, one of the solutions is to remove the drive from your computer and connect it to another computer. This way you will be able to see if there really are any problems with the hard drive or if the problem comes from your motherboard, as it fails to see your drive. The best way to do this is by using an USB to IDE adapter and check if the hard drive is detected upon computer startup or when you enter BIOS.

Transfer Data
If the hard drive still functions but there are some unreadable regions, the best approach seems to be copying data from another drive to the current drive without too much effort. There might be a small chance the OS is corrupt, but the user data you want to access is readable.

Recover Data
Another option might be using one of the numerous data recovery applications, especially if you are experiencing a logical failure. The idea is to install the recovery application on another drive, then connect the crashed drive and start looking for the files you need on it. Don't install the recovery software on the damaged hard drive as it might actually overwrite the sections you want to recover, and that is surely something that you don't want to be done.
Note: An extreme solution, which seemed to work for some people is removing the damaged hard drive and placing it in the freezer for a few hours. You must place it in a sealed plastic bag to remove condensation, and wait for a small period of time, then place it back into your computer. This option is not recommended in any case, as it can severely damage your drive, just like heat and water. But some people seem to have successfully used it for solving some physical problems that their hard drives were experiencing.
When you hear problems like hard drive clicking or strange noises, then the best idea is to just shut down the computer immediately and open the drive. The noises can come from the activator arm, head or even platters. If something becomes unstable, the hard drive will immediately stop functioning, which is indeed troubling.
Part 6. How to Prevent Hard Drive Failure
There are numerous things you can do to keep your hard drive in a great, running condition, and these can both relate to software or hardware actions that you might want to perform.
| | |
| --- | --- |
| Run CHKDSK | First of all, you have the ability to run chkdsk, a software tool available in Windows that makes it easier for you to see if there are any software issues, partition problems or anything else related to your hard drive. |
| Install hard drive monitoring application | Another good option is to find and install a hard drive monitoring application which can be found anywhere on the web nowadays. These applications will not only alert you if something goes wrong, but also notify you if there are any problems, of course. |
| Keep your computer cool | It's really important to place your computers in a room with good ventilation. This allows you to help your computers cool a lot easier, thus avoiding the hot temperatures which can cause harm to your hard drive and motherboard, for example. Static electricity can also kill your hard drive, so the best thing you can do is just make sure that you touch a solid metal item before actually touching the hard drive, as a single touch can easily damage your drive significantly. |
| Defragmenting your hard drive | Defragmenting your hard drive can be a good remedy for avoiding excess tear and wear, but if you want a much more reliable drive, although with a smaller capacity, you should really go for, the solid state drives, as they are actually some large flash drives which have no moving parts. They have less problems overall, but they are quite expensive when compared to normal hard drives. |
| Use power supply units | Power supply units can also be quite helpful in case of power surges, as they will support all the shock instead of transferring it to your drive. Not only this will save you a lot of money, but your data will also be safe, and that is surely one of the most recommended steps to perform. |
| Backup your data | Of course, the best solution in keeping your data safe is to actually create a backup for it. Not only it will be helpful in this regard, but it will also allow you to have a copy of your sensitive files at your disposal whenever you need it, without causing too much issues. |