Do you know, what is the most asked question by housewives, before Christmas? Right! What to cook on Christmas holydays. Nothing can be compared to that moment, when you see all members of your family gathered together around the Christmas table. So, it's important to make delicious, original, and of course traditional, food on Christmas, for every good housewife. Every year it's getting more and more complicated to impress the members of your family, by making new food and using new recipes. Here in this article, we offer you 10 Christmas dinner recipes, to use this Christmas and impress your family.
Top Ideas for Christmas Eve Dinner
1. Baked Sour Cream, Cheddar and Mashed Potatoes
Ingredients:
¾ cup sour cream
½ cup half-and-half
2 cups divided cheddar cheese
1 tablespoon dried chives
2 lbs washed russet potatoes
6 cups chicken broth
1 large garlic clove
6 tablespoons butter, chopped into pieces
salt and pepper
Recipe:
Step 1. First, you need to peel potatoes and slice each one. Place potatoes in a pan and cover with chicken broth. Simmer about 20-30 minutes, until potatoes are falling apart. Pour off all of the chicken broth.
Step 2. Then return potatoes back to the heat. Add and let the butter melt where it falls. Use a potato masher and mash the potatoes. Fold in the sour cream and half-and-half. Add ¾ cup shredded cheddar cheese, chives and mix well. Season with salt & pepper.
Step 3. Mash the potatoes again until potatoes are smooth. Pour half of the potatoes into the prepared pan and sprinkle with a layer of cheese. Top with remaining potatoes and finish with a final layer of cheddar cheese.
Step 4. Preheat oven to 350 F. Cover with foil paper and bake for 20-30 minutes.
2. Honey Mustard Glazed Turkey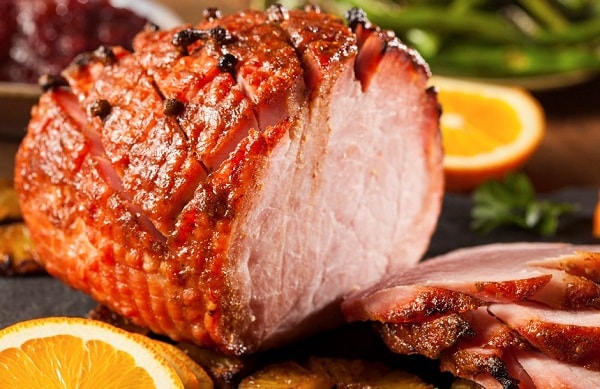 Ingredients:
4kg whole fresh Turkey
1 1/2 cups Woolworths Select chicken stock
1/4 cup Macro Organic plain flour
Honey mustard glaze
1/4 cup Woolworths Select pure blend honey
2 tablespoons Woolworths Select Dijon mustard
1 tablespoon Macro Organic apple cider vinegar
Pancetta & thyme stuffing
30g Woolworths Select butter
150g pancetta slices, roughly chopped
1 fresh leek, halved, thinly sliced
2 fresh garlic cloves, crushed
1 tablespoon fresh thyme leaves
1/4 cup Woolworths Select pine nuts, toasted
2 cups sourdough breadcrumbs, made from day-old bread
1 fresh lemon, rind finely grated, juiced
1 Woolworths Select free range egg, lightly whisked
Recipe:
Step 1. Melt butter in a frying pan. Add garlic, leek and pancetta. Cook until soft. Transfer to a bowl. Add the thyme, pine nuts, breadcrumbs, lemon rind, juice and egg. Season and mix well.
Step 2. Preheat oven to 180°C. Rinse the turkey. Dry with paper towel. Fill the cavity with pancetta stuffing. Tie the legs together with kitchen string. Place turkey on a pan. Pour 1/2 cup stock into base of pan.
Step 3. Honey Mustard Glaze. Combine ingredients in a bowl. Stir until smooth.
Step 4. Brush turkey all over with half the glaze. Cover tightly with baking paper and two layers of greased foil. Roast for 2 hours. Uncover, baste with remaining glaze and roast, uncovered, for a further 1 hour or until cooked through. Transfer turkey to a platter. Cover with foil and set aside for 30 minutes to rest. Remove string. Season with salt & pepper.
3. Jalapeño Poppers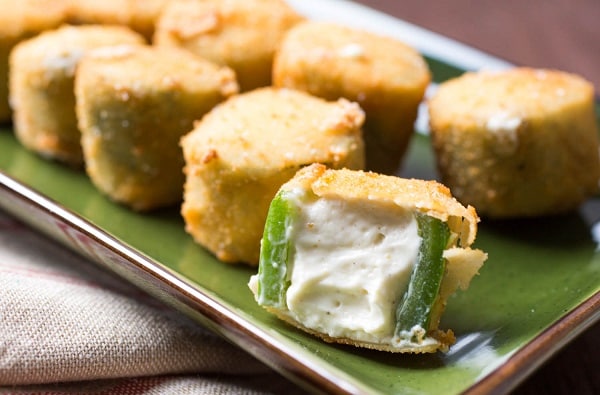 Ingredients:
12 Jalapenos
115g of Cream Cheese, softened at room temperature
3/4 cup of Shredded Extra Sharp Cheddar
1/2 cup of All Purpose Flour
2 Eggs
2 tablespoons of Milk
1 cup of Bread Crumbs
1 tsp of Granulated Onion
1 tsp of Granulated Garlic
1/2 tsp of Paprika
Salt and Pepper, to taste
Recipe:
Step 1. Preheat oven to 400 °C. Line a baking sheet with aluminum foil and spray it with oil spray. Set aside. Combine the following ingredients- cheddar, garlic, granulated onion, the cream cheese, paprika, salt and pepper. Scoop out all the seeds and ribs after halving the peppers lengthwise.
Step 2. Take 3 shallow bawls. Use the first one and whisk the eggs with the milk and a small pinch of salt and pepper. Mix the breadcrumbs with salt and pepper, in the second one. Finally, in the third bawl, add the flour salt and pepper and mix with a fork.
Step 3. Start filling and rolling. Then dip in the egg mixture and roll in the bread crumbs. Place on your backing sheet. Spray the tops of Jalapeño and bake them about 15-20 minutes.
4. Homemade Honey - Glazed Ham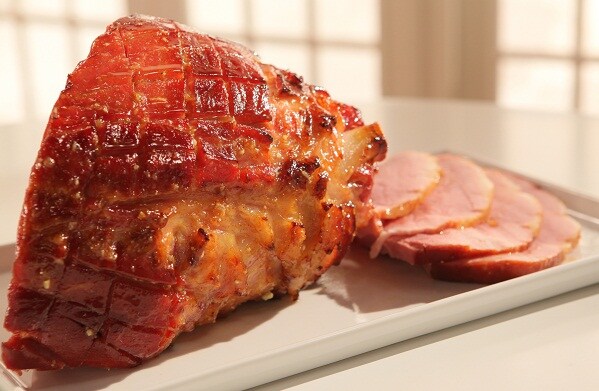 Ingredients:
4 kg - Water, cool
26.3g - Insta Cure No. 1
133g - Salt
516g- Honey
20g - Wright's applewood liquid smoke, optional
Recipe:
Step 1. Mix ingredients in a covered container. Submerge shanks in the brine and store in the fridge. Brine at least 65 hours. Cook ham at 65 °C for 48 hours or 90 °C for six hours.
Step 2. When meat has cooked, gently transfer shanks to chill. Preserve the cooking liquid. Cut parallel lines along the length of the ham, using a sharp knife. Create a second set of parallel lines- form diamond shapes.
Step 3. Use your cooking liquid and put it into a pot and reduce it over medium-high heat. You can be sure that your glaze is ready, when it will coat the back of a spoon without immediately running off.
Step 4. Drizzle the glaze over the surface of each ham. Roast at 232 °C for about 10–20 minutes.
5. Salad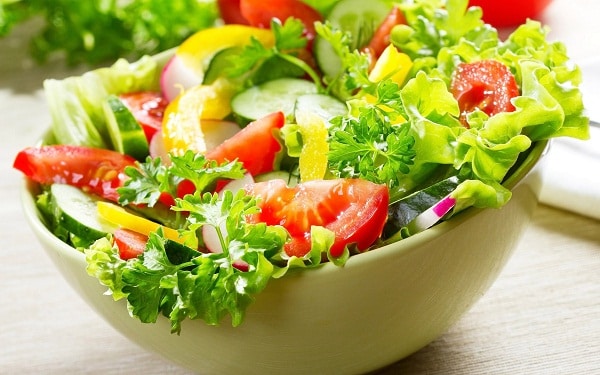 Ingredients:
1 green apple, julienned
Juice from 1/2 lemon
1 small head of cauliflower, cut into florets
2 garlic cloves, finely chopped
1/2 tsp turmeric
Salt & black pepper
Butter/Water
200 g / 7 oz kale, torn into bite-sized pieces
1/2 red onion, sliced
400 ml / 1.7 cups green beans, steamed or lightly boiled until al dente
120 ml / 0.5 cup hazelnuts, roughly chopped
Lemon wedges for garnish
Recipe:
Step 1. Thinly slice apples and place them in a bowl. Squeeze the juice of ½ lemons over them. Place chopped garlic and cauliflower florets in a pan. Season with turmeric salt and pepper.
Step 2. Add butter/water and cook about 5-10 minutes on high heat. Do not overcook! Take a huge bowl. Sprinkle the kale with a pinch of salt and massage for a few minutes, until soft and deeper green.
Step 3. Mix with red onion slices, green beans, and apple pieces. Place the cauliflower in the middle of salad, and top with hazelnuts and lemon wedges.
6. Stuffed Potato Skins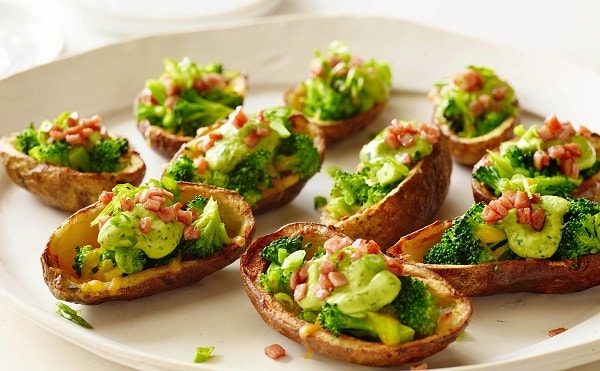 Ingredients:
2 baking potatoes
2 splash(es) olive oil
1 small red onion
2 large flat mushrooms
1 red pepper
1 tsp smoked paprika
1 tbsp tomato purée
6 slice(s) ham
2 tbsp cream cheese
1/2 handful(s) parsley
1/2 handful(s) coriander
100 g cheddar, grated
Recipe:
Step 1. Preheat the oven to 160°C. Prick the spuds with a fork. Season, rub with oil and bake the potatoes for 75 minutes then leave to cool slightly.
Step 2. Peel, dice the onion, mushrooms and peppers. Mix and fry all three in a hot pan with oil for 3 minutes. Add the smoked paprika and tomato purée and cook for another minute. Set aside.
Step 3. Slice the ham and mix with the cooked mushrooms. Chop the parsley and coriander.
Step 4. Mix the vegetables, cream cheese, herbs, mashed potato and cheddar together. Fill the potato skins with the mix and sprinkle the rest of cheese on top. Bake in the oven for 20 minutes.
7. Brussels Sprouts with Pancetta and Chestnuts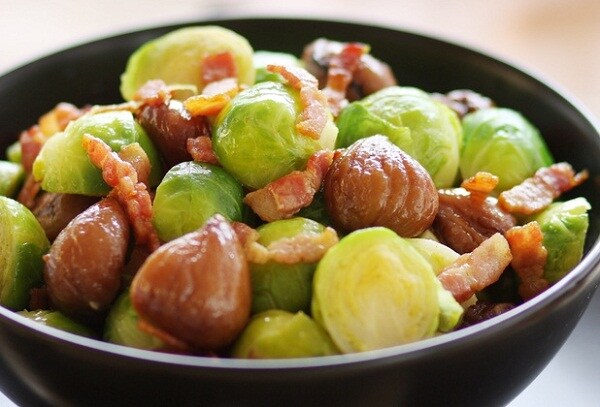 Ingredients:
1kg Brussels sprouts, outer leaves removed
Sea salt and freshly ground black pepper
1–2 tsp olive oil
200g pancetta, cut into lardoons
200g vacuum-packed chestnuts
2 lemons
Recipe:
Step 1. Cut in half lengthways the Brussels spouts. Boil salted water. Add the Brussels spouts, blanch them for 3-4 minutes, and then drain well.
Step 2. Fry the pancetta for a few minutes. Toss in the sprouts and cook for 3 minutes. Add to the pan chopped chestnuts. Squeeze over spouts and chestnuts lemon juice and grate the lemon zest.
8. Spaghetti Carbonara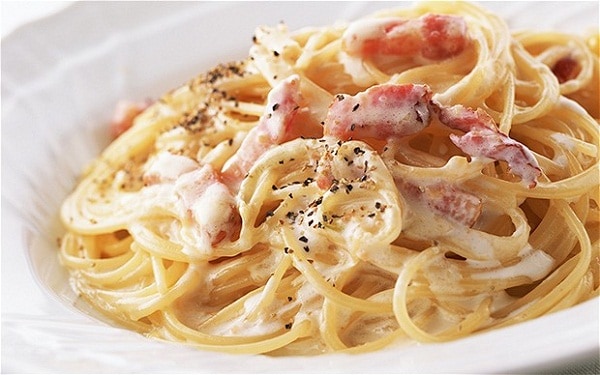 Ingredients:
3 large free-range egg yolks
40 g Parmesan cheese , plus extra to serve
sea salt
freshly ground black pepper
1 x 150 g piece of higher-welfare pancetta
200 g spaghetti
1 clove of garlic , peeled
extra virgin olive oil
Recipe:
Step 1. Put the egg yolks into a bowl and grate in the Parmesan. Season with pepper, then mix well with a fork. Set aside. Cut any hard skin off the pancetta and set aside, then chop the meat.
Step 2. Cook the spaghetti in a pan of boiling and salted water. Crush the garlic clove, add it to the pan and leave it for a minute. Stir in the pancetta, then cook for 4 minutes, or until it starts to crisp up.
Step 3. Pick out and discard the garlic from the pan, then, reserving some of the cooking water, drain and add the spaghetti. Toss well over the heat so it really soaks up all that lovely flavour, then remove the pan from the heat.
Step 4. Add a splash of the cooking water and toss well. Season with pepper, then pour in the egg mixture. Toss well, adding more cooking water.
9. Swedish Meatballs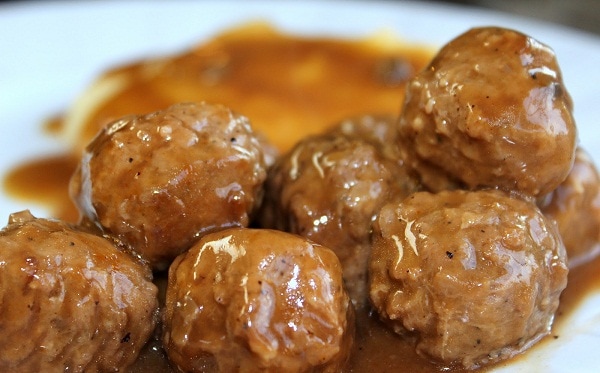 Ingredients:
1 pound lean ground beef
½ pound lean ground pork
1 cup fresh breadcrumbs (3 slices)
½ cup whole milk
¼ cup minced onion
1 clove garlic, minced
1 egg
1 teaspoon salt
½ teaspoon black pepper
¼ teaspoon allspice
¼ teaspoon nutmeg
Gravy (for a whole batch; reduce amounts if cooking fewer meatballs)
4 tablespoons butter, divided
3 tablespoons flour
3 cups chicken or beef broth
¼ cup heavy whipping cream
Recipe:
Step 1. Combine all meatball ingredients in the bowl of a stand mixer. Mix with paddle attachment until very smooth.
Step 2. Form balls and arrange on waxed paper-lined baking tray. Chill 30 minutes. Melt 2 tablespoons butter over medium-high in a large skillet and fry half the meatballs, turning frequently, until browned. They should not be cooked through at this point. Remove.
Step 3. Add flour to skillet and whisk to cook until toasted. Whisk in stock until smooth. Add meatballs back to skillet and stir gently to coat in gravy. Simmer 10-15 minutes until thickened and meatballs are cooked through. Turn heat to low and gently stir in cream.
10. Snowball Cookies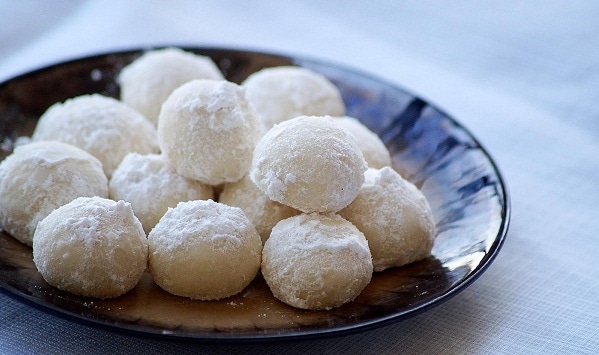 Ingredients:
5 oz all-purpose flour (1 cup)
1 cup finely chopped almonds
1/4 cup sugar
1/2 cup butter, softened
1/2 tsp vanilla
1 cup confectioner's sugar
Recipe:
Step 1. Preheat oven to 165 °C. Take a large bowl. Combine flour, almonds, and sugar. Add vanilla, butter and mix with a hand mixer.
Step 2. Farm balls, place on a backing sheet. Bake for 25 minutes. Let the cookies cool for 5 minutes. Then roll the cookies in confectioner's sugar.