How is it possible that Christmas goes without a fabulous treat of desserts to stun your taste buds? We recommend you these 10 greatest Christmas dessert ideas to add flavor to these joyful holidays:
Part 1. The 10 Best Dessert Recipes for Christmas
1. OLD-FASHIONED APPLE PIE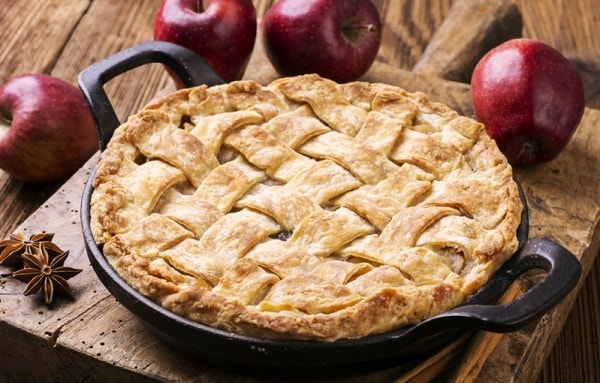 Ingredients:
2 tablespoons flour
Pie Dough
12 apples, peeled, cored, and sliced
Sugar three-fourth of cup
Juice and spice of a lemon
1 and half teaspoons cinnamon
half teaspoon nutmeg
a nip of ground spice
2 tablespoons butter without salt
1 egg
Recipe:
Heat oven to 375 degrees. Lightly flour the plate surface and roll out the dough into two 1/8 inch thick circles. Take a pastry circle and carefully press into the pie plate. Cover the circle with plastic paper and before that place it on a waxed paper. Then let the circles chill out for almost 30 minutes.
Take a large bowl, add apples, sugar, lemon juice, flour and spices and combine them well. Take the apples in a spoon and place into pie pan. Butter it and then add the remaining pastry circles on top. Make cuts for steam vents across the top. Take the egg in a bowl, beat it then brush the pie circle. Toss additional sugar if required.
Bake until crust is brown and juices are bubbling, about 1 hour. Let cool on wire rack before serving.
2. GINGERBREAD ICEBOX CAKE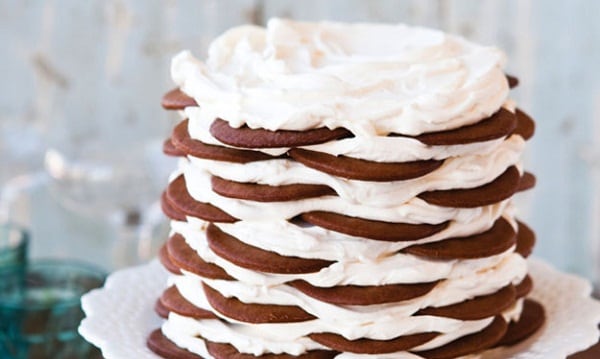 Ingredients:
6 ounces cream cheese
2/3 cup light brown sugar
3 half cups heavy cream
80 gingersnaps cookies
3/4 cup gum drops
Recipe:
1. Add sugar and cream cheese in a large bowl and beat them with a mixer on until the mix is smooth.
Add the cream and mix. Keep on mixing until the mixture thickens and produces stiff peaks.
Spread 1 cup whipped cream mixture on the bottom of bundt pan and top it with 16 overlapping cookies.
Now for another layer of overlapping cookies, evenly spread about a third of cream on the top of first layer and top the ring with 16 cookies on the outside and 6 halved cookies on the inside.
Just like in step 4, add another layer of overlapping cookies with 16 on the outside and 10 on the inside of bundt pan to cover.
Spread the remaining third of whipped cream evenly on the top, cover the cake with loose plastic cover and refrigerate for 12 hours or overnight.
3. HOLIDAY FRUIT TART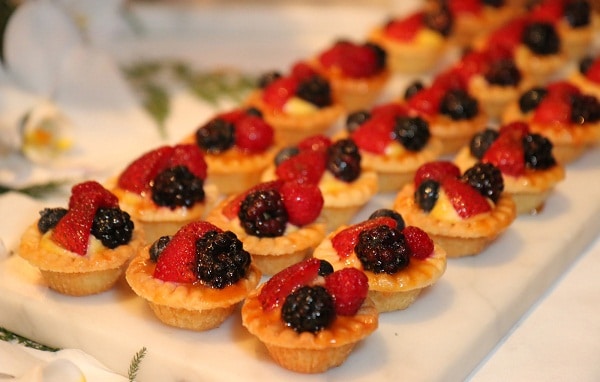 Ingredients:
1 cup flour
Pie Dough
Salt 1/4 of tablespoon
half teaspoon spices, ground
half teaspoon nutmeg, finely ground
Half teaspoon cinnamon, ground
1 teaspoon ground ginger
Sugar dark-brown, half cup
Currant, one-fourth of cup
golden raisin, one-fourth cup
cranberries, 1/4 cup, dried
citron, 1/4 of cup
orange peel, 1/4 of cup
1 cup almonds, chopped and toasted
spice of a lemon
fresh lemon juice, 2 tablespoons
3 tablespoons distilled wine
Molasses one-fourth of cup
2 eggs
Recipe:
Roll out 3/4 pie dough on the surface of available tart pan, lightly floured, to its fit and desired thickness (1/8 inch). Place the pastry on pan and press it down on the edges and along rim. Cover it with plastic and refrigerate along with the rest of dough.
Spread flour, spices and salt onto bowl. Add sugar, almonds, citron, orange peel, dried fruit, juice and spice. Stir in the wine, I beaten egg and molasses and then pack into pastry-lined tin.
Roll the remaining dough to 1/8 inch thickness over the lightly floured surface. Smoothen the edges of pastry in tart tin with water, and place rolled dough over filling. Seal it tightly and chill tart for 1 hour.
Heat oven to 365 degrees. Brush tart with remaining egg and water mix, place tart in oven and bake until golden brown. Let it cool and then using a knife slice into 3/4 inch thick slices.
4. ALMOND MADELEINES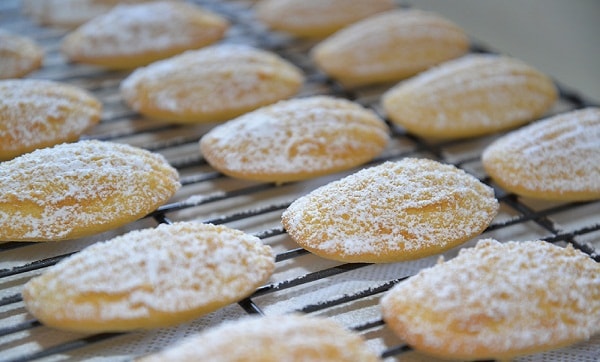 Ingredients:
2 eggs
half cup sugar
almond extract, 1/4 teaspoon
half teaspoon lemon spice, ground
half cup flour
half cup almond, finely ground
salt, one-fourth of teaspoon
baking powder, 1/4 of teaspoon
1/2 cup melted butter, unsalted
Recipe:
Heat the oven to 350 degrees. Spray two madeleine pans with non-stick cooking spray.
Use a mixer to cream together eggs and granulated sugar in a bowl until the mixture thickens.
Add in the almond extract while beating. And slowly pour in melted butter. Don't overmix.
Divide the batter evenly between the prepared pans and bake until lightly golden around edges.
As the madeleines cool down in the pan, invert them on to cooling rake to completely lose heat.
5. CREAMY CHOCOLATE CUPS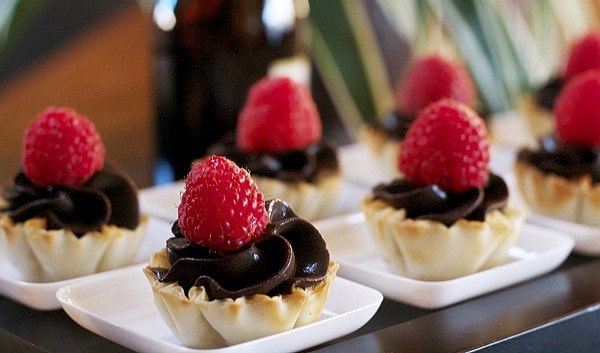 Ingredients:
1 cup milk
1 teaspoon almond extract
1 vanilla bean
Half cup chopped chocolate
6 eggs
cocoa powder, one-third of cup
half cup sugar
6 cups
Recipe:
Preheat the oven to 325 degrees F.
Place a small pot over low heat and bring milk, almond extract, vanilla seeds and vanilla pod.
Melt the chocolate. In a large bowl add cocoa, sugar and eggs and mix to combine.
Pour the heated milk mixture in melted chocolate and mix.
Add egg mixture into chocolate mixture slowly to prevent egg from scrambling. Blend the ingredients but careful not to make froth or bubbles.
Fill a baking pan with 2 inches water, put the small cups, filled with the mixture almost to top, in the baking pan and cover the top with foil of aluminum.
Place the pan in the oven and bake until the custard is a little loose but set.
Remove the pan from oven. Carefully take out the cups from water bath and let them cool.
Serve as you deem fit.
6. CANDY STRIPE COOKIE STICKS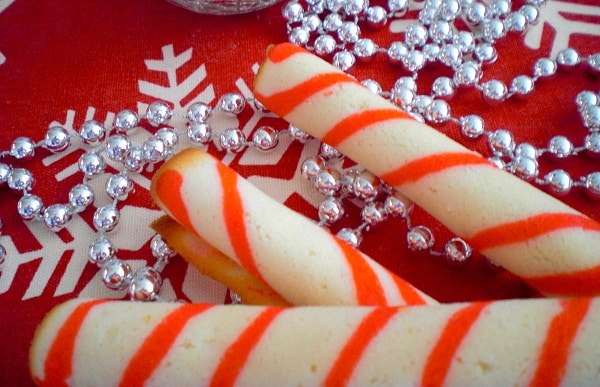 Ingredients:
8 egg whites
2 cups sugar
2 cups flour
A nip of salt
10 tablespoons butter
heavy cream, 1/4 cup
vanilla extract a teaspoon
Red food coloring
Recipe:
Preheat oven to 400 degrees. Add egg whites and sugar in a bowl and beat with electric mixer on medium speed unless it becomes foamy. Add flour and salt; mix at low speed. Add butter, cream and vanilla and beat until mixed.
Put 1 cup batter to a small bowl and set the rest aside. Add red coloring to desired hue. Take a pastry bag with small plain round trip and transfer the batter into it.
Place a 3 by 6 inch rectangle on a baking sheet. Take a tablespoon of batter and spoon in the rectangle and spread it. Pipe diagonal tinted stripes onto each rectangle. Bake cookies until pale golden.
Use a spatula to loosen the edges. And flip cookie over and roll into a stick starting from the long side. Let cool until it is set.
Repeat to make as many cookies as you want.
7. MOLTEN CARAMEL CAKES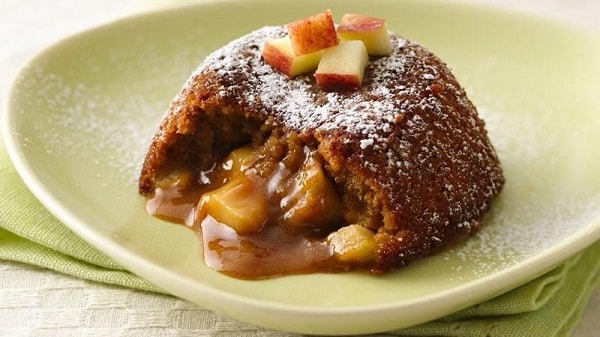 Ingredients:
white chocolate chopped, two cups
butter, 1/4 of cup
2 cups dulce-de-leche
4 eggs
1/4 of cup sugar
1 cup flour
Salt for icing
Recipe:
Preheat the oven to 425 degrees.
Take a saucepan and melt white chocolate with butter over low heat.
Add dulce-de-leche and stir until combined. Then remove from the heat.
Beat the eggs with sugar using a mixer. Gradually add white chocolate mixture and then flour.
Put the batter in six ramekins. Bake until the cakes are golden brown.
Serve with icing as desired.
8. RASPBERRY TRIFLE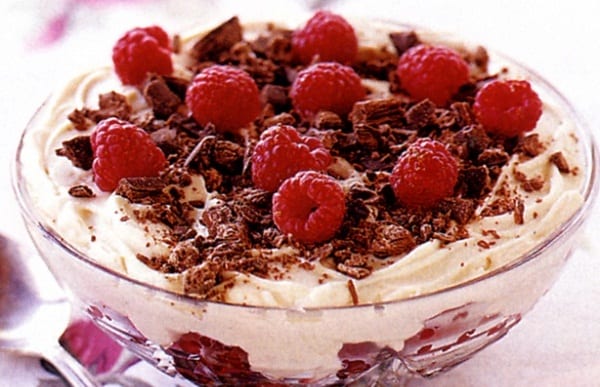 Ingredients:
half cup sugar
lemon juice, 1/4 cup
1 cup raspberry jam
4 cups raspberries
2 cups heavy cream
One and a half pounds cake
Recipe:
Add 1/2 cup sugar, 1/4 cup water, and lemon juice in a saucepan and boil. Dissolve sugar while stirring. Then let it cool.
Mix jam with 3 cups raspberries in a small bowl and mash slightly.
Add cream and 2 tablespoons sugar in a large bowl and whip until stiff peaks.
Slice pound cake 3/4 inch thick; brush both sides of slices with lemon syrup.
Take a 4-quarter trifle dish or any other glass bowl and fit 1/3 of slices in the bottom. Spread the top layer with 1/3 raspberry mixture and then add whipped cream.
Repeat to make two layers. Refrigerate until ready to serve, up to 24 hours.
9. PEPPERMINT HOT FUDGE SUNDAES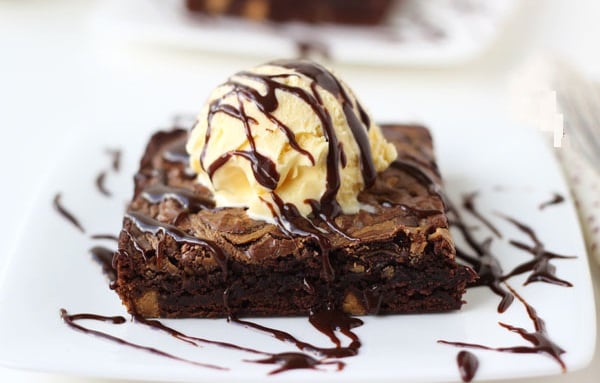 Ingredients:
1 cup heavy cream
corn syrup, one-third of cup
12-ounce of chocolate chips
peppermint extract one teaspoon
vanilla ice cream
Chopped peppermint candy
Recipe:
Take a small saucepan, add heavy cream and corn syrup and combine.
Stir it and boil the mixture over medium-high heat.
Remove from heat. Then add peppermint extract and chocolate.
Whisk it until the chocolate melts and adjust consistency with extra corn syrup.
Serve as desired.
10. GINGERSNAP AND JAM PARFAITS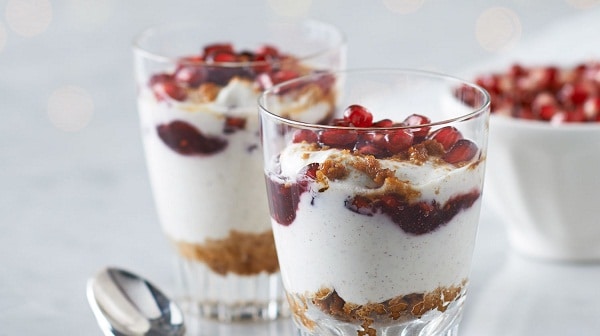 Ingredients:
red-currant jam, 3/4 cup
3 tablespoons lemon juice
half cup sour cream
3/4 cup heavy cream
1/4 cup sugar
3/4 teaspoon vanilla extract
1/4 teaspoon cardamom, finely ground
1/4 teaspoon ginger, finely ground
8 gingersnap, crushed cookies
Recipe:
Take jam and lemon juice in a small bowl and whisk together.
Use a mixer to beat crème fraiche, cream, sugar, vanilla, and spices until mixture holds stiff peaks.
Take 1 heaping table spoon cream mixture, 1 table spoon crushed cookies and 1 table spoon jam mixture in a small glass as a layer.
Add another layer and refrigerate until ready, up to 1 hour.