Is it possibly legal to unlock iPhone?
If your iPhone is locked to a particular service provider, it does not mean that you can never get a legal way out of the lock. Getting your phone unlocked is quite easy as you can contact your provider to assist you in unlocking your iPhone. You can also do it yourself without the need for the original provider. Provided you have completed paying for the contract then you have legal rights, as you completely own the iPhone. However, if you have not finished payments or in the process, you need to check with your carrier before you unlock it.
Part 1: How to Unlock SIM on iPhone with doctorSIM
Using DoctorSIM to unlock your phone is a very simple and fast process. You need to follow some simple steps and you will successfully unlock your device with ease.
Step 1. On the list, select the kind of model and make for the very phone you would like to unlock with this tool.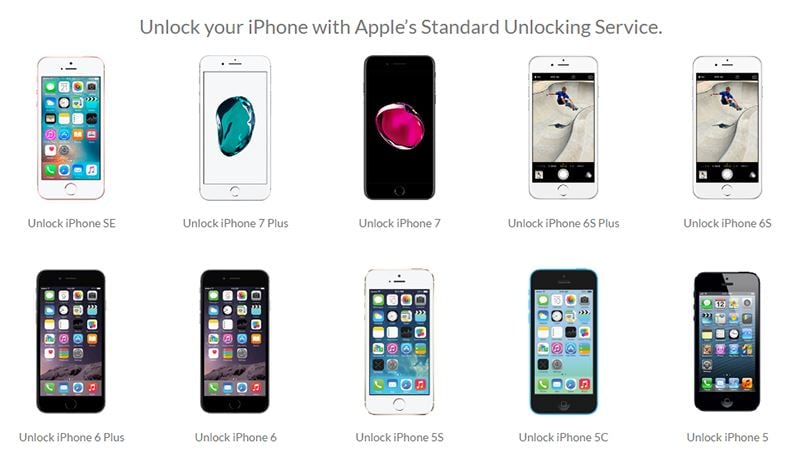 Step 2. Fill in the form provided. This form only requires a few details, which include: the country and the network provider to which your phone is locked; your phone information and details of your contacts (your phone's IME code, your email address and SMS notification although optional) and the mode of payment you will use (Credit Card, PayPal or Bitcoin). To obtain your IME code, type *#06# into the keypad of your phone. Just type the first 15 digits of this code and don't supply any other character. The SMS notification will help to inform you when your instructions are ready. Your request will then be processed and send to you through the email account you provided. A code and instructions on how to unlock your phone will be the content of this email.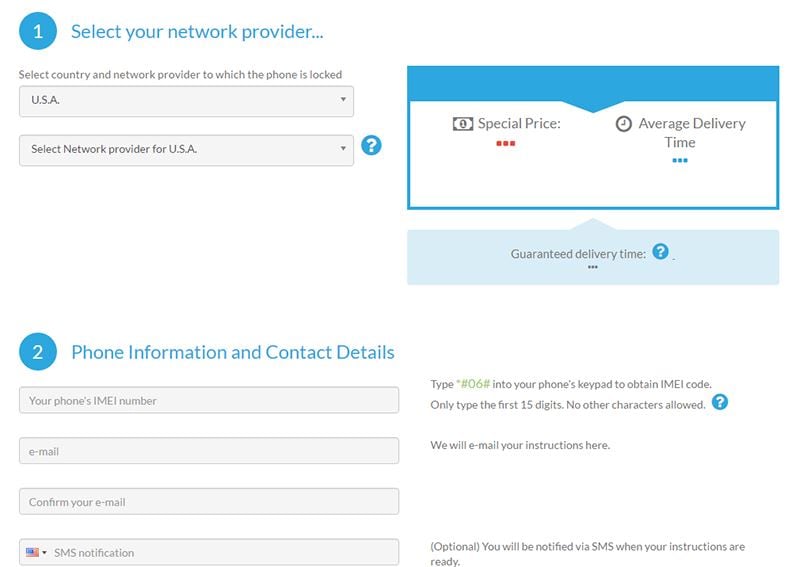 In case you have a Wi-Fi connection with you, then follow the steps outlined below.
Step 1. Using a Wi-Fi network, connect your iPhone to the Internet.
Step 2. Choose another SIM card, which is not from the same network provider as the one your iPhone, is locked to and insert it into your phone. Now turn on your phone and then insert the respective pin number in case it has or leave it to open the home page if it does not have.
Step 3. Within some few seconds, your iPhone will connect to the Apple server and then check for the respective unlocking code. After it has checked for the code, it will automatically apply it to the phone.
In case you do not have any Wi-Fi connection:
Step 1. Choose another SIM card that is not of the same network provider with the one your iPhone is locked to. Insert this SIM card and turn on your phone. If your SIM card has a pin then type it to take you to the home screen.
Step 2. Once your phone opens, you will be able to realize that your iPhone has got no service.
Step 3. Use your computer to open iTunes. Look for a USB cable to help you connect your iPhone to the computer.
Step 4. iTunes will help in connecting to the Apple server and then check for the respective unlocking code. Once it has checked, it will be automatically applied to your phone within some seconds.
Step 5. Now disconnect your iPhone from the computer and restart it. Your iPhone will by now be permanently unlocked.
Part 2: How to Check iPhone Unlock Status?
One of the simplest ways of determining whether your iPhone is unlocked is by performing a swap in a different GSM provider SIM card. Here you need to wait for some moment in order to see whether your iPhone gets service. This is the only thing you have to do here. This method will obviously take an assumption that you can acquire another GSM SIM card. A good example is in a case where in the USA, you can be able to check whether an AT&T type of iPhone is unlocked. To do so, you use a T-Mobile SIM card to place it in your iPhone and then check if the device will get the service. If it gets the service then your iPhone is unlocked else it is unlocked.
When your phone is unlocked, you will receive a confirmation email or a phone-unlock notification from the respective carrier. Once you have received a confirmation you need to follow the steps below:
Step 1. Turn your phone off by holding down the Sleep/Wake button and also moving your finger across. You can just use a SIM card tool or even a straightened paper clip in order to eject the SIM cardholder from the side of your phone.
Step 2. From the SIM cardholder, remove the old SIM card and then place the new one inside the very same SIM cardholder.
Step 3. Once you have inserted the SIM card, reinsert the SIM cards holder to its place.
Part 3: Why Do We Need to Unlock iPhone?
• You will be free from the country or even carrier restrictions on your iPhone. Hence you will be able to enjoy any available network in the world with you iPhone.
• With the unlocked phone, you will be able to save more money by using your favorite mobile network. You will be able to choose a network that favors you financially and on other factors.
• You will not be subjected to many problems affiliated to bound networks such as fixed monthly bills. You will, therefore, have no worries of having to pay them so that you can access their services.
• Unlocking your iPhone will remove the country locks as you can use your iPhone in whichever country you are. You shall be able to use your iphone in any country you go and communicate with anyone in any country too.
• With the unlocked phone, you will be able to enjoy new updates and any services provided by the official apps store for Apple.
• You will also be able to download more from iTunes store to your iPhone device.
• The value of your iPhone will obviously increase, as you are not bound by any network restrictions.
Part 4: Recommend Another Way to Unlock SIM on iPhone - using iPhoneIMEI.net
Step 1. Go to the Internet and access this URL: https://iphoneimei.net/official-iphone-unlock
Step 2. From the page, select the phone model you would like to unlock and the network carrier to which your phone is locked. Once you have selected, the "Unlock" button will become active.
Step 3. Another page with a form shall be opened. This form requires that you fill in the iPhone model and the IME code for your iPhone. To obtain your IME code dial *#06# and you shall get it. In case your iPhone has not been activated, a little "i" button will appear on the screen. You need to tap it so that you can obtain your IME code.
Step 4. Once you have filled in these details, click on the "Unlock Now" button at the bottom of this form. Follow the instructions provided and wait for the confirmation email. Depending on the carrier, your iPhone will be unlocked based on the quoted time after completion of payment.