iOS updates makes iPhones devices to be real smart devices. This is the main reason why Apple and app developers regularly update them. You may decide to delete iOS update and app updates once you start experiencing problems with the newest versions. This article focuses on the popular methods for deleting iOS and apps updates on iPhone.
Part 1. How to Delete iOS Update
You can receive an error message indicating that "iOS updates are stuck at the update requested" or "wrong iOS version appears on iOS devices." You can also be pissed off of the "update iOS" notifications that appear on your screen even after you have updated iOS to the latest version. The best way to solve and avoid all these problems is by deleting iOS updates in your device.
Guides on How to Delete iOS Update:
Step 1. Launch "Setting" app and then tap on "General".
Step 2. Tap on "Storage & iCloud Usage".
Step 3. Tap on "Manage Storage".
Step 4. Tap the "iOS software" version available on the app list, in this case, select iOS 9.
Step 5. In the next window, tap on "Delete Update".
Step 6. You will see the "Delete Update" button with a message advising you that you can re-download the update later in "Software Update" settings, and a "Cancel" button. Tap on "Delete Update" to remove iOS update on your device.
Part 2. How to Delete Updates on iPhone
App updates may limit your iPhone's storage space. They may also affect performance. These updates can only be cleared by deleting the individual app's Documents & Data. However, the Documents & Data cannot be directly deleted on iPhone. You will have to delete the individual apps and then search and reinstall the older version of the particular app from iOS app download centers.
Step-By-Step Guide on How to Delete App Update on iPhone: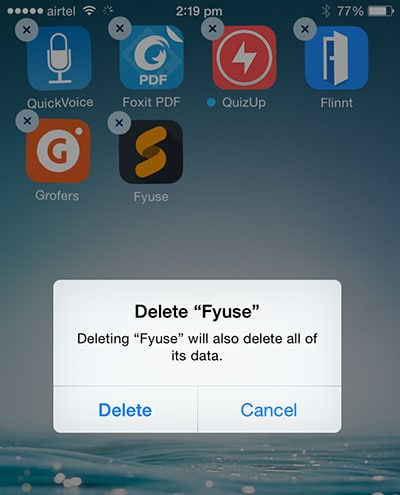 Method 1: Delete iPhone Apps from Home Screen
Step 1. Look for the particular app from your home screen. In this case, let us locate Fyuse. Long press its icon for a few seconds and a delete icon (x) will appear at the top-left-corner of each of the wiggling apps on your home screen.
Step 2. Tap on the (x) mark (delete icon). A pop-up window will then appear asking you to either delete the app or cancel the process. Tap on the "Delete Option" to erase Fyuse from your iPhone.
Apple doesn't allow iOS users to delete the pre-installed apps directly. Therefore, the (x) button may not appear on some apps. However, you can remove pre-installed apps by tapping Settings > General > Restrictions and then enter your security code. Turn off the app that you would like to delete and then go back to your iPhones home screen. You will realize that the app is gone.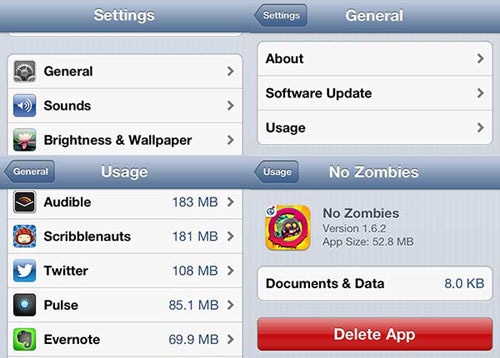 Method 2: Delete iPhone Apps from "Settings"
Step 1. Tap the "Settings" app from your home screen. In the next window, tap on "General" and then tap "Usage".
Step 2. You will see a list of all the installed apps and the amount of space consumed by each. The free storage space on your device, and in your iCloud account are also displayed here. If you can't see the app that you want to delete, tap "Show all Apps" to access it.
Step 3. Tap the particular app and its full name, version, and disk usage will be displayed on your iPhone's screen. You can then tap on the "Delete" button. iv. iOS system will then ask if you would like to delete the app, or Cancel the process. Click on the "Delete App" option to remove the app from your device.
Recommendation: The Easiest Way to Delete Junk Data on iPhone
dr.fone (Mac) - Data Eraser (IS) (or dr.fone - Data Eraser (IS)) is a great software for directly removing junk files on iPhone, iPad, and iPod devices. It comes with five data erasing modes, including Erase All Data, Erase Private Data, Express Cleanup, Erase Deleted Data and Photo Compressor. These modes are effective for securing and cleaning iPhones and other iOS devices with ease.
Key Features of dr.fone - Data Eraser (IS):
dr.fone - Data Eraser (IS) features a user-friendly interface that makes it easy to use.
It erases all type of data on your device, as well as the deleted data.
The software optimizes and speeds up devices by clearing junk files.
dr.fone - Data Eraser (IS) ensures that private information remains private for ever.