There is a whole lot of information stored in our iPhone (iPhone 7 Plus) including emails, login details, photos, videos, etc. But even though it's very important to keep this data safe, sometimes, you may just run out of space on your device. Apple is known for not offering too much storage space on their devices and that leads us to the question, how to free space on iPhone? There's only one option that will work for you as far as this is concerned. We are going to discuss it here.
How to Free Space on iPhone
dr.fone (Mac) - Data Eraser (IS) (or dr.fone - Data Eraser (IS)) is the most recommended tool on the internet when it comes to freeing space on your iPhone. It has been designed specifically to help erase all data from your iPhone but it also has various other purposes as well one of them being, freeing up space and optimizing your device. There is no better way of ensuring your data is secure and your phone is running at optimum capacity at the same time. If this isn't enough to convince you to get this software, here are a few key features which will certainly help you make up your mind.
Key Features of dr.fone - Data Eraser (IS):
It will help you to erase all of the data on your iPhone (iPhone 7 included), iPad or iPod in a way that no one else will ever be able to access it again. It will be permanently deleted.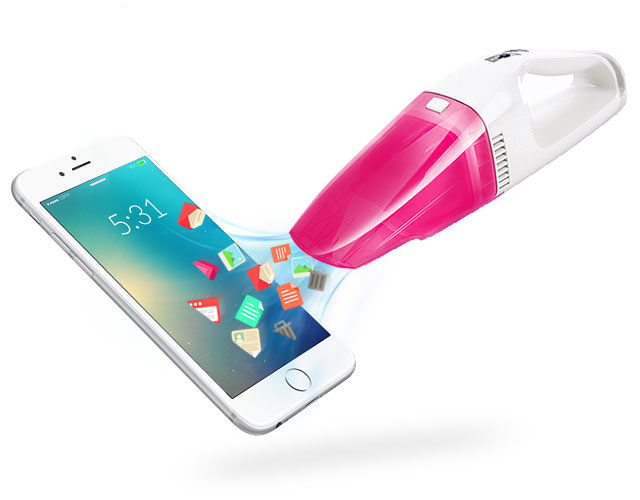 This software is also known to be great at quickly removing junk files from your iPhone or any other Apple device with a single click. All it takes is a single click and you will be able to free up a whole lot of space on your devices.
The scanning power of this software is second to none. It will be able to find every single file on your device without any trouble whatsoever. No matter where these files have been stored or whether you have deleted them in the past. If they are still on your iPhone, this software will pick it up for sure.
Step-By-Step Guide to Free Space on iPhone
Step 4. Go through the list of files and make sure there are none which you might want to keep. Once you are certain you don't need any of them, click on the "Cleanup" option and the software will get to work. Once the files have been deleted, a pop-up will show with details regarding the number of files that have been deleted.