Photo management is quite a problem when it comes to Apple smartphones. iPhones allow you to take some of the best images and videos. But with each passing year the size of these files increase and management becomes a more complex issue. Since taking photos is much easier than managing them, you usually end up with tons of photos but can't find the ones you want when you need them. This puts you in a very awkward position at times and even though you may backup your data regularly, mistakes can happen and you may lose some important photos. This is why you need to know how to manage photos on iPhone.
With your photos becoming so much more attainable and valuable in today's world, it is important that you know just how to manage them effectively. Here, we are going to take a look at all of the possibilities when it comes to managing your photos effectively and will also look at 5 of the best photo storage apps you can use on your iPhone. Let's get started with how you can manage photos on your iPhone.
Part 1. How to Manage Photos on iPhone
We are going to take a look at a number of apps that you can use to store photos but there are some other things which you need to consider before we get there. Let's take a look at what they are.
4 Aspects on How to Manage Photos on iPhone: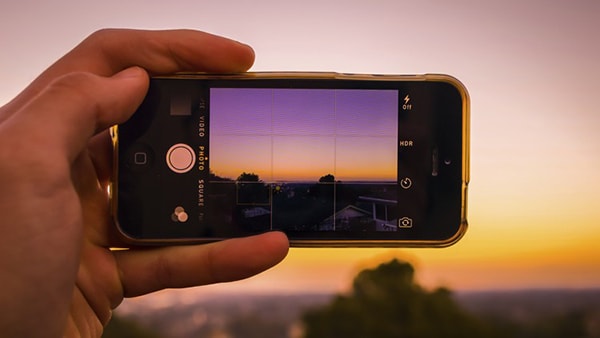 1. Saving is the most important aspect when it comes to photo management. Apart from taking photos, there is nothing more important than ensuring you save the right high resolution copies safely on something apart from your iPhone. This could include backups on the cloud or on a computer. Redundancy is very important here since you may mess up at any time. Also, this will allow you to save space on your smartphone too.
2. Syncing is much more of a luxury as opposed to a necessity. But being able to access all your photos no matter what device you are on is very important if you want to have an effortless experience. Any changes made to your photo library including adding, editing or deleting photos should apply to all devices. Plus, when you get all your photos uploaded to the cloud at their maximum resolution, it serves as a terrific backup too.
3. Searching is absolutely no point in setting all this up if you can't find photos you are looking for with ease later on is there? You need to be able to find photos with ease when you want to without having to search too much. This is critical.
4. In today's world, there are countless apps and websites where you can share your photos. You can't expect to upload photos to all of these places each time. Choose a few that you agree with and stick to them. It will make your life a whole lot easier for sure.
Part 2. Where to Store Photos from iPhone
As mentioned earlier, there are a number of platforms which will let you store photos but before we look at them, let's take a look at what Apple has to offer in particular when it comes to iPhone photo storage. If you are using an iPhone and are trying to figure out iPhone camera storage, this is the part which will make most sense to you.
Guides on Where to Store Photos from iPhone: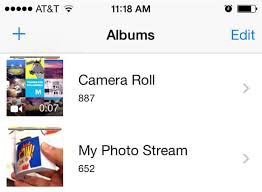 My Photo Stream
As far as saving and syncing photos is concerned, you have a couple of options from Apple. The one free option is known as My Photo Stream. This tool sync's the most recent 1,000 photos of yours in a single feed among all of your devices. The only problem with this is you will need to manually track all of your photos and ensure they are saved.
Step 1. Simply visit the "My Photo Stream" album from your devices and copy all photos you click to it.
Step 2. Once the photos are synced to the album, you will be able to access them from all of your devices.
Step 3. Make sure you save all changes and follow this procedure from each device or they will not show up in your photo stream.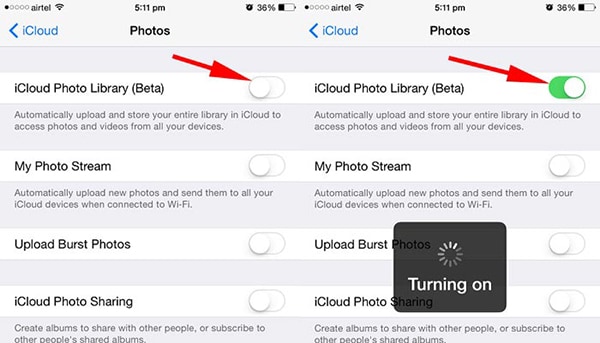 iCloud Photo Library
The next choice you have, which is a far better option is the iCloud Photo Library. There's no additional fee which you need to pay for using this service but you only get 5 GB of storage space free from Apple. This certainly isn't enough. If you want to get additional space, you will have to pay. Visit Apple's website for pricing details which vary depending on the amount of storage you want and your region.
Step 1. If you click a photo from any of your devices, it will automatically get added to the library and will show up on all of your devices.
Step 2. You can use the built-in editor to make changes and the changes will be visible across the board instantly.
Step 3. When you delete photos, they will move to your "Recently Deleted" album from where they will automatically be deleted in 30 days.
Step 4. All of your photos get organized into events depending on the location and time when they were taken and are searchable by all parameters. You can even detect faces and search through them on your Mac which is awesome.
Part 3. Top 5 Photo Storage Apps for iPhone