Remotely erasing iPhone completely or doing a remote wipe is usually done to help safeguard important files on a device in case it gets stolen or accessed by an unauthorized party. For others, it is a convenient way to get rid of file system issues or any errors on one's phone. Whatever your purpose is, doing a remote erase from time to time can secure your privacy and help lengthen the lifespan of your device. Reading this article and you can remotely erase iPhone easily.
Part 1: How to Remotely Erase iPhone or Your Family's Device
A Traditional Way to Remotely Erase iPhone
Your iPhone and your family's apple devices can be set up with Find my iPhone which lets you remotely wipe all of your data through your Mac. To get started, simply go to Apple's iCloud and log-in to your apple account. If you are accessing it through a web browser, just go to iCloud find and click on Find my iPhone. Moving on to the next window, you will find all of the devices connected to your Apple ID. Choose the device you want to remotely wipe. You will then be redirected to the device's information page. Click on the Erase iPhone button and you're good to go.
Additionally, you can enter the message you want to be displayed on the screen of your device after the remote erase iPhone process is complete. The purpose of having the message displayed on the screen is to give people who might find your apple device your contact details so they can get in touch with you and return your Smartphone. Your message should say something like "This iPhone has been stolen. Please contact me at the phone number below."
If the device is online, you can immediately erase iPhone remotely and expect it to be done in a few minutes. If the device is offline, the erasure process will start as soon as it goes online.
Part 2: The Easiest Way to Erase iPhone
Data wiping is not only done to stolen phones. You can do it on that phone you are using right now. But, why would you want to do it? Well, it can help secure your privacy and clear junk files that may be taking up too much space on your device, which causes it to slow down.
When erasing data on your phone, not everything is erased even when your device says everything is clear. And when dealing with junk files, deleting all those files can take a lot of your time. Not to mention, you will need to manually separate the junk files from the system files. Also, erasing certain files on your phone may cause the device to malfunction so you need to be extra careful. Fortunately, you don't have to go through it all. You can safely erase your files and secure your privacy with dr.fone (Mac) - Data Eraser (IS) (or dr.fone - Data Eraser (IS)). It allows you to erase your phone data without compromising your device's performance. Another good thing about dr.fone (Mac) - Data Eraser (IS) (or dr.fone - Data Eraser (IS)) is that you don't need to go through complicated procedures just to delete certain files on your smart phone. You can easily clear your files with just a click of a button.
Free Download
Free Download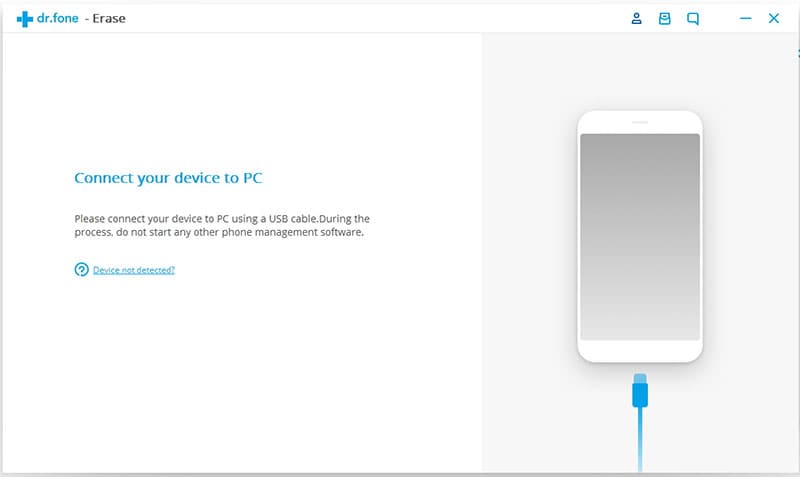 Key Features of dr.fone - Data Eraser (IS)
Junk file deletion – get rid of the junk files that have been slowing down your device.
Photo compressions – compress your photos and gain more storage space.
Private data deletion – secures your privacy and prevents others from accessing your private files.
Erased file clearing – permanently delete your files and ensure that no one recovers them.
All-file deletion – Delete all your files and refresh your device's performance.