If you are planning to buy a new version of iPhone and want to sell your iPhone 3GS then the first thing which you should do is to wipe iPhone 3GS all data before selling. There are different methods of cleaning your iPhone. You can either select a factory reset option or you can go for the restoring option, it all depends on you. The thing you should keep in mind is that there are many advanced data recovery tools available in the market through which your data can be easily recovered.
So, it is better to go for advanced data erasing tools to wipe iPhone 3 data before giving your device to the new owner. It is also recommended to back up all your precious data and information before you wipe the data from the phone as the data would become irretrievable after you perform the wipe.
How to Wipe iPhone 3GS Completely in an Easy Way
In order to get rid of your iPhone 3G data completely, we recommended you to use dr.fone (Mac) - Data Eraser (IS) (or dr.fone - Data Eraser (IS)). It is one of the leading data erasing tools through which data deletion has become much easier. All your important data and information is deleted permanently by the tool and that is why it is considered as the most reliable data erasing program. It is capable of deleting all unwanted files without leaving any trace of their existence. This ensures that no one can recover you data and no one can steal it. The fact that the program is completely compatible with each and every iOS device is also great.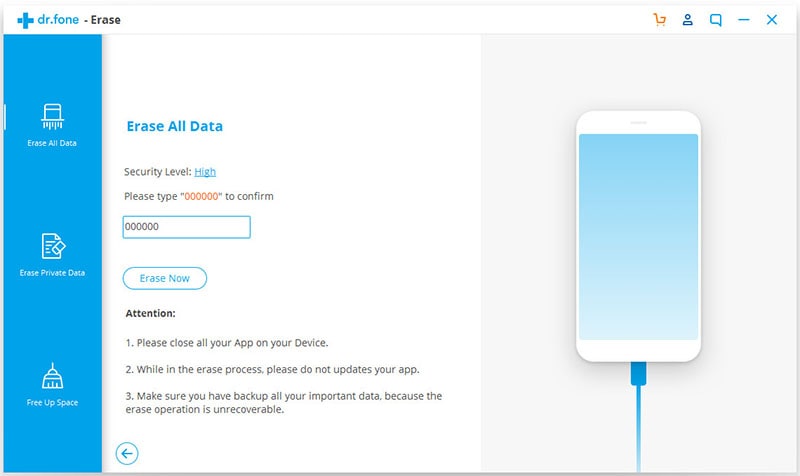 Key Features of dr.fone - Data Eraser (IS):
Deletes all your data permanently. Even advanced data recovery tools cannot recover the data after it has been deleted with the software.
All your personal information like account information, bank information, browsing history, etc is kept secure by ensuring that it can't be accessed by anyone else.
Maximizes the speed of your phone by deleting junk or unwanted files.
Permanently overwrites all your deleted files.
Provides 3 data deletion modes including erase deleted data, erase private data and erase all data are available.
Steps on how to wipe an iPhone 3GS