A pass code can give complete protection to the overall data of your iPhone. Without a pass code, no one can enter into your phone and cannot try to steal your data. It is just like a main defense system which is responsible to protect your data. Now what will you do if you have forgotten your pass code and there is a requirement of clearing up your device? Now there are some ways through which you can still wipe iPhone without passcode easily. It all depends on you to select the best possible way to wipe it out. If you have signed into iCloud then go with the iCloud method, if you have sync with the iTunes then go with iTunes and if you don't want to clear your data with both of these methods then use the recovery mood.
How to Wipe iPhone Without Pass Code
If you have signed into iCloud, then use iCloud to wipe your iPhone without the pass code.
Now use iTunes to wipe your data if you have sync with iTunes.
Step 1
Attach your device with the system you sync with.
Step 5
Now tap on 'Restore from iTunes backup' on the setup screen.
Step 6
Now choose your device in iTunes and backup your files.
How can I unlock my iPhone if I forgot the pass code?
Pass code is very much important for your iPhone. It helps to protect your data and no one can enter into your phone without your permission. But if you have forgotten your iPhone pass code then it is really a concern because your device is now just like a dummy. If you will enter the wrong pass code 6 times in a row then it will be disabled for some time. So it is better not to enter the wrong password if you have forgotten it.
To unlock your iPhone without a pass code, you can either use iTunes if you have sync with it or can use the iCloud. There is also a recovery mode which can help you in unlocking your locked iPhone. Through iCloud, your device will be completely wiped out including the pass code so you can create a new one to protect your phone. If you are going with iTunes, then it will create a backup of your files and then wipe up your phone including the password.
To use any of the above method, you are required to follow some steps in order to unlock your device. So, follow those steps and get access to your device.
Tips about iPhone Pass codes
Pass codes are very useful for your iPhones because they are responsible to protect your data. No one can enter into your phone without knowing the pass code so it is always required to set a strong pass code for your iPhone. There are some people who play with the minds of other people to know the pass codes so it is recommended to set an unusual password and keep it changing time to time.
The Easiest Way to wipe iPhone
There are different ways to clear your iPhone data. It all depends on you to select the particular one according to your needs. You can also manually delete all your data but keep in mind that the manual deletion can only delete the pathways. Your data can be recovered easily so it is better to avoid manual deletion. The best and easiest way of cleaning your data is to use iSkysoft Data Eraser for Mac (or iSkysoft Data Eraser for Windows). This tool is one of the best in the business and your data cannot be recovered at any cost which is quite handful. So, it is recommended to use this amazing tool to protect your precious information.
The iSkysoft Data Eraser is one of the best data erasing tools through which the data deletion has become much simpler. The deletion is so much simple that you can delete all your precious data in just a single click. All of your data can be easily and permanently deleted including your browsing history, messages, call history, log in details, videos, photos and the cache data. Also there is no chance of recovering the data back. There is no recovery tool in this world which can challenge this data eraser. So you can use this tool without any fear. Also there are different options in this program for deleting your data from your iPhone, so select the best one according to your needs.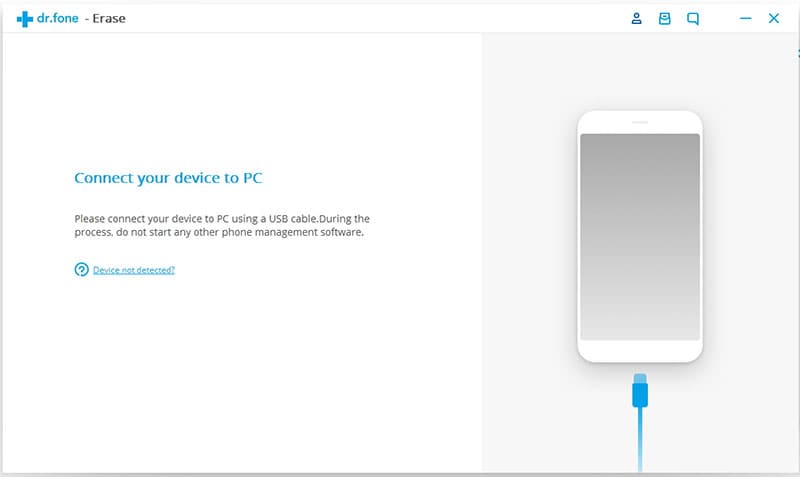 Key Features of iSkysoft Data Eraser:
Permanently deletes all your data.
Enhances the performance of your device by deleting junk or unwanted files.
Overwrite all the deleted files permanently.
3 data deletion modes are available: erase all data, erase private data and erase deleted data.
Steps on how to wipe iPhone permanently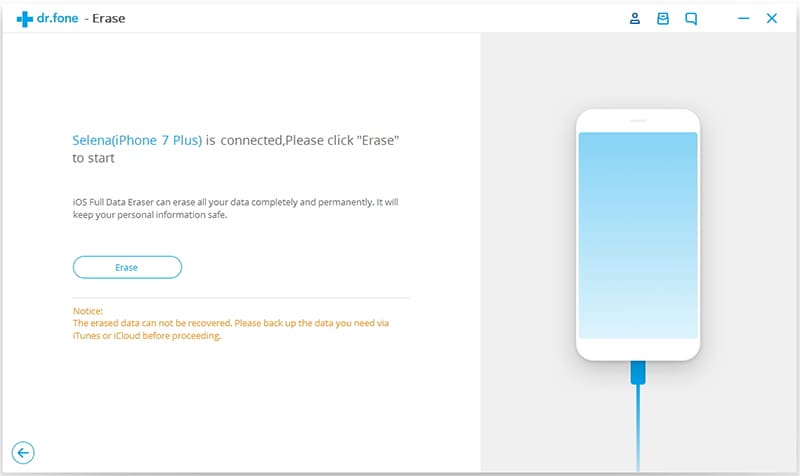 Step 1: Launch iSkysoft Data Eraser
First of all download the iSkysoft Data Eraser tool and install it.
And click on the tool icon to open it and now connect your iPhone with your system. On the upper side of the program, you will see your device name.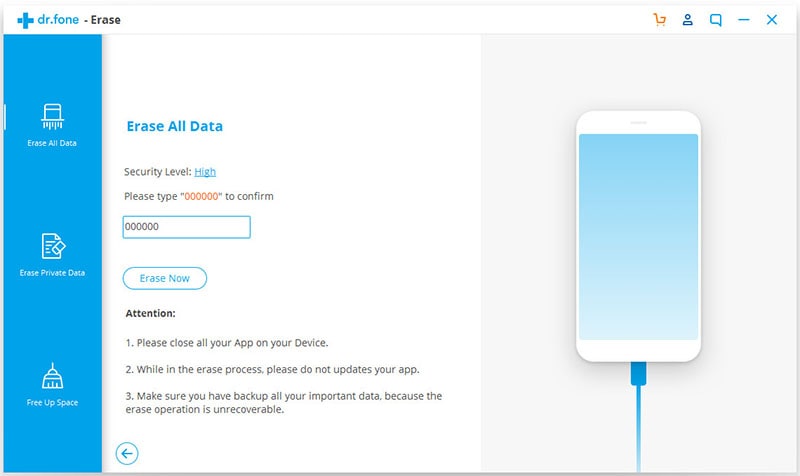 Step 2: Choose "Erase All Data" mode
Now select the data erasing mode according to your choice. If it is required to clear all the data then select the "Erase All Data" mode. And then click on 'Erase Now' to enter into the new erasing window.