Regularly cleaning your phone can do wonders for its performance. Not to mention you will also be saving quite a bit of storage space on your device by deleting the junk files that accumulate as you use the device. Having a device that is completely clean is however not as easy as it sounds. In fact without the right tools and it can be downright impossible to maintain a completely clean phone. Fortunately for you, this article is designed to help you clean your Android or iOS device completely. Let's start with how to clean Phone Apps on your phone.
Part 1. How to Clean Phone Apps on Android and iPhone
Clean Apps on iPhone
There is no simple way to clean specific apps cache unless you uninstall the app from the iPhone which will not only clean the cache but also all the preferences that you had set on the app. The best way to clean apps on your iPhone is to use a third party app such as Battery Doctor. You can install it from the app store for free.
Once you have installed the app on your device launch it and the tap the Junk tab at the bottom of the main screen. This will open a folder that contains all of applications' cache on your device. All you have to do now is tap on "Clean up Cache" and the read the caution message the app will present to you.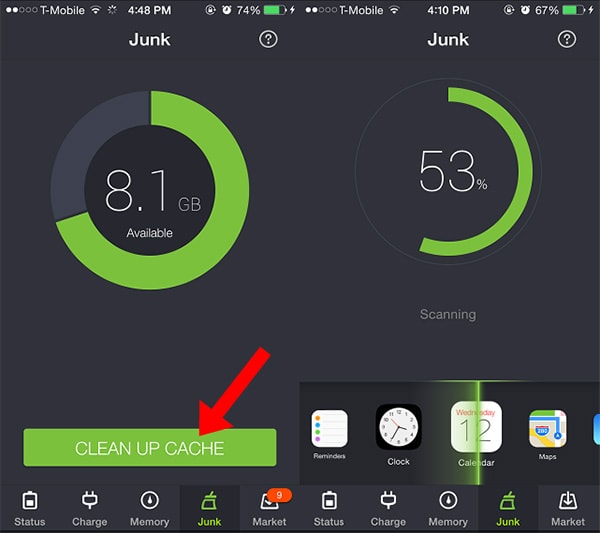 The cleaning process will begin and when it's done Battery Doctor will let you know how much cache has been deleted from your iOS device.
With Android devices you can manually clear out all the cache and other data on all apps very easily. You would have to do this for each app one at a time but it is better this way that using a cleaner app. This is because you are better placed to figure out exactly which apps have too many junk files and which ones actually need cleaning.
Steps on How to Clean Apps on Android
Step 1. Launch the settings menu from the home screen of your device and then find the specific app you want to clean under "Applications" or "Applications Manager" depending on your device.
Step 2. Tap on "Storage" and the buttons for cleaning up the cache will be available. Tap on "Clear Data" and "Clear Cache" to clean the app.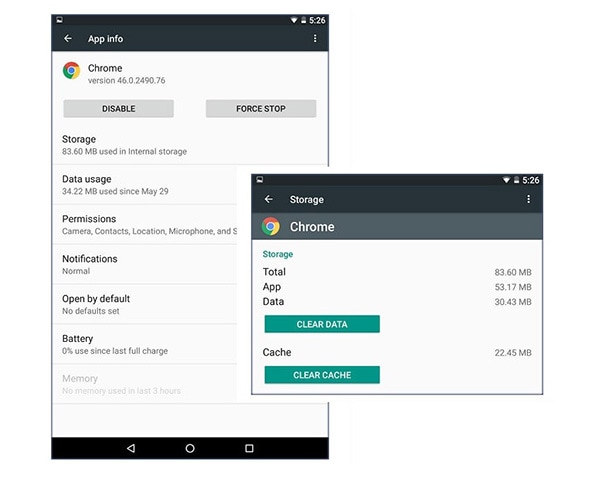 N/B: This new app information is only available on Android 6.0 Marshmallow.
Part 2. How to Clean Phone to Free Up Your iPhone
Spending the time cleaning out one app after the other is bound to take up too much of your precious time, tine that would be better spent on other more important factors. It is also not ideal to use a cleaning app as some are less than efficient and you would have to install it on your device further taking up space. Lucky for you, there is an easy way to clean your iPhone. This is dr.fone(Mac) - Data Eraser (IS) (or dr.fone - Data Eraser (IS)), a program that is designed to effectively clean out your device in the shortest time possible and with no disruptions at all to your device's functions.
Key Features of dr.fone - Data Eraser (IS):
It is very easy to use, very fast and highly efficient. Your phone will be cleaned in the shortest time possible with no damage to any of your data.
It can be used to secure private data on your iPhone by ensuring that sensitive data such as browsing history, login information and even banking information is erased completely.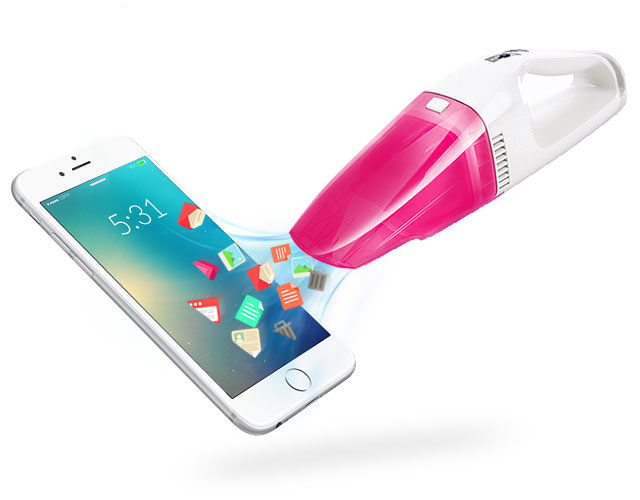 All data erased using this program is unrecoverable, not even with the most powerful data recovery program
It can also be used to erase junk files from iOS devices, speeding up the device and saving storage space on your device.
It is compatible with all iOS devices and all versions of iOS.
Step-by-Step Guide to Clean Phone
Step 4. Select the junk files you would like to delete and then click on the "Cleanup" button. The program will immediately begin cleaning your device. After the process is complete, you should see how many junk files have been cleaned and how much space has been saved. Click "Done" or "Rescan" if you are not happy with the results and want to scan the device again.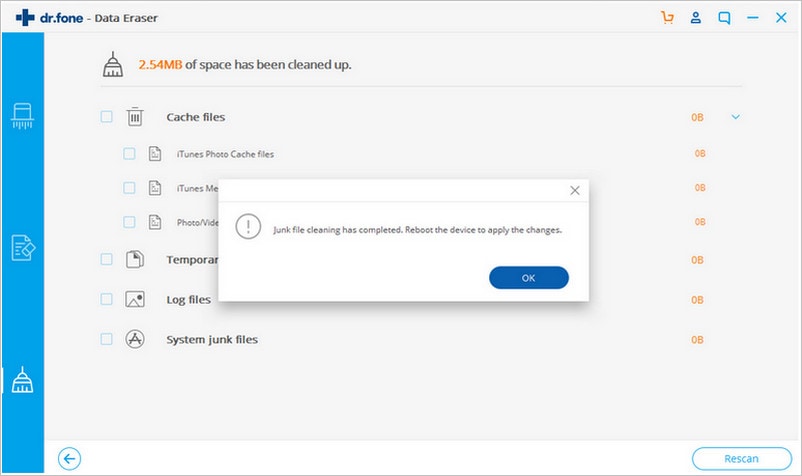 Part 3. How to Clean Your Andorid Phone Completely
For Android device users the best to clean out the device completely, quickly and efficiently is to use dr.fone - Data Eraser (IS). This program allows you to easily scan for and erase all junk files from your device in no time at all, saving you the time it would take to clean out cache on each app individually.
Step-by-Step Guide to Clean Phone
Step 3. It may take some time for the program to completely erase all the data depending on the amount of data on your device. This program will erase all data from your device including apps, movies, music and other types of data. It is therefore the best option if you want to recycle or sell the device.
Step 4. Once all the data has been erased, perform a Factory reset on your Android device to erase all data completely. This will completely erase all data on the device and make it safe to sell. To perform a factory reset on your device go to Settings > Backup and Reset > Factory Data Reset. Read the information carefully and then confirm that you want to reset the device by tapping on "Reset".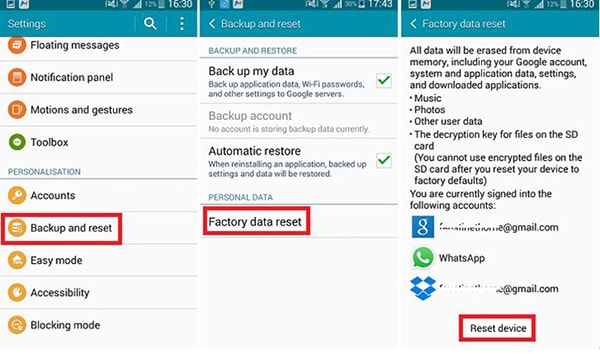 This will erase your settings and consequently completely erase your Android device.